Abstract
This study sought to identify the factors and conditions that affected production of the antifungal glycolipid flocculosin by the biocontrol agent Pseudozyma flocculosa. For this purpose, different parameters known or reported to influence glycolipid release in fungi were tested. Concentration of the start-up inoculum was found to play an important role in flocculosin production, as the optimal level increased productivity by as much as tenfold. Carbon availability and nitrogen source (i.e., organic vs inorganic) both had a direct influence on the metabolism of P. flocculosa, leading to flocculosin synthesis. In general, if conditions were conducive for production of the glycolipid, carbon availability appeared to be the only limiting factor. On the other hand, if yeast extract was supplied as nitrogen source, fungal biomass was immediately stimulated to the detriment of flocculosin synthesis. Unlike other reports of glycolipid release by yeast-like fungi, inorganic nitrogen starvation did not trigger production of flocculosin. The relationship between the factors influencing flocculosin production in vitro and the conditions affecting the release of the molecule by P. flocculosa in its natural habitat appears to be linked to the availability of a suitable and plentiful food source for the biocontrol agent.
This is a preview of subscription content, log in to check access.
Access options
Buy single article
Instant access to the full article PDF.
US$ 39.95
Price includes VAT for USA
Subscribe to journal
Immediate online access to all issues from 2019. Subscription will auto renew annually.
US$ 199
This is the net price. Taxes to be calculated in checkout.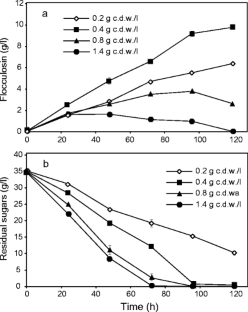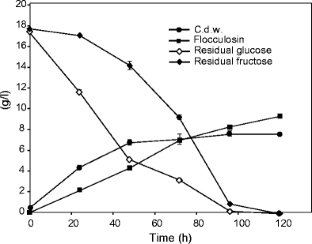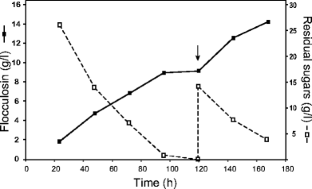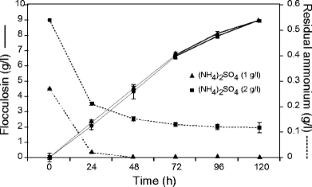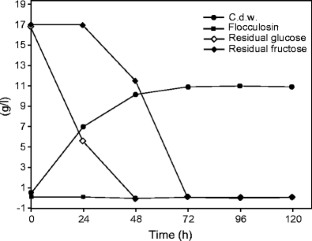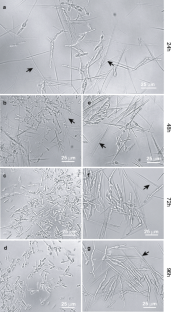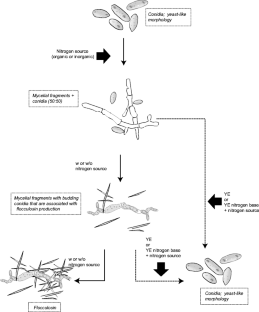 References
Avis TJ, Bélanger RR (2002) Mechanisms and means of detection of biocontrol activity of Pseudozyma yeasts against plant-pathogenic fungi. FEMS Yeast Res 2:5–8

Bélanger RR, Labbé C (2002) Control of powdery mildews without chemicals: prophylactic and biological alternatives for horticultural crops. In: Bélanger RR, Bushnell WR, Dik AJ, Carver TLW (eds) The powdery mildews: a comprehensive treatise. APS Press, St. Paul, Minnesota, pp 256–267

Cheng Y, McNally DJ, Labbé C, Voyer N, Belzile F, Bélanger RR (2003) Insertional mutagenesis of a fungal biocontrol agent led to discovery of a rare cellobiose lipid with antifungal activity. Appl Environ Microbiol 69:2595–2602

Davila AM, Marchal R, Vandecasteele JP (1997) Sophorose lipid fermentation with differentiated substrate supply for growth and production phase. Appl Microbiol Biotechnol 47:496–501

Desai J, Desai AJ (1993) Production of biosurfactants. In: Kosaric N (ed) Biosurfactant production properties applications. Marcel Dekker, New York, pp 66–92

Dik AJ, Verhaar MA, Bélanger RR (1998) Comparison of three biological control agents against cucumber powdery mildew (Sphaeroteca fuliginea) in semi-commercial-scale glasshouse trials. Eur J Plant Pathol 104:413–423

Dimmling W, Nesemann G (1985) Critical assessment of feedstocks for biotechnology. CRC Crit Rev Biotechnol 2:233–285

Eveleigh DE, Dateo GP, Reese ET (1964) Fungal metabolism of complex glycosides: ustilagic acid. J Biol Chem 239:839–844

Frautz B, Lang S, Wagner F (1986) Formation of cellobiose lipids by growing and resting cells of Ustilago maydis. Biotechnol Lett 8:757–762

Granger LM, Perlot P, Goma G, Pareilleux A (1993) Effect of various nutrient limitations on fatty acid production by Rhodotorula glutinis. Appl Microbiol Biotechnol 38:784–789

Hajlaoui MR, Traquair JA, Jarvis WR, Bélanger RR (1994) Antifungal activity of extracellular metabolites produced by Sporothrix flocculosa. Biocontrol Sci Technol 4:229–237

Hewald S, Josephs K, Bölker M (2005) Genetic analyses of biosurfactant production in Ustilago maydis. Appl Environ Microbiol 71:3033–3040

Kitamoto D, Fuzishiro T, Yanagishita H, Nakane T, Nakahara T (1992) Production of mannosylerythritol lipids as biosurfactants by resting cells of Candida antarctica. Biotechnol Lett 14:305–310

Lengeler K, Davidson R, D'Souza R, Harashima T, Shen W, Wang P, Pan X, Waugh M, Heutman J (2000) Signal transduction cascades regulating fungal development and virulence. Microbiol Mol Biol 64:746–785

Mimee B, Labbé C, Pelletier R, Bélanger RR (2005) Antifungal activity of flocculosin, a novel glycolipid isolated from Pseudozyma flocculosa. Antimicrob Agents Chemother 49:1597–1599

Neveu B, Labbé C, Bélanger RR (2007) GFP technology for the study of biocontrol agents in tritrophic interactions: a case study with Pseudozyma flocculosa. J Microbiol Methods 68:275–281

Nkonge C, Balance GM (1982) A sensitive colorimetric procedure for nitrogen determination in micro Kjeldahl digest. J Agric Food Chem 30:416–420

Rau UL, Nguyen A, Roeper H, Koch H, Lang S (2005) Fed-batch bioreactor production of mannosylerythritol lipids secreted by Pseudozyma aphidis. Appl Microbiol Biotechnol 68:607–613

Reiser J, Koch AK, Jenny K, Kappeli O (1989) Structure, properties, and biosurfactants. In: Orbringer JW, Tillinghast HS (eds) Biotechnology for aerospace applications, vol 3. Portfolio Publishing Company, The Woodlands, TX, pp 85–97

Rosenberg E (1986) Microbial surfactants. CRC Crit Rev Biotechnol 3:109–132

Spoeckner S, Wray V, Nimtz M, Lang S (1999) Glycolipids of the smut fungus Ustilago maydis from cultivation on renewable resources. Appl Microbiol Biotechnol 51:33–39

Steiner W, Haltrich D, Lafferty RM (1993) Production, properties and pratical applications of fungal polysaccharides. In: Kosaric N (ed) Biosurfactant production. Properties. Applications. Marcel Dekker, New York, pp 176–199

Syldatk T, Wagner F (1987) Production of biosurfactants. In: Kosaric N, Cairns WL, Gray CC (eds) Biosurfactant and biotechnology, surfactant science series, vol 25. Marcel Dekker, New York, pp 89–120

Traquair JA, Shaw LA, Jarvis WR (1988) New species of Stephanoascus with Sporothrix Anamorphs. Can J Bot 66:926–933

Teichmann B, Linne U, Hewald S, Marahiel MA, Bölker M (2007) A biosynthetic gene cluster for a secreted cellobiose lipid with antifungal activity from Ustilago maydis. Mol Microbiol 66:525–533

Yamouchi H, Mori H, Kobayashi T, Shimizu S (1983) Mass production of lipids by Lipomyces starkeyi in microcomputer-aided fed-batch culture. J Ferment Technol 61:275–280
Acknowledgments
This work was supported by grants from the Natural Sciences and Engineering Research Council of Canada (NSERC), and the Canada Research Chairs Program to R.R. Bélanger.
About this article
Cite this article
Hammami, W., Labbé, C., Chain, F. et al. Nutritional regulation and kinetics of flocculosin synthesis by Pseudozyma flocculosa . Appl Microbiol Biotechnol 80, 307 (2008). https://doi.org/10.1007/s00253-008-1541-z
Received:

Revised:

Accepted:

Published:
Keywords
Pseudozyma

Flocculosa

Cellobiose lipid

Ustilagic acid