Abstract
To develop a new approach for improving heterologous protein production in Aspergillus oryzae, we focused on the functional role of the N-terminal region of Rhizopus oryzae lipase (ROL). Several N-terminal deletion variants of ROL were expressed in A. oryzae. Interestingly, a segment of 28 amino acids from the C-terminal region of the propeptide (N28) was found to be critical for secretion of ROL into the culture medium. To further investigate the role of N28, the ROL secretory process was visualized in vivo using ROL–green fluorescent protein (GFP) fusion proteins. In cells producing ROL with N28, fluorescence observations showed that the fusion proteins are transported through endoplasmic reticulum (ER), Golgi, and cell wall, which is one of the typical secretory processes in a eukaryotic cell. Because the expression of the mature ROL–GFP fusion protein induced fluorescence accumulation without its translocation into the ER, N28 is considered to play a crucial role in protein transport. When N28 was inserted between the secretion signal and GFP, fluorescence observations showed that GFP, which is originally a cytoplasmic protein, was efficiently translocated into the ER of A. oryzae, resulting in an enhanced secretion of mature GFP after proteolytic cleavage of N28. These findings suggest that N28 facilitates protein translocation into ER and can be a promising candidate for improving heterologous protein production in A. oryzae.
This is a preview of subscription content, log in to check access.
Access options
Buy single article
Instant access to the full article PDF.
US$ 39.95
Price includes VAT for USA
Subscribe to journal
Immediate online access to all issues from 2019. Subscription will auto renew annually.
US$ 199
This is the net price. Taxes to be calculated in checkout.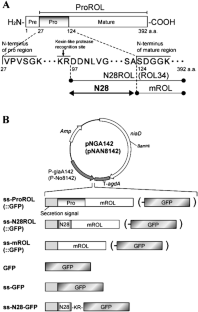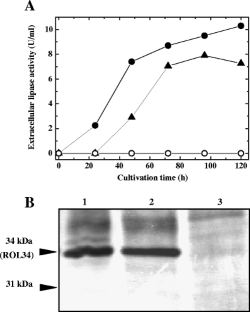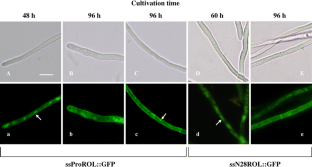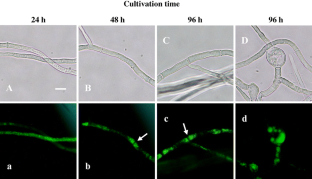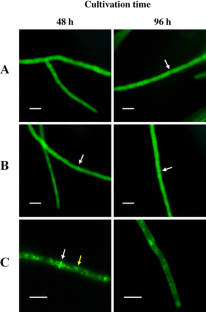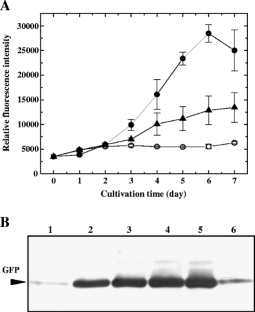 References
Barbesgaard P, Heldt-Hansen HP, Diderichsen B (1992) On the safety of Aspergillus oryzae: a review. Appl Microbiol Biotechnol 36:569–572

Beer HD, Wohlfahrt G, Schmid RD, McCarthy JEG (1996) The folding and activity of the extracellular lipase of Rhizopus oryzae are modulated by a prosequence. Biochem J 319:351–359

Buscà R, Martinez M, Vilella E, Peinado J, Gelpi JL, Deeb S, Auwerx J, Reina M, Vilaro S (1998) The carboxy-terminal region of human lipoprotein lipase is necessary for its exit from the endoplasmic reticulum. J Lipid Res 39:821–833

Christensen T, Woeldike H, Boel E, Mortensen SB, Hjortshoej K, Thim L, Hansen MT (1988) High-level expression of recombinant genes in Aspergillus oryzae. Biotechnology 6:1419–1422

Cole L, Davies D, Hyde GJ, Ashford AE (2000) ER-Tracker dye and BODIPY-brefeldin A differentiate the endoplasmic reticulum and Golgi bodies from the tubular-vacuole system in living hyphae of Pisolithus tinctorius. J Microsc 197:239–248

Contreras R, Carrez D, Kinghorn JR, van den Hondel CAMJJ, Fiers W (1991) Efficient KEX2-like processing of a glucoamylase-interleukin-6 fusion protein by Aspergillus nidulans and secretion of mature interleukin-6. Biotechnology 9:378–381

Derkx PMF, Madrid SM (2001) The foldase CYPB is a component of the secretory pathway of Aspergillus niger and contains the endoplasmic reticulum retention signal HEEL. Mol Genet Genomics 266:537–545

Fernandez-Abalos JM, Fox H, Pitt C, Doonan JH (1998) Plant-adapted green fluorescent protein is a versatile vital reporter for gene expression, protein localization and mitosis in filamentous fungus, Aspergillus nidulans. Mol Microbiol 27:121–130

Gomi K, Iimura Y, Hara S (1987) Integrative transformation of Aspergillus oryzae with a plasmid containing the Aspergillus nidulans argB gene. Agric Biol Chem 51:2549–2555

Gordon CL, Archer DB, Jeenes DJ, Doonan JH, Wells B, Trinci APJ, Robson GD (2000a) A glucoamylase::GFP gene fusion to study protein secretion by individual hyphae of Aspergillus niger. J Microbiol Methods 42:39–48

Gordon CL, Khalaj V, Ram AFG, Archer DB, Brookman JL, Trinci APJ, Jeenes DV, Doonan JH, Wells B, Punt PJ, van den Hondel CAMJJ, Robson GD (2000b) Glucoamylase::green fluorescent protein fusions to monitor protein secretion in Aspergillus niger. Microbiology 146:415–426

Gouka RJ, Punt PJ, van den Hondel CAMJJ (1997a) Efficient production of secreted proteins by Aspergillus: progress, limitations and prospects. Appl Microbiol Biotechnol 47:1–11

Gouka RJ, Punt PJ, van den Hondel CAMJJ (1997b) Glucoamylase gene fusions alleviate limitations for protein production in Aspergillus awamori at the transcriptional and (post-)translational levels. Appl Environ Microbiol 63:488–497

Hama S, Tamalampudi SR, Fukumizu T, Miura K, Yamaji H, Kondo A, Fukuda H (2006) Lipase localization in Rhizopus oryzae cells immobilized within biomass support particles for use as whole-cell biocatalysts in biodiesel-fuel production. J Biosci Bioeng 101:328–333

Hanahan D (1983) Studies on transformation of Escherichia coli with plasmids. J Mol Biol 166:557–580

Haseloff J (1999) GFP variants for multispectral imaging of living cells. Methods Cell Biol 58:139–151

Hata Y, Tsuchiya K, Kitamoto K, Gomi K, Kumagai C, Tamura G, Hara S (1992) Nucleotide sequence and expression of the glucoamylase-encoding gene (glaA) from Aspergillus oryzae. Gene 108:145–150

Huge-Jensen B, Andreasen F, Christensen T, Christensen M, Thim L, Boel E (1989) Rhizomucor miehei triglyceride lipase is processed and secreted from transformed Aspergillus oryzae. Lipids 24:781–785

Ishisaka R, Sato N, Tanaka K, Takeshige T, Iwata H, Klostergaard J, Utsumi T (1999) A part of the transmembrane domain of pro-TNF can function as a cleavable signal sequence that generates a biologically active secretory form of TNF. J Biochem (Tokyo) 126:413–420

Kaieda M, Samukawa T, Matsumoto T, Ban K, Kondo A, Shimada Y, Noda H, Nomoto F, Ohtuka K, Izumoto E, Fukuda H (1999) Biodiesel fuel production from plant oil catalyzed by Rhizopus oryzae lipase in a water-containing system without an organic solvent. J Biosci Bineng 88:627–631

Kaieda M, Nagayoshi M, Hama S, Kondo A, Fukuda H (2004) Enantioselective transesterification using immobilized Aspergillus oryzae overexpressing lipase. Appl Microbiol Biotechnol 65:301–305

Khalaj V, Brookman JL, Robson GD (2001) A study of the protein secretory pathway of Aspergillus niger using a glucoamylase-GFP fusion protein. Fungal Genet Biol 32:55–65

Koda A, Minetoki T, Ozeki K, Hirotsune M (2004) Translation efficiency mediated by the 5' untranslated region greatly affects protein production in Aspergillus oryzae. Appl Gen Mol Biotechnol 66:291–296

Machida M (2002) Progress of Aspergillus oryzae genomics. Adv Appl Microbiol 51:81–106

Masai K, Maruyama J, Nakajima H, Kitamoto K (2003) In vivo visualization of the distribution of a secretory protein in Aspergillus oryzae hyphae using the RntA–EGFP fusion protein. Biosci Biotechnol Biochem 67:455–459

Masai K, Maruyama J, Nakajima H, Kitamoto K (2004) Effects of protein transport inhibitors on the distribution and secretion of the fusion protein RntA–EGFP in Aspergillus oryzae. Biosci Biotechnol Biochem 68:1569–1573

Matsumoto T, Ito M, Fukuda H, Kondo A (2004) Enantioselective transesterification using lipase-displaying yeast whole-cell biocatalyst. Appl Microbiol Biotechnol 64:481–485

Minetoki T, Nunokawa Y, Gomi K, Kitamoto K, Kumagai C, Tamura G (1996) Deletion analysis of promoter elements of the Aspergillus oryzae agdA gene encoding α-glucosidase. Curr Genet 30:432–438

Minetoki T, Kumagai C, Gomi K, Kitamoto K, Takahashi K (1998) Improvement of promoter activity by the introduction of multiple copies of the conserved region III sequence, involved in the efficient expression of Aspergillus oryzae amylase-encoding gene. Appl Microbiol Biotechnol 50:459–467

Minning S, Schmidt-Dannert C, Schmid RD (1998) Functional expression of Rhizopus oryzae lipase in Pichia pastoris: high-level production and some properties. J Biotechnol 66:147–156

Mizutani O, Nojima A, Yamamoto M, Furukawa K, Fujioka T, Yamagata Y, Abe K, Nakajima T (2004) Disordered cell integrity signaling caused by disruption of the kexB gene in Aspergillus oryzae. Eukaryotic Cell 3:1036–1048

Ohneda M, Arioka M, Nakajima H, Kitamoto K (2002) Visualization of vacuoles in Aspergillus oryzae by expression of CPY–EGFP. Fungal Genet Biol 37:29–38

Ozeki K, Kanda A, Hamachi M, Nunokawa Y (1996) Construction of a promoter probe vector autonomously maintained in Aspergillus and characterization of promoter regions derived from A. niger and A. oryzae genomes. Biosci Biotechnol Biochem 60:383–389

Sayari A, Frikha F, Miled N, Mtibaa H, Ali YB, Verger R, Gargouri Y (2005) N-terminal peptide of Rhizopus oryzae lipase is important for its catalytic properties. FEBS Lett 579:976–982

Schülein R (2004) The early stages of the intracellular transport of membrane proteins: clinical and pharmacological implications. Rev Physiol Biochem Pharmacol 151:45–91

Suelmann R, Siever N, Fischer R (1997) Nuclear traffic in fungal hyphae: in vivo study of nuclear migration and positioning in Aspergillus nidulans. Mol Microbiol 25:757–769

Takahashi S, Ueda M, Atomi H, Beer HD, Bornscheuer UT, Schmid RD, Tanaka A (1998) Extracellular production of active Rhizopus oryzae lipase by Saccharomyces cerevisiae. J Ferment Bioeng 86:164–168

Takahashi S, Ueda M, Tanaka A (2001) Function of the prosequence for in vivo folding and secretion of active Rhizopus oryzae lipase in Saccharomyces cerevisiae. Appl Microbiol Biotechnol 55:454–462

Tani M, Okino N, Sueyoshi N, Ito M (2004) Conserved amino acid residues in the COOH-terminal tail are indispensable for the correct folding and localization and enzyme activity of neutral ceramidase. J Biol Chem 279:29351–29358

Toida J, Fukuzawa M, Kobayashi G, Ito K, Sekiguchi J (2000) Cloning and sequencing of the triacylglycerol lipase gene of Aspergillus oryzae and its expression in Escherichia coli. FEMS Microbiol Lett 189:159–164

Wösten HA, Moukha SM, Sietsma JH, Wessels JG (1991) Localization of growth and secretion of proteins in Aspergillus niger. J Gen Microbiol 137:2017–2023
Acknowledgement
This work was cofinanced by the Research and Development Program for New Bio-industry Initiatives and by New Energy and Industrial Technology Development Organization (NEDO), Japan. We are grateful to Dr. Toshitaka Minetoki (Ozeki Co., Hyogo, Japan) who kindly provided the A. oryzae niaD300 strain, pNGA142, and pNAN8142. We also thank Dr. Masaru Kaieda (Canon Inc., Tokyo, Japan) for invaluable technical advice when he was at Kobe University.
About this article
Cite this article
Hama, S., Tamalampudi, S., Shindo, N. et al. Role of N-terminal 28-amino-acid region of Rhizopus oryzae lipase in directing proteins to secretory pathway of Aspergillus oryzae . Appl Microbiol Biotechnol 79, 1009 (2008). https://doi.org/10.1007/s00253-008-1502-6
Received:

Revised:

Accepted:

Published:
Keywords
Filamentous fungi

Protein secretion

Heterologous protein production

N-terminal peptide

Green fluorescent protein

Visualization