Abstract
Two purple pigmented bacterial strains, CPMOR-1 and CPMOR-2, have been newly isolated from the Mediterranean Sea. 16S RNA sequencing and phenotypic characteristics indicate that they belong to the species Pseudoalteromonas luteoviolacea. The synthesis of macromolecules with antimicrobial activity is a capacity described in many strains of this species although the nature of those macromolecules has not been reported up to now. The search for antimicrobial compounds in the two new strains described in this work shows that they synthesize a macromolecule with antimicrobial activity that can be inhibited by catalase, as it had been described in the type strain P. luteoviolacea NCIMB 1893T. This work elucidates the nature of such macromolecule as a novel l-amino acid oxidase (LAO) with broad substrate specificity. The enzyme is most active with Met, Gln, Leu, Phe, Glu, and Trp. In growth media containing those amino acids, the hydrogen peroxide generated by the reaction catalyzed by the LAO mediates its antimicrobial activity.
This is a preview of subscription content, log in to check access.
Access options
Buy single article
Instant access to the full article PDF.
US$ 39.95
Price includes VAT for USA
Subscribe to journal
Immediate online access to all issues from 2019. Subscription will auto renew annually.
US$ 199
This is the net price. Taxes to be calculated in checkout.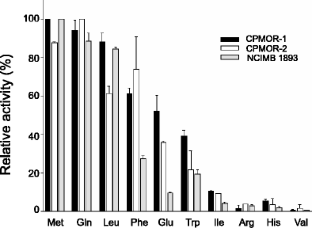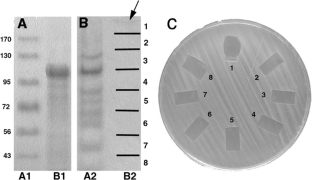 References
Altschul SF, Gish W, Miller W, Myers EW, Lipman DJ (1990) Basic local alignment search tool. J Mol Biol 215:403–410

Antonio RV, Creczynski-Pasa TB (2004) Genetic analysis of violacein biosynthesis by Chromobacterium violaceum. Genet Mol Res 3:85–91

Barsby T (2006) Drug discovery and sea hares: bigger is better. Trends Biotechnol 24:1–3

Bowman JP, McKeekin TA (2005) Genus Pseudoalteromonas. In: Brenner DJ, Krieg NR, Staley JT, Garrity GM (eds) Bergey's manual of systematic bacteriology. 2nd edn. Springer, New York, pp 467–478

Braun M, Kim JM, Schmid RD (1992) Purification and some properties of an extracellular l-amino acid oxidase from Cellulomonas cellulans AM8 isolated from soil. Appl Microbiol Biotechnol 37:594–598

Brearley GM, Price CP, Atkinson T, Hammond PM (1994) Purification and partial characterisation of a broad-range l-amino acid oxidase from Bacillus carotarum 2Pfa isolated from soil. Appl Microbiol Biotechnol 41:670–676

Canton JE, Goldstein G (1971) Electrophoresis of ribonucleic acids in polyacrylamide gel gradients. Anal Biochem 42:14–20

Davis MA, Askin MC, Hynes MJ (2005) Amino acid catabolism by an areA-regulated gene encoding an l-amino acid oxidase with broad substrate specificity in Aspergillus nidulans. Appl Environ Microbiol 71:3551–3555

Du XY, Clemetson KJ (2002) Snake venom l-amino acid oxidases. Toxicon 40:659–665

Fischetti VA, Nelson D, Schuch R (2006) Reinventing phage therapy: are the parts greater than the sum? Nat Biotechnol 24:1508–1511

Gauthier MJ (1976a) Morphological, physiological, and biochemical characteristics of some violet-pigmented bacteria isolated from seawater. Can J Microbiol 22:138–149

Gauthier MJ (1976b) Modification of bacterial respiration by a macromolecular polyanionic antibiotic produced by a marine Alteromonas. Antimicrob Agents Chemother 9:361–366

Gauthier MJ, Flatau GN (1976) Antibacterial activity of marine violet-pigmented Alteromonas with special reference to the production of brominated compounds. Can J Microbiol 22:1612–1619

Genet R, Bénetti PH, Hammadi A, Ménez A (1995) l -Tryptophan 2`,3`-oxidase from Chromobacterium violaceum. J Biol Chem 270:23540–23545

Geueke B, Hummel W (2002) A new bacterial-amino acid oxidase with a broad substrate specificity: purification and characterization. Enzym Microb Technol 31:77–87

Gomez D, Lucas-Elio P, Sanchez-Amat A, Solano F (2006) A novel type of lysine oxidase: l-lysine-epsilon-oxidase. Biochim Biophys Acta 1764:1577–1585

Holmstrom C, Kjelleberg S (1999) Marine Pseudoalteromonas species are associated with higher organisms and produce biologically active extracellular agents. FEMS Microbiol Ecol 30:285–293

James SG, Holmstrom C, Kjelleberg S (1996) Purification and characterization of a novel antibacterial protein from the marine bacterium D2. Appl Environ Microbiol 62:2783–2788

Johnson JL (1994) Similarity analysis of DNAs. In: Gerhardt P, Murray RGE, Wood WA, Krieg NR (eds) Methods for general and molecular bacteriology. American Society for Microbiology, Washington, DC, pp 655–682

Kumura K, Minamishima Y, Yamamoto S, Ohashi N, Tamura A (1991) DNA-base composition of Rickettsia tsutsugamushi determined by reversed-phase high-performance liquid-chromatography. Int J Syst Bacteriol 41:247–248

Kusakabe H, Kodama K, Kuninaka A, Yoshino H, Misono H, Soda K (1980) New anti-tumor enzyme, l-lysine alpha-oxidase from Trichoderma viride, purification and enzymological properties. J Biol Chem 255:976–981

Laemmli UK (1970) Cleavage of structural proteins during the assembly of the head of bacteriophage T4. Nature 227:680–685

Loewen PC, Switala J, Triggs-Raine BL (1985) Catalases HPI and HPII in Escherichia coli are induced independently. Arch Biochem Biophys 243:144–149

Lucas-Elío P, Hernandez P, Sanchez-Amat A, Solano F (2005) Purification and partial characterization of marinocine, a new broad-spectrum antibacterial protein produced by Marinomonas mediterranea. Biochim Biophys Acta 1721:193–203

Lucas-Elio P, Gomez D, Solano F, Sanchez-Amat A (2006) The antimicrobial activity of marinocine, synthesized by Marinomonas mediterranea, is due to hydrogen peroxide generated by its lysine oxidase activity. J Bacteriol 188:2493–2501

Mai-Prochnow A, Webb JS, Ferrari BC, Kjelleberg S (2006) Ecological advantages of autolysis during the development and dispersal of Pseudoalteromonas tunicata biofilms. Appl Environ Microbiol 72:5414–5420

McCarthy SA, Johnson RM, Kakimoto D (1994) Characterization of an antibiotic produced by Alteromonas luteoviolacea Gauthier 1982, 85 isolated from Kinko Bay, Japan. J Appl Bacteriol 77:426–432

Pantanella F, Berlutti F, Passariello C, Sarli S, Morea C, Schippa S (2007) Violacein and biofilm production in Janthinobacterium lividum. J Appl Microbiol 102:992–999

Peschke JD, Hanefeld U, Laatsch H (2005) Biosynthesis of the marine antibiotic pentabromopseudilin. 2. The pyrrole ring. Biosci Biotechnol Biochem 69:628–630

Sikora L, Marzluf GA (1982) Regulation of l-amino acid oxidase and of d-amino acid oxidase in Neurospora crassa. Mol Gen Genet 186:33–39

Solano F, Lucas-Elío P, Fernández E, Sanchez-Amat A (2000) Marinomonas mediterranea MMB-1 transposon mutagenesis: isolation of a multipotent polyphenol oxidase mutant. J Bacteriol 182:3754–3760

Takahashi E, Furui M, Seko H, Shibatani T (1997) d-Methionine preparation from racemic methionines by Proteus vulgaris IAM 12003 with asymmetric degrading activity. Appl Microbiol Biotechnol 47:173–179

Varadi M, Adanyi N, Szabo EE, Trummer N (1999) Determination of the ratio of d- and l-amino acids in brewing by an immobilised amino acid oxidase enzyme reactor coupled to amperometric detection. Biosens Bioelectron 14:335–340

Yang LH, Xiong H, Lee OO, Qi SH, Qian PY (2007) Effect of agitation on violacein production in Pseudoalteromonas luteoviolacea isolated from a marine sponge. Lett Appl Microbiol 44:625–630
Acknowledgments
This work has been supported by grant 03026/PI/05 from the Seneca Foundation, Autonomous Government of the Region of Murcia, Spain. M.B. was a recipient of a Visiting Scientist Fellowship also from the Seneca Foundation.
About this article
Cite this article
Gómez, D., Espinosa, E., Bertazzo, M. et al. The macromolecule with antimicrobial activity synthesized by Pseudoalteromonas luteoviolacea strains is an l-amino acid oxidase. Appl Microbiol Biotechnol 79, 925–930 (2008). https://doi.org/10.1007/s00253-008-1499-x
Received:

Revised:

Accepted:

Published:

Issue Date:
Keywords
l

-Amino acid oxidase

Antimicrobial macromolecule

Hydrogen peroxide

Pseudoalteromonas luteoviolacea