Abstract
Amyloid β-peptide (Aβ), a risk of Alzheimer's disease (AD), causes cell death by inflammation and oxidative stress. Red mold rice (RMR) fermented by Monascus species is regarded as cholesterol-lowering functional food in virtue of the metabolite monacolin K identified as lovastatin. In addition, RMR is also demonstrated to express antioxidation because of multiple antioxidants. Therefore, this study focuses on the synergism of RMR against Aβ neurotoxicity and compares the effect between lovastatin and RMR including monacolin K and other functional metabolites. In this study, RE 568, an ethanol extract of RMR produced by strain Monascus purpureus NTU 568, is used to protect PC12 cell against Aβ40 neurotoxicity. All tests contain the treatments with lovastatin or RE 568 including equal monacolin K levels in order to compare the effect and investigate whether other metabolites of RE 568 provide potent assistance against Aβ40 neurotoxicity. In the results, monacolin K represses Aβ40 neurotoxicity via repressing small G-protein-mediated inflammation, and other metabolites of RE 568 also exhibit potent antioxidative ability against Aβ-induced oxidative stress. Importantly, stronger effects on repressing the Aβ40-induced cell death, inflammation, and oxidative stress are performed by RE 568 than that by the equal levels of lovastatin, which results from a potent synergism made up of monacolin K, antioxidants, and anti-inflammatory agents. The present study is the first report to demonstrate the potent synergistic protection of RMR against Aβ40 neurotoxicity, which would cause RMR to be developed as potential and novel functional food for the prophylaxis of AD pathogenesis.
This is a preview of subscription content, log in to check access.
Access options
Buy single article
Instant access to the full article PDF.
US$ 39.95
Price includes VAT for USA
Subscribe to journal
Immediate online access to all issues from 2019. Subscription will auto renew annually.
US$ 199
This is the net price. Taxes to be calculated in checkout.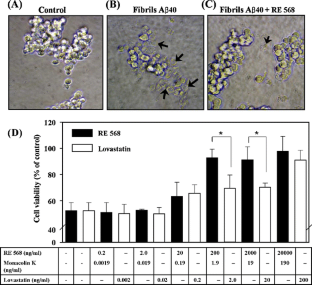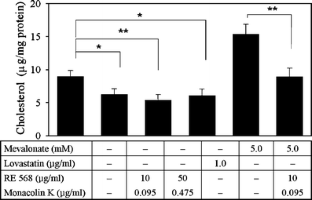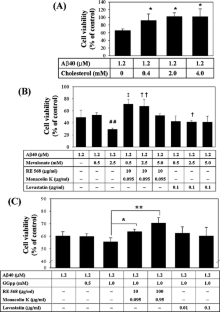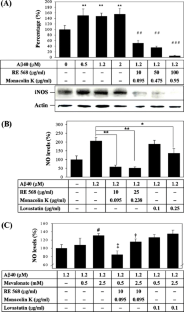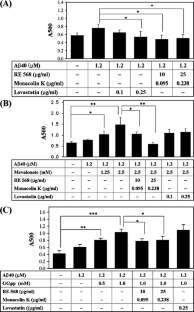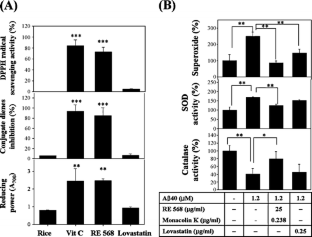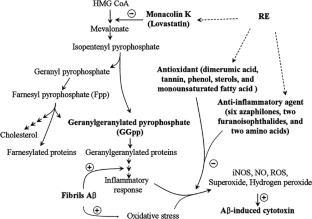 References
Akihisa T, Tokuda H, Yasukawa K, Ukiya M, Kiyota A, Sakamoto N, Suzuki T, Tanabe N, Nishino H (2005) Azaphilones, furanoisophthalides, and amino acids from the extracts of Monascus pilosus-fermented rice (red-mold rice) and their chemopreventive effects. J Agric Food Chem 53:562–565

Aniya Y, Yokomakura T, Yonamine M, Shimada K, Nagamine T, Shimabukuro M, Gibo H (1999) Screening of antioxidant action of various molds and protection of Monascus anka against experimentally induced liver injuries of rats. Gen Pharmacol 32:225–231

Aniya Y, Ohtani II, Higa T, Miyagi C, Gibo H, Shimabukuro M, Nakanishi H, Taira J (2000) Dimerumic acid as an antioxidant of the mold, Monascus anka. Free Radic Biol Med 28:999–1004

Beers RFJ, Sizer IW (1952) A spectrophotometric method for measuring the breakdown of hydrogen peroxide by catalase. J Biol Chem 195:133–140

Buxbaum JD, Thinakaran G, Koliatsos V, O, Callahan J, Slunt HH, Price DL, Sisodia SS (1998) Alzheimer amyloid protein precursor in the rat hippocampus: transport and processing through the perforant path. J Neurosci 18:9629–9637

Cahlin C, Gelin J, Andersson M, Lonnroth C, Lundholm K (2005) The effects of non-selective, preferential-selective and selective COX-inhibitors on the growth of experimental and human tumors in mice related to prostanoid receptors. Int J Oncol 27:913–923

Cordle A, Landreth G (2005) 3-Hydroxy-3-methylglutaryl-coenzyme A reductase inhibitors attenuate beta-amyloid-induced microglial inflammatory responses. J Neurosci 25:299–307

Cordle A, Koenigsknecht-Talboo J, Wilkinson B, Limpert A, Landreth G (2005) Mechanisms of statin-mediated inhibition of small G-protein function. J Biol Chem 280:34202–34209

Davignon J, Mabile L (2001) Mechanisms of action of statins and their pleiotropic effects. Ann Endocrinol (Paris) 62:101–112

Endo A (1979) Monacolin K, a new hypocholesterolemic agent produced by a Monascus species. J Antibiot (Tokyo) 32:852–854

Esposito G, De Filippis D, Maiuri MC, De Stefano D, Carnuccio R, Iuvone T (2006) Cannabidiol inhibits inducible nitric oxide synthase protein expression and nitric oxide production in beta-amyloid stimulated PC12 neurons through p38 MAP kinase and NF-kappaB involvement. Neurosci Lett 399:91–95

Gao X, Tang XC (2006) Huperzine A attenuates mitochondrial dysfunction in beta-amyloid-treated PC12 cells by reducing oxygen free radicals accumulation and improving mitochondrial energy metabolism. J Neurosci Res 83:1048–1057

Green LC, Wagner DA, Glogowski J, Skipper PL, Wishnok JS, Tannenbaum SR (1982) Analysis of nitrate, nitrite, and [15N]nitrate in biological fluids. Anal Biochem 126:131–138

Heber D, Yip I, Ashley JM, Elashoff DA, Elashoff RM, Go VL (1999) Cholesterol-lowering effects of a proprietary Chinese red-yeast-rice dietary supplement. Am J Clin Nutr 69:231–236

Heo HJ, Kim DO, Choi SJ, Shin DH, Lee CY (2004) Potent inhibitory effect of flavonoids in Scutellaria baicalensis on amyloid beta protein-induced neurotoxicity. J Agric Food Chem 52:4128–4132

Hoglund K, Wiklund O, Vanderstichele H, Eikenberg O, Vanmechelen E, Blennow K (2004) Plasma levels of beta-amyloid(1–40), beta-amyloid(1–42), and total beta-amyloid remain unaffected in adult patients with hypercholesterolemia after treatment with statins. Arch Neurol 61:333–337

Iskra B, Zivko M, Kes P (2005) Rhabdomyolysis as a side effect of simvastatin treatment. Acta Med Croatica 59:325–328

Iuvone T, De Filippis D, Esposito G, D, Amico A, Izzo AA (2006) The spice sage and its active ingredient rosmarinic acid protect PC12 cells from amyloid-beta peptide-induced neurotoxicity. J Pharmacol Exp Ther 317:1143–1149

Jang JH, Aruoma OI, Jen LS, Chung HY, Surh YJ (2004) Ergothioneine rescues PC12 cells from beta-amyloid-induced apoptotic death. Free Radic Biol Med 36:288–299

Juzlova P, Martinkova L, Kren V (1996a) Secondary metabolites of the fungus Monascus: a review. J Ind Microbiol 16:163–170

Juzlova P, Rezanka T, Martinkova L, Kren V (1996b) Long-chain fatty acids from Monascus purpureus. Phytochemistry 43:151–153

Lee SY, Lee JW, Lee H, Yoo HS, Yun YP, Oh KW, Ha TY, Hong JT (2005) Inhibitory effect of green tea extract on beta-amyloid-induced PC12 cell death by inhibition of the activation of NF-kappaB and ERK/p38 MAP kinase pathway through antioxidant mechanisms. Brain Res Mol Brain Res 140:45–54

Lee CL, Tsai TY, Wang JJ, Pan TM (2006a) In vivo hypolipidemic effects and safety of low dosage Monascus powder in a hamster model of hyperlipidemia. Appl Microbiol Biotechnol 70:533–540

Lee CL, Wang JJ, Kuo SL, Pan TM (2006b) Monascus fermentation of dioscorea for increasing the production of cholesterol-lowering agent-monacolin K and anti-inflammation agent-monascin. Appl Microbiol Biotechnol 72:1254–1262

Lee CL, Wang JJ, Pan TM (2006c) Synchronous analysis method for detection of citrinin and the lactone and acid forms of monacolin K in red mold rice. J AOAC Int 89:669–677

Lee HG, Zhu X, Nunomura A, Perry G, Smith MA (2006d) Amyloid beta: the alternate hypothesis. Curr Alzheimer Res 3:75–80

Lee CL, Hung HK, Wang JJ, Pan TM (2007) Red mold dioscorea has greater hypolipidemic and antiatherosclerotic effect than traditional red mold rice and unfermented dioscorea in hamsters. J Agric Food Chem 55:7162–7169

Li Z, Seeram NP, Lee R, Thames G, Minutti C, Wang HJ, Heber D (2005) Plasma clearance of lovastatin versus Chinese red yeast rice in healthy volunteers. J Altern Complement Med 11:1031–1038

Liao JK, Laufs U (2005) Pleiotropic effects of statins. Annu Rev Pharmacol Toxicol 45:89–118

Lingnert H, Vallentin K, Eriksson CE (1979) Measurement of antioxidative in model system. J Food Process Preserv 3:87–103

Oyaizu M (1986) Antioxidative activity of browning products of glucosamine fractionated by organic solvent and thin-layer chromatography. Nippon Shokuhin Kogyo Gakkaishi 35:771–775

Pollack SJ, Sadler II, Hawtin SR, Tailor VJ, Shearman MS (1995) Sulfated glycosaminoglycans and dyes attenuate the neurotoxic effects of beta-amyloid in rat PC12 cells. Neurosci Lett 184:113–116

Raja SG, Dreyfus GD (2004) Statins: much more than just a lipid-lowering therapy. Indian Heart J 56:204–209

Rhyu MR, Kim DK, Kim HY, Kim BK (2000) Nitric oxide-mediated endothelium-dependent relaxation of rat thoracic aorta induced by aqueous extract of red rice fermented with Monascus ruber. J Ethnopharmacol 70:29–34

Rockwood K, Kirkland S, Hogan DB, MacKnight C, Merry H, Verreault R, Wolfson C, McDowell I (2002) Use of lipid-lowering agents, indication bias, and the risk of dementia in community-dwelling elderly people. Arch Neurol 59:223–227

Sastre M, Klockgether T, Heneka MT (2006) Contribution of inflammatory processes to Alzheimer's disease: molecular mechanisms. Int J Dev Neurosci 24:167–176

Scott HD, Laake K (2001) Statins for the prevention of Alzheimer's disease. Cochrane Database Syst Rev 2001(3):CD003160

Setnikar I, Senin P, Rovati LC (2005) Antiatherosclerotic efficacy of policosanol, red yeast rice extract and astaxanthin in the rabbit. Arzneimittelforschung 55:312–317

Su YC, Wang JJ, Lin TT, Pan TM (2003) Production of the secondary metabolites gamma-aminobutyric acid and monacolin K by Monascus. J Ind Microbiol Biotechnol 30:41–46

Townsend KP, Pratico D (2005) Novel therapeutic opportunities for Alzheimer's disease: focus on nonsteroidal anti-inflammatory drugs. Faseb J 19:1592–1601

Wei W, Li C, Wang Y, Su H, Zhu J, Kritchevsky D (2003) Hypolipidemic and anti-atherogenic effects of long-term Cholestin (Monascus purpureus-fermented rice, red yeast rice) in cholesterol fed rabbits. J Nutr Biochem 14:314–318

Wolozin B, Kellman W, Ruosseau P, Celesia GG, Siegel G (2000) Decreased prevalence of Alzheimer disease associated with 3-hydroxy-3-methyglutaryl coenzyme A reductase inhibitors. Arch Neurol 57:1439–1443

Wu LC, Chen YC, Ho JA, Yang CS (2003) Inhibitory effect of red koji extracts on mushroom tyrosinase. J Agric Food Chem 51:4240–4246

Xiao XQ, Wang R, Tang XC (2000) Huperzine A and tacrine attenuate beta-amyloid peptide-induced oxidative injury. J Neurosci Res 61:564–569

Yallampalli S, Micci MA, Taglialatela G (1998) Ascorbic acid prevents beta-amyloid-induced intracellular calcium increase and cell death in PC12 cells. Neurosci Lett 251:105–108

Zhao B (2005) Natural antioxidants for neurodegenerative diseases. Mol Neurobiol 31:283–293
Acknowledgments
This study was supported by a grant from the National Science Council, R.O.C. (NSC95-2313-B-002-019).
About this article
Cite this article
Lee, C., Wang, J. & Pan, T. Red mold rice extract represses amyloid beta peptide-induced neurotoxicity via potent synergism of anti-inflammatory and antioxidative effect. Appl Microbiol Biotechnol 79, 829–841 (2008). https://doi.org/10.1007/s00253-008-1480-8
Received:

Revised:

Accepted:

Published:

Issue Date:
Keywords
Alzheimer's disease

Amyloid

Monascus

Monacolin K

Anti-inflammatory

Antioxidative