Abstract
A full length cDNA encoding an extracellular laccase was isolated by reverse transcription polymerase chain reaction from the mycelia of the mushroom Pleurotus eryngii. The isolated sequence, denoted Ery3, encodes for a mature laccase isoenzyme of 531 amino acid residues with a predicted molecular weight of 56.6 kDa. All sequence motifs, being the signature sequences used to identify the laccases, were found in the Ery3 protein sequence. The Ery3 cDNA was expressed in Saccharomyces cerevisiae and the effects of copper concentration and cultivation temperature were investigated. S. cerevisiae cells were immobilized in calcium alginate gel and the optimal immobilization parameters for the enhanced production of laccase were determined. The immobilization was most effective with 3% sodium alginate, 0.1 M calcium chloride and an initial biomass of 4.5 × 108 cells. The enzyme yield obtained with immobilized cells (139 mU ml−1) showed a 1.6-fold increase compared to the highest yield obtained with free cells. The alginate beads showed good stability and retained 84% capacity of enzyme production after seven repeated cycles of batch fermentation. The immobilization system proved to increase the proteolytic stability of the recombinant Ery3 protein. To our knowledge, this is the first report on S. cerevisiae whole-cell immobilization for recombinant laccase production.
This is a preview of subscription content, log in to check access.
Access options
Buy single article
Instant access to the full article PDF.
US$ 39.95
Price includes VAT for USA
Subscribe to journal
Immediate online access to all issues from 2019. Subscription will auto renew annually.
US$ 199
This is the net price. Taxes to be calculated in checkout.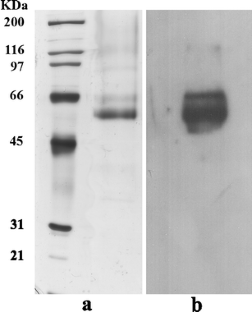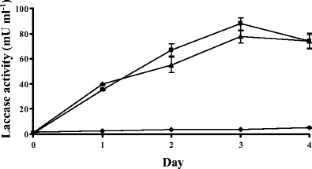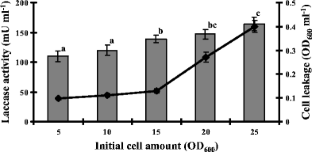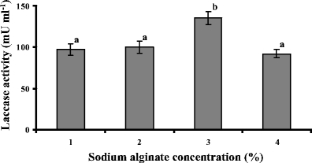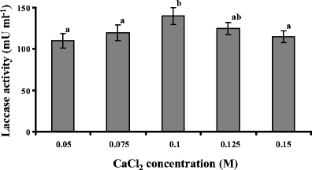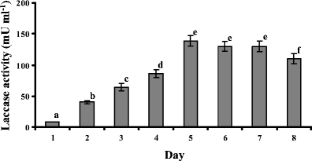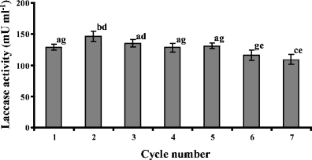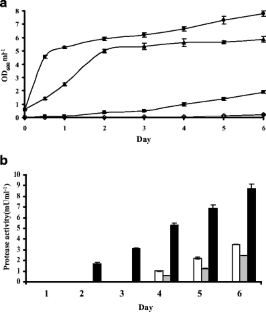 References
Abadulla E, Tzanov T, Costa S, Robra KH, Cavaco-Paulo A, Gubitz GM (2000) Decolorization and detoxification of textile dyes with a laccase from Trametes hirsuta. Appl Environ Microbiol 66:3357–3362

Alves AMCR, Record E, Lomascolo A, Scholtmeijer K, Asther M, Wessels JGH, Wösten HAB (2004) Highly efficient production of laccase by the basidiomycete Pycnoporus cinnabarinus. Appl Environ Microbiol 70:6379–6384

Baldrian P (2006) Fungal laccases—occurrence and properties. FEMS Microbiol Rev 30:215–242

Barbotin JN (1994) Immobilization of recombinant bacteria: a strategy to improve plasmid stability. Ann NY Acad Sci 721:303–309

Bleve G, Rizzotti L, Dellaglio F, Torriani S (2003) Development of reverse transcription (RT)-PCR and real-time RT-PCR assays for rapid detection and quantification of viable yeasts and molds contaminating yogurts and pasteurized food products. Appl Environ Microbiol 69:4116–4122

Bleve G, Zacheo G, Cappello MS, Dellaglio F, Grieco F (2005) Subcellular localization and functional expression of the glycerol uptake protein 1 (GUP1) of Saccharomyces cerevisiae tagged with green fluorescent protein. Biochem J 390:145–155

Bucke C (1987) Cell immobilization in calcium alginate. Methods Enzymol 135:175–189

Cassland P, Jonsson LJ (1999) Characterization of a gene encoding Trametes versicolor laccase A and improved heterologous expression in Saccharomyces cerevisiae by decreased cultivation temperature. Appl Microbiol Biotechnol 52:393–400

Chung BH, Park KS (1998) A simple approach to reducing the proteolysis during the secretory production of human parathyroid hormone in Saccharomyces cerevisiae. Biotechnol Bioeng 57:245–249

Cohen R, Persky L, Hadar Y (2002) Biotechnological applications and potential of wood-degrading mushrooms of the genus Pleurotus. Appl Microbiol Biotechnol 58:582–594

de Alteriis E, Silvestro G, Paletto M, Romano V, Capitanio D, Compagno C, Parancandola P (2004) Kluyveromyces lactis cells entrapped in Ca-alginate beads for the continuous production of a heterologous glucoamylase. J Biotechnol 109:83–92

Ducros V, Brzozowski AM, Wilson KS, Brown SH, Ostergaard P, Schneider P, Yaver DS, Pedersen AH, Davies GJ (1998) Crystal structure of the type-2 Cu depleted laccase from Coprinus cinereus at 2.2 Å resolution. Nat Struct Biol 5:310–316

Ellaiah P, Prabhakar T, Ramakrishna B, Thaer Taleb A, Adinarayana K (2004) Production of lipase by immobilized cells of Aspergillus niger. Process Biochem 39:525–528

Fariselli P, Finocchiaro G, Casadio R (2003) SPEPlip: the detection of signal peptide and lipoprotein cleavage sites. Bioinformatics 19:2498–2499

Fenice M, Federici F, Selbmann L, Petruccioli M (2000) Repeated-batch production of pigments by immobilised Monascus purpureus. J Biotechnol 80:271–276

Font X, Caminal G, Gabarrell X, Vicent T (2006) Treatment of toxic industrial wastewater in fluidized and fixed-bed batch reactors with Trametes versicolor: influence of immobilisation. Environ Technol 27:845–854

Galazzo JL, Bailey JE (1990) Growing Saccharomyces cerevisiae in calcium alginate beads induces cell alterations that accelerate glucose conversion to ethanol. Biotechnol Bioeng 36:417–426

Giardina P, Cannio R, Martitrani L, Marzullo L, Palmieri G, Sannia G (1995) Cloning and sequencing of a laccase gene from the lignin degrading basidiomycete Pleurotus ostreatus. Appl Environ Microbiol 61:2408–2413

Gietz RD, Schiestl RH, Willems AR, Woods RA (1995) Studies on the transformation of intact yeast cells by the LiAc/SS-DNA/PEG procedure. Yeast 11:355–360

Grieco F, Castellano MA, Di Sansebastiano GP, Maggipinto G, Neuhaus JM, Martelli GP (1999) Subcellular localization and in vivo identification of the putative movement protein of olive latent virus 2. J Gen Virol 80:1103–1109

Guo M, Lu F, Pu J, Bai D, Du L (2005) Molecular cloning of the cDNA encoding laccase from Trametes versicolor and heterologous expression in Pichia methanolica. Appl Microbiol Biotechnol 69:178–183

Hatakka A (2001) Biodegradation of lignin. In: Hofrichter M, Steinbüchel A (eds) Lignin, Humic Substances and Coal. Wiley-VCH, Weinheim, Germany, pp 129–179

Hatamoto O, Sekine H, Nakano E, Abe K (1999) Cloning and expression of a cDNA encoding the laccase from Schizophyllum commune. Biosci Biotechnol Biochem 63:58–64

Hernawan T, Fleet G (1995) Chemical and cytological changes during the autolysis of yeasts. J Ind Microbiol 14:440–450

Hoegger PJ, Kilaru S, James TY, Thacker JR, Kües U (2006) Phylogenetic comparison and classification of laccase and related multicopper oxidase protein sequences. FEBS J 273:2308–2326

Hoshida H, Nakao M, Kanazawa H, Kubo K, Hakukawa T, Morimasa K, Akada R, Nishizawa Y (2001) Isolation of five laccase gene sequences from the white-rot fungus Trametes sanguinea by PCR, and cloning, characterization and expression of the laccase cDNA in yeasts. J Biosci Bioeng 92:372–380

Hoshida H, Fujita T, Murata K, Kubo K, Akada R (2005) Copper-dependent production of a Pycnoporus coccineus extracellular laccase in Aspergillus oryzae and Saccharomyces cerevisiae. Biosci Biotechnol Biochem 69:1090–1097

Jirku V, Masak J, Cejkova A (2000) Yeast cell attachment: a tool modulating wall composition and resistance to 5-bromo-6-azauracil. Enzyme Microb Technol 26:808–811

Jolivalt C, Madzak C, Brault A, Caminade E, Malosse C, Mougin C (2005) Expression of laccase IIIb from the white-rot fungus Trametes versicolor in the yeast Yarrowia lipolytica for environmental applications. Appl Microbiol Biotechnol 66:450–456

Kang HA, Choi ES, Hong WK, Kim JY, Ko SM, Sohn JH, Rhee SK (2000) Proteolytic stability of recombinant human serum albumin secreted in the yeast Saccharomyces cerevisiae. Appl Microbiol Biotechnol 53:575–582

Kiiskinen LL, Saloheimo M (2004) Molecular cloning and expression in Saccharomyces cerevisiae of a laccase gene from the ascomycete Melanocarpus albomyces. Appl Environ Microbiol 70:137–144

Kiiskinen LL, Kruus K, Bailey M, Ylosmaki E, Siika-Aho M, Saloheimo M (2004) Expression of Melanocarpus albomyces laccase in Trichoderma reesei and characterization of the purified enzyme. Microbiology 150:3065–3074

Kilaru S, Hoegger PJ, Majcherczyk A, Burns C, Shishido K, Bailey A, Foster GD, Kües U (2006) Expression of laccase gene lcc1 in Coprinopsis cinerea under control of various basidiomycetous promoters. Appl Microbiol Biotechnol 71:200–210

Klonowska A, Gaudin C, Fournel A, Asso M, Le Petit J, Giorgi M, Tron T (2002) Characterization of a low redox potential laccase from the basidiomycete C30. Eur J Biochem 269:6119–6125

Konsoula Z, Liakopoulou-Kyriakides M (2006) Thermostable a-amylase production by Bacillus subtilis entrapped in calcium alginate gel capsules. Enzyme Microb Technol 39:690–696

Kourkoutas Y, Bekatorou A, Banat IM, Marchant R, Koutinas AA (2004) Immobilization technologies and support materials suitable in alcohol beverages production: a review. Food Microbiol 21:377–397

Kumar PKR, Maschke HE, Friehs K, Schuegerl K (1991) Strategies for improving plasmid stability in genetically modified bacteria in bioreactors. Trends Biotechnol 9:279–284

Kumar SV, Phale PS, Durani S, Wangikar PP (2003) Combined sequence and structure analysis of the fungal laccase family. Biotechnol Bioeng 83:386–394

Larrondo LF, Avila M, Salas L, Cullen D, Vicuña R (2003) Heterologous expression of laccase cDNA from Ceriporiopsis subvermispora yields copper-activated apoprotein and complex isoform patterns. Microbiology 149:1177–1182

Liu F, Li W, Ridgway D, Gu T, Moo-Young M (1998) Inhibition of extracellular protease secretion by Aspergillus niger using immobilization. Biotechnol Lett 20:539–542

Martinsen A, Storro I, Braek GS (1992) Alginate as immobilization material: its diffusional properties. Biotech Bioeng 39:186–194

Mattiasson B, Larsson M, Hahn-Haegerdal B (1984) Metabolic behavior of immobilized cells-effects of some microenvironmental factors. Ann NY Acad Sci 434:475–478

Melzoch K, Rychtera M, Habova V (1994) Effect of immobilization upon the properties and behavior of Saccharomyces cerevisiae cells. J Biotechnol 32:59–65

Mohawed SM, Kassim EA, Shahed AS (1986) Studies on the effect of different pH values, vitamins, indoles and gibberellic on the production of lipase by Aspergillus althecias. Agric Wastes 17:307–312

Muñoz C, Guillén F, Martínez AT, Martínez MJ (1997a) Induction and characterization of laccase in the ligninolytic fungus Pleurotus eryngii. Curr Microbiol 34:1–5

Muñoz C, Guillén F, Martínez AT, Martínez MJ (1997b) Laccase isoenzymes of Pleurotus eryngii: characterization, catalytic properties, and participation in activation of molecular oxygen and Mn2+ oxidation. Appl Environ Microbiol 63:2166–2174

Necochea R, Valderrama B, Díaz-Sandoval S, Folch-Mallol JL, Vázquez-Duhalt R, Iturriaga G (2005) Phylogenetic and biochemical characterisation of a recombinant laccase from Trametes versicolor. FEMS Microbiol Lett 244:235–241

Norton S, D'Amore T (1994) Physiological effects of yeast cell immobilization: applications for brewing. Enzyme Microb Technol 16:365–375

Palmieri G, Giardina P, Marzullo L, Desiderio B, Nitti G, Cannio R, Sannia G (1993) Stability and activity of a phenol oxidase from the ligninolytic fungus Pleurotus ostreatus. Appl Microbiol Biotechnol 39:632–636

Patil M, Shastri NV (1981) Extracellular proteases by Alternasia alternater (Fr.). J Ferment Technol 59:403–406

Peláez F, Martínez MJ, Martínez AT (1995) Screening of 68 species of basidiomycetes for enzymes involved in lignin degradation. Mycol Res 99:37–42

Piscitelli A, Giardina P, Mazzoni C, Sannia G (2005) Recombinant expression of Pleurotus ostreatus laccases in Kluyveromyces lactis and Saccharomyces cerevisiae. Appl Microbiol Biotechnol 69:428–439

Ramakrishna SV, Prakasham RS (1999) Microbial fermentations with immobilized cells. Curr Sci 77:87–100

Record E, Punt PJ, Chamkha M, Labat M, van Den Hondel CA, Asther M (2002) Expression of the Pycnoporus cinnabarinus laccase gene in Aspergillus niger and characterization of the recombinant enzyme. Eur J Biochem 269:602–609

Rodríguez Couto S, Toca Herrera JL (2006) Industrial and biotechnological applications of laccases: a review. Biotechnol Adv 24:500–513

Romanos MA, Scorer CA, Clare JJ (1992) Foreign gene expression in yeast: a review. Yeast 8:423–488

Siegel RS, Brieley RA (1990) Use of a cell recycle reactor to increase production of a proteolysis-susceptible peptide secreted from recombinant Saccharomyces cerevisiae. Bio/Technology 8:639–643

Soden DM, O'Callaghan J, Dobson AD (2002) Molecular cloning of a laccase isozyme gene from Pleurotus sajor-caju and expression in the heterologous Pichia pastoris host. Microbiology 148:4003–4014

Thurston C (1994) The structure and function of fungal laccases. Microbiology 140:19–26

Turner BG, Avgerinos GC, Melnick LM, Moir DT (1991) Optimization of prourokinase secretion from recombinant Saccharomyces cerevisiae. Biotechnol Bioeng 37:869–875

Verbelen PJ, De Schutter DP, Delvaux F, Verstrepen KJ, Delvaux FR (2006) Immobilized yeast cell systems for continuous fermentation applications. Biotechnol Lett 28:1515–1525

Wang HX, Ng TB (2006) Purification of a laccase from fruiting bodies of the mushroom Pleurotus eryngii. Appl Microbiol Biotechnol 69:521–525

Wiemken A (1990) Trehalose in yeast, stress protectant rather than reserve carbohydrate. Antonie van Leeuwenhoek 58:209–217

Zhang X, Bury S, DiBiasio D, Miller JE (1989) Effects of immobilization on growth, substrate consumption, b-galactosidase induction, and by-product formation in Escherichia coli. J Ind Microbiol 4:239–246
Acknowledgements
The P. eryngii strain was kindly provided by Dr. U. Tomati (IBAF-CNR, Rome, Italy). We are grateful to Dr. E. Record (IFR-IBAIM, Marseille, France) for gently supplying the antiserum against laccase and to Mr. G. Colella for the valuable technical assistance. We would also like to thank Prof. H. Caffery for proofreading and providing valuable linguistic advice.
About this article
Cite this article
Bleve, G., Lezzi, C., Mita, G. et al. Molecular cloning and heterologous expression of a laccase gene from Pleurotus eryngii in free and immobilized Saccharomyces cerevisiae cells. Appl Microbiol Biotechnol 79, 731 (2008). https://doi.org/10.1007/s00253-008-1479-1
Received:

Revised:

Accepted:

Published:
Keywords
Pleurotus eryngii

Laccase

Recombinant protein in yeast

Ca-alginate immobilization