Abstract
Many poly(lactic acid) (PLA)-degrading microorganisms have been isolated from the natural environment by culture-based methods, but there is no study about unculturable PLA-degrading microorganisms. In this study, we constructed a metagenomic library consisting of the DNA extracted from PLA disks buried in compost. We identified three PLA-degrading genes encoding lipase or hydrolase. The purified enzymes degraded not only PLA, but also various aliphatic polyesters, tributyrin, and p-nitrophenyl esters. From their substrate specificities, the PLA depolymerases were classified into an esterase rather than a lipase. Among the PLA depolymerases, PlaM4 exhibited thermophilic properties; that is, it showed the highest activity at 70 °C and was stable even after incubation for 1 h at 50 °C. PlaM4 had absorption and degradation activities for solid PLA at 60 °C, which indicates that the enzyme can effectively degrade PLA in a high-temperature environment. On the other hand, the enzyme classification based on amino acid sequences showed that the other PLA depolymerases, PlaM7 and PlaM9, were not classified into known lipases or esterases. This is the first report on the identification and characterization of PLA depolymerase from a metagenome.
This is a preview of subscription content, log in to check access.
Access options
Buy single article
Instant access to the full article PDF.
US$ 39.95
Price includes VAT for USA
Subscribe to journal
Immediate online access to all issues from 2019. Subscription will auto renew annually.
US$ 199
This is the net price. Taxes to be calculated in checkout.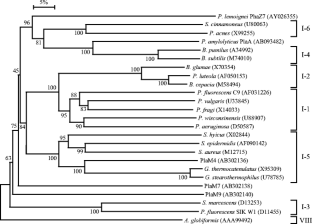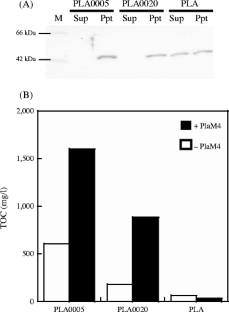 References
Akutsu-Shigeno Y, Teeraphatpornchai T, Teamtisong K, Nomura N, Uchiyama H, Nakahara T, Nakajima-Kambe T (2003) Cloning and sequencing of a poly(dl-lactic acid) depolymerase gene from Paenibacillus amylolyticus strain TB-13 and its functional expression in Escherichia coli. Appl Environ Microbiol 69:2498–2504

Arpigny JL, Jaeger KE (1999) Bacterial lipolytic enzymes: classification and properties. Biochem J 343:177–183

Bendtsen JD, Nielsen H, Heijne GV, Brunak S (2004) Improved prediction of signal peptides—SignalP 3.0. J Mol Biol 340:783–795

Bintrim SB, Donohue TJ, Handelsman J, Roberts GP, Goodman RM (1997) Molecular phylogeny of archaea from soil. Proc Natl Acad Sci U S A 94:277–282

Cowan D, Meyer Q, Stafford W, Muyanga S, Cameron R, Wittwer P (2005) Metagenomic gene discovery: past, present and future. Trends Biotechnol 23:321–329

Gabor EM, de Vries EJ, Janssen DB (2003) Efficient recovery of environmental DNA for expression cloning by indirect extraction methods. FEMS Microbiol Ecol 44:153–163

Ghorpade VM, Gennadios A, Hanna MA (2001) Laboratory composting of extruded poly(lactic acid) sheets. Bioresour Technol 76:57–61

Gross RA, Kalra B (2002) Biodegradable polymers for the environment. Science 297:803–807

Jarerat A, Pranamuda H, Tokiwa Y (2002) Poly(l-lactide)-degrading activity in various actinomycetes. Macromol Biosci 2:420–428

Jeanmougin F, Thompson JD, Gouy M, Higgins DG, Gibson TJ (1998) Multiple sequence alignment with Clustal X. Trends Biochem Sci 23:403–405

Kleeberg I, Hetz C, Kroppenstedt RM, Muller RJ, Deckwer WD (1998) Biodegradation of aliphatic-aromatic copolyesters by Thermomonospora fusca and other thermophilic compost isolates. Appl Environ Microbiol 64:1731–1735

Laemmli UK (1970) Cleavage of structural protein during the assembly of the head of bacteriophage T4. Nature 227:680–685

Lim HA, Raku T, Tokiwa Y (2004) A new method for the evaluation of biodegradable plastic using coated cellulose paper. Macromol Biosci 4:875–881

Lowry OH, Rosebrough NJ, Farr AL, Randall RJ (1951) Protein measurement with the Folin phenol reagent. J Biol Chem 193:265–275

Maeda H, Yamagata Y, Abe K, Hasegawa F, Machida M, Ishioka R, Gomi K, Nakajima T (2005) Purification and characterization of a biodegradable plastic-degrading enzyme from Aspergillus oryzae. Appl Microbiol Biotechnol 67:778–788

Masaki K, Kamini NR, Ikeda H, Iefuji H (2005) Cutinase-like enzyme from the yeast Cryptococcus sp. strain S-2 hydrolyzes polylactic acid and other biodegradable plastics. Appl Environ Microbiol 71:7548–7550

Matsuda E, Abe N, Tamakawa H, Kaneko J, Kamio Y (2005) Gene cloning and molecular characterization of an extracellular poly(l-lactic acid) depolymerase from Amycolatopsis sp. strain K104-1. J Bactriol 187:7333–7340

Nakamura K, Tomita T, Abe N, Kamio Y (2001) Purification and characterization of an extracellular poly(l-lactic acid) depolymerase from a soil isolate, Amycolatopsis sp. strain K104-1. Appl Environ Microbiol 67:345–353

Pranamuda H, Tokiwa Y, Tanaka H (1995) Microbial degradation of an aliphatic polyester with a high melting point, poly(tetramethylene succinate). Appl Environ Microbiol 61:1828–1832

Pranamuda H, Tokiwa Y, Tanaka H (1997) Polylactide degradation by an Amycolatopsis sp. Appl Environ Microbiol 63:1637–1640

Pranamuda H, Tsuchii A, Tokiwa Y (2001) Poly(l-lactide)-degrading enzyme produced by Amycolatopsis sp. Macromol Biosci 1:25–29

Rondon MR, Goodman RM, Handelsman J (1999) The Earth's bounty: assessing and accessing soil microbial diversity. Trends Biotechnol 17:403–409

Rondon MR, August PR, Bettermann AD, Brady SF, Grossman TH, Liles MR, Loiacono KA, Lynch BA, Macneil IA, Minor C, Tiong CL, Gilman M, Osburne MS, Clardy J, Handelsman J, Goodman RM (2000) Cloning the soil metagenome: a strategy for accessing the genetic and functional diversity of uncultured microorganisms. Appl Environ Microbiol 66:2541–2547

Sakai K, Kawano H, Iwami A, Nakamura M, Moriguchi M (2001) Isolation of a thermophilic poly-l-lactide degrading bacterium from compost and its enzymatic characterization. J Biosci Bioeng 92:298–300

Suyama T, Tokiwa Y, Ouichanpagdee P, Kanagawa T, Kamagata Y (1998) Phylogenetic affiliation of soil bacteria that degrade aliphatic polyesters available commercially as biodegradable plastic. Appl Environ Microbiol 64:5008–5011

Teeraphatpornchai T, Nakajima-Kambe T, Shigeno-Akutsu Y, Nakayama M, Nomura N, Nakahara T, Uchiyama H (2003) Isolation and characterization of a bacterium that degrades various polyesters-based biodegradable plastics. Biotechnol Lett 25:23–28

Tokiwa Y, Calabia BP (2006) Biodegradability and biodegradation of poly(lactide). Appl Microbiol Biotechnol 72:244–251

Tokiwa Y, Jarerat A (2004) Biodegradation of poly(l-lactide). Biotechnol Lett 26:771–777

Tseng M, Hoang KC, Yang MK, Yang SF, Chu WS (2007) Polyester-degrading thermophilic actinomycetes isolated from different environment in Taiwan. Biodegradation 18:579–583
About this article
Cite this article
Mayumi, D., Akutsu-Shigeno, Y., Uchiyama, H. et al. Identification and characterization of novel poly(dl-lactic acid) depolymerases from metagenome. Appl Microbiol Biotechnol 79, 743–750 (2008). https://doi.org/10.1007/s00253-008-1477-3
Received:

Revised:

Accepted:

Published:

Issue Date:
Keywords
Metagenome

Depolymerase

Esterase

Biodegradable plastic

Polylactide

Lipase