Abstract
The present work was devoted to investigations concerning the purification and characterisation of the fructooligosaccharide (FOS)-producing extracellular enzyme of Rhodotorula sp. LEB-V10. FOS are functional food ingredients showing prebiotic properties, meaning that it could stimulate selectively the growth and/or activity of probiotic bacteria in the gut. The purification of the enzyme was carried out according to the following sequential procedure: cell separation by centrifugation, recovering by ethanol precipitation and purification by anion exchange chromatography. The molecular weight was estimated to be 170 kDa by preparative gel filtration and 77 kDa by sodium dodecyl sulphate–polyacrylamide gel electrophoresis, signifying that the native enzyme exists as a dimer. With sucrose as substrate, the data failed to fit the Michaelis–Menten behaviour, rather showing a sigmoid shape similar to that of the allosteric enzymes (cooperative behaviour), requiring high sucrose concentrations to obtain high reaction rates. The enzyme showed both fructofuranosidase (FA) and fructosyl-transferase (FTA) activities. The optimum pH and temperature for FA activity were found to be around 4.0 and 72–75°C, respectively, while FTA showed optimum activity at pH 4.5 and 65–70°C. Both activities were very stable at temperatures below 66°C, while for FA, the enzyme was more stable at pH 4.0 and for FTA at pH 5.0.
This is a preview of subscription content, log in to check access.
Access options
Buy single article
Instant access to the full article PDF.
US$ 39.95
Price includes VAT for USA
Subscribe to journal
Immediate online access to all issues from 2019. Subscription will auto renew annually.
US$ 199
This is the net price. Taxes to be calculated in checkout.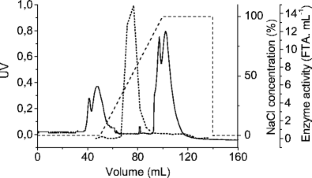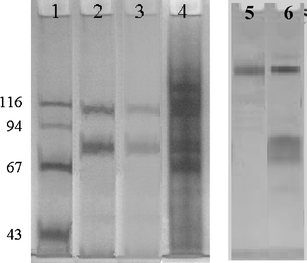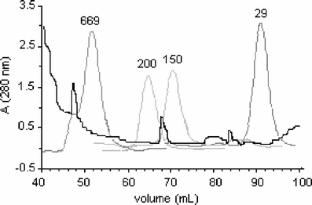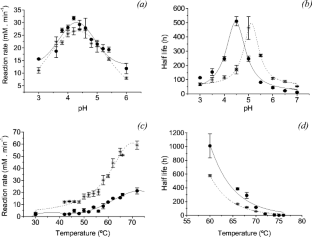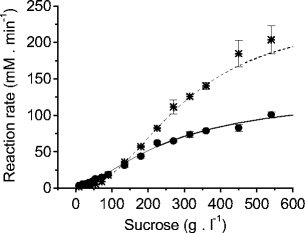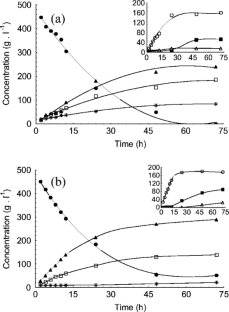 References
Belcarz A, Ginalska G, Lobarzewski J, Penel C (2002) The novel non-glycosylated invertase from Candida utilis (the properties and the conditions of production and purification). Biochimica et Biophysica Acta 1594:40–53

Chen W, Liu C (1996) Production of b-fructofuranosidase by Aspergillus japonicus. Enzyme Microb Technol 18:153–160

Ghazi I, Fernandez-Arrojo L, Garcia-Arellano H, Ferrer M, Ballesteros A, Plou FJ (2007) Purification and kinetic characterization of a fructosyltransferase from Aspergillus aculeatus. J Biotechnol 128:204–211

Gibson GR, Roberfroid MD (1995) Dietary modulation of the colonic microbiota: introducing the concept of prebiotics. J Nutr 125:1401–1412

Hames BD, Rickwood D (1990) Gel electrophoresis of proteins—a practical approach. IRL Press, Oxford, p 383

Harris ELV, Angal S (1995) Protein purification methods: a practical approach. IRL Press, New York, p 317

Hayashi S, Nonoguchi M, Takasaki Y, Ueno H, Imada K (1991) Purification and properties of b-fructofuranosidase from Aurebasidium sp. ATCC 20524. J Ind Microbiol 7:251–256

Hidaka H, Hirayama M, Sumi N (1988) A fructooligosaccharide-producing enzyme from Aspergillus niger ATCC 20611. Agric Biol Chem 52(05):1181–1187

L'Hocine L, Wang Z, Jiang B, Xu S (2000) Purification and partial characterization of fructosyltransferase and invertase from Aspergillus niger AS0023. J Biotechnol 81:73–84

Laemmli UK (1970) Cleavage of structural proteins during the assembly of the head of bacteriphage T4. Nature 277:680–685

Lowry OH, Rosebroght NJ, Farr AI, Randall RJ (1951) Protein measurement with the folin phenol reagent. J Biol Chem 193:265–275

Maugeri F, Hernalsteens S (2007) Screening of yeast strains for transfructosylating activity. J Mol Catal B Enzym 49:43–49

Monsan P, Paul F (1995) Enzymatic synthesis of oligosaccharides. FEMS Microbiol Rev 16(2–3):187–190

Nelson N (1944) A fotometric adaptation of Somogyi method for the determination of glucose. J Biol Chen 153:375–380

Onishi N, Tanaka T (1996) Purification and properties of galacto- and gluco-oligosaccharide-producing b-glycosidase from Rhodotorula minuta IFO879. J Ferment Bioeng 82:439–443

Ozimek LK, Euverink GJW, van der Maarel MJEC, Dijkhuizen L (2005) Mutatial analysis of the role of calcium ions in the Lactobacillus reurteri strain 121 fructosylçtransferase (levansucrase and inulosucrase) enzymes. FEBS Lett 579:1124–1128

Ozimek LK, Kralj S, Kaper T, van der Maarel MJEC, Dijkhuizen L (2006) Single amino acid residue changes in subsite-1 of inulosucrase from Lactobacillus reurteri 121 strongly influence the size of products synthesized. FEBS J 273:4104–4113

Risso FVA (2004) Síntese de oligossacarídeos em meio orgânico e aquoso utilizando-se inulinase livre e imobilizada produzida por K. marxianus ATCC 16045 e NRRL Y 7571". Doctorate thesis, Faculty of Food Engineer, UNICAMP, Campinas, Brazil

Rubio MC, Runco R, Navarro AR (2002) Invertase from a strain of Rhodotorula glutinis. Phytochemistry 61:605–609

Sageetha PT, Ramesh MN, Prapulla SG (2004) Production of fructo-oligosaccharides by fructosyl transferase from Aspergillus orysae CFR202 and Aureobasidium pullulans CFR77. Process Biochem 39:753–758

Sageetha PT, Ramesh MN, Prapulla SG (2005) Recent trends in the microbial production, analysis and application of fructooligosaccharides. Trends Food Sci Technol 16:442–457

Santos AMP (2003) Sintese de oligossacarideos a partir da sacarose por inulinase de Kluyveromyces marxianus var. bulgaricus". Doctorate thesis, Faculty of Food Engineer, UNICAMP, Campinas, Brazil

Somogy M (1945) A new reagent for determination of sugars: a new sugar reagent. May, pp 61–68

van Hijum SAFT, Bonting K, van der Maarel MJEC, Dijkhuizen L (2004) Purification of a novel fructosyltransferase from Lactobacillus reuteri strain 121 and characterization of the levan produced. FEMS Microbiol Lett 205:323–328

Wang X, Rakshit SK (2000) Iso-oligosaccharide production by multiple forms of transferase enzymes from Aspergillus foetidus. Process Biochem 35:771–775

Yoshikawa J, Amachi S, Shinoyama H, Fujii T (2007) Purification and some properties of b-fructofuranosidase I formed by Aureobasidium pullulans DSM 2404. J Biosci Bioeng 103(5):491–493

Yun JW (1996) Fructooligosaccharides: occurrence, preparation and application. Enzyme Microb Technol 19:107–117
Acknowledgements
The authors thank FAPESP, CNPQ and CAPES for their financial support.
About this article
Cite this article
Hernalsteens, S., Maugeri, F. Purification and characterisation of a fructosyltransferase from Rhodotorula sp.. Appl Microbiol Biotechnol 79, 589 (2008). https://doi.org/10.1007/s00253-008-1470-x
Received:

Revised:

Accepted:

Published:
Keywords
Rhodotorula sp.

Fructooligosaccharides

Enzyme characterisation

Enzyme kinetics