Abstract
A novel chromosome engineering technology is described which enables conditional splitting of natural chromosomes in haploid cells of the yeast Saccharomyces cerevisiae. The technology consists of introduction of a recognition sequence for the homing endonuclease PI-SceI into the S. cerevisiae genome and conditional expression of the gene encoding the PI-SceI enzyme under the control of the MET3 promoter. To test the technology, we split chromosome V upstream of GLC7 by use of the autonomously replicating sequence (ARS)-added polymerase-chain-reaction-mediated chromosome-splitting (ARS-PCS) method that we recently developed. A recognition sequence for PI-SceI was subsequently introduced downstream of the GLC7 locus. Splitting was analyzed following induction of the PI-SceI-encoding gene. Approximately 50% of the clones tested had the expected minichromosome harboring only the GLC7 gene, suggesting that any desired chromosomal region may be converted into a new chromosome by use of this method. Because this technology allows initial construction of a strain harboring multiple constructs prior to subsequent induction of random chromosome loss events under specific selective conditions, we propose that this technology may be applicable to reconstructing the S. cerevisiae genome by means of combinatorial loss of minichromosomes.
This is a preview of subscription content, log in to check access.
Access options
Buy single article
Instant access to the full article PDF.
US$ 39.95
Price includes VAT for USA
Subscribe to journal
Immediate online access to all issues from 2019. Subscription will auto renew annually.
US$ 199
This is the net price. Taxes to be calculated in checkout.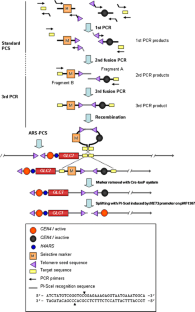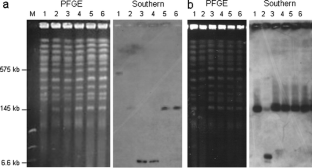 References
Bianchi A, Negrini S, Shore D (2004) Delivery of yeast telomerase to a DNA break depends on the recruitment function of Cdc13 and Est1. Mol Cell 16:139–146

Giaever G, Chu AM, Ni L, Connelly C, Riles L, Véronneau S, Dow S, Lucau-Danila A, Anderson K, André B, Arkin AP, Astromoff A, El-Bakkoury M, Bangham R, Benito R, Brachat S, Campanaro S, Curtiss M, Davis K, Deutschbauer A, Entian KD, Flaherty P, Foury F, Garfinkel DJ, Gerstein M, Gotte D, Güldener U, Hegemann JH, Hempel S, Herman Z, Jaramillo DF, Kelly DE, Kelly SL, Kötter P, LaBonte D, Lamb DC, Lan N, Liang H, Liao H, Liu L, Luo C, Lussier M, Mao R, Menard P, Ooi SL, Revuelta JL, Roberts CJ, Rose M, Ross-Macdonald P, Scherens B, Schimmack G, Shafer B, Shoemaker DD, Sookhai-Mahadeo S, Storms RK, Strathern JN, Valle G, Voet M, Volckaert G, Wang CY, Ward TR, Wilhelmy J, Winzeler EA, Yang Y, Yen G, Youngman E, Yu K, Bussey H, Boeke JD, Snyder M, Philippsen P, Davis RW, Johnston M (2002) Functional profiling of Saccharomyces cerevisiae genome. Nature 418:387–391

Güldener U, Heck S, Fiedler T, Beinhauer J, Hegemann JH (1996) A new efficient gene disruption cassette for repeated use in budding yeast. Nucleic Acids Res 24:2519–2524

Hieter P, Mann C, Snyder M, Davis RW (1985) Mitotic stability of yeast chromosomes: a colony color assay that measures nondisjunction and chromosome loss. Cell 40:381–392

Hill A, Bloom K (1987) Genetic manipulation of centromere function. Mol Cell Biol 7:2397–2405

Joyce A, Reed JL, White A, Edwards R, Osterman A, Baba T, Mori H, Lesely SA, Palsson BO, Agarwalla S (2006) Experimental and computational assessment of conditionally essential genes in Escherichia coli. J Bacteriol 188:8259–8271

Kim Y, Sugiyama M, Yamagishi K, Kaneko Y, Fukui K, Kobayashi A, Harashima S (2005) A versatile general splitting technology for generating targeted YAC subclones. Appl Microbiol Biotechnol 69:65–70

Lettier G, Feng Q, de Mayolo AA, Erdeniz N, Reid RJ, Lisby M, Mortensen UH, Rothstein R (2006) The role of DNA double-strand breaks in spontaneous homologous recombination in S. cerevisiae. PloS Genet 2:e194

Murakami K, Tao E, Ito Y, Sugiyama M, Kaneko Y, Harashima S, Sumiya T, Nakamura A, Nishizawa M (2007) Large scale deletions in the Saccharomyces cerevisiae genome create strains with altered regulation of carbon metabolism. Appl Microbiol Biotechnol 75:589–597

Murray AW, Schultes NP, Szostak JW (1986) Chromosome length controls mitotic chromosome segregation in yeast. Cell 45:529–536

Negrini S, Ribaud V, Bianchi A, Shore D (2007) DNA breaks are masked by multiple Rap1 binding in yeast: implications for telomere capping and telomerase regulation. Genes Dev 21:292–302

Noël AJ, Wende W, Pingoud A (2004) DNA recognition by the homing endonuclease PI-SceI involves a divalent metal ion cofactor-induced conformational change. J Bio Chem 279:6794–6804

Sakumoto N, Mukai Y, Uchida K, Kouchi T, Kuwajima J, Nakagawa Y, Sugioka S, Yamamoto E, Furuyama T, Mizubuchi H, Ohsugi N, Sakuno T, Kikuchi K, Matsuoka I, Ogawa N, Kaneko Y, Harashima S (1999) A series of protein phosphatase gene disruption in Saccharomyces cerevisiae. Yeast 15:1669–1679

Sakumoto N, Matsuoka I, Mukai Y, Ogawa N, Kaneko Y, Hrashima S (2002) A series of double disruptants for protein phosphatase genes in Saccharomyces cerevisiae and their phenotypic analysis. Yeast 19:587–599

Sheehan C, Weiss AS (1990) Yeast artificial chromosomes: rapid extraction for high resolution analysis. Nucleic Acids Res 18:2193

Sugiyama M, Ikushima S, Nakazawa T, Kaneko Y, Harashima S (2005) PCR-mediated repeated chromosome splitting in Saccharomyces cerevisiae. Biotechniques 38:909–914

Surosky RT, Newlon CS, Tye BK (1986) The mitotic stability of deletion derivatives of chromosome III in yeast. Proc Natl Acad U S A 83:414–418

Widianto D, Yamamoto E, Sugiyama M, Mukai Y, Oshima Y, Nishizawa M, Harashima S (2003) Creating a Saccharomyces cerevisiae haploid strain having 21 chromosomes. J Biosci Bioeng 95:89–94

Zucker M (2003) Mfold web server for nucleic acid folding and hybridization prediction. Nucleic Acids Res 31:3406–3415
Acknowledgements
We are grateful to Dr. M. Nishizawa for providing plasmid pMF1307 for PI-SceI expression.
About this article
Cite this article
Yamagishi, K., Sugiyama, M., Kaneko, Y. et al. Conditional chromosome splitting in Saccharomyces cerevisiae using the homing endonuclease PI-SceI. Appl Microbiol Biotechnol 79, 699 (2008). https://doi.org/10.1007/s00253-008-1465-7
Received:

Revised:

Accepted:

Published:
Keywords
Single-gene chromosome

Conditional splitting

PI-SceI

Yeast

Genome reconstruction

PCS technology