Abstract
Two-phase olive mill waste (TPOMW) is a semi-solid effluent that is rich in contaminating polyphenols and is produced in large amounts by the industry of olive oil production. Laboratory-scale bioreactors were used to investigate the biodegradation of TPOMW by its indigenous microbiota. The effect of nutrient addition (inorganic N and P) and aeration of the bioreactors was studied. Microbial changes were investigated by PCR-temperature time gradient electrophoresis (TTGE) and following the dynamics of polar lipid fatty acids (PLFA). The greatest decrease in the polyphenolic and organic matter contents of bioreactors was concomitant with an increase in the PLFA fungal/bacterial ratio. Amplicon sequences of nuclear ribosomal internal transcribed spacer region (ITS) and16S rDNA allowed identification of fungal and bacterial types, respectively, by comparative DNA sequence analyses. Predominant fungi identified included members of the genera Penicillium, Candida, Geotrichum, Pichia, Cladosporium, and Aschochyta. A total of 14 bacterial genera were detected, with a dominance of organisms that have previously been associated with plant material. Overall, this work highlights that indigenous microbiota within the bioreactors through stimulation of the fungal fraction, is able to degrade the polyphenolic content without the inoculation of specific microorganisms.
This is a preview of subscription content, log in to check access.
Access options
Buy single article
Instant access to the full article PDF.
US$ 39.95
Price includes VAT for USA
Subscribe to journal
Immediate online access to all issues from 2019. Subscription will auto renew annually.
US$ 199
This is the net price. Taxes to be calculated in checkout.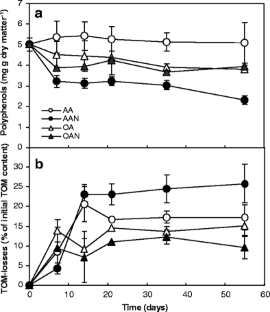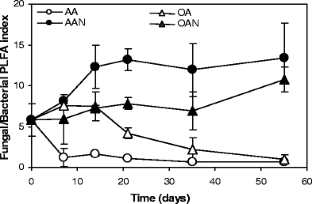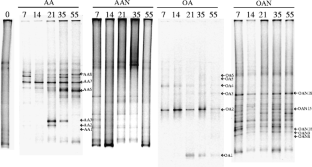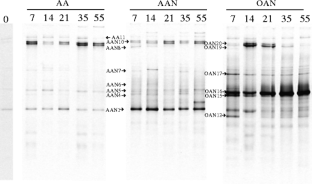 References
Aggelis G, Iconomou D, Christou M, Bokas D, Kotzailias S, Christou G, Tsagou V, Papanikolaou S (2003) Phenolic removal in a model olive mill wastewater using Pleurotus ostreatus in biobioreactor cultures and biological evaluation of the process. Water Res 37:3897–3904

Alburquerque JA, Gonzálvez J, García D, Cegarra J (2004) Agrochemical characterisation of "alpeorujo", a solid by-product of the two-phase centrifugation method for olive extraction. Biores Technol 91:195–200

Alburquerque JA, Gonzálvez J, García D, Cegarra J (2006) Composting of a solid olive-mill by-product ("alperujo") and the potential of the resulting compost for cultivating pepper under commercial conditions. Waste Manag 26:620–626

Anonymous. International Olive Oil Council, http://www.internationaloliveoil.org. [last access on 22.11.2004]

Antizar-Ladislao B, Lopez-Real J, Beck AJ (2005) Laboratory studies of the remediation of polycyclic aromatic hydrocarbon contaminated soil by in-vessel composting. Waste Manag 25:281–289

Antizar-Ladislao B, Lopez-Real J, Beck AJ (2006) Degradation of polycyclic aromatic hydrocarbons (PAHs) in an aged coal-tar contaminated soil under in-vessel composting conditions. Environ Pollut 141:459–468

Antizar-Ladislao B, Spanova K, Beck AJ, Russell NJ (2007) Microbial community structure changes during bioremediation of PAHs in an aged coal-tar contaminated soil by in-vessel composting. Int Biodet Biodeg (in press) DOI https://doi.org/10.1016/j.ibiod.2007.10.002

Aragón JM, Palancar MC (2001) Improlive 2000. Present and future of alperujo. Editorial Complutense Press Madrid, Spain

Arjona R, García A, Ollero P (1999) The drying of alpeorujo, a waste product of the olive oil mill industry. J Food Eng 41:229–234

Assas N, Marouani L, Hamdi M (2000) Scale down and optimization of olive mill wastewaters decolourisation by Geotrichum candidum. Biochem Eng 22:503–507

Ayed L, Assas N, Sayadi S, Hamdi M (2005) Involvement of lignin peroxidase in the decolourization of black olive mill wastewaters by Geotrichum candidum. Lett Appl Microbiol 40:7–11

Benitez E, Sainz H, Nogales R (2005) Hydrolytic enzyme activities of extracted humic substances during the vermicomposting of a lignocellulosic olive waste. Biores Technol 96:785–790

Borja R, Sánchez E, Rincón B, Raposo F, Martín MA, Martín A (2005) Study and optimisation of the anaerobic acidogenic fermentation of two-phase olive pomace. Process Biochem 40:281–291

Buyer JS, Roberts DP, Russek-Cohen E (1999) Microbial community structure and function in the spermosphere as affected by soil and seed type. Can J Microbiol 45:138–144

Carpenter-Boggs L, Kennedy AC, Reganold JP (1998) Use of phospholipid fatty acids and carbon source utilization patterns to track microbial community succession in developing compost. Appl Environ Microbiol 64:4062–4064

Capasso R, Evidente A, Schivo L, Orru G, Marcialis MA, Cristinzio G (1995) Antibacterial polyphenols from olive oil mill waste waters. J Appl Bacteriol 79:393–398

D'Annibale A, Ricci M, Leonardi V, Quaratino D, Mincione E, Petruccioli M (2005) Degradation of aromatic hydrocarbons by white-rot fungi in a historically contaminated soil. Biotechnol Bioeng 90:723–731

Ettayebi K, Errachidi F, Jamai L, Tahri-Jouti MA, Sendide K, Ettayebi M (2003) Biodegradation of polyphenols with immobilized Candida tropicalis under metabolic induction. FEMS Microbiol Lett 223:215–219

Franco AR, Calheiros CSC, Pacheco CC, De Marco P, Manaia CM, Castro PML (2005) Isolation and characterization of polymeric galloyl-ester-degrading bacteria from a tannery discharge place. Microb Ecol 50:550–556

Frostegård A, Bååth E (1996) The use of phospholipid fatty acid analysis to estimate bacterial and fungal biomass in soil. Biol Fertil Soils 22:59–65

Giannoutsou EP, Meintanis C, Karagouni AD (2004) Identification of yeast strains isolated from a two-phase decanter system olive oil waste and investigation of their ability for its fermentation. Biores Technol 93:301–306

Johansen JE, Binnerup SJ, Kroer N, Molbak L (2005) Luteibacter rhizovicinus gen. nov., sp. nov., a yellow-pigmented gammaproteobacterium isolated from the rhizosphere of barley (Hordeum vulgare L.). Int J Syst Evol Microbiol 55:2285–2291

Jones CE, Murphy PJ, Russell NJ (2000) Diversity and osmoregulatory responses of bacteria isolated from two-phase olive oil extraction waste products. World J Microbiol Biotechnol 16:555–561

Kates M (1985) Techniques of lipidology. Amsterdam, Elsevier

Klamer M, Bååth E (1998) Microbial community dynamics during composting of straw material studied using phospholipid fatty acid analysis. FEMS Microbiol Lett 27:9–20

Linares A, Caba JM, Ligero F, de la Rubia T, Martínez J (2003) Detoxification of semisolid olive-mill wastes and pine-chip mixtures using Phanerochaete flavido-alba. Chemosphere 51:887–891

Maestro-Durán R, Borja R, Martín A, Fiestas JA, Alba J (1991) Biodegradación de los compuestos fenólicos presentes en el alpechín. Grasas y Aceites 42:271–276

Marie D, Fei Z, Balagué V, Ras J, Vaulot D (2006) Eukaryotic picoplankton communities of the Mediterranean Sea in summer assessed by molecular approaches (DGGE, TTGE, QPCR). FEMS Microbiol Lett 55:403–415

Millan B, Lucas R, Robles A, Garcia T, De Cienfuegos GA, Galvez A (2000) A study on the microbiota from olive-mill wastewater (OMW) disposal lagoons, with emphasis on filamentous fungi and their biodegradative potential. Microbiol Res 155:143–147

Morillo JA, Aguilera M, Ramos-Cormenzana A, Monteoliva-Sánchez M (2006) Production of a metal binding exopolysaccharide by Paenibacillus jamilae using two-phase olive-mill waste as fermentation substrate. Curr Microbiol 53:189–193

Murray WD, Khan AW, Van den Berg L (1982) Clostridium saccharolyticum sp. nov., a saccharolytic species from sewage sludge. Int J Syst Bacteriol 32:132–135

Nikolcheva LG, Bärlocher F (2005) Seasonal and substrate preferences of fungi colonizing leaves in streams: traditional versus molecular evidence. Environ Microbiol 7:270–280

Ntougias S, Zervakis GI, Ehaliotis C, Kavroulakis N, Papadopoulou KK (2006) Ecophysiology and molecular phylogeny of bacteria isolated from alkaline two-phase olive mill wastes. Res Microbiol 157:376–385

Paredes C, Bernal MP, Cegarra J, Roig A (2002) Bio-degradation of olive mill wastewater sludge by its co-composting with agricultural wastes. Biores Technol 85:1–8

Piotrowska A, Iamarino G, Rao MA, Gianfreda L (2006) Short-term effects of olive mill waste water (OMW) on chemical and biochemical properties of a semiarid Mediterranean soil. Soil Biol Biochem 38:600–610

Postma J, Geraats BPJ, Pastoor R, Van Elsas JD (2005) Characterization of the microbial community involved in the suppression of Pythium aphanidermatum in cucumber grown on rockwool. Phytopathology 95:808–818

Ramos-Cormenzana A, Juárez-Jiménez B, García-Pareja MP (1996) Antimicrobial activity of olive mill waste-waters (Alpechin) and biotransformed olive oil mill wastewater. Int Biodet Biodeg 38:283–290

Rincón B, Raposo F, Borja R, Gonzalez JM, Portillo MC, Saiz-Jimenez C (2006) Performance and microbial communities of a continuous stirred tank anaerobic bioreactor treating two-phases olive mill solid wastes at low organic loading rates. J Biotechnol 121:534–543

Rogers GM, Baecker AAW (1991) Clostridium xylanolyticum sp. nov., an anaerobic xylanolytic bacterium from decayed Pinus patula wood chips. Int J Syst Bacteriol 41:140–143

Sampedro I, Romero C, Ocampo JA, Brenes M, García I (2004) Removal of monomeric phenols in dry mill olive residue by saprobic fungi. J Agr Food Chem 52:4487–4492

Sierra J, Marti E, Montserrat G, Cruanas R, Garau MA (2001) Characterisation and evolution of a soil affected by olive oil mill wastewater disposal. Sci Total Environ 279:207–214

White TJ, Bruns T, Lee S, Taylor JW (1990) Amplification and direct sequencing of fungal ribosomal RNA genes for phylogenetics. PCR Protocols: A Guide to Methods and Applications 315–322

Young JM, Saddler GS, Takikawa Y, de Boer SH, Vauterin L, Gardan L, Gvozdyak RI, Stead DE (1996) Names of plant pathogenic bacteria 1864–1995. Rev Plant Pathol 75:721–763
Acknowledgement
This study was possible thanks to the project REN 2000-1502 and the FPI fellowship program financed by the Ministerio de Educación y Ciencia (Spain). We also wish to thank Katerina Spanova (Imperial College London) for her help with the PLFA analysis, and Dr Belén Rodelas and Raquel Ferrer (University of Granada) for their assistance in the PCR-TTGE analysis. We should also like to mention the contribution of Dr Angus Beck (Imperial College London), without whom this study could not have been possible.
About this article
Cite this article
Morillo, J.A., Aguilera, M., Antízar-Ladislao, B. et al. Molecular microbial and chemical investigation of the bioremediation of two-phase olive mill waste using laboratory-scale bioreactors. Appl Microbiol Biotechnol 79, 309–317 (2008). https://doi.org/10.1007/s00253-008-1422-5
Received:

Revised:

Accepted:

Published:

Issue Date:
Keywords
Bioremediation

Microbial diversity

Olive mill waste