Abstract
Molecular studies were performed to establish the causes of the superior lovastatin productivity of a novel solid-state fermentation (SSF) process, in relation with liquid submerged fermentation (SmF; 20 mg/g vs. 0.65 mg/ml). In SSF, biosynthetic genes lovE and lovF transcripts accumulated to high levels from day 1 to day 7. In this period, lovE transcript showed 4.6-fold higher accumulation levels (transcription) than the highest level detected in SmF (day 5). lovF transcript showed two-fold higher expression than the highest point in SmF. In SmF, the expression was only detected clearly on day 5 and, showing a 50% decrease, on day 7. These results show that the higher lovastatin production in SSF is related to a more intense transcription of these biosynthetic genes. A strong expression of gldB gene in lovastatin SSF indicated that Aspergillus terreus senses osmotic stress during the course of SSF, but not in SmF. However, when a liquid medium of identical concentration was used in SmF, lovastatin production decreased in 50%, while lovE and lovF transcripts accumulation was 20 and six-fold lower than in SSF; showing that physiology is different in SSF, and that osmotic stress alone is not responsible for the higher gene expression in SSF.
This is a preview of subscription content, log in to check access.
Access options
Buy single article
Instant access to the full article PDF.
US$ 39.95
Price includes VAT for USA
Subscribe to journal
Immediate online access to all issues from 2019. Subscription will auto renew annually.
US$ 199
This is the net price. Taxes to be calculated in checkout.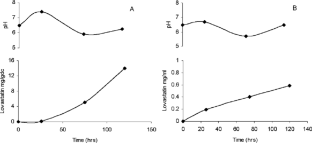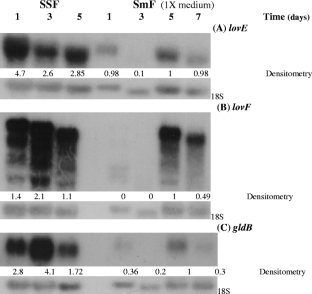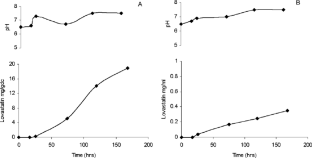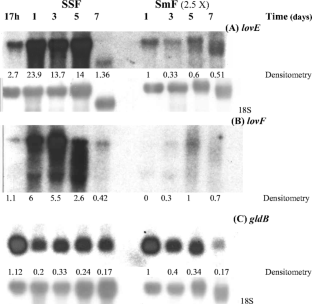 References
Balakrishna K, Pandey A (1996) Production of biologically active secondary metabolites in solid state fermentation. J Sci Ind Res 55:365–372

Barrios-González J, Mejía A (2007) Production of antibiotics and other commercially valuable secondary metabolites.. In: Pandey A, Larroche C, Soccol CR, Rodríguez-León JA (eds) Current developments in solid-state fermentation. Asiatech, New Delhi, pp 262–296

Barrios-González J, Tomasini A, Viniegra-González G, Lopez L (1988) Penicillin production by solid state fermentation. Biotechnol Lett 10:793–798

Bigelis R, He H, Yang HY, Chang LP, Greenstein M (2006) Production of fungal antibiotics using polymeric solid supports in solid-state and liquid fermentation. J Ind Microbiol Biotechnol 33:815–826

Church GM, Gilbert W (1984) Genomic sequencing. Proc Natl Acad Sci USA 81:1991–1995

de Vries RP, Flitter SJ, van de Vondervoort PJI, Chaveroche MK, Fontaine T, Fillinger S, Ruijter FJG, d'Enfert C, Visser J (2003) Glycerol dehydrogenase, encoded by gldB is essential for osmotolerance in Aspergillus nidulans. Mol Microbiol 49:131–141

Domínguez M, Mejía A, Barrios-González J (2000) Respiration studies of penicillin solid state fermentation. J Biosci Bioeng 89:409–413

Hata Y, Ishida H, Kojima Y, Ichikawa E, Kawato A, Suginami K, Imayasu S (1997) Comparison of two glucoamylases produced by Aspergillus oryzae in solid-state culture (koji) and submerged culture. J Ferment Bioeng 84, 532–537

Hesseltine CW (1977a) Solid-state fermentation. Part 1. Proc Biochem 12:24–27

Hesseltine CW (1977b) Solid-state fermentation. Part 2. Proc Biochem 12:29–32

Hölker U, Lenz J (2005) Solid-state fermentation—are there any biotechnological advantages? Curr Opin Microbiol 8:301–306

Hölke U, Höfer M, Lenz J (2004) Biotechnological advantages of laboratory-scale solid-state fermentation with fungi. Appl Microbiol Biotechnol 64:175–186

Ishida H, Hata Y, Ichikawa E, Kawato A, Abe Y, Suginami K, Imayasu S (1998) Regulation of the glucoamylase encoding gene (glaB), expressed in solid state culture (koji) of Aspergillus oryzae. J Ferment Bioeng 86:301–307

Käfer E (1977) Meiotic and mitotic recombination in Aspergillus and its chromosomal aberrations. Adv Genet 19:33–131

Kennedy J, Auclair K, Kendrew G, Cheonseok P, Vederas JC, Hutchinson CR (1999) Modulation of polyketide synthase activity by accessory proteins during lovastatin biosynthesis. Science 284:1368–1372

Krishna C (2005) Solid-state fermentation systems—an overview. Crit Rev Biotechnology 25:1–30

Lonsane BK, Ghildyal NP, Budiatman S, Ramakrishna SV (1985) Engineering aspects of solid-state fermentation. Enzyme Microbiol Technol 7:258–265

Robinson T, Singh D, Nigam P (2001) Solid-state fermentation a promising microbial technology for secondary metabolite production. Appl Microbiol Biotechnol 55:284–289

Ruijter GJ, Visser J, Rinzema A (2004) Polyol accumulation by Aspergillus oryzae at low water activity in solid-state fermentation. Microbiology 150:1095–1101

Sambrook J, Fritsch EF, Maniatis T (1989) Molecular cloning: a laboratory manual, second ed. Cold Spring Harbor Laboratory, Cold Spring Harbor, N.Y

Sanger F, Nicklen S, Coulson AR (1977) DNA sequencing with chain-terminator inhibitors. Proc Natl Acad Sci USA 74:5463–5467

Sarhy-Bagnon V, Lozano P, Saucedo-Castañeda G, Roussos S (2000) Production of 6-pentyl-a-pyrone by Trichoderma harzianum in liquid and solid state cultures. Process Biochem 36:103–109

Szakács G, Morovjan G, Tengerdy RP (1998) Production of lovastatin by a wild strain of Aspergillus terreus. Biotechnol Lett 20:411–415

te Biesebeke R, Record E, van Biezen N, Heerikhuisen M, Franken A, Punt PJ, van de Hodel CAMJJ (2005) Branching mutants of Aspergillus oryzae with improved amylase and protease production on solid substrates. Appl Microbiol Biotechnol 69:44–50

Timberlake WE (1980) Developmental gene regulation in Aspergillus nidulans. Dev Biol 78:497–510

Tomasini A, Fajardo C, Barrios-González J (1997) Giberellic acid production using different solid-state fermentation systems. World J Microbiol Biotechnol 13:203–206
About this article
Cite this article
Barrios-González, J., Baños, J.G., Covarrubias, A.A. et al. Lovastatin biosynthetic genes of Aspergillus terreus are expressed differentially in solid-state and in liquid submerged fermentation. Appl Microbiol Biotechnol 79, 179–186 (2008). https://doi.org/10.1007/s00253-008-1409-2
Received:

Revised:

Accepted:

Published:

Issue Date:
Keywords
Solid-state fermentation

Submerged fermentation

Lovastatin biosynthesis gene expression