Abstract
The automated docking program DOCK 5.3.0 was applied to screening for quorum sensing inhibitors (QSIs) of Peudomonus aeruginosa from a database containing 51 active components of Traditional Chinese Medicines with antibacterial activity. Five potential QSIs were revealed by the computer-based virtual screening. The compounds 3, 4, 5, 6, 7 inhibit biofilm formation of P. aeruginosa at a concentration of 200 μM. Compound 4 (baicalein) does not inhibit the growth of P. aeruginosa; however, it significantly inhibits biofilm formation of the bacteria at a lower concentration of 20 μM and promoted proteolysis of the signal receptor TraR protein in Escherichia coli at 4–40 mM. Baicalein and ampicillin showed synergistic activity against P. aeruginosa. These results suggested that baicalein can interfere with quorum sensing system of P. aeruginosa and will be developed as antibacterial agent with novel target.
This is a preview of subscription content, log in to check access.
Access options
Buy single article
Instant access to the full article PDF.
US$ 39.95
Price includes VAT for USA
Subscribe to journal
Immediate online access to all issues from 2019. Subscription will auto renew annually.
US$ 199
This is the net price. Taxes to be calculated in checkout.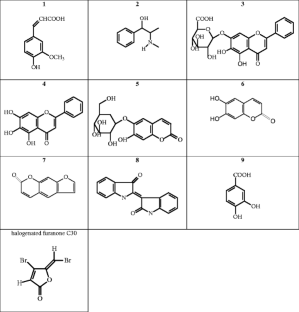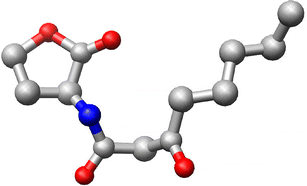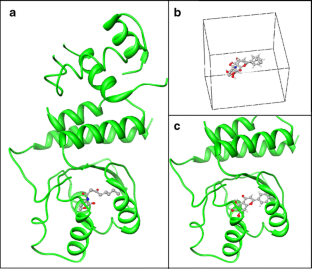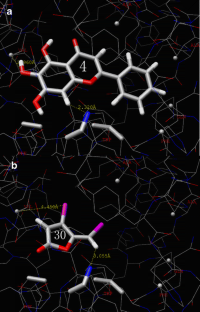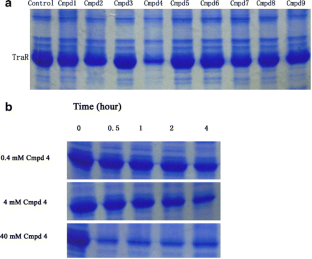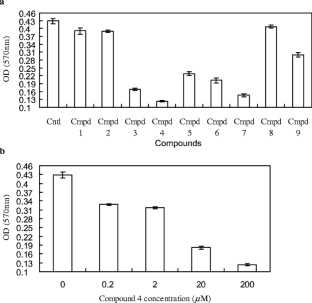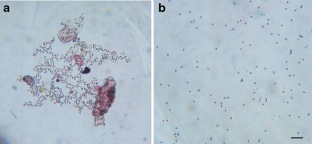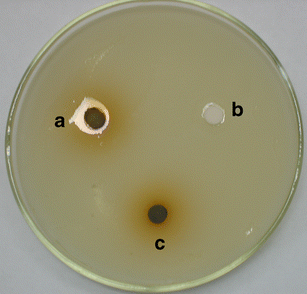 References
Anwar H, Dasgupta MK, Costerton JW (1990) Testing the susceptibility of bacteria in biofilms to antibacterial agents. Antimicrob Agents Chemother 34:2043–2046

Bergstrom CT, Lo M, Lipsitch M (2004) Ecological theory suggests that antimicrobial cycling will not reduce antimicrobial resistance in hospitals. Proc Natl Acad Sci U S A 101:13285–13290

Bottomley MJ, Muraglia E, Bazzo R, Carfì A (2007) Molecular insights into quorum sensing in the human pathogen Pseudomonas aeruginosa from the structure of the virulence regulator LasR bound to its autoinducer. J Biol Chem 282:13592–13600

Chang PC, Li HY, Tang HJ, Liu JW, Wang JJ, Chuang YC (2007) In vitro synergy of baicalein and gentamicin against vancomycin-resistant Enterococcus. J Microbiol Immunol Infect 40:56–61

Drenkard E (2003) Antimicrobial resistance of Pseudomonas aeruginosa biofilms. Microbes Infect 5:1213–1219

Fujita M, Shiota S, Kuroda T, Hatano T, Yoshida T, Mizushima T, Tsuchiya T (2005) Remarkable synergies between baicalein and tetracycline, and baicalein and beta-lactams against methicillin-resistant Staphylococcus aureus. Microbiol Immunol 49:391–396

Furci LM, Lopes P, Eakanunkul S, Zhong S, MacKerell AD Jr, Wilks A (2007) Inhibition of the bacterial heme oxygenases from Pseudomonas aeruginosa and Neisseria meningitidis: novel antimicrobial targets. J Med Chem 50:3804–3813

Hentzer M, Wu H, Andersen JB, Riedel K, Rasmussen TB, Bagge N, Kumar N, Schembri MA, Song Z, Kristoffersen P, Manefield M, Costerton JW, Molin S, Eberl L, Steinberg P, Kjelleberg S, Høiby N, Givskov M (2003) Attenuation of Pseudomonas aeruginosa virulence by quorum sensing inhibitors. EMBO J 2:3803–3815

Huang Y, Tsang SY, Yao X, Chen ZY (2005) Biological properties of baicalein in cardiovascular system. Curr Drug Targets Cardiovasc Haematol Disord 5:177–184

Lewis K (2007) Persister cells, dormancy and infectious disease. Nature Rev Microbiol 5:48–56

Manefield M, Rasmussen TB, Henzter M, Andersen JB, Steinberg P, Kjelleberg S, Givskov M (2002) Halogenated furanones inhibit quorum sensing through accelerated LuxR turnover. Microbiology 148:1119–1127

Ma Z, Otsuyama K, Liu S, Abroun S, Ishikawa H, Tsuyama N, Obata M, Li FJ, Zheng X, Maki Y, Miyamoto K, Kawano MM (2005) Baicalein, a component of Scutellaria radix from Huang-Lian-Jie-Du-Tang (HLJDT), leads to suppression of proliferation and induction of apoptosis in human myeloma cells. Blood 105:3312–3318

Meng EC, Gschwend DA, Blaney JM, Kuntz ID (1993) Orientational sampling and rigid-body minimization in molecular docking. Proteins 17:266–278

Ochsner UA, Reiser J (1995) Autoinducer-mediated regulation of rhamnolipid biosurfactant synthesis in Pseudomonas aeruginosa. Proc Natl Acad Sci U S A 92:6424–6428

Parsek MR, Greenberg EP (2000) Acyl-homoserine lactone quorum sensing in gram-negative bacteria: a signaling mechanism involved in associations with higher organisms. Proc Natl Acad Sci U S A 97:8789–8793

Passador L, Cook JM, Gambello MJ, Rust L, Iglewski BH (1993) Expression of Pseudomonas aeruginosa virulence genes requires cell-to-cell communication. Science 260:1127–1130

Pettersen EF, Goddard TD, Huang CC, Couch GS, Greenblatt DM, Meng EC, Ferrin TE (2004) UCSF Chimera–a visualization system for exploratory research and analysis. J Comput Chem 25:1605–1612

Rasmussen TB, Givskov M (2006) Quorum-sensing inhibitors as anti-pathogenic drugs. Int J Med Microbiol 296:149–161

Rasmussen TB, Bjarnsholt T, Skindersoe ME, Hentzer M, Kristoffersen P, Köte M, Nielsen J, Eberl L, Givskov M (2005a) Screening for quorum-sensing inhibitors (QSI) by use of a novel genetic system, the QSI selector. J Bacteriol 187:1799–1814

Rasmussen TB, Bjarnsholt T, Phipps RK, Christensen KB, Jensen PO, Andersen JB, Koch B, Larsen TO, Hentzer M, Eberl L, Hoiby N, Givskov M (2005b) Identity and effects of quorum-sensing inhibitors produced by Penicillium species. Microbiology 151:1325–1340

Tripos Associates (2001) SYBYL 6.9 [CP]. Tripos Associates, St. Louis

VanDelden C, Iglewski BH (1998) Cell-to-cell signaling and Pseudomonas aeruginosa infections. Emerg Infect Dis 4:551–560

Vannini A, Volpari C, Gargioli C, Muraglia E, Cortese R, De Francesco R, Neddermann P, Marco SD (2002) The crystal structure of the quorum sensing protein TraR bound to its autoinducer and target DNA. EMBO J 21:4393–4401

Yao Y, Martinez-Yamout MA, Dickerson TJ, Brogan AP, Wright PE, Dyson HJ (2006) Structure of the Escherichia coli quorum sensing protein SdiA: activation of the folding switch by acyl homoserine lactones. J Mol Biol 355:262–273

You JL, Xue XL, Cao LX, Lu X, Wang J, Zhang LX, Zhou SN (2007) Inhibition of Vibrio biofilm formation by a marine actinomycete strain A66. Appl Microbiol Biotechnol 76:1137–1144

Zhu J, Winans SC (2001) The quorum-sensing transcriptional regulator TraR requires its cognate signaling ligand for protein folding, protease resistance, and dimerization. Proc Natl Acad Sci U S A 98:1507–1512

Zhu J, Beaber JW, Moré MI, Fuqua C, Eberhard A, Winans SC (1998) Analogs of the autoinducer 3-oxooctanoyl-homoserine lactone strongly inhibit activity of the TraR protein of Agrobacterium tumefaciens. J Bacteriol 180:5398–5405
Acknowledgements
This work was supported by grants from the National High-Tech Development Program of China (2007AA091904, 2007AA09Z402) and National Natural Science Foundation (NO. 20231010). We gratefully thank the Open Laboratory for Marine Functional Genomics of State High-Tech Development Program, College of Life Sciences, Sun Yat-Sen University, Guangzhou 510275, P. R. China for providing the Sybyl 6.9 and thank the Kuntz Group for providing the DOCK program.
About this article
Cite this article
Zeng, Z., Qian, L., Cao, L. et al. Virtual screening for novel quorum sensing inhibitors to eradicate biofilm formation of Pseudomonas aeruginosa . Appl Microbiol Biotechnol 79, 119–126 (2008). https://doi.org/10.1007/s00253-008-1406-5
Received:

Revised:

Accepted:

Published:

Issue Date:
Keywords
Quorum sensing inhibitor

Virtual screening

Baicalein

Peudomonus aeruginosa

Biofilm

Traditional Chinese Medicine