Abstract
Erysipelothrix rhusiopathiae, the causative agent of swine erysipelas, was cultivated in a 5-L stirred and aerated bioreactor under different dissolved oxygen tensions (0%, 5%, and 30% of saturation) for evaluation of the influence of oxygen on cell growth as well as on the production of the main antigenic component of the vaccine against erysipelas, a 64–69 kDa protein (SpaA). The microorganism presented different growth profiles for different aeration conditions. However, at the end of the batch cultivations, similar cell concentrations were obtained under the studied conditions. In order to maximize biomass titers and antigen production, the microorganism was cultivated in fed-batch operation mode under aerobic conditions. Under this condition, there was a fivefold increase in biomass production in comparison to the results attained in batch cultivations. To follow up antigen expression, samples collected during batch cultivations were concentrated and treated with choline for antigen extraction. Antigen expression was then assessed by sodium dodecyl sulfate polyacrylamide gel electrophoresis and by murine immunization tests. It was observed a direct influence of oxygen availability upon antigen expression, which is favored in the presence of oxygen. Analysis of the samples collected throughout the fed-batch process also revealed that antigen production is growth associated.
This is a preview of subscription content, log in to check access.
Access options
Buy single article
Instant access to the full article PDF.
US$ 39.95
Price includes VAT for USA
Subscribe to journal
Immediate online access to all issues from 2019. Subscription will auto renew annually.
US$ 199
This is the net price. Taxes to be calculated in checkout.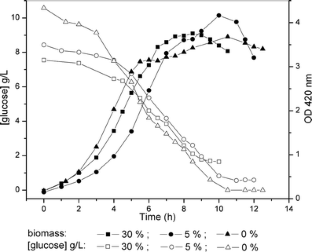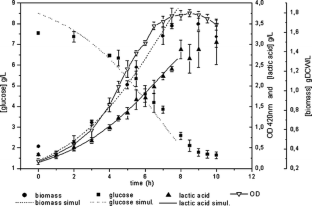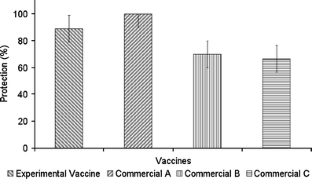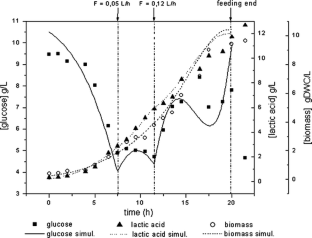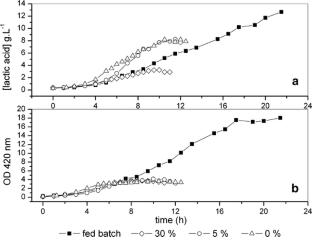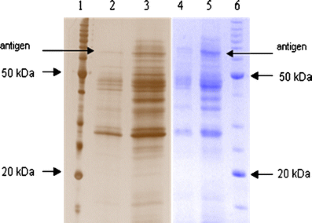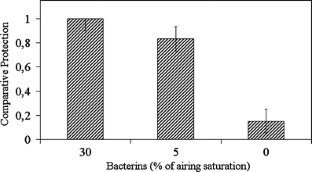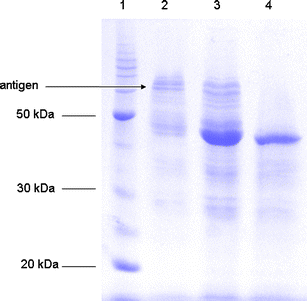 References
Eamens GJ, Chin JC, Turner B, Barchia I (2006) Evaluation of Erysipelothrix rhusiopathiae vaccines in pigs by intradermal challenge and immune responses. Vet Microbiol 116:138–148

Groschup MH, Timoney JF (1990) Modified Feist broth as a serum-free alternative for enhanced production of protective antigen of Erysipelothrix rhusiopathiae. J Clin Microbiol 28:2573–2575

Kitajima T, Oishi E, Amimoto K, Ui S, Nakamura H, Oda K, Katayama S, Izumida A, Shimizu Y (2000) Quantitative diversity of 67 kDa protective antigen among serovar two strains of Erysipelothrix rhusiopathiae and its implication in protective immune response. J Vet Med Sci 62:1073–1077

Lachmann PG, Deicher H (1986) Solubilization and characterization of surface antigenic components of Erysipelothrix rhusiopathiae T28. Infect Immun 52:818–822

Laemmli UK (1970) Cleavage of structural proteins during the assembly of the head of bacteriophage T4. Nature 227:680–685

Makino S, Yamamoto K, Murakami S, Shirahata T, Uemera K, Sawada T, Wakamoto H, Morita H (1998) Properties of repeat domain found in a novel protective antigen, SpaA, of Erysipelothrix rhusiopathiae. Microb Pathog 25:101–109

Makino S-I, Yamamoto K, Asakura H, Shirahata T (2000) Surface antigen, SpaA, of Erysipelothrix rhusiopathiae binds to Gram-positive bacterial cell surfaces. FEMS Microbiol Lett 186:313–317

Shimoji Y (2000) Review: Pathogenicity of Erysipelothrix rhusiopathiae: virulence factors and protective immunity. Microb Infect 2:965–972

Shimoji Y, Ogawa Y, Osaki M, Kabeya H, Maruyama S, Mikami T, Sekizaki T (2003) Adhesive surface proteins of Erysipelothrix rhusiopathiae bind to polystyrene, fibronectin, and type I and IV collagen. J Bacteriol 185:2739–2748

Shuler ML, Kargi F (2002) Bioprocess engineering: basic concepts. Prentice Hall, Englewood Cliffs

Silva FH, Moura LF, Badino Jr AC (2003) AnaBio 1.0: Um Programa para Análise de Biorreatores, XIV Simpósio Nacional de Fermentação, anais. Florianópolis, Santa Catarina

Weiser JN, Austrian R, Screenivasan PK, Masure HR (1994) Phase variation in pneumococcal opacity: relationship between colonial morphology and nasopharyngeal colonization. Infect Immun 62:2582–2589

Wood RL (1992) Erysipelas. In: Leman AD et al (ed) Disease of swine. Iowa State University Press, Iowa, pp 475–486

Yamazaki Y, Sato H, Sakakura H, Shigeto K, Nakano K, Saito H, Maehara N (1999) Protective activity of the purified protein antigen of Erysipelothrix rhusiopathiae in pigs. J Vet Med B 46:47–55

Zarkasie K, Sawada T, Yoshida T, Takahashi I, Takahashi T (1996) Growth ability and immunological properties of Erysipelothrix rhusiopathiae. J Vet Med Sci 58:87–90
Acknowledgements
The authors thank Vallée S.A. for funding this research.
About this article
Cite this article
da Silva, A.J., de Baptista-Neto, Á., do Carmo Cilento, M. et al. Bioreactor aeration conditions modulate growth and antigen expression during Erysipelothrix rhusiopathiae cultivation. Appl Microbiol Biotechnol 79, 23–31 (2008). https://doi.org/10.1007/s00253-008-1399-0
Received:

Revised:

Accepted:

Published:

Issue Date:
Keywords
E. rhusiopathiae

Bioreactor cultivation

Swine erysipelas vaccine

Aeration conditions