Abstract
Dekkera and Brettanomyces yeast are important spoilage organisms in a number of food and beverage products. Isolates of both genera were cultured in a defined medium and supplemented with hydroxycinnamic acids and vinylphenols to investigate their influence on growth and the formation of ethyl phenol derivatives. The growth rate of Brettanomyces species in the presence of acids was reduced, and no significant conversion to vinyl or ethyl derivatives was observed. The growth rate and substrate utilisation rates of Dekkera anomala and Dekkera bruxellensis yeast differed depending on strain and the acid precursor present. Growth of D. bruxellensis was slowed by the presence of ferulic acid with the addition of 1 mM ferulic acid completely inhibiting growth. This study provides an insight into the spoilage potential of these organisms and possible control strategies involving hydroxycinnamic acids.
This is a preview of subscription content, log in to check access.
Access options
Buy single article
Instant access to the full article PDF.
US$ 39.95
Price includes VAT for USA
Subscribe to journal
Immediate online access to all issues from 2019. Subscription will auto renew annually.
US$ 199
This is the net price. Taxes to be calculated in checkout.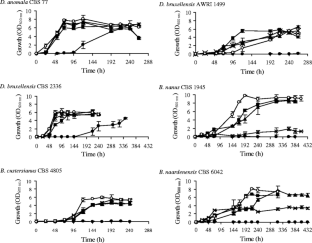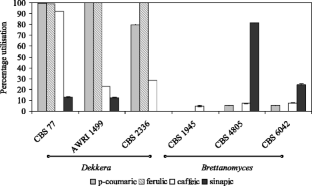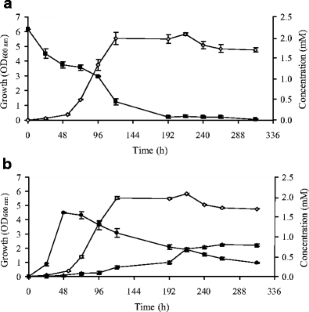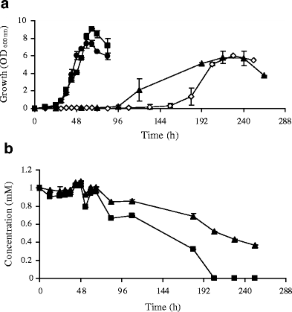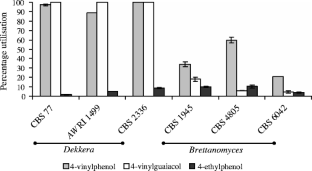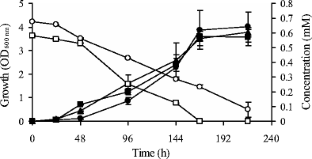 References
Ayer WA, Muir DJ, Chakravarty P (1995) Phenolic and other metabolites of Phellinus pini, a fungus pathogenic to pine. Phytochemistry 42:1321–1324

Baranowski JD, Nagel CW (1981) Isolation and identification of the hydroxycinnamic acid derivatives in white Riesling wine. Am J Enol Vitic 32:5–13

Barata A, Nobre A, Correia P, Malfeito-Ferreria M, Loureiro V (2006) Growth and 4-ethylphenol production by the yeast Pichia guilliermondii in grape juices. Am J Enol Vitic 57:133–138

Barnett JA, Payne RW, Yarrow D (2000) Yeasts: characteristics and identification, 3rd edn. Cambridge University Press, Cambridge

Barthelmebs L, Divies C, Cavin JF (2000) Knockout of the p-coumarate decarboxylase gene from Lactobacillus plantarum reveals the existence of two other inducible enzymatic activities involved in phenolic acid metabolism. App Environ Microbiol 66:3368–3375

Brunati M, Marinelli F, Bertolini C, Gandolfi R, Daffonchio D, Molinari F (2004) Biotransformations of cinnamic and ferulic acid with Actinomycetes. Enzyme Microb Technol 34:3–9

Cabranes C, Moreno J, Mangas JJ (1990) Dynamics of yeast populations during cider fermentation in the Asturian region of Spain. App Environ Microbiol 56:3881–3884

Cai JP, Roberts IN, Collins MD (1996) Phylogenetic relationships among members of the ascomycetous yeast genera Brettanomyces, Debaryomyces, Dekkera, and Kluyveromyces deduced by small-subunit rRNA gene sequences. Int J Syst Bacteriol 46:542–549

Carrasco MS, Moragues LG, Vignatti CI, Scarinci HE, Simonetta AC (2006) Characterisation and technological aspects of yeasts isolated from raw milk and different types of cheeses produced in Argentina. Aust J Dairy Technol 61:21–26

Cavin JF, Barthelmebs L, Guzzo J, VanBeeumen J, Samyn B, Travers JF, Divies C (1997) Purification and characterization of an inducible p-coumaric acid decarboxylase from Lactobacillus plantarum. FEMS Microbiol Lett 147:291–295

Chatonnet P, Dubourdieu D, Boidron JN, Pons M (1992) The origin of ethylphenols in wines. J Sci Food Agric 60:165–178

Chatonnet P, Dubourdieu D, Boidron JN, Lavigne V (1993) Synthesis of volatile phenols by Saccharomyces cerevisiae in wines. J Sci Food Agric 62:191–202

Chatonnet P, Dubourdieu D, Boidron JN (1995) The influence of Brettanomyces/Dekkera sp. yeasts and lactic acid bacteria on the ethylphenol content of red wines. Am J Enol Vitic 46:463–468

Cosentino S, Fadda ME, Deplano M, Mulargia AF, Palmas F (2001) Yeasts associated with Sardinian ewe's dairy products. Int J Food Microbiol 69:53–58

Coton E, Coton M, Levert D, Casaregola S, Sohier D (2006) Yeast ecology in French cider and black olive natural fermentations. Int J Food Microbiol 108:130–135

Degrassi G, Delaureto PP, Bruschi CV (1995) Purification and characterization of ferulate and p-coumarate decarboxylase from Bacillus pumilus. Appl Environ Microbiol 61:326–332

Dias L, Dias S, Sancho T, Stender H, Querol A, Malfeito-Ferreira M, Loureiro V (2003a) Identification of yeasts isolated from wine-related environments and capable of producing 4-ethylphenol. Food Microbiol 20:567–574

Dias L, Pereira-da-Silva S, Tavares M, Malfeito-Ferreira M, Loureiro V (2003b) Factors affecting the production of 4-ethylphenol by the yeast Dekkera bruxellensis in enological conditions. Food Microbiol 20:377–384

Donaghy JA, Kelly PF, McKay A (1999) Conversion of ferulic acid to 4-vinylguaiacol by yeasts isolated from unpasteurised apple juice. J Sci Food Agri 79:453–456

Edlin DAN, Narbad A, Dickinson JR, Lloyd D (1995) The biotransformation of simple phenolic compounds by Brettanomyces anomalus. FEMS Microbiol Let 125:311–315

Fadda ME, Cosentino S, Deplano M, Palmas F (2001) Yeast populations in Sardinian feta cheese. Intern J Food Microbiol 69:153–156

Freer SN, Dien B, Matsuda S (2003) Production of acetic acid by Dekkera/Brettanomyces yeasts under conditions of constant pH. World J Microbiol Biotechnol 19:101–105

Fugelsang KC, Osborn MM, Muller C (1993) Brettanomyces and Dekkera, implications in winemaking. In: Gump BH (ed) Beer and wine production, analysis, characterization, and technological advances. American Chemical Society, Washington DC, pp 110–131

Ghosh S, Sachan A, Mitra A (2006) Formation of vanillic acid from ferulic acid by Paecilomyces variotii MTCC 6581. Curr Sci 90:825–829

Grbin PR, Henschke PA (2000) Mousy off-flavour production in grape juice and wine by Dekkera and Brettanomyces yeast. Aust J Grape Wine Res 6:255–262

Gutierrez IH, Lorenzo ES-P, Espinosa AV (2005) Phenolic composition and magnitude of copigmentation in young and shortly aged red wines made from the cultivars, Cabernet Sauvignon, Cencibel and Syrah. Food Chem 92:269–283

Hammond J, Brennan M, Price A (1999) The control of microbial spoilage of beer. J Inst Brewing 105:113–120

Henschke PA, Jiranek V (1993) Yeasts—metabolism of nitrogen compounds. In: Fleet GH (ed) Wine microbiology and biotechnology. Harwood Academic, Chur, Switzerland, pp 77–164

Heresztyn T (1986) Metabolism of volatile phenolic compounds from hydroxycinnamic acids by Brettanomyces yeast. Arch Microbiol 146:96–98

Huang ZX, Dostal L, Rosazza JPN (1993) Microbial transformations of ferulic acid by Saccharomyces cerevisiae and Pseudomonas fluorescens. App Environ Microbiol 59:2244–2250

Karmakar B, Vohra RM, Nandanwar H, Sharma P, Gupta KG, Sobti RC (2000) Rapid degradation of ferulic acid via 4-vinylguaiacol and vanillin by a newly isolated strain of Bacillus coagulans. J Biotech 80:195–202

Kennedy JA, Saucier C, Glories Y (2006) Grape and wine phenolics: history and perspective. Am J Enol Vitic 57:239–248

Kolfschten GA, Yarrow D (1970) Brettanomyces naardenensis, a new yeast from soft drinks. Ant Van Leeuw Int J Gen and Mol Microbiol 36:458–460

Lachance MA (1995) Yeast communities in a natural tequila fermentation. Ant Van Leeuw Int J Gen Mol Microbiol 68:151–160

Licker JL, Acree TE, Waterhouse AL, Ebeler SE (1998) What is "Brett" (Brettanomyces) flavour? A prelimary investigation. In: Waterhouse AL, Ebeler SA (eds) Chemistry of wine flavour. American Chemical Society, Washington DC, pp 96–115

Lynd LR, Weimer PJ, van Zyl WH, Pretorius IS (2002) Microbial cellulose utilization: fundamentals and biotechnology. Microbiol Mol Biol Rev 66:506–577

Maga JA (1978) Simple phenol and phenolic compounds in food flavor. Crit Rev Food Sci 10:323–372

Martens H, Iserentant D, Verachtert H (1997) Microbiological aspects of a mixed yeast-bacterial fermentation in the production of a special Belgian acidic ale. J Inst Brew 103:85–91

Martorell P, Barata A, Malfeito-Ferreira M, Fernandez-Espinar MT, Loureiro V, Querol A (2006) Molecular typing of the yeast species Dekkera bruxellensis and Pichia guilliermondii recovered from wine related sources. Int J Food Microbiol 106:79–84

McMurrough I, Madigan D, Donnelly D, Hurley J, Doyle AM, Hennigan G, McNulty N, Smyth MR (1996) Control of ferulic acid and 4-vinylguaiacol in brewing. J Inst Brew 102:327–332

Peynaud E, Domercq S (1956) Sur les Brettanomyces isoles de raisins et de vins. Arch Mikrobiol 24:266–80

Reguant C, Bordons A, Arola L, Rozes N (2000) Influence of phenolic compounds on the physiology of Oenococcus oeni from wine. J App Microbiol 88:1065–1071

Renouf V, Strehaiano P, Lonvaud-Funel A (2007) Yeast and bacteria analysis of grape, wine and cellar equipments by PCR-DGGE. J Internat Sci Vigne Vin 41:51–61

Rosazza JPN, Huang Z, Dostal L, Volm T, Rousseau B (1995) Review: biocatalytic transformations of ferulic acid: an abundant aromatic natural product. J Ind Microbiol 15:457–471

Salameh D, Brandam C, Medawar W, Lteif R, Strehaiano P (2007) Highlight on the problems generated by p-coumaric acid analysis in wine fermentations. Food Chem 107:1661–1667

Sandhu DK, Waraich MK (1985) Yeasts associated with pollinating bees and flower nectar. Microb Ecol 11:51–58

Scheffers WA (1961) On the inhibition of alcoholic fermentation in Brettanomyces yeasts under anaerobic conditions. Experientia 17:40–42

Silva P, Cardoso H, Geros H (2004) Studies on the wine spoilage capacity of Brettanomyces/ Dekkera spp. Am J Enol Vitic 55:65–72

Smith MT, Yamazaki M, Poot GA (1990) Dekkera, Brettanomyces and Eeniella—electrophoretic comparison of enzymes and DNA–DNA homology. Yeast 6:299–310

Snowdon EM, Bowyer MC, Grbin PR, Bowyer PK (2006) Mousy off-flavor: a review. J Agric Food Chem 84:6465–6474

Soleas GJ, Dam J, Carey M, Goldberg DM (1997) Toward the fingerprinting of wines: cultivar-related patterns of polyphenolic constituents in Ontario wines. J Agric Food Chem 45:3871–3880

Spaepen M, Verachtert H (1982) Esterase-activity in the genus Brettanomyces. J Inst Brew 88:11–17

Stead D (1995) The effect of hydroxycinnamic acids and potassium sorbate on the growth of 11 strains of spoilage yeasts. J App Bacteriol 78:82–87

Stratford M, Hofman PD, Cole MB (2000) Fruit juices, fruit drinks, and soft drinks. In: Lund M, Baird-Parker TC, Gould GW (eds) The microbiological safety and quality of food. Aspen, Gaithersburg, MD, pp 836–869

Teoh AL, Heard G, Cox J (2004) Yeast ecology of Kombucha fermentation. Int J Food Microbiol 95:119–126

van Beek S, Priest FG (2000) Decarboxylation of substituted cinnamic acids by lactic acid bacteria isolated during malt whisky fermentation. App Environ Microbiol 66:5322–5328

van der Walt JP (1961) Brettanomyces custersianus novel species. Ant Van Leeuw Int J Gen Mol Microbiol 27:332–336

van der Walt JP (1964) Dekkera, a new genus of Saccharomycetaceae. Ant Van Leeuw Int J Gen Mol Microbiol 30:273–280

van der Walt JP, van Kerken AE (1958) Part I. The wine yeasts of the Cape. A taxonomical survey of the yeasts causing turbidity in South African table wines. Ant Van Leeuw Int J Gen Mol Microbiol 24:239–252
Acknowledgements
The authors are grateful to Dr. Chris Curtin for supplying the yeast AWRI 1499. This project was supported by Australia's grapegrowers and winemakers through their investment body, the Grape and Wine Research and Development Corporation, with matching funds from the Australian government (UA 03/01).
About this article
Cite this article
Harris, V., Ford, C.M., Jiranek, V. et al. Dekkera and Brettanomyces growth and utilisation of hydroxycinnamic acids in synthetic media. Appl Microbiol Biotechnol 78, 997–1006 (2008). https://doi.org/10.1007/s00253-007-1328-7
Received:

Revised:

Accepted:

Published:

Issue Date:
Keywords
p-Coumaric acid

Ferulic acid

Caffeic acid

Sinapic acid

Wine spoilage

Microbial spoilage