Abstract
Furanocoumarins (FCs) in grapefruit are involved in the "grapefruit/drug interactions" in humans, in which the FCs inhibit the intestinal cytochrome P450 3A4 (CYP 3A4) activity responsible for metabolizing certain prescribed medications. These interactions have adversely affected the grapefruit industry and have led a need to develop a process to remove the FCs from grapefruit juice (GFJ) in a manner that retains much of the original juice sensory attributes. In our experiments, grapefruit juice was incubated with Aspergillus niger, and the compositional changes in hydroxycinnamates, flavonoid glycosides, and the FCs were monitored. Many of the FCs and 7-geranyloxycoumarin were efficiently taken up by the fungal tissue, whereas no uptake occurred with the polar hydroxycinnamates, flavonoid glycosides, and a few of the polar FCs. This biosorption was also observed with autoclaved A. niger, indicating that the uptake of non-polar FCs by the fungal hyphae was due to adsorption rather than metabolism. The binding of the FCs to autoclaved fungus was complete within 4 h, and the level of binding was proportional to the amount of autoclaved fungal hyphae used. This removal of the FCs from GFJ led to a reduced inhibition of CYP 3A4 activity in in vitro assays by both GFJ and GFJ extracts.
This is a preview of subscription content, log in to check access.
Access options
Buy single article
Instant access to the full article PDF.
US$ 39.95
Price includes VAT for USA
Subscribe to journal
Immediate online access to all issues from 2019. Subscription will auto renew annually.
US$ 199
This is the net price. Taxes to be calculated in checkout.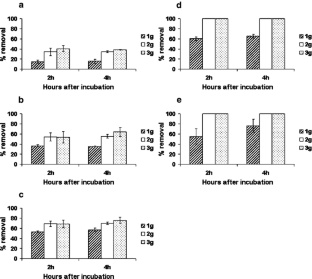 References
Afek U, Orenstein J, Carmeli S, Rodov V, Joseph MB (1999) Umbelliferone, a phytoalexin associated with resistance of immature Marsh grapefruit to Penicillium digitatum. Phytochemistry 50:1129–1132

Bejaoui H, Mathieu F, Taillandier P, Lebrihi A (2004) Ochratoxin A removal in synthetic and natural grape juices by selected oenological Saccharomyces strains. J Appl Microbiol 97:1038–1044

Bejaoui H, Mathieu F, Taillandier P, Lebrihi A (2005) Conidia of black aspergilli as new biological adsorbents for ochratoxin A in grape juices and musts. J Agric Food Chem 53:8224–8229

Bezalel L, Hadar Y, Cerniglia CE (1997) Enzymatic mechanisms involved in phenanthrene degradation by the white rot fungus Pleurotus ostreatus. Appl Environ Microbiol 63:2495–2501

Denizli A, Cihangir N, Tüzmen N, Alsancak G (2005) Removal of chlorophenols from aquatic systems using the dried and autoclaved fungus Pleurotus sajor caju. Bioresour Technol 96:59–62

dos Santos DJ, Eriksson LA (2006) Permeability of psoralen derivatives in lipid membranes. Biophys J 91:2464–2474

El-Nezami H, Polychronaki N, Salminen S, Mykkänen H (2002) Binding rather than metabolism may explain the interaction of two food-grade Lactobacillus strains with zearalenone and its derivative ά-zearalenol. Appl Environ Microbiol 68:3545–3549

El-Sharkawy SH, Selim MI, Afifi MS, Halaweish FT (1991) Microbial transformation of zearalenone to a zearalenone sulfate. Appl Environ Microbiol 57:549–552

Farooq A, Tahara S (1999) Fungal metabolism of flavonoids and related phytoalexins. Curr Top Phytochem 2:1–33

Guo L-Q, Fukuda K, Ohta T, Yamazoe Y (2000) Role of furanocoumarin derivatives on grapefruit juice-mediated inhibition of human CYP3A activity. Drug Metab Dispos 28:766–771

Levasseur A, Navarro D, Punt PJ, Belaïch JP, Asther M, Record E (2005) Construction of engineered bifunctional enzymes and their overproduction in Aspergillus niger for improved enzymatic tools to degrade agricultural by-products. Appl Environ Microbiol 71:8132–8140

Manthey JA, Buslig BA (2005) Distribution of furanocoumarins in grapefruit juice fractions. J Agric Food Chem 53:5158–5163

Manthey JA, Myung K, Merten-Talcott S, Derendorf H, Butterweck V, Widmer WW (2006) The isolation of minor-occurring furanocoumarins in grapefruit and analysis of their inhibition of CYP3A4 and P-glycoprotein transport of talinolol from Caco-2 cells. Proc Fla State Hort Soc 119:361–366

Maskalyk J (2002) Grapefruit juice: potential drug interactions. Can Med Assoc J 167:279–280

Mertens-Talcott SU, Zadezensky I, De Castro WV, Derendorf H, Butterweck V (2006) Grapefruit–drug interactions: can interactions with drugs be avoided. J Clin Pharmacol 46:1390–1416

Myung K, Manthey JA, Narciso JA (2008) Aspergillus niger metabolism of citrus furanocoumarin inhibitors of human cytochrome P450 3A4. DOI https://doi.org/10.1007/s00253-007-1314-0 (in press)

Oliva A, Meepagala K, Wedge DE, Harries D, Hale AL, Aliotta G, Duke SO (2003) Natural fungicides from Ruta graveolens L. leaves, including a new quinolone alkaloid. J Agric Food Chem 51:890–896

Paine MF, Widmer WW, Hart HL, Pusek SN, Beavers KL, Criss AB, Brown SS, Thomas BF, Watkins PB (2006) A furanocoumarin-free grapefruit juice establishes furanocoumarins as the mediators of the grapefruit–felodipine interaction. Am J Clin Nutr 83:1097–1105

Ringot D, Lerzy B, Bonhoure JP, Auclair E, Oriol E, Larondelle (2005) Effect of temperature on in vitro ochratoxin A biosorption onto yeast cell derivatives. Process Biochem 40:3308–3016

Santana L, Uriarte E, Roleira F, Milhazes N, Borges F (2004) Furocoumarins in medicinal chemistry. Synthesis, natural occurrence and biological activity. Curr Med Chem 11:3239–3261

Tatum JH, Berry RE (1979) Coumarins and psoralens in grapefruit peel oil. Phytochemistry 18:500–502

Wangensteen H, Molden E, Christensen H, Malterud KE (2003) Identification of epoxybergamottin as a CYP3A4 inhibitor in grapefruit peel. Eur J Clin Pharmacol 58:663–668

Weimin L, Schuler MA, Berenbaum MR (2003) Diversification of furanocoumarin-metabolizing cytochrome P450 monooxygenases in two papilionids: specificity and substrate encounter rate. Proc Natl Acad Sci USA 100:14593–14598

Widmer WW, Haun C (2005) Variation in furanocoumarin content and new furanocoumarin dimers in commercial grapefruit (Citrus paradisi Macf.) juices. J Food Sci 70:C307–C312
Acknowledgments
We thank Ms. Veronica Cook and Mr. Christopher Ference for technical support. Mention of a trademark or proprietary product is for identification only and does not imply a guarantee or warranty of the product by the U.S. Department of Agriculture.
About this article
Cite this article
Myung, K., Manthey, J.A. & Narciso, J.A. Binding of furanocoumarins in grapefruit juice to Aspergillus niger hyphae. Appl Microbiol Biotechnol 78, 401–407 (2008). https://doi.org/10.1007/s00253-007-1326-9
Received:

Revised:

Accepted:

Published:

Issue Date:
Keywords
Aspergillus niger

Grapefruit juice

Flavanones

Furanocoumarins

Biosorption

Phenolics

Grapefruit–drug interaction