Abstract
High-cell-density production of recombinant growth hormone of Lateolabrax japonicus (rljGH) expressed intracellularly in Pichia pastoris was investigated. In the regular strategy of induction at a cell density of 160 g l−1, short duration of intracellular rljGH accumulation (17 h) resulted in a low final cell density of 226 g l−1. Thus, a novel strategy of induction at a cell density of 320 g l−1 was investigated. In this strategy, the preinduction glycerol-feeding scheme had a significant effect on the post-induction production. Constant glycerol feeding led to a decrease of the specific rljGH production and specific production rate because of low preinduction specific growth rate. This decrease was avoided by exponential glycerol feeding to maintain a preinduction specific growth rate of 0.16 h−1. The results from exponential glycerol feeding indicated that the rljGH production depended on the preinduction specific growth rate. Moreover, mixed feeding of methanol and glycerol during induction improved the specific production rate to 0.07 mg g−1 h−1 from 0.043 mg g−1 h−1. Consequently, both high cell density (428 g l−1) and high rljGH production could be achieved by the novel strategy: growing the cells at the specific growth rate of 0.16 h−1 to the cell density of 320 g l−1 and inducing the expression by mixed feeding.
This is a preview of subscription content, log in to check access.
Access options
Buy single article
Instant access to the full article PDF.
US$ 39.95
Price includes VAT for USA
Subscribe to journal
Immediate online access to all issues from 2019. Subscription will auto renew annually.
US$ 199
This is the net price. Taxes to be calculated in checkout.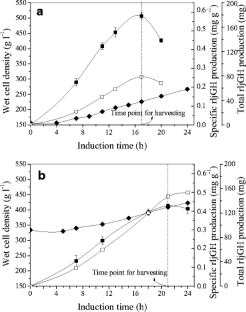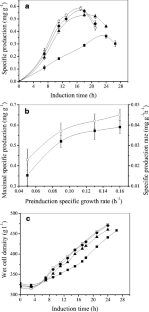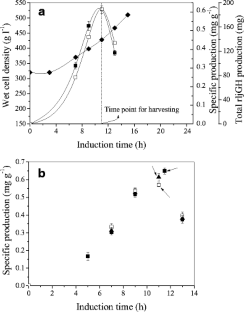 References
Acosta J, Morales R, Morales A, Alonso M, Estrada MP (2007) Pichia pastoris expressing recombinant tilapia growth hormone accelerates the growth of tilapia. Biotechnol Lett 29:1671–1676

Bremer H, Dennis PP (1996) Modulation of chemical composition and other parameters of the cell by growth rate. In: Neidhardt FC (ed) Escherichia coli and Salmonella: cellular and molecular biology. 2nd edn. ASM, Washington, DC, pp 1553–1569

Chen D, Yang F, Wang W, Xu X (1998) Intracellular expression of Lateolabrax japonicus growth hormone in methyltrophic yeast, Pichia pastoris. Chin J Prog Biochem Biophys 25:140–143

Cregg JM, Vedvick TS, Raschke WC (1993) Recent advances in the expression of foreign genes in Pichia pastoris. Bio/Technology 11:905–910

Cunha AE, Clemente JJ, Gomes R, Pinto F, Thomaz M, Miranda S, Pinto R, Moosmayer D, Donner P, Carrondo MJT (2004) Methanol induction optimization for scFv antibody fragment production in Pichia pastoris. Biotechnol Bioeng 86:458–467

Curless C, Pope J, Tsai LB (1990) Effects of preinduction specific growth rate on recombinant alpha consensus interferon synthesis in Escherichia coli. Biotechnol Prog 6:149–152

Curless C, Pope J, Loredo L, Tsai LB (1994) Effect of preinduction specific growth rate on secretion of granulocyte macrophage colony stimulating factor by Escherichia coli. Biotechnol Prog 10:467–471

D'Anjou MC, Daugulis AJ (2001) A rational approach to improving productivity in recombinant Pichia pastoris fermentation. Biotechnol Bioeng 72:1–11

de Jong LAA, Grunewald S, Franke JP, Uges DRA, Bischoff R (2004) Purification and characterization of the recombinant human dopamine D2S receptor from Pichia pastoris. Protein Expression Purif 33:176–184

Ding JL, Lim EH, Li HF, Kumar JK, Lee SL, Lam TJ (2004) Expression of recombinant vitellogenin on the yeast Pichia pastoris. Biotechnol Bioeng 85:330–339

Farmanfarmaian A, Sun LZ (1999) Growth hormone effects on essential amino acid absorption, muscle amino acid profile, N-retention and nutritional requirement of striped bass hybrids. Genet Anal—Biomol Eng 15:107–113

Files D, Ogawa M, Scaman CH, Baldwin SA (2001) A Pichia pastoris fermentation process for producing high-levels of recombinant human cystatin-C. Enzyme Microb Technol 29:335–340

Harder W, Veenhuis M (1989) Metabolism of one carbon compounds. In: Rose AH, Harrison JS (eds) The yeasts, vol 3. Academic, London, pp 289–316

Hayami T, Sato N, Ichiryu T, Inoue Y, Murata K, Kimura S (1989) Production of recombinant tuna growth hormone by a yeast Saccharomyces cerevisiae. Agric Biol Chem 53:2917–2922

Hoffmann F, Heuvel JVD, Zidek N, Rinas U (2004) Minimizing inclusion body formation during recombinant protein production in Escherichia coli at bench and pilot plant scale. Enzyme Microb Technol 34:235–241

Jungo C, Marison I, von Stockar U (2007) Mixed feeds of glycerol and methanol can improve the performance of Pichia pastoris cultures: a quantitative study based on concentration gradients in transient continuous cultures. J Biotechnol 128:824–837

Khatri N, Hoffmann F (2006) Oxygen-limited control of methanol uptake for improved production of a single-chain antibody fragment with recombinant Pichia pastoris. Appl Microbiol Biotechnol 72:492–498

Kim TK, Zhang R, Feng W, Cai J, Pierce W, Song ZH (2005) Expression and characterization of human CB1 cannabinoid receptor in methylotrophic yeast Pichia pastoris. Protein Expr Purif 40:60–70

Lee C, Nakano A, Shiomi N, Lee E, Katoh S (2003) Effects of substrate feed rates on heterologous protein expression by Pichia pastoris in DO-stat fed-batch fermentation. Enzyme Microb Technol 33:358–365

Nomura M (1999) Regulation of ribosome biosynthesis in Escherichia coli and Saccharomyces cerevisiae: diversity and common principles. J Bacteriol 181:6857–6864

Payne M, Petrillo K, Gavagan J, DiCosmo R, Winona Wagne L, Anton D (1997) Engineering Pichia pastoris for biocatalysis: co-production of two active enzymes. Gene 194:179–182

Potter KJ, Zhang W, Smith LA, Meagher MM (2000) Production and purification of the heavy chain fragment C of botulinum neurotoxin, serotype A, expressed in the methylotrophic yeast Pichia pastoris. Protein Expr Purif 19:393–402

Sande'n A, Prytz I, Tubulekas I, Forberg C, Le H, Hektor A, Neubauer P, Pragai Z, Harwood C, Ward A, Picon A, Teixeira de Mattos J, Postma P, Farewell A, Nystrom T, Reeh S, Pedersen S, Larsson G (2003) Limiting factors in Escherichia coli fed-batch production of recombinant proteins. Biotechnol Bioeng 81:158–166

Sarramegna V, Talmont F, de Roch MS, Milon A, Demange P (2002) Green fluorescent protein as a reporter of human μ-opioid receptor overexpression and localization in the methylotrophic yeast Pichia pastoris. J Biotechnol 99:23–39

Shin CS, Hong MS, Kim DY, Shin HC, Lee J (1998) Growth-associated synthesis of recombinant human glucagon and human growth hormone in high-cell-density cultures of Escherichia coli. Appl Microbiol Biotechnol 49:364–370

Siegel R, Ryu D (1985) Kinetic study of instability of recombinant plasmid pPLc23trpA1 in E. coli using two stage continuous culture system. Biotechnol Bioeng 27:28–33

Silverstein JT, Wolters WR, Shimizu M, Dickhoff WW (2000) Bovine growth hormone treatment of channel catfish: strain and temperature effects on growth, plasma IGF-I levels, feed intake and efficiency, and body composition. Aquaculture 190:77–88

Sinha J, Plantz BA, Inan M, Meagher MM (2005) Causes of proteolytic degradation of secreted recombinant proteins produced in methylotrophic yeast Pichia pastoris: case study with recombinant ovine interferon-τ. Biotechnol Bioeng 89:102–112

Sinha J, Inan M, Fanders S, Taoka S, Gouthro M, Swanson T, Barent R, Barthuli A, Loveless B, Smith L, Smith T, Henderson I, Ross J, Meagher MM (2007) Cell bank characterization and fermentation optimization for production of recombinant heavy chain C-terminal fragment of botulinum neurotoxin serotype E (rBoNTE(Hc): Antigen E) by Pichia pastoris. J Biotechnol 127:462–474

Weast RC (1980) Handbook of chemistry and physics. CRC, Boca Raton

Wegele H, Haslbeck M, Buchner J (2003) Recombinant expression and purification of Ssa1p (Hsp70) from Saccharomyces cerevisiae using Pichia pastoris. J Chromatogr B 786:109–115

Wood TK, Peretti SW (1991) Effect of chemically-induced, cloned-gene expression on protein synthesis in E. coli. Biotechnol Bioeng 38:397–412

Xiao A, Zhou X, Zhou L, Zhang Y (2006) Improvement of cell viability and hirudin production by ascorbic acid in Pichia pastoris fermentation. Appl Microbiol Biotechnol 72:837–844

Zhang W, Bevins MA, Plantz BA, Smith LA, Meagher MM (2000) Modeling Pichia pastoris growth on methanol and optimizing the production of a recombinant protein, the heavy-chain fragment C of botulinum neurotoxin, serotype A. Biotechnol Bioeng 70:1–8

Zhang W, Hywood-Potter KJ, Plantz BA, Schlegel VL, Smith LA, Meagher MM (2003) Pichia pastoris fermentation with mixed-feeds of glycerol and methanol: growth kinetics and production improvement. J Ind Microbiol Biotech 30:210–215

Zhou X, Zhang Y (2002) Decrease of proteolytic degradation of recombinant hirudin produced by Pichia pastoris by controlling the specific growth rate. Biotechnol Lett 24:1449–1453
Acknowledgements
We are most grateful to Prof. Xun Xu and Feng Yang (The Third Institute of Oceanography, Xiamen, China) for having kindly provided the recombinant P. pastoris strain expressing rljGH and the corresponding antibody.
About this article
Cite this article
Wei, C., Zhou, X. & Zhang, Y. Improving intracellular production of recombinant protein in Pichia pastoris using an optimized preinduction glycerol-feeding scheme. Appl Microbiol Biotechnol 78, 257–264 (2008). https://doi.org/10.1007/s00253-007-1315-z
Received:

Revised:

Accepted:

Published:

Issue Date:
Keywords
Exponential feeding

High-cell-density fermentation

Intracellular production

Mixed feeding

Pichia pastoris

Specific growth rate