Abstract
The phosphoenolpyruvate: carbohydrate phosphotransferase system (PTS) catalyzes transport of carbohydrates by coupling carbohydrate translocation and phosphorylation. Enzyme I and HPr, encoded in ptsI and ptsH, respectively, are cytoplasmic proteins commonly used for transport of variety of PTS sugars. In this study, we investigated the role of SugR on the expression of the ptsI and ptsH which increases in the presence of PTS sugars in Corynebacterium glutamicum. Disruption of sugR resulted in the increased expression of ptsI and ptsH in the absence of PTS sugar. Introduction of a plasmid containing sugR gene complemented the effect of sugR disruption. SugR was purified and binding to the promoter regions of ptsI and ptsH was indicated by EMSA. DNase I footprinting analysis indicated the binding sites of SugR on the promoter region of divergently transcribed ptsI gene and fructose-pts operon. The binding sites contain a possible SugR binding motif which is conserved in the promoter regions of general and sugar-specific pts genes. Mutations in this motif resulted in the decrease of SugR binding to the ptsI promoter. These results suggest that SugR represses ptsI and ptsH in the absence of PTS sugar and derepression is the mechanism for the induction of the general components of PTS.
This is a preview of subscription content, log in to check access.
Access options
Buy single article
Instant access to the full article PDF.
US$ 39.95
Price includes VAT for USA
Subscribe to journal
Immediate online access to all issues from 2019. Subscription will auto renew annually.
US$ 199
This is the net price. Taxes to be calculated in checkout.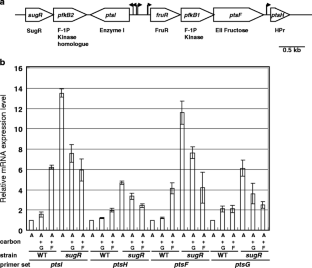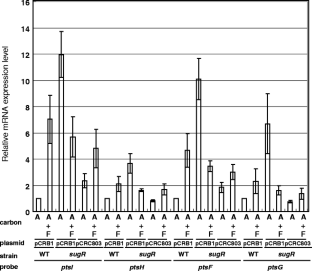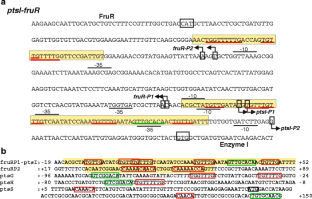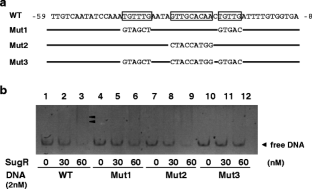 References
Dominguez H, Lindley ND (1996) Complete sucrose metabolism requires fructose phosphotransferase activity in Corynebacterium glutamicum to ensure phosphorylation of liberated fructose. Appl Environ Microbiol 62:3878–3880

Engels V, Wendisch VF (2007) The DeoR-type regulator SugR represses expression of ptsG in Corynebacterium glutamicum. J Bacteriol 189:2955–2966

Gaigalat L, Schlüter JP, Hartmann M, Mormann S, Tauch A, Pühler A, Kalinowski J (2007) The DeoR-type transcriptional regulator SugR acts as a repressor for genes encoding the phosphoenolpyruvate: sugar phosphotransferase system (PTS) in Corynebacterium glutamicum. BMC Mol Biol 8:104

Georgi T, Rittmann D, Wendisch VF (2005) Lysine and glutamate production by Corynebacterium glutamicum on glucose, fructose and sucrose: roles of malic enzyme and fructose-1,6-bisphosphatase. Metab Eng 7:291–301

Ikeda M (2003) Amino acid production processes. Adv Biochem Eng Biotechnol 79:1–35

Inui M, Murakami S, Okino S, Kawaguchi H, Vertès AA, Yukawa H (2004) Metabolic analysis of Corynebacterium glutamicum during lactate and succinate productions under oxygen deprivation conditions. J Mol Microbiol Biotechnol 7:182–196

Kelle R, Hermann T, Bathe B (2005) L-Lysine production. In: Eggeling L, Bott M (eds) Handbook of Corynebacterium glutamicum. CRC Press, Boca Raton, Fla, pp 465–488

Kim SY, Nam TW, Shin D, Koo BM, Seok YJ, Ryu S (1999) Purification of Mlc and analysis of its effects on the pts expression in Escherichia coli. J Biol Chem 274:25398–25402

Kinoshita S, Udaka S, Shimono M (1957) Studies on the amino acid fermentation. I. Production of l-glutamic acid by various microorganisms. J Gen Appl Microbiol 3:193–205

Kotrba P, Inui M, Yukawa H (2001a) Bacterial phosphotransferase system (PTS) in carbohydrate uptake and control of carbon metabolism. J Biosci Bioeng 92:502–517

Kotrba P, Inui M, Yukawa H (2001b) The ptsI gene encoding enzyme I of the phosphotransferase system of Corynebacterium glutamicum. Biochem Biophys Res Commun 289:1307–1313

Lee SJ, Boos W, Bouche JP, Plumbridge J (2000) Signal transduction between a membrane-bound transporter, PtsG, and a soluble transcription factor, Mlc, of Escherichia coli. EMBO J 19:5353–5361

Moon MW, Kim HJ, Oh TK, Shin CS, Lee JS, Kim SJ, Lee JK (2005) Analyses of enzyme II gene mutants for sugar transport and heterologous expression of fructokinase gene in Corynebacterium glutamicum ATCC 13032. FEMS Microbiol Lett 244:259–266

Mori M, Shiio I (1987) Phosphoenolpyruvate, sugar phosphotransferase systems and sugar metabolism in Brevibacterium flavum. Agric. Biol. Chem. 51:2671–2678

Nakata K, Inui M, Kos PB, Vertès AA, Yukawa H (2003) Vectors for the genetics engineering of corynebacteria. In: Saha BC (ed) Symposium Series No 855: Fermentation Biotechnology. American Chemical Society, Washington, pp 145–154

Nam TW, Cho SH, Shin D, Kim JH, Jeong JY, Lee JH, Roe JH, Peterkofsky A, Kang SO, Ryu S, Seok YJ (2001) The Escherichia coli glucose transporter enzyme IICB (Glc) recruits the global repressor Mlc. EMBO J 1:491–498

Okino S, Inui M, Yukawa H (2005) Production of organic acids by Corynebacterium glutamicum under oxygen deprivation. Appl Microbiol Biotechnol 68:475–480

Parche S, Burkovski A, Sprenger GA, Weil B, Krämer R, Titgemeyer F (2001) Corynebacterium glutamicum, a dissection of the PTS. J Mol Microbiol Biotechnol 3:423–428

Plumbridge J (1999) Expression of the phosphotransferase system both mediates and is mediated by Mlc regulation in Escherichia coli. Mol Microbiol 33:260–273

Postma PW, Lengeler JW, Jacobson GR (1993) Phosphoenolpyruvate, carbohydrate phosphotransferase systems of bacteria. Microbiol Rev 57:543–594

Stülke J, Martin-Verstraete I, Zagorec M, Rose M, Klier A, Rapoport G (1997) Induction of the Bacillus subtilis ptsGHI operon by glucose is controlled by a novel antiterminator, GlcT. Mol Microbiol 25:65–78

Suzuki N, Okai N, Nonaka H, Tsuge Y, Inui M, Yukawa H (2006) High-throughput transposon mutagenesis of Corynebacterium glutamicum and construction of a single-gene disruptant mutant library. Appl Environ Microbiol 72:3750–3755

Tanaka Y, Kimata K, Inada T, Tagami H, Aiba H (1999) Negative regulation of the pts operon by Mlc, mechanism underlying glucose induction in Escherichia coli. Genes Cells 4:391–399

Tanaka Y, Kimata K, Aiba H (2000) A novel regulatory role of glucose transporter of Escherichia coli: membrane sequestration of a global repressor Mlc. EMBO J. 16:5344–5352

Tanaka Y, Okai N, Teramoto H, Inui M, Yukawa H (2008) Regulation of the expression of phosphoenolpyruvate, carbohydrate phosphotransferase system (PTS) genes in Corynebacterium glutamicum R. Microbiology 154:264–274

Yukawa H, Omumasaba CA, Nonaka H, Kos P, Okai N, Suzuki N, Suda M, Tsuge Y, Watanabe J, Ikeda Y, Vertès A, Inui M (2007) Comparative analysis of the Corynebacterium glutamicum group and complete genome sequence of strain R. Microbiology 153:1042–1058
Acknowledgements
We thank Roy H. Doi (University of California at Davis) for his critical reading of the manuscript. This work was supported by a grant from the New Energy and Technology Development Organization (NEDO).
About this article
Cite this article
Tanaka, Y., Teramoto, H., Inui, M. et al. Regulation of expression of general components of the phosphoenolpyruvate: carbohydrate phosphotransferase system (PTS) by the global regulator SugR in Corynebacterium glutamicum . Appl Microbiol Biotechnol 78, 309–318 (2008). https://doi.org/10.1007/s00253-007-1313-1
Received:

Revised:

Accepted:

Published:

Issue Date:
Keywords
PTS

SugR

ptsI

Corynebacterium

Glutamicum