Abstract
Microbial transformation of benzaldehyde into l-phenylacetylcarbinol by whole cell Saccharomyces cerevisiae has been carried out in a novel polyethylene glycol (PEG)-induced cloud point system. The system is composed of 80 g PEG 20,000, 75 ml Triton X-100, 20 g peptone, 10 g yeast extract, 25 g glucose, 1 g MgSO4·7H2O, 0.05 g CaCl2·2H2O, 35 g Na2HPO4·12H2O, and 10.7 g citric acid per liter of tap water. The microbial transformation is conducted at 0.6 ml of acetaldehyde (35% volume content), 0.9 ml of benzaldehyde, and 7 g of wet cell per 100 ml of the PEG-induced cloud point system. Under the conditions, a relatively longer-term bioactivity of whole cell microorganism in the PEG-induced cloud point system has been achieved. A fed-batch microbial transformation process with a discrete addition of glucose and substrate gets a high final product concentration of about 8 g/l.
This is a preview of subscription content, log in to check access.
Access options
Buy single article
Instant access to the full article PDF.
US$ 39.95
Price includes VAT for USA
Subscribe to journal
Immediate online access to all issues from 2019. Subscription will auto renew annually.
US$ 199
This is the net price. Taxes to be calculated in checkout.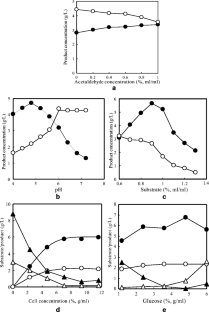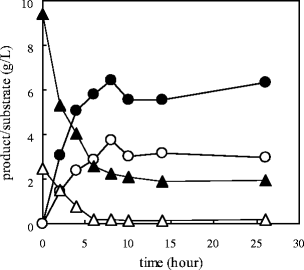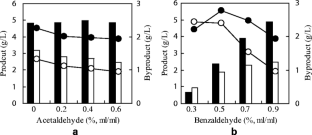 References
Becvarova H, Hanc O (1963) Production of phenylacetylcarbinol by various yeast species. Fol Microbiol 8:42–47

Goetz G, Iwan P, Hauer B, Breuer M, Pohl M (2001) Continuous production of (R)-phenylacetylcarbinol in an enzyme-membrane reactor using a potent mutant of pyruvate decarboxylase from Zymomonas mobilis. Biotechnol Bioeng 74(4):317–325

Gupta KG, Singh J, Sahni G, Dhawan S (1978) Production of phenyl acetyl carbinol by yeasts. Bioeng Biotechnol 21(6):1085–1089

Hinze WL, Pramauro E (1993) A critical review of surfactant-mediated phase separations (cloud-point extraction): theory and applications. Crit Rev Anal Chem 24(2):133–177

Kostraby MM, Smallridge AJ, Trewhella MA (2002) Yeast-mediated preparation of l-PAC in an organic solvent. Bioeng Biotechnol 77(7):827–831

Laane C, Boeren S, Vos K, Veeger C (1987) Rules for optimization of biocatalysis in organic solvents. Biotechnol Bioeng 30:81–87

Long A, Ward OP (1989a) Biotransformation of aromatic aldehydes by Saccharomyces cerevisiae: characterization of the fermentation and toxicity effects of substrates and products. Biotechnol Bioeng 34(7):993–941

Long A, Ward OP (1989b) Biotransformation of aromatic aldehydes by Saccharomyces cerevisiae: investigation of reaction rates. J Ind Microbiol 4:49–53

Nikolova PN, Ward OP (1992) Whole cell yeast biotransformation in two-phase systems: effect of solvent on product formation and cell structure. J Ind Microbiol 10:169–177

Rogers PL, Shin HS, Wang B (1997) Biotransformation for l-ephedrine production. Adv Biochem Eng Biotechnol 56:33–59

Rosche B, Breuer M, Hauer B, Rogers PL (2004) Biphasic aqueous/organic biotransformation of acetaldehyde and benzaldehyde by Zymomonas mobilis pyruvate decarboxylase. Biotechnol Bioeng 86(7):788–794

Rosche B, Breuer M, Hauer B, Rogers PL (2005) Cells of Candida utilis for in vitro R-phenylacetylcarbinol production in an aqueous/octanol two-phase reactor. Biotechnol Lett 27:575–581

Rosche B, Sandford V, Breuer M, Hauer B, Rogers P (2001) Biotransformation of benzaldehyde into (R)-phenylacetylcarbinol by filamentous fungi or their extracts. Appl Microbiol Biotechnol 57:309–315

Sandford V, Breuer M, Hauer B, Rogers P, Rosche B (2005) R-phenylacetylcarbinol production in aqueous/organic two-phase systems using partially purified pyruvate decarboxylase from Candida utilis. Biotechnol Bioeng 91(2):190–198

Shin HS, Rogers PL (1995) Biotransformation of benzaldehyde to l-phenylacetylcarbinol, an intermediate in l-ephedrine production, by immobilized Candida utilis. Appl Microbiol Biotechnol 44:7–14

Shin HS, Rogers PL (1996) Kinetic evaluation of biotransformation of benzaldehyde to l-phenylacetylcarbinol by immobilized pyruvate decarboxylase from Candida utilis. Biotechnol Bioeng 49:429–436

Shukla VB, Kulkarni PR (2001) Process parameters and reusability of the free cell mass of Torulaspara delbrueckii for the production of l-phenylacetylcarbinol (l-PAC). World J Microbiol Biotechnol 17:296–306

Tripathi CM, Agarwal SC, Basu S (1997) Production of l-phenylacetylcarbinol by fermentation. J Ferment Bioeng 64(6):487–492

Wang Z (2007) The potential of cloud point system as a novel two-phase partitioning system for biotransformation. Appl Microbiol Biotechnol 75:1–10

Wang Z, Xu J-H, Wang L, Zhang W, Zhuang B, Qi H (2007) Improvement the tolerance of baker's yeast to toxic substrate/product with cloud point system during the whole cell microbial transformation. Enzyme Microb Technol 41:296–301

Wang Z, Zhao F, Hao X, Chen D, Li D (2004) Microbial transformation hydrophobic compound in cloud point system. J Mol Catal B Enzym 27:147–153
Acknowledgement
This project was financially supported by the National Natural Science Foundation of China (no. 20676080).
About this article
Cite this article
Zhang, W., Wang, Z., Li, W. et al. Production of l-phenylacetylcarbinol by microbial transformation in polyethylene glycol-induced cloud point system. Appl Microbiol Biotechnol 78, 233–239 (2008). https://doi.org/10.1007/s00253-007-1304-2
Received:

Revised:

Accepted:

Published:

Issue Date:
Keywords
Microbial transformation

l

-phenylacetylcarbinol

Polyethylene glycol

Nonionic surfactant

Cloud point system