Abstract
An extracellular β-agarase (AgaA34) was purified from a newly isolated marine bacterium, Agarivorans albus YKW-34 from the gut of a turban shell. AgaA34 was purified to homogeneity by ion exchange and gel filtration chromatographies with a recovery of 30% and a fold of ten. AgaA34 was composed of a single polypeptide chain with the molecular mass of 50 kDa. N-terminal amino acid sequencing revealed a sequence of ASLVTSFEEA, which exhibited a high similarity (90%) with those of agarases from glycoside hydrolase family 50. The pH and temperature optima of AgaA34 were pH 8.0 and 40°C, respectively. It was stable over pH 6.0–11.0 and at temperature up to 50°C. Hydrolysis of agarose by AgaA34 produced neoagarobiose (75 mol%) and neoagarotetraose (25 mol%), whose structures were identified by matrix-assisted laser desorption ionization time-of-flight mass spectroscopy and 13C NMR. AgaA34 cleaved both neoagarohexaose and neoagarotetraose into neoagarobiose. The k cat/K m values for hydrolysis agarose and neoagarotetraose were 4.04 × 103 and 8.1 × 102 s−1 M−1, respectively. AgaA34 was resistant to denaturing reagents (sodium dodecyl sulfate and urea). Metal ions were not required for its activity, while reducing reagents (β-Me and dithiothreitol, DTT) increased its activity by 30%.
This is a preview of subscription content, log in to check access.
Access options
Buy single article
Instant access to the full article PDF.
US$ 39.95
Price includes VAT for USA
Subscribe to journal
Immediate online access to all issues from 2019. Subscription will auto renew annually.
US$ 199
This is the net price. Taxes to be calculated in checkout.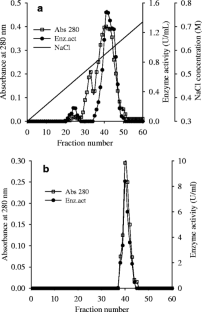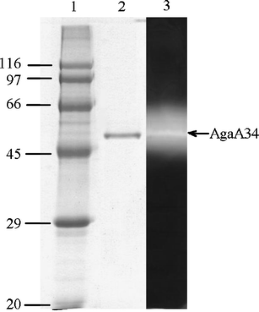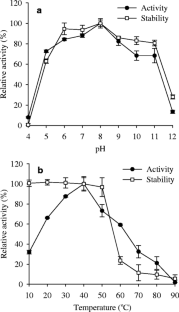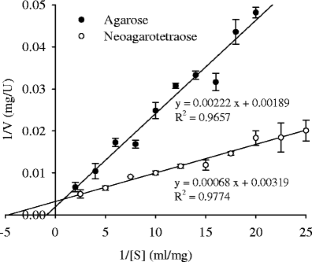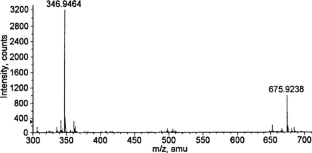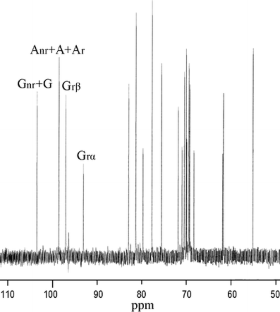 References
Aoki T, Araki T, Kitamikado M (1990) Purification and characterization of a novel β-agarase from Vibrio sp. AP-2. Eur J Biochem 187:461–465

Araki CH (1937) Acetylation of agar like substance of Gelidium amansii. J Chem Soc Japan 58:1338–1350

Araki T, Hayakawa M, Zhang L, Karita S, Morishita T (1998) Purification and characterization of agarases from a marine bacterium, Vibrio sp. PO-303. J Mar Biotechnol 6:260–265

Armisén R, Galatas F, Hispanagar SA (2000) Agar. In: Phillips GO, Williams PA (eds) Handbook of hydrocolloids. Woodhead Publishing Ltd., England, pp 21–40

Du ZJ, Zhao Y, Li MJ, Chi ZM, Wu LF (2007) Screening and biodiversity analysis of agarolytic bacteria in the Qingdao Coast. Periodical Ocean Univ China 37:277–282 (in Chinese)

Embley TM, Stackebrandt E (1994) The molecular phylogeny and systematics of the actinomycetes. Annu Rev Microbiol 48:257–289

Fu XT, Lin H, Kim SM (2007) Purification and characterization of a Na+/K+dependent alginate lyase from turban shell gut Vibrio sp. YKW-34. Enzyme Microb Technol 41:828–834

Giordano A, Andreotti G, Tramice A, Trincone A (2006) Marine glycosyl hydrolases in the hydrolysis and synthesis of oligosaccharides. Biotechnol J 1:511–530

Groleau D, Yaphe W (1977) Enzymatic hydrolysis of agar: purification and characterization of beta-neoagarotetraose hydrolase from Pseudomonas atlantica.. Can J Microbiol 23:672–679

Hamer GK, Bhattacharjee SS, Yaphe W (1977) Analysis of the enzymic hydrolysis products of agarose by 13C-n.m.r. spectroscopy. Carbohydr Res 54:C7–Cl0

Holt JG, Krieg NR, Sneath PHA, Staley JT, Williams ST (1994) Bergey's manual of determinative bacteriology, 9th edn. Williams & Wilkins, Baltimore, MD, USA

Kirimura K, Masuda N, Iwasaki Y, Nakagawa H, Kobayashi R, Usami S (1999) Purification and characterization of a novel β-agarase from an alkalophilic bacterium, Alteromonas sp. E-1. J Biosci Bioeng 87:436–441

Kobayashi R, Takisada M, Suzuki T, Kirimura K, Usami S (1997) Neoagarobiose as a novel moisturizer with whitening effect. Biosci Biotechnol Biochem 61:162–163

Kurahashi M, Yokota A (2004) Agarivorans albus gen. nov., sp. nov., a γ-proteobacterium isolated from marine animals. Int J Syst Evol Microbiol 54:693–697

Lakshmikanth M, Manohar S, Souche Y, Lalitha J (2006) Extracellular β-agarase LSL-1 producing neoagarobiose from a newly isolated agar-liquefying soil bacterium, Acinetobacter sp., AG LSL-1. World J Microbiol Biotechnol 22:1087–1094

Lee DG, Park GT, Kim NY, Lee EJ, Jang MK, Shin YG, Park GS, Kim TM, Lee JH, Lee JH, Kim SJ, Lee SH (2006) Cloning, expression, and characterization of a glycoside hydrolase family 50 β-agarase from a marine Agarivorans isolate. Biotechnol Lett 28:1925–1932

Leon O, Quintana L, Peruzzo G, Slebe JC (1992) Purification and properties of an extracellular agarase from Alteromonas sp. strain C-1. Appl Environ Microbiol 58:4060–4063

Ohta Y, Hatada Y, Nogi Y, Miyazaki M, Li Z, Akita M, Hidaka Y, Goda S, Ito S, Horikoshi K (2004) Enzymatic properties and nucleotide and amino acid sequences of a thermostable β-agarase from a novel species of deep-sea Microbulbifer. Appl Microbiol Biotechnol 64:505–514

Ohta Y, Hatada Y, Ito S, Horikoshi K (2005a) High-level expression of a neoagarobiose-producing beta-agarase gene from Agarivorans sp. JAMB-A11 in Bacillus subtilis and enzymic properties of the recombinant enzyme. Biotechnol Appl Biochem 41:183–191

Ohta Y, Hatada Y, Miyazaki M, Nogi Y, Ito S, Horikoshi K (2005b) Purification and characterization of a novel α-agarase from a Thalassomonas sp. Curr Microbiol 50:212–216

Potin P, Richard C, Rochas C, Kloareg B (1993) Purification and characterization of the α-agarase from Alteromonas agarlyticus (Cataldi) comb. nov., strain GJ1B. Eur J Biochem 214:599–607

Sugano Y, Terada I, Arita M, Noma M, Matsumoto T (1993) Purification and characterization of a new agarase from a marine bacterium, Vibrio sp. strain JT0107. Appl Environ Microbiol 93:1549–1554

Suzuki H, Sawai Y, Suzuki T, Kawai K (2003) Purification and characterization of an extracellular β-agarase from Bacillus sp. MK03. J Biosci Bioeng 93:456–463

Van der Meulen HJ, Harder W (1975) Production and characterization of the agarase of Cytoplaga flevensis. Antonie Van Leeuwenhoek 41:431–447

Wang J, Mou H, Jiang X, Guan H (2006) Characterization of a novel β-agarase from marine Alteromonas sp. SY37-12 and its degrading products. Appl Microbiol Biotechnol 71:833–839

Wilson K (1997) Preparation of genomic DNA from bacteria. In: Ausubel FM, Brent R, Kingston RE, Moore DD, Seidman JG, Smith JA, Struhl K (eds) Current protocols in molecular biology. Wiley, New York, pp 2.4.1–2.4.5

Yi KW, Shin IS (2006) Isolation of marine bacterium decomposing sea tangle (Laminaria japonica) to single cell detritus. Korean J Food Sci Technol 38:237–240 (in Korean)
Acknowledgments
This work was supported by the grant of No. RTI05-01-02 from the Regional Technology Innovation Program of the Ministry of Commerce, Industry and Energy (MOCIE), and Kangnung National University, Korea. Xiao Ting Fu was a recipient of a graduate fellowship provided by Brain Korea (BK21) program sponsored by the ministry of Education and Human Resource Development, Korea. We would like to thank Professor Il Shik Shin (Faculty of Marine Bioscience & Technology, Kangnung National University, Korea) for giving us the strain of Agarivorans albus YKW-34.
About this article
Cite this article
Fu, X.T., Lin, H. & Kim, S.M. Purification and characterization of a novel β-agarase, AgaA34, from Agarivorans albus YKW-34. Appl Microbiol Biotechnol 78, 265–273 (2008). https://doi.org/10.1007/s00253-007-1303-3
Received:

Revised:

Accepted:

Published:

Issue Date:
Keywords
β-Agarase

Agarivorans albus

Purification

Characterization

Neoagarobiose