Abstract
We exploited the silkworm Bombyx mori for the production of recombinant canine interferon-alpha (CaIFN-α). The recombinant baculovirus harboring canine interferon gene was rapidly generated by the BmNPV/Bac-to-Bac system that was recently developed. In B. mori-derived cell lines, the expression of the recombinant protein reached maximal levels around 72–96 h post-infection. For the isolation of the expressed recombinant protein from B. mori larvae, the whole bodies of the infected larvae were homogenized, and the expressed protein was purified by affinity chromatography. Based on the fact that the recombinant CaIFN-α showed two bands on the sodium dodecyl sulfate polyacrylamide gel electrophoresis pattern, the expressed protein was thought to be glycosylated. The rCaIFN-α yield was about 528 μg per larva, showing that the expression in silkworm was successful. Furthermore, the recombinant protein was proven to be able to inhibit the infection of Madin–Darby canine kidney cells by the vesicular stomatitis virus, indicating that it is biologically active in vitro. The method established in this study provides an efficient way to produce a large amount of CaIFN-α and paves the way for further utilization of this protein as a therapeutic agent or vaccine adjuvant in dogs.
This is a preview of subscription content, log in to check access.
Access options
Buy single article
Instant access to the full article PDF.
US$ 39.95
Price includes VAT for USA
Subscribe to journal
Immediate online access to all issues from 2019. Subscription will auto renew annually.
US$ 199
This is the net price. Taxes to be calculated in checkout.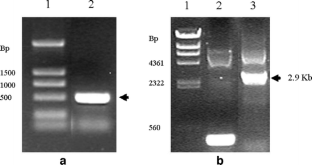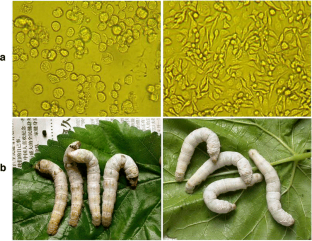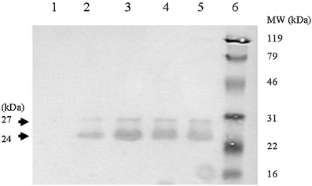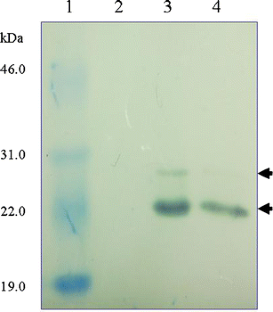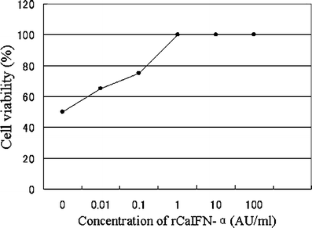 References
Belardelli F, Ferrantini M, Proietti E, Kirkwood JM (2002) Interferon-alpha in tumor immunity and immunotherapy. Cytokine Growth Factor Rev 13(2):119–134

Bogdan C (2000) The function of type I interferons in antimicrobial immunity. Curr Opin Immunol 12(4):419–424

Cuiping C, Xingmeng L, Na Z, Huipeng Y, Xiaofeng W, Yeping T (2006) Development of a rapid and efficient BmNPV baculovirus expression system for application in mulberry silkworm, Bombyx mori. Curr Sci 91(12):1692–1697

Decker T, Muller M, Stockinger S (2005) The yin and yang of type I interferon activity in bacterial infection. Nat Rev Immunol 5(9):675–687

Fumiyoshi O, Masahiro S, Takayoshi I, Naoyo O, Katsushige Y (2000) Production of canine IFN-γ in silkworm by recombinant baculovirus and characterization of the product. J Interferon Cytokine Res 20:1015–1022

Giovanna G, Rossella L, Mirella D'A, Vincenzo L, Federica M, Ottavio P, Mirella L, Mara M, Aldo R, Marialuisa Z, Monica M (2006) Expression of bioactive recombinant bovine interferon-γ using baculovirus. New Microbiol 29:19–24

Himmler A, Hauptmann R, Adolf GR, Swetly P (1987) Structure and expression in Escherichia coli of canine interferon-alpha genes. J Interferon Res 7(2):173–183

Jeefrey LC, Charles SC (1996) Protein engineering. Chapter 7: insect cell expression technology. Wiley, New York, pp 183–218

Ohya K, Matsumura T, Itchoda N, Ohashi K, Onuma M, Sugimoto C (2005) Ability of orally administered IFN-alpha-containing transgenic potato extracts to inhibit Listeria monocytogenes infection. J Interferon Cytokine Res 25(8):459–466

Ruttanapumma R, Anzai M, Takegawa M, Okamura M, Maehara N, Sato K, Yoshioka K, Itoh A, Nakamura M, Takehara K (2006) High level expression of biologically active canine interferon-alpha subtype 4 using a baculovirus. J Vet Med Sci 68(12):1347–1349

Taira O, Watanugi I, Hagiwara Y, Takahashi M, Arai S, Sato H, Maehara N (2005) Cloning and expression of canine interferon-alpha genes in Escherichia coli. J Vet Med Sci 67(10):1059–1062

Samuel CE (2001) Antiviral actions of interferons. Clin Microbiol Rev 14(4):778–809

Xiaofeng W, Cao C, Xu Y, Lu X (2004a) Construction of a host range-expanded hybrid baculovirus of BmNPV and AcNPV, and knockout of cysteinase gene for more efficient expression. Sci China C Life Sci 34(2):156–164

Xiaofeng W, Yin Z, Cao C, Ling H, Xingmeng L (2004b) Expression of human VEGF165 in silkworm (Bombyx mori L.) by using a recombinant baculovirus and its bioactivity assay. J Biotechnol 111(3):253–261
Acknowledgment
This work was supported by the National High-tech R&D Program (2007AA10Z159), Key International Cooperation Programme of Zhejiang (2006C24015), and a grant of the New Century Training Programme Foundation for the Talents (NCET-06-0524), Ministry of Education, China.
About this article
Cite this article
Na, Z., Huipeng, Y., Lipan, L. et al. Efficient production of canine interferon-alpha in silkworm Bombyx mori by use of a BmNPV/Bac-to-Bac expression system. Appl Microbiol Biotechnol 78, 221–226 (2008). https://doi.org/10.1007/s00253-007-1296-y
Received:

Revised:

Accepted:

Published:

Issue Date:
Keywords
Canine interferon-α

BmNPV/Bac-to-Bac expression system

Silkworm