Abstract
A customer- and environment-friendly method for the decolorization azo dyes was developed. Azoreductases could be used both to bleach hair dyed with azo dyes and to reduce dyes in vat dyeing of textiles. A new reduced nicotinamide adenine dinucleotide-dependent azoreductase of Bacillus cereus, which showed high potential for reduction of these dyes, was purified using a combination of ammonium sulfate precipitation and chromatography and had a molecular mass of 21.5 kDa. The optimum pH of the azoreductase depended on the substrate and was within the range of pH 6 to 7, while the maximum temperature was reached at 40°C. Oxygen was shown to be an alternative electron acceptor to azo compounds and must therefore be excluded during enzymatic dye reduction. Biotransformation of the azo dyes Flame Orange and Ruby Red was studied in more detail using UV-visible spectroscopy, high-performance liquid chromatography, and mass spectrometry (MS). Reduction of the azo bonds leads to cleavage of the dyes resulting in the cleavage product 2-amino-1,3 dimethylimidazolium and N∼1∼,N∼1∼-dimethyl-1,4-benzenediamine for Ruby Red, while only the first was detected for Flame Orange because of MS instability of the expected 1,4-benzenediamine. The azoreductase was also found to reduce vat dyes like Indigo Carmine (C.I. Acid Blue 74). Hydrogen peroxide (H2O2) as an oxidizing agent was used to reoxidize the dye into the initial form. The reduction and oxidation mechanism of Indigo Carmine was studied using UV-visible spectroscopy.
This is a preview of subscription content, log in to check access.
Access options
Buy single article
Instant access to the full article PDF.
US$ 39.95
Price includes VAT for USA
Subscribe to journal
Immediate online access to all issues from 2019. Subscription will auto renew annually.
US$ 199
This is the net price. Taxes to be calculated in checkout.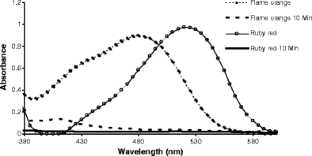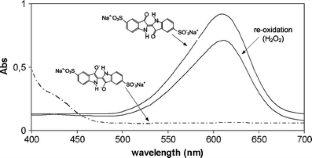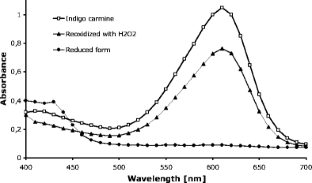 References
Banat IM, Nigam P, Singh D, Marchant R (1996) Microbial decolourization of textile-dye-containing effluents: a review. Bioresour Technol 58:217–227

Bragger JL, Lloyd AW, Soozandehfar SH, Bloomfield SF, Marriot C, Martin GP (1997) Investigations into the azo reducing activity of a common colonic microorganism. Int J Pharm 157:61–71

Carliell CM, Barclay SJ, Naidoo N, Buckley CA, Mulholland DA, Senior E (1994) Anaerobic decolorisation of reactive dyes in conventional sewage-treatment processes. Water SA 20:341–344

Chung KT, Stevens SE (1993) Degradation of azo dyes by environmental microorganism and helminthes. Environ Toxicol Chem 12:2121–2132

Hu TL (2001) Kinetics of azoreductase and assessment of toxicity of metabolic products from azo dyes by Pseudomonas luteola. Water Sci Technol 43:261–269

Kleinszanto AJP, Slaga TJ (1982) Effects of peroxides on rodent skin—epidermal hyperplasia and tumor promotion. J Invest Dermatol 79:30–34

Maier J, Kandelbauer A, Erlacher A, Cavaco-Paulo A, Gubitz GM (2004) A new alkali-thermostable azoreductase from Bacillus sp strain SF. Appl Environ Microbiol 70:837–844

Matsudomi N, Kobayashi K, Akuta S (1977) Purification and some properties of new coccine (NC)-reductase from Bacillus cereus T-105 strain. Agric Biol Chem 41(12):2323–2329

Moutaouakkil A, Zeroual Y, Dzayri FZ, Talbi M, Lee K, Blaghen M (2003) Purification and partial characterization of azoreductase from Enterobacter agglomerans. Arch of Biochem Biophys 413:139–146

Pricelius S, Held C, Sollner S, Deller S, Murkovic M, Ullrich R, Hofrichter M, Cavaco-Paulo A, Macheroux P, Guebitz GM (2007) Enzymatic reduction and oxidation of fibre-bound azo-dyes. Enzyme Microb Technol 40:1732–1738

Rafii F, Franklin W, Cerniglia CE (1990) Azoreductase activity of anaerobic bacteria isolated from human intestinal microflora. Appl Environ Microbiol 56:2146–2151

Russ R, Rau J, Stolz A (2000) The function of cytoplasmic flavin reductases in the reduction of azo dyes by bacteria. Appl Environ Microbiol 66:1429–1434

Sousa F, Jus S, Erbel A, Kokol V, Cavaco-Paulo A, Gubitz GM (2007) A novel metalloprotease from Bacillus cereus for protein fibre processing. Enzyme Microb Technol 40:1772–1781

Stolz A (2001) Basic and applied aspects in the microbial degradation of azo dyes. Appl Microbiol Biotechnol 56:69–80

Wuhrmann K, Mechsner K, Kappeler T (1980) Investigation on rate-determining factors in the microbial reduction of azo dyes. Eur J Appl Microbiol Biotechnol 9:325–338

Zimmermann T, Kulla HG, Leisinger T (1982) Properties of purified Orange II azoreductase, the enzyme initiating azo dye degradation by Pseudomonas KF46. Eur J Biochem 129:197–203

Zimmermann T, Gasser F, Kulla HG, Leisinger T (1984) Comparison of two bacterial azoreductases acquired during adaptation to growth on azo dyes. Arch Microbiol 138:37–43

Zollinger H (1987) Colour chemistry syntheses, porperties and applications of organic dyes and pigments. Wiley-VCH, Weinheim
Acknowledgments
We would like to thank Dr. Kai Uwe-Schöning from CIBA Sc for numerous fruitful discussions and for the initiation of this project.
About this article
Cite this article
Pricelius, S., Held, C., Murkovic, M. et al. Enzymatic reduction of azo and indigoid compounds. Appl Microbiol Biotechnol 77, 321–327 (2007). https://doi.org/10.1007/s00253-007-1165-8
Received:

Revised:

Accepted:

Published:

Issue Date:
Keywords
Azo reductase

Hair dye

Flame orange

Indigo

Bacillus cereus