Abstract
To develop faster, less expensive methods for expression and purification of proteins, the annexin B1-intein fusion expression system was constructed. The interest proteins fused to the annexin B1-intein tag were purified in a single-step method based on the Ca2+-binding activity of annexin B1, and the annexin B1-intein fusion tag was removed based on the self-cleaving activity of the intein. Moreover, we found that in some cases, fusion to annexin B1 can promote the solubility of heterologous proteins. The production of soluble and highly active of interleukin-2 and low-molecular single-chain urokinase in our results proved that the system was a novel, cheap and effective fusion expression system for the production of valuable soluble recombinant proteins in Escherichia coli.
This is a preview of subscription content, log in to check access.
Access options
Buy single article
Instant access to the full article PDF.
US$ 39.95
Price includes VAT for USA
Subscribe to journal
Immediate online access to all issues from 2019. Subscription will auto renew annually.
US$ 199
This is the net price. Taxes to be calculated in checkout.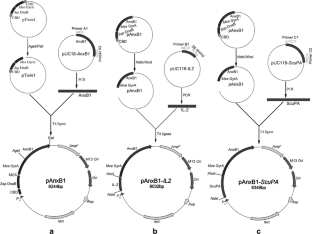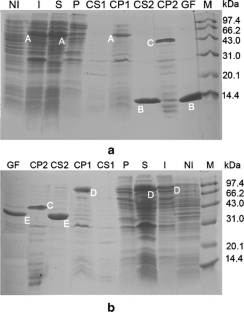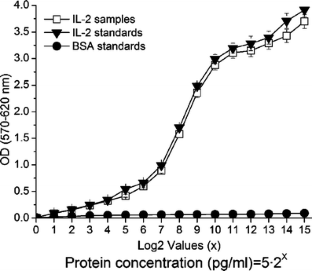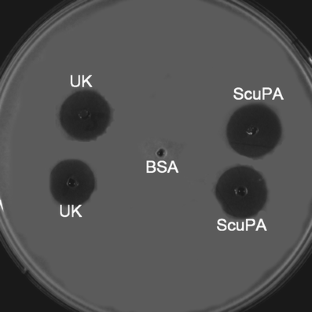 References
Astrup T, Mullertz S (1952) The fibrin plate method for estimating fibrinolytic activity. Arch Biochem Biophys 40:346–351

Bradford MM (1976) A rapid and sensitive method for the quantitation of microgram quantities of protein utilizing the principle of protein–dye binding. Anal Biochem 72:248–254

Burger A, Berendes R, Voges D, Huber R, Demange P (1993) A rapid and efficient purification method for recombinant annexin V for biophysical studies. FEBS Lett 329:25–28

Butt TR, Jonnalagadda S, Monia BP, Sternberg EJ, Marsh JA, Stadel JM, Ecker DJ, Crooke ST (1989) Ubiquitin fusion augments the yield of cloned gene products in Escherichia coli. Proc Natl Acad Sci U S A 86:2540–2544

Cha HJ, Dalal NG, Bentley WE (2004) In vivo monitoring of intracellular expression of human interleukin-2 using green fluorescent protein fusion partner in Pichia pastoris. Biotechnol Lett 26:1157–1162

di Guan C, Li P, Riggs PD, Inouye H (1988) Vectors that facilitate the expression and purification of foreign peptides in Escherichia coli by fusion to maltose-binding protein. Gene 67:21–30

Ding FX, Yan HL, Lu YM, Xue G, Mei Q, Huang JJ, Zhao ZY, Wang YZ, Sun SH (2006) Cloning, purification and biochemical characterization of a thrombus-ditargeting thrombolytic agent, comprised of annexin B1, ScuPA-32K and fibrin-adherent peptide. J Biotechnol 126:394–405

Gao YJ, Zhang Y, Yan HL, He Y, Wang F, Sun SH (2005) Preparation and purification of recombinant annexin B1 by Ca2+-triggered precipitation. Annexins 2:18–20

Jiao J, Yu M, Ru B (2001) Construction and characterization of a recombinant chimeric plasminogen activator consisting of a fibrin peptide and a low molecular mass single-chain urokinase. Biochimie 83:1049–1055

Kaplan R, Jaye M, Burgess WH, Schlaepfer DD, Haigler HT (1988) Cloning and expression of cDNA for human endonexin II, a Ca2+ and phospholipid binding protein. J Biol Chem 263:8037–8043

LaVallie ER, McCoy JM (1995) Gene fusion expression systems in Escherichia coli. Curr Opin Biotechnol 6:501–506

LaVallie ER, DiBlasio EA, Kovacic S, Grant KL, Schendel PF, McCoy JM (1993) A thioredoxin gene fusion expression system that circumvents inclusion body formation in the E. coli cytoplasm. Biotechnolgy 11:187–193

Liu Y, Su C, Hu YH, Ouyang KQ, Cai SX (2005) Studies on fermentation conditions and purification of mutant human interleukin-2 expressed in Pichia pastoris. Chin J Biotechnol 21:430–434

Liu Y, Xiao XY, Sun M, Hu YH, Ou-Yang KQ, Cai SX, Hua ZC (2006) Expression and purification of a mutant of human interleukin-2 in Pichia pastoris. Appl Biochem Biotechnol 133:77–86

Lorberboum-Galski H, FitzGerald D, Chaudhary V, Adhya S, Pastan I (1988) Cytotoxic activity of an interleukin 2-Pseudomonas exotoxin chimeric protein produced in Escherichia coli. Proc Natl Acad Sci U S A 85:1922-1926

Miao J, Wu W, Spielmann T, Belfort M, Derbyshire V, Belfort G (2005) Singlez–step affinity purification of toxic and non-toxic proteins on a fluidics platform. Lab Chip 5:248–253

Pellequer Y, Ollivon M, Barratt G (2003) Methodology for assaying recombinant interleukin-2 associated with liposomes by combined gel exclusion chromatography and fluorescence. J Chromatogr B Analyt Technol Biomed Life Sci 783:151–162

Pellequer Y, Ollivon M, Barratt G (2004) Formulation of liposomes associated with recombinant interleukin-2: effect on interleukin-2 activity. Biomed Pharmacother 58:162–167

Perler FB, Davis EO, Dean GE, Gimble FS, Jack WE, Neff N, Noren CJ, Thorner J, Belfort M (1994) Protein splicing elements: inteins and exteins-a definition of terms and recommended nomenclature. Nucleic Acids Res 22:1125–1127

Roifman CM, Mills GB, Chu M, Gelfand EW (1985) Functional comparison of recombinant interleukin 2 (IL-2) with IL-2-containing preparations derived from cultured cells. Cell Immunol 95:146–156

Samuelsson E, Moks T, Nilsson B, Uhlen M (1994) Enhanced in vitro refolding of insulin-like growth factor I using a solubilizing fusion partner. Biochemistry 33:4207–4211

Schein CH (1989) Production of soluble recombinant proteins in bacteria. Bio/Technology 7:1141–1149

Smallwood M, Keen JN, Bowles DJ (1990) Purification and partial sequence analysis of plant annexins. Biochem J 270:157–161

Smith DB, Johnson KS (1988) Single-step purification of polypeptides expressed in Escherichia coli as fusions with glutathione S-transferase. Gene 67:31–40

Sun SH, Wang JX, Chen RW, Lu HP, Peng YC, Wang ZX (1997) Molecular cloning of the cDNA encoding immunodiagnostic antigens of cysticercosis. Chin J Parasitol Parasit Dis 15:15–20

Telenti A, Southworth M, Alcaide F, Daugelat S, Jacobs WR, Perler FB (1997) The Mycobacterium xenopi GyrA protein splicing element: characterization of a minimal intein. J Bacteriol 179:6378–6382

Wan H, Liu Z, Xia X, Gu J, Wang B, Liu X, Zhu M, Li P, Ruan C (2000) A recombinant antibody-targeted plasminogen activator with high affinity for activated platelets increases thrombolytic potency in vitro and in vivo. Thromb Res 97:133–141

Wang F, He XW, Yan HL, Huang JJ, Zhang Y, Jiang L, Gao YJ, Sun SH (2006) Non-fusion expression in Escherichia coli: Single-step purification of recombinant human annexin A5 for detection of apoptosis. Protein Expr Purif 45:80–87

Wu H, Xu MQ, Liu XQ (1998) Protein trans-splicing and functional mini-inteins of a cyanobacterial dnaB intein. Biochim Biophys Acta 1387:422–432

Wun TC, Schleuning WD, Reich E (1982) Isolation and characterization of urokinase from human plasma. J Biol Chem 257:3276–3283

Zhang L, Wang J, Yu M, Ru B (2004a) Functional properties of a recombinant chimeric plasminogen activator with platelet-targeted fibrinolytic and anticoagulant potential. Mol Genet Metab 82:304–311

Zhang Y, Guo YJ, Sun SH, Yan HL, He Y (2004b) Non-fusion expression in Escherichia coli, purification, and characterization of a novel Ca2+- and phospholipid-binding protein annexin B1. Protein Expr Purif 34:68–74
Acknowledgements
This work was supported by the National Natural Science Foundation of China (No. 30530660, 30470993, 30471513 and 30671829).
About this article
Cite this article
Ding, F., Yan, H., Mei, Q. et al. A novel, cheap and effective fusion expression system for the production of recombinant proteins. Appl Microbiol Biotechnol 77, 483–488 (2007). https://doi.org/10.1007/s00253-007-1160-0
Received:

Revised:

Accepted:

Published:

Issue Date:
Keywords
Annexin B1

Intein

Self-cleavage

Ca2+-binding activity

Interleukin-2

Low-molecular single-chain urokinase