Abstract
It has been previously reported that a glucoamylase from Curvularia lunata is able to hydrolyze the terminal 1,2-linked rhamnosyl residues of sugar chains at C-3 position of steroidal saponins. In this work, the enzyme was isolated and identified after isolation and purification by column chromatography including gel filtration and ion-exchange chromatography. Analysis of protein fragments by MALDI-TOF/TOF™ proteomics Analyzer indicated the enzyme to be 1,4-alpha-D-glucan glucohydrolase EC 3.2.1.3, GA and had considerable homology with the glucoamylase from Aspergillus oryzae. We first found that the glucoamylase was produced from C. lunata and was able to hydrolyze the terminal rhamnosyl of steroidal saponins. The enzyme had the general character of glucoamylase, which hydrolyze starch. It had a molecular mass of 66 kDa and was optimally active at 50°C, pH 4, and specific activity of 12.34 U mg of total protein−1 under the conditions, using diosgenin-3-O-α-L-rhamnopyranosyl(1→4)-[α-L-rhamnopyranosyl (1→2)]-β-D-glucopyranoside (compound II) as the substrate. Furthermore, four kinds of commercial glucoamylases from Aspergillus niger were investigated in this work, and they had the similar activity in hydrolyzing terminal rhamnosyl residues of steroidal saponin.
This is a preview of subscription content, log in to check access.
Access options
Buy single article
Instant access to the full article PDF.
US$ 39.95
Price includes VAT for USA
Subscribe to journal
Immediate online access to all issues from 2019. Subscription will auto renew annually.
US$ 199
This is the net price. Taxes to be calculated in checkout.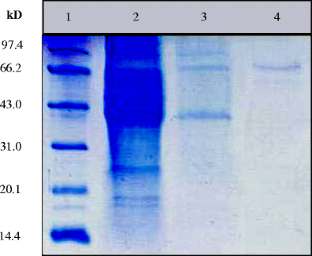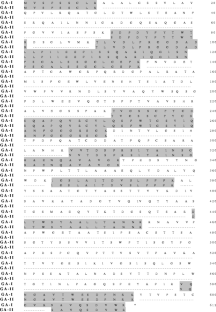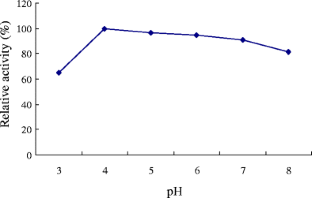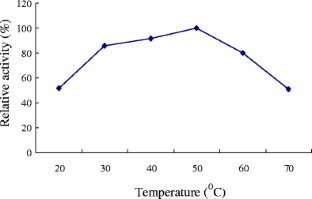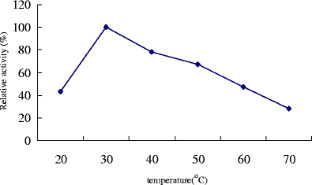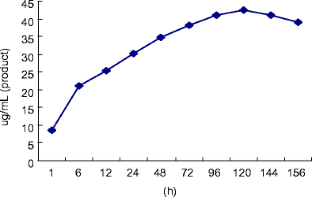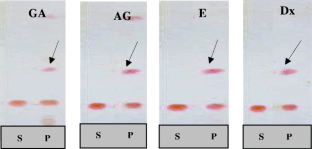 References
Basaveswara Rao V, Sastri NVS, Subba Rao PV (1981) Purification and characterization of a thermostable glucoamylase from the thermophilic fungus Thermomyces lanuginosus. Biochem J 193:379–387

Cherry HM, Hossain MT, Anwar MN (2004) Extracellular glucoamylase from the isolate Aspergillus fumigatus. Pak J Biol Sci 7:1988–1992

Coutinho PM, Reilly PJ (1997) Glucoamylase structural, functional, and evolutionary relationships. Proteins 29:334–347

Fernandes P, Cruz A, Angelova B, Pinheiro HM, Cabral JMS (2003) Microbial conversion of steroid compounds: recent developments. Enzyme Microb Technol 32:688–705

Feng B, Ma BP, Kang LP, Xiong CQ, Wang SQ (2005) The microbiological transformation of steroidal saponins by Curvularia lunata. Tetrahedron 61:11758–11763

Feng B, Kang LP, Ma BP, Quan B, Zhou WB, Zhao Y, Liu YX, Wang SQ (2007) The substrate specificity of a glucoamylase with steroidal saponin-rhamnosidase activity from Curvularia lunata. Tetrahedron 63:6796–6812

Hata Y, Kitamoto K, Gomi K, Kumagai C, Tamura G, Hara S (1991a) The glucoamylase cDNA from Aspergillus oryzae: its cloning, nucleotide sequence, and expression in Saccharomyces cerevisiae. Agric Biol Chem 55(4):941–949

Hata Y, Tsuchiya K, Kitamoto K, Gomi K, Kumagai C, Tamura G, Hara S (1991b) Nucleotide sequence and expression of the glucoamylase-encoding gene (glaA) from Aspergillus oryzae. Gene 108:145–150

Kanlayakrit W, Ishiatsu K, Nakao M, Hayshida S (1987) Characteristics of raw starch degrading glucoamylase from thermophilic Rhizomucor pusilus. J Ferment Technol 65:379–385

Laemmli UK (1970) Cleavage of structural proteins during the assembly of the head of bacteriophage T4. Nature 227:680–685

Lowry OH, Rosebroough NJ, Farr AL, Randall RJ (1951) Protein measurement with the folin phenol reagent. J Biol Chem 193:265–275

Manzanares P, Graaff LH, Visser J (1997) Purification and characterization of an α-L-rhamnosidase from Aspergillus niger. FEMS Microbiol Lett 157:279–283

Manzanares P, Broeck HCVD, Graaff LH, Visser J (2001) Purification and characterization of two different α-L-rhamnosidases, Rha-A and Rha-B, from Aspergillus aculeatus. Appl Environ Microbiol 67:2230–2234

Manzanares P, Orejas M, Gil JV, Graaff LH, Visser J, Ramon D (2003) Construction of a genetically modified wine yeast strain expressing the Aspergillus aculeatus rha-A gene, encoding an α-L-Rhamnosidase of enological interest. Appl Environ Microbiol 69:7558–7562

Mateo JJ, Stefano RD (1997) Description of the β-glucosidase activity of wine yeasts. Food Microbiol 14:583–591

McCann K, Barnett JA (1986) The utilization of starch by yeasts. Yeast 2:109–115

Monti D, Pivejcová A, Ken V, Lama M, Riva S (2004) Generation of an α-L-Rhamnosidase library and its application for the selective Derhamnosylation of natural products. Biotechnol Bioeng 87:763–771

Pan F, Yang SL, Shi XL, Bao XF, Sun DP (2001) Purification and properties of cellulase activity from Aspergillus niger. Biotechnology 11:7–9

Paraszkiewicz K, Dlugonski J (1998) Cortexolone 11β-hydrozylation in protoplasts of Curvularia lunata. J Biotechnol 65:217–224

Riou C, Salmon JM, Vallier MJ, Günata Z, Barre P (1998) Purification, characterization, and substrate specificity of a novel highly glucose-tolerant β-glucosidase from Aspergillus oryzae. Appl Environ Microb 64:3607–3614

Sauer J, Sigurskjold BW, Christensen U, Frandsen TP, Mirgorodskaya E, Harrison M, Roepstorff P, Svensson B (2000) Glucoamylase: structure/function relationship and protein engineering. Biochim Biophys Acta 1543:275–293

Shelley DC (2003) Enzymes with extra talents: moonlighting functions and catalytic promiscuity. Curr Opin Chem Biol 7:265–272

Sue M, Ishihara A, Iwamura H (2000) Purification and characterization of a β-glucosidase from rye (Secale cereale L.) seedlings. Plant Sci 155:67–74

Tani Y, Voungsuvaneert V, Kumunantu J (1986) Raw cassava starch digestive glucoamylase of Aspergilli sp. N-2 isolated from cassava starch. J Ferment Technol 64:405–412

Tripathi P, Lo Leggio L, Mansfeld J, Ulbrich-Hofmann R, Kayastha AM (2007) a. -Amylase from mung beans (Vigna radiata)—correlation of biochemical properties and tertiary structure by homology modeling. Photochemistry 68:1623–1631
Acknowledgments
This work was supported by the Beijing Institute of Radiation Medicine, Center for Research of proteome (Beijing 100850, China).
Additional information
This project was supported by the National Natural Science Foundation of China (NSFC; 30572333).
About this article
Cite this article
Feng, B., Hu, W., Ma, B. et al. Purification, characterization, and substrate specificity of a glucoamylase with steroidal saponin-rhamnosidase activity from Curvularia lunata . Appl Microbiol Biotechnol 76, 1329–1338 (2007). https://doi.org/10.1007/s00253-007-1117-3
Received:

Revised:

Accepted:

Published:

Issue Date:
Keywords
Glucoamylase

Curvularia lunata

Steroidal saponin-rhamnosidase activity

Steroidal saponins