Abstract
A novel dichloromethane (DCM)-degrading bacterial strain named WZ-12 (GenBank accession no. EF100968) was isolated and identified as Bacillus circulans based on standard morphological and physiological properties and nucleotide sequence analysis of enzymatically amplified 16S ribosomal deoxyribonucleic acid. DCM dehalogenase from B. circulans WZ-12 was purified to 8.27-fold with a yield of 34.83%. The electrophoretically homogeneous-purified enzyme exhibited a specific activity of 118.82 U/mg. Sodium dodecyl sulfate–polyacrylamide gel electrophoresis of purified DCM dehalogenase gave a distinct band with an estimated molecular mass of 20,000 ± 1,000.
This is a preview of subscription content, log in to check access.
Access options
Buy single article
Instant access to the full article PDF.
US$ 39.95
Price includes VAT for USA
Subscribe to journal
Immediate online access to all issues from 2019. Subscription will auto renew annually.
US$ 199
This is the net price. Taxes to be calculated in checkout.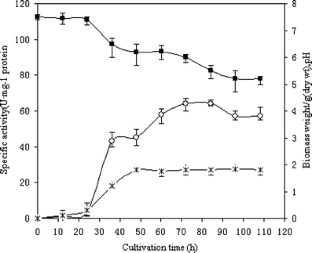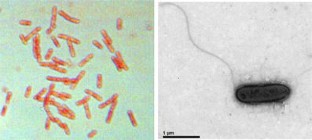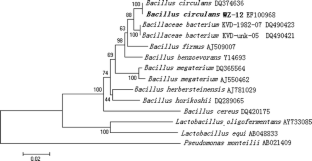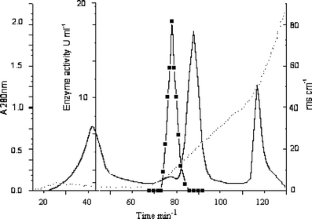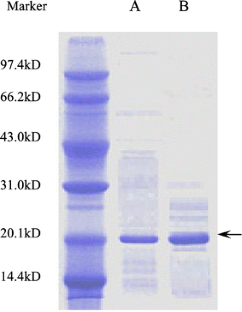 References
Bader R, Leisinger T (1994) Isolation and characterization of the Methylophilus sp. strain DM11 gene encoding dichloromethane dehalogenase/glutathione S-transferase. J Bacteriol 176:3466–3473

Brunner W, Staub D, Leisinger T (1980) Bacterial degradation of dichloromethane. Appl Env Microbiol 40(5):950–958

Chung JG, Lu HF, Yeh CC, Cheng KC, Lin SS, Lee JH (2004) Inhibition of N-acetyltransferase activity and gene expression in human colon cancer cell lines by diallyl sulfide. Food Chem Toxicol 42(2):195–202

Dhillon S, Von Burg R (1995) Toxicology update. Methylene chloride. J Appl Toxicol 15:329–335

Doronina NV, Trotsenko YA, Krausova VI, Suzina NE (1998) Paracoccus methylutens. sp. nov.—a new aerobic facultatively methylotrophic bacterium utilizing dichloromethane. Syst Appl Microbiol 21:230–236

Doronina NV, Trotsenko YA, Tourova TP, Kuznetzov BB, Leisinger T (2000) Methylophila helvetica. sp. nov. and Methylobacterium dichloromethanicum sp. nov.—novel aerobic facultatively methylotrophic bacteria utilizing dichloromethane. Syst Appl Microbiol 23:210–218

Franken SM, Rozeboom HJ, Kalk KH, Dijkstra BW (1991) Crystal structure of haloalkane dehalogenase: an enzyme to detoxify halogenated alkanes. Embo J 10:1297–1302

Frederich M, Choi YH, Angenot L, Harnischfeger G, Verpoorte R (2004) Metabolomic analysis of Strychnos nux-vomica, Strychnos icaja and Strychnos ignatii extracts by 1H nuclear magnetic resonance spectrometry and multivariate analysis techniques. Phytochemistry 65:1999–2004

Gisi D, Willi L, Traber H, Leisinger T, Vuilleumier S (1998) Effects of bacterial host and dichloromethane dehalogenase on the competitiveness of methylotrophic bacteria growing with dichloromethane. Appl Environ Microbiol 64:1194–1202

Goodwin KD, Schaefer JK, Oremland RS (1998) Bacterial oxidation of dichloromethane and methyl bromide in natural waters and enrichment cultures. Appl Environ Microbiol 64:4629–4636

Keith LH, Telliard WA (1979) Priority pollutants I—a perspective view. Environ Sci Technol 13:416–423

Kohler-Staub D, Leisinger T (1985) Dichloromethane dehalogenase of Hyphomicrobium sp. strain DM2. J Bacteriol 162(2):676–681

Laemmli UK (1970) Cleavage of structural proteins during the assembly of bacteriphoge T4. Nature 227:680–685

Leisinger T, Kohler-Staub D (1990) Dichloromethane dehalogenase. Methods Enzymol 188:355–361

Liu ZQ, Li Y, Ping LF (2007) Isolation and identification of a novel Rhodococcus sp. ML-0004 producing epoxide hydrolase and optimization of enzyme production. Process Biochem 42:889–894

Scholtz R, Wackett LP, Egli C, Cook AM, Leisinger T (1988) Dichloromethane dehalogenase with improved catalytic activity isolated from a fast-growing dichloromethane-utilizing bacterium. J Bacteriol 170(12):5698–5794

Sutherland JD (2000) Evolutionary optimisation of enzymes. Curr Opin Chem Biol 4:263–269

Van Pee KH, Unversucht (2003) Biological dehalogenation and the halogenation reactions. Chemosphere 52:299–312

Vuilleumier S (1997) Bacterial glutathione S-transferases: what are they good for? J Bacteriol 179:1431–1441

Vuilleumier S, Leisinger T (1996) Protein engineering studies of dichloromethane dehalogenase/glutathione S-transferase from Methylophilus sp. strain DM11. Ser12 but not Tyr6 is required for enzyme activity. Eur J Biochem 239:410–417

Wang JD, Chen JM (2006) Removal of dichloromethane from waste gases with a bio-contact oxidation reactor. J Chem Eng 123(3):103–107
Acknowledgments
This research work was sponsored by the Natural Science Foundations of China and Zhejiang Province (20276070, 20476099, 2056124, Y304091).
About this article
Cite this article
Wu, S.J., Zhang, L.L., Wang, J.D. et al. Bacillus circulans WZ-12—a newly discovered aerobic dichloromethane-degrading methylotrophic bacterium. Appl Microbiol Biotechnol 76, 1289–1296 (2007). https://doi.org/10.1007/s00253-007-1100-z
Received:

Revised:

Accepted:

Published:

Issue Date:
Keywords
Dichloromethane

Bacillus circulans

Dehalogenase

Biodegradation