Abstract
An Acinetobacter strain, given the code name LCH001 and having the potential to be an endophytic antagonist, has been isolated from healthy stems of the plant Cinnamomum camphora (L.) Presl, guided by an in vitro screening technique. The bacterium inhibited the growth of several phytopathogenic fungi such as Cryphonectria parasitica, Glomerella glycines, Phytophthora capsici, Fusarium graminearum, Botrytis cinerea, and Rhizoctonia solani. Biochemical, physiological, and 16S rDNA sequence analysis proved that it is Acinetobacter baumannii. When the filtrate from the fermentation broth of strain LCH001 was tested in vitro and in vivo, it showed strong growth inhibition against several phytopathogens including P. capsici, F. graminearum, and R. solani, indicating that suppression of the growth of the fungi was due to the presence of antifungal compounds in the culture broth. Moreover, the antifungal activity of the culture filtrate was significantly correlated with the cell growth of strain LCH001. The active metabolites in the filtrate were relatively thermally stable, but were sensitive to acidic conditions. Three antifungal compounds were isolated from the culture broth by absorption onto macropore resin, ethanol extraction, chromatography on silica gel or LH-20 columns, and crystallization. The structures of the bioactive compounds were identified by spectroscopic methods as isomers of iturin A, namely, iturin A2, iturin A3, and iturin A6. The characterization of an unusual endophytic bacterial strain LCH001 and its bioactive components may provide an alternative resource for the biocontrol of plant diseases.
This is a preview of subscription content, log in to check access.
Access options
Buy single article
Instant access to the full article PDF.
US$ 39.95
Price includes VAT for USA
Subscribe to journal
Immediate online access to all issues from 2019. Subscription will auto renew annually.
US$ 199
This is the net price. Taxes to be calculated in checkout.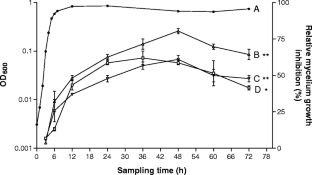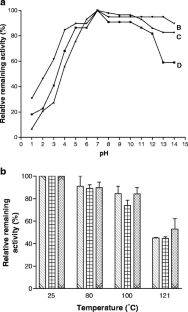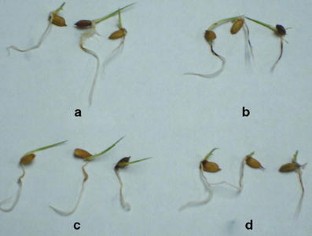 References
Barnett SJ (2005) Microorganisms and mechanisms that contribute to Rhizoctonia disease suppression on wheat. Shandong Science 18:16–21

Bernal G, Illanes A, Ciampi L (2002) Isolation and partial purification of a metabolite from a mutant strain of Bacillus sp. with antibiotic activity against plant pathogenic agents. EJB Electron J Biotechnol 5:12–20

Bodanszky M, Perlman D (1969) Peptide antibiotics. Science 163:352–358

Cho SJ, Lee SK, Cha BJ, Kim YH, Shin KS (2003) Detection and characterization of the Gloeosporium gloeosporioides growth inhibitory compound iturin A from Bacillus subtilis strain KS03. FEMS Microbiol Lett 223:47–51

Cook RJ (1993) Making greater use of introduced microorganisms for biological control of plant pathogens. Annu Rev Phytopathol 31:53–80

Gong M, Wang JD, Zhang J, Yang H, Lu XF, Pei Y, Cheng JQ (2006) Study of the antifungal ability of Bacillus subtilis strain PY-1 in vitro and identification of its antifungal substance (iturin A). Acta Biochimica et Biophysica Sinica 38:233–240

Han JS, Cheng JH, Yoon TM, Song J, Rajkarnikar A, Kim WG, Yoo ID et al (2005) Biological control agent of common scab disease by antagonistic strain Bacillus sp. sunhua. J Appl Microbiol 99:213–221

Hiradate S, Yoshida S, Sugie H, Yada H, Fujii Y (2002) Mulberry anthracnose antagonists (iturins) produced by Bacillus amyloliquefaciens RC-2. Phytochemistry 61:693–698

Kang Y, Carlson R, Tharpe W, Schell MA (1998) Characterization of genes involved in biosynthesis of a novel antibiotic from Burkholderia cepacia BC11 and their role in biological control of Rhizoctonia solani. Appl Environ Microbiol 64:3939–3947

Kobayashi T, Mew TW, Hashiba T (1997) Relationship between incidence of rice sheath blight and primary inoculum in the Philippines: Mycelia in plant debris and sclerotia. Annals of the Phytopathological Society of Japan 63:324–327

Liu CH, Zou WX, Lu H, Tan RX (2001b) Antifungal activity of Artimisia annua endophyte cultures against some phytopathogenic fungi. J Biotechnol 88:277–282

Liu CH, Xue YR, Shang HS, Zhang JL (2001a) Resistance of oat to 'take-all' causing fungus (Gaeumannomyces graminis var. tritici). Chin Sci Bull 46:1817–1819

Liu CH, Liu JY, Huang LL, Zou WX, Tan RX (2003) Absolute configuration of keisslone, a new antimicrobial metabolite from Kerssleriella sp. YS4108, a marine filamentous fungus. Planta Med 69:481–483

Liu CH, Mishra AK, Tan RX, Tang C, Yang H, Shen YF (2006) Repellent and insecticidal activities of essential oils from Artemisia princeps and Cinnamomum camphora and their effect on seed germination of wheat and broad bean. Bioresour Technol 97:1969–1973

Lodewyckx C, Vangronsfeld J, Porteous F, Moore ERB, Taghavi S, Mergeay M, van der Lelie D (2002) Endophytic bacteria and their potential applications. Crit Rev Plant Sci 21:583–606

Mathew S, Abraham TE (2006) In vitro antioxidant activity and scavenging effects of Cinnamomum verum leaf extract assayed by different methodologies. Food Chem Toxicol 44:198–206

Mishra S, Jyot J, Kuhad RC, Lal B (2001) Evaluation of inoculum addition to stimulate in situ bioremediation of oily-sludge-contaminated soil. Appl Environ Microbiol 67:1675–1681

Raaijmakers JM, Vlami M, de Souza JT (2002) Antibiotic production by bacterial biocontrol agents. Antonie Van Leeuwenhoek 81:537–547

Saballs M, Pujol M, Tubau F, Pena C, Montero A, Dominguez MA, Gudiol F, Ariza J (2006) Rifampicin/imipenem combination in the treatment of carbapenem-resistant Acinetobacter baumannii infections. J Antimicrob Chemother 58:697–700

Saiki RK, Gelfand DH, Stoffel S, Scharf SJ, Higuchi R, Horn GT, Mullis KB, Erlich HA (1988) Primer-directed enzymatic amplification of DNA with a thermostable DNA polymerase. Science 239:487–491

Sessitsch A, Reiter B, Berg G (2004) Endophytic bacterial communities of field-grown potato plants and their plant-growth-promoting and antagonistic abilities. Can J Microbiol 50:239–249

Sturz AV, Christie BR, Nowak J (2000) Bacterial endophytes: potential role in developing sustainable system of crop production. Crit Rev Plant Sci 19:1–30

Tan XY, Huang SL, Ren JG, Yan WH, Cen ZL (2006) Study on a bacterial strain Bt8 for biocontrol against citrus bacterial canker. Weishengwu Xuebao 46:292–296 (Article in Chinese)

Thaniyavarn J, Roongsawang N, Kameyama T, Haruki M, Imanaka T, Morikawa M, Kanaya S (2003) Production and characterization of biosurfactants from Bacillus licheniformis F2.2. Biosci Biotech Biochem 67:1239–1244

Tian SH, Zhang QL, Du YX, Liu KQ (2006) Screening of Trichoderma spp. for antagonising Rhizoctonia solani. Journal of Zhongkai Agrotechnical College 19:14–17

Vaneechoutte M, Devriese LA, Dijkshoorn L, Lamote B, Deprez P, Verschraegen G, Haesebrouck F (2000) Acinetobacter baumannii-infected vascular catheters collected from horses in an equine clinic. J Clin Microbiol 38:4280–4281

Yu GY, Sinclair JB, Hartman GL, Bertagnolli BL (2002) Production of iturin A by Bacillus amyloliquefaciens suppressing Rhizoctonia solani. Soil Biol Biochem 34:955−963
Acknowledgements
This work was cofinanced by grants from the Ministry of Education of the People's Republic of China (0208133051) and a Student Fellowship of Syngenta, UK (0208151088).
About this article
Cite this article
Liu, C.H., Chen, X., Liu, T.T. et al. Study of the antifungal activity of Acinetobacter baumannii LCH001 in vitro and identification of its antifungal components. Appl Microbiol Biotechnol 76, 459–466 (2007). https://doi.org/10.1007/s00253-007-1010-0
Received:

Revised:

Accepted:

Published:

Issue Date:
Keywords
Acinetobacter baumannii LCH001

Antifungal activity

Iturin A