Abstract
The genes encoding an alcohol dehydrogenase, Baeyer–Villiger monooxygenase and an esterase from P. fluorescens DSM 50106, which seemed to be metabolically connected based on the sequence of the corresponding open reading frames, were cloned into one vector (pABE) and functionally expressed in Escherichia coli. Overall expression levels were quite low, however, using whole cells of E. coli JM109 pABE expressing the three recombinant enzymes, conversion of secondary alcohols (Cn) to the corresponding primary alcohols (Cn−2) and acetic acid via ketone and ester was possible. In this way, 2-decanol was almost completely converted within 20 h at 30°C. Thus, it could be shown that the three enzymes are metabolically connected and that they are most probably involved in alkane degradation via sub-terminal oxidation of the acyclic aliphatic hydrocarbons.
This is a preview of subscription content, log in to check access.
Access options
Buy single article
Instant access to the full article PDF.
US$ 39.95
Price includes VAT for USA
Subscribe to journal
Immediate online access to all issues from 2019. Subscription will auto renew annually.
US$ 199
This is the net price. Taxes to be calculated in checkout.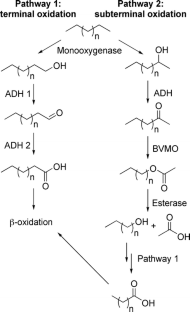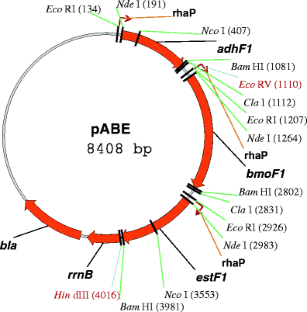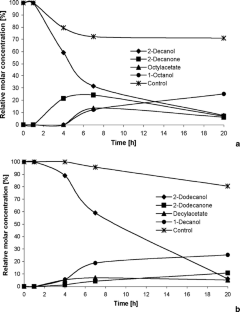 References
Abdel-Megeed A (2004) Psychrophilic degradation of long chain alkanes. Dissertation, Technical University Hamburg-Harburg, Germany

Ashraf W, Mihdhir A, Murell JC (1994) Bacterial oxidation of propane. FEMS Microbiol Lett 122:1–6

Atlas RM (1981) Microbial degradation of petroleum hydrocarbons: an environmental perspective. Microbiol Rev 45:180–209

Britton LN (1984) Microbial degradation of aliphatic hydrocarbons. In: Gibson DT (ed) Microbial degradation of organic compounds, vol. 13. Marcel Dekker, New York, pp 89–129

Forney FW, Markovetz AJ (1970) Subterminal oxidation of aliphatic hydrocarbons. J Bacteriol 102:281–282

Hildebrandt P, Musidlowska A, Bornscheuer UT (2002) Cloning, functional expression and biochemical characterization of a stereoselective alcohol dehydrogenase from Pseudomonas fluorescens DSM50106. Appl Microbiol Biotechnol 59:483–487

Hundt K, Wagner M, Becher D, Hammer E, Schauer F (1998) Effect of selected environmental factors on degradation and mineralization of biaryl compounds by the bacterium Ralstonia pickettii in soil and compost. Chemosphere 36:2321–2335

Khalameyzer V, Fischer I, Bornscheuer UT, Altenbuchner J (1999) Screening, nucleotide sequence and biochemical characterization of an esterase from Pseudomonas fluorescens with high activity toward lactones. Appl Environ Microbiol 65:477–482

Kirschner A, Altenbuchner J, Bornscheuer UT (2007) Cloning, expression and characterization of a Baeyer–Villiger monooxygenase from Pseudomonas fluorescens DSM 50106 in E. coli. Appl Microbiol Biotechnol 73:1065–1072

Laemmli UK (1970) Cleavage of structural proteins during assembly of the head of bacteriophage T4. Nature 27:680–685

Leahy JG, Colwell RR (1990) Microbial degradation of hydrocarbons in the environment. Microbiol Rev 54:305–315

Margesin R, Schinner F (1997) Bioremediation of diesel-oil-contaminated alpine soils at low temperatures. Appl Microbiol Biotechnol 47:462–468

Margesin R, Schninner T (2001) Biodegradation and bioremediation of hydrocarbons in extreme environments. Appl Microbiol Biotechnol 56:650–663

Stumpp T, Wilms B, Altenbucher J (2000) Ein neues, l-Rhamnose-induzierbares Expressionssystem für Escherichia coli. Biospektrum 1.00:33–36

Urlacher V, Schmid RD (2006) Recent advances in oxygenase-catalyzed biotransformations. Curr Opin Chem Biol 10:156–161

van Beilen JB, Li Z, Duetz WA, Smits THM, Witholt B (2003) Diversity of alkane hydroxylase systems in the environment. Oil Gas Sci Technol Rev IFP 58:427–440

Whyte LG, Hawari J, Zhou E, Bourbonnière L, Inniss WE, Greer CW (1998) Biodegradation of variable-chain-length alkanes at low temperatures by a psychrophilic Rhodococcus sp. Appl Environ Microbiol 64:2578–2584
Acknowledgment
We thank the Fonds der Chemischen Industrie (Frankfurt, Germany) and the Studienstiftung des deutschen Volkes (Bonn, Germany) for stipends to Anett Kirschner.
About this article
Cite this article
Kirschner, A., Altenbuchner, J. & Bornscheuer, U.T. Design of a secondary alcohol degradation pathway from Pseudomonas fluorescens DSM 50106 in an engineered Escherichia coli . Appl Microbiol Biotechnol 75, 1095–1101 (2007). https://doi.org/10.1007/s00253-007-0902-3
Received:

Revised:

Accepted:

Published:

Issue Date:
Keywords
Baeyer–Villiger monooxygenase

Esterase

Alcohol dehydrogenase

Aliphatic alcohols

Pseudomonas fluorescens

Degradation pathway