Abstract
Recently, we reported on the dual function of human ferritin heavy chain (hFTN-H) used for the fusion expression and solubility enhancement of various heterologous proteins: (1) high-affinity interaction with HSP70 chaperone DnaK and (2) formation of self-assembled supramolecules with limited and constant sizes. Especially the latter, the self-assembly function of hFTN-H is highly useful in avoiding the undesirable formation of insoluble macroaggregates of heterologous proteins in bacterial cytoplasm. In this study, using enhanced green fluorescent protein (eGFP) and several deletion mutants of Mycoplasma arginine deiminase (ADI132–410) as reporter proteins, we confirmed through TEM image analysis that the recombinant fusion proteins (hFTN-H::eGFP and hFTN-H::ADI132–410) formed intracellular spherical particles with nanoscale diameter (≈10 nm), i.e., noncovalently cross-linked supramolecules. Surprisingly, the supramolecular eGFP and ADI showed much enhanced stability in bioactivity. That is, the activity level was much more stably maintained for the prolonged period of time even at high temperature, at high concentration of Gdn–HCl, and in wide range of pH. The stability enhancement by supramolecular self-assembly may make it possible to utilize the protein supramolecules as novel means for drug delivery, enzymatic material conversion (biotransformation), protein chip/sensor, etc. where the maintenance of protein/enzyme stability is strictly required.
This is a preview of subscription content, log in to check access.
Access options
Buy single article
Instant access to the full article PDF.
US$ 39.95
Price includes VAT for USA
Subscribe to journal
Immediate online access to all issues from 2019. Subscription will auto renew annually.
US$ 199
This is the net price. Taxes to be calculated in checkout.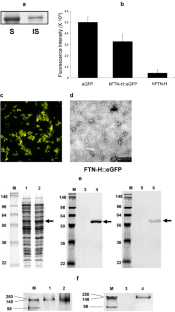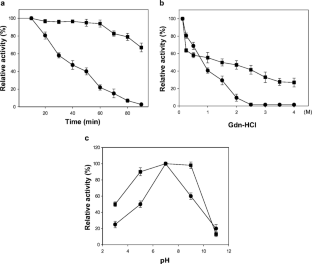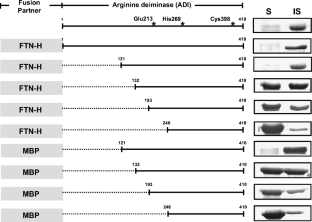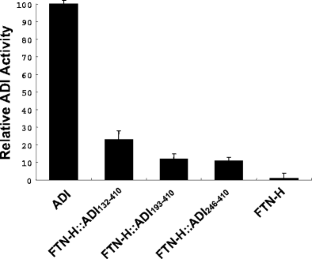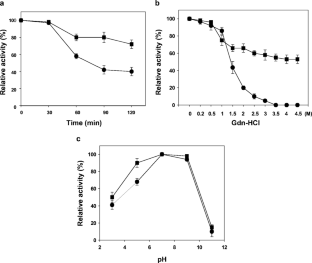 References
Ahn JY, Choi H, Kim YH, Han KY, Park JS, Han SS, Lee J (2005) Heterologous gene expression using self-assembled supra-molecules with high affinity for HSP70 chaperone. Nucleic Acids Res 33:3751–3762

Boyde TR, Rahmatullah M (1980) Optimization of conditions for the colorimetric determination of citrulline, using diacetyl monoxime. Anal Biochem 107:424–431

Chasteen ND, Harrison PM (1999) Mineralization in ferritin: an efficient means of iron storage. J Struct Biol 126:182–194

Galkin A, Kulakova L, Sarikaya E, Lim K, Howard A, Herzberg O (2004) Structural insight into arginine degradation by arginine deiminase, an antibacterial and parasite drug target. J Biol Chem 279:14001–14008

Gong H, Zolzer F, von Recklinghausen G, Rossler J, Breit S, Havers W, Fotsis T, Schweigerer L (1999) Arginine deiminase inhibits cell proliferation by arresting cell cycle and inducing apoptosis. Biochem Biophys Res Commun 261:10–14

Gong H, Zolzer F, von Recklinghausen G, Havers W, Schweigerer L (2000) Arginine deiminase inhibits proliferation of human leukemia cells more potently than asparaginase by inducing cell cycle arrest and apoptosis. Leukemia 14:826–829

Juan SH, Aust SD (1998) The effect of putative nucleation sites on the loading and stability of iron in ferritin. Arch Biochem Biophys 350:259–265

Komada Y, Zhang XL, Zhou YW, Ido M, Azuma E (1997) Apoptotic cell death of human T lymphoblastoid cells induced by arginine deiminase. Int J Hematol 65:129–141

Lee J, Kim SW, Kim YH, Ahn JY (2002) Active human ferritin H/L-hybrid and sequence effect on folding efficiency in Escherichia coli. Biochem Biophys Res Commun 298:225–229

Levi S, Luzzago A, Franceschinelli F, Santambrogio P, Cesareni G, Arosio P (1989) Mutational analysis of the channel and loop sequences of human ferritin H-chain. Biochem J 264:381–388

Luzzago A, Cesareni G (1989) Isolation of point mutations that affect the folding of the H chain of human ferritin in E. coli. EMBO J 8:569–576

Meldrum FC, Heywood BR, Mann S (1992) Magnetoferritin: in vitro synthesis of a novel magnetic protein. Science 257:522–523

Misawa S, Aoshima M, Takaku H, Matsumoto M, Hayashi H (1994) High-level expression of Mycoplasma arginine deiminase in Escherichia coli and its efficient renaturation as an anti-tumor enzyme. J Biotechnol 36:145–155

Noh EJ, Kang SW, Shin YJ, Kim DC, Park IS, Kim MY, Chun BG, Min BH (2002) Characterization of mycoplasma arginine deiminase expressed in E. coli and its inhibitory regulation of nitric oxide synthesis. Mol Cells 13:137–143

Rabinovitz M (1992) The pleiotypic response to amino acid deprivation is the result of interactions between components of the glycolysis and protein synthesis pathways. FEBS Lett 302:113–116

Santambrogio P, Levi S, Cozzi A, Corsi B, Arosio P (1996) Evidence that the specificity of iron incorporation into homopolymers of human ferritin L-and H-chains is conferred by the nucleation and ferroxidase centres. Biochem J 314:139–144

Scott L, Lamb J, Smith S, Wheatley DN (2000) Single amino acid (arginine) deprivation: rapid and selective death of cultured transformed and malignant cells. Br J Cancer 83:800–810

Takaku H, Matsumoto M, Misawa S, Miyazaki K (1995) Anti-tumor activity of arginine deiminase from Mycoplasma argini and its growth-inhibitory mechanism. Jpn J Cancer Res 86:840–846

Takeuchi K, Frank JF (2001) Expression of red-shifted green fluorescent protein by Escherichia coli O157:H7 as a marker for the detection of cells on fresh produce. J Food Prot 64:298–304

Wong KK, Colfen H, Whilton NT, Douglas T, Mann S (1999) Synthesis and characterization of hydrophobic ferritin proteins. J Inorg Biochem 76:187–195

Yang X, Arosio P, Chasteen D (2000) Molecular diffusion into ferritin: pathways, temperature dependence, incubation time, and concentration effects. Biophys J 78:2049–2059
Acknowledgment
This study was supported by a grant (A050750) of the Korea Health 21 R&D Project, Ministry of Health and Welfare, Republic of Korea. This work was also supported by the Korea Science and Engineering Foundation Grant (R01-2005-000-10355-0) and the Korea Research Foundation Grant (KRF-2004-005-D00057).
Additional information
Jin-Seung Park and Ji-Young Ahn contributed equally to this work.
About this article
Cite this article
Park, J., Ahn, J., Lee, S. et al. Enhanced stability of heterologous proteins by supramolecular self-assembly. Appl Microbiol Biotechnol 75, 347–355 (2007). https://doi.org/10.1007/s00253-006-0826-3
Received:

Revised:

Accepted:

Published:

Issue Date:
Keywords
Human ferritin heavy chain

Self-assembly

Supramolecules

Enhanced stability