Abstract
Nattokinase has been reported as an oral health product for the prevention of atherosclerosis. We developed a novel strategy to express a nattokinase from Bacillus subtilis in a live delivery vehicle, Lactococcus lactis. Promoter PnisZ and signal peptide SPUsp were used for inducible and secretory expression of nattokinase in L. lactis. Western blotting analysis demonstrated that nattokinase was successfully expressed, and about 94% of the enzyme was secreted to the culture. The recombinant nattokinase showed potent fibrinolytic activity, equivalent to 41.7 urokinase units per milliliter culture. Expression and delivery of such a fibrinolytic enzyme in the food-grade vehicle L. lactis would facilitate the widespread application of nattokinase in the control and prevention of thrombosis diseases.
This is a preview of subscription content, log in to check access.
Access options
Buy single article
Instant access to the full article PDF.
US$ 39.95
Price includes VAT for USA
Subscribe to journal
Immediate online access to all issues from 2019. Subscription will auto renew annually.
US$ 199
This is the net price. Taxes to be calculated in checkout.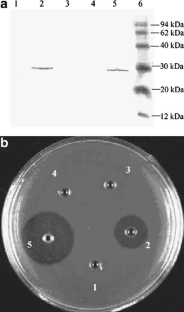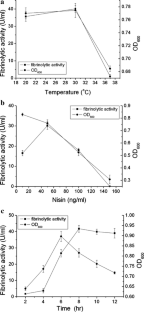 References
Arnau J, Hjerl-Hansen E, Israelsen H (1997) Heterologous gene expression of bovine plasmin in Lactococcus lactis. Appl Microbiol Biotechnol 48:331–338

Astrup T, Sterndorff I (1952) The fibrin plate method for estimating fibrinolytic activity. Arch Biochem Biophys 40:346–351

Bolotin A, Wincker P, Mauger S, Jaillon O, Malarme K, Weissenbach J, Ehrlich SD, Sorokin A (2001) The complete genome sequence of the lactic acid bacterium Lactococcus lactis ssp. Lactis IL 1403. Genome Res 11:731–753

Bruinenberg PG, Vos P, de Vos WM (1992) Proteinase overproduction in Lactococcus lactis: regulation and effect on growth and acidification in milk. Appl Environ Microbiol 58(1):78–84

Chen XZ, Hu HJ, Yang W, Huan LD (2001) Cloning and expression of nisin Z gene in Lactococcus lactis. Acta Genet Sin 28:285–290

Chiang CJ, Chen HC, Chao YP, Tzen JT (2005) Efficient system of artificial oil bodies for functional expression and purification of recombinant nattokinase in Escherichia coli. J Agric Food Chem 53(12):4799–4804

de Ruyter PG, Kuipers OP, de Vos WM (1996) Controlled gene expression systems for Lactococcus lactis with the food-grade inducer nisin. Appl Environ Microbiol 62:3662–3667

Enouf V, Langella P, Commissaire J, Cohen J, Corthier G (2001) Bovine rotavirus nonstructural protein 4 produced by Lactococcus lactis is antigenic and immunogenic. Appl Environ Microbiol 67:1423–1428

Gasson MJ (1983) Plasmid complements of Streptococcus lactis NCDO 712 and other lactis streptococci after protoplast-induced curing. J Bacteriol 154:1–9

Holo H, Nes IF (1989) High-frequency transformation, by electroporation, of Lactococcus lactis subsp. cremoris grown with glycine in osmotically stabilized media. Appl Environ Microbiol 55:3119–3123

Kim W, Choi K, Kim Y, Park H, Choi J, Lee Y, Oh H, Kwon I, Lee S (1996) Purification and characterization of a fibrinolytic enzyme produced from Bacillus sp. strain CK 11-4 screened from chungkook-jang. Appl Environ Microbiol 62:2482–2488

Kim TY, Choi YL, Cho YS, Kim CH, Lee YC (2002) Independently expressed N-terminal pro-domain of aqualysin 1 precursor complements the folding of its mature domain to active form in Escherichia coli. J Basic Microbiol 42(3):181–189

Kuipers OP, de Ruyter PGGA, Kleerebezem M, de Vos WM (1998) Quorum sensing-controlled gene expression in lactic acid bacteria. J Biotechnol 64:15–21

Le Loir Y, Azevedo V, Oliverira SC, Freitas DA, Miyoshi A, Bermudez-Humaran LG, Nouaille S, Ribeiro LA, Leclercq S, Gabriel JE, Guimaraes VD, Oliveira MN, Charlier C, Gautier M, Langella P (2005) Protein secretion in Lactococcus lactis: an efficient way to increase the over all heterologous protein production. Microb Cell Fact 4:2

Liu BY, Song HY (2002) Molecular cloning and expression of nattokinase gene in Bacillus subtilis. Acta Biochim Biophys Sin (Shanghai) 34(3):338–340

Markland FS, Smith EL (1967) Subtilisin BPN. VII. Isolation of cyanogen bromide peptides and the complete amino acid sequence. J Biol Chem 242:5198–5211

Milner M, Makise K (2002) Natto and its active ingredient nattokinase-A potent and safe thrombolytic agent. Altern Complement Ther 8(3):157–194

Nouaille S, Ribeiro LA, Miyoshi A, Pontes D, Le Loir Y, Oliverira SC, Langella P, Azevedo V (2003) Heterologous protein production and delivery systems for Lactococcus lactis. Genet Mol Res 2:102–111

O'sullivan DJ, Klaenhammer TR (1993) Rapid mini-prep isolation of high-quality plasmid DNA from Lactococcus and Lactobacillus spp. Appl Environ Microbiol 59:2730–2733

Peng Y, Huang Q, Zhang RH, Zhang YZ (2003) Purification and characterization of a fibrinolytic enzyme produced by Bacillus amyloliquefaciens DC-4 screened from douchi, a traditional Chinese soybean food. Comp Biochem Physiol B Biochem Mol Biol 134:45–52

Robinson K, Chamberlain LM, Schofield KM, Wells JM, Page RWFL (1997) Oral vaccination of mice against tetanus with recombinant Lactococcus lactis. Nat Biotechnol 15:653–657

Sambrook J, Fritsch EF, Maniatis T (1989) Molecular cloning: a laboratory manual, 2nd edn. Cold spring Harbor Laboratory, Cold Spring Harbor, New York

Shinde U, Inouye M (1993) Intramolecular chaperones and protein folding. Trends Biochem Sci 18:442–446

Steidler L, Hans W, Schotte L, Neirynck S, Obermeier F, Falk W, Fiers W, Remaut E (2000) Treatment of murine colitis by Lactococcus lactis secreting interleukin-10. Science 289:1352–1355

Sumi H, Hamada H, Tsushima H, Mihara H, Muraki H (1987) A novel fibrinolytic enzyme (nattokinase) in the vegetable cheese natto; a typical and popular soybean food in the Japanese diet. Experientia 43:1110–1111

Sumi H, Hamada H, Nakanishi K, Hiratani H (1990) Enhancement of the fibrinolytic activity in plasma by oral administration of nattokinase. Acta Haematol 84:139–143

Suzuki Y, Kondo K, Matsumoto Y, Zhao BQ, Otsuguro K, Maeda T, Tsukamoto Y, Urano T, Umemura K (2003) Dietary supplementation of fermented soybean, natto, suppresses intimal thickening and modulates the lysis of mural thrombi after endothelial injury in rat femoral artery. Life Sci 73:1289–1298

Tang B, Nirasawa S, Kitaoka M, Marie-Claire C, Hayashi K (2003) General function of N-terminal propeptide on assisting protein folding and inhibiting catalytic activity based on observations with a chimeric thermolysin-like protease. Biochem Biophys Res Commun 301:1093–1098

van de Guchte M, van de Vossen JMBM, Kok J, Venema G (1989) Construction of a Lactococcal expression vector: expression of hen egg white lysozyme in Lactococcus lactis subsp. lactis. Appl Environ Microbiol 55:224–228

van de Guchte M, Kodde J, van der Vossen JM, Kok J, Venema G (1990) Heterologous gene expression in Lactococcus lactis subsp. Lactis: synthesis, secretion, and processing of the Bacillus subtilis neutral protease. Appl Environ Microbiol 56:2606–2611

Yanisch-Perron C, Vieira J, Messing J (1985) Improved M13 phage cloning vectors and host strains: nucleotide sequences of the M13mp18 and pUC19 vectors. Gene 33:103–119
Acknowledgment
This project was funded by the Top Field Program of Institute of Microbiology, Chinese Academy of Sciences: KSCXZ-SW-113.
About this article
Cite this article
Liang, X., Zhang, L., Zhong, J. et al. Secretory expression of a heterologous nattokinase in Lactococcus lactis . Appl Microbiol Biotechnol 75, 95–101 (2007). https://doi.org/10.1007/s00253-006-0809-4
Received:

Revised:

Accepted:

Published:

Issue Date:
Keywords
Lactic Acid Bacterium

Fibrinolytic Activity

Nattokinase

Fibrin Plate

Sodium Barbital