Abstract
Antimicrobial peptides are promising candidates for therapeutic and industrial application owing to their broad spectrum. In this work, a cost-effective method for expression of a potent antimicrobial peptide, bovine lactoferricin derivative LfcinB15-W4,10, has been developed. The oligonucleotide encoding the peptide was linked to generate different oligomeric oligonucleotide segments containing from one to nine but eight tandem copies which was inserted individually to the E. coli expression vector pET32a. The thioredoxin fusion peptides were successfully expressed and detected with different molecular weight on SDS gel, respectively. Among the monomer and other multimeric peptides, the tetramer was expressed at the highest level. After purification, more than 10 mg of tetramer with 99% purity was obtained from 1 l culture and exhibited similar antimicrobial activity as synthetic LfcinB15-W4,10 monomer. The expression system in this study provides a potential production method for lactoferricin derivatives and other antimicrobial peptides in research and industrial applications.
This is a preview of subscription content, log in to check access.
Access options
Buy single article
Instant access to the full article PDF.
US$ 39.95
Price includes VAT for USA
Subscribe to journal
Immediate online access to all issues from 2019. Subscription will auto renew annually.
US$ 199
This is the net price. Taxes to be calculated in checkout.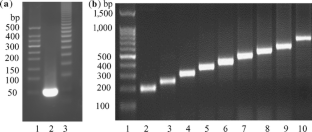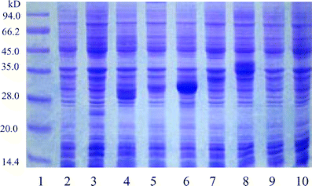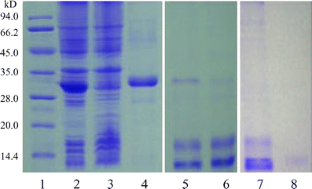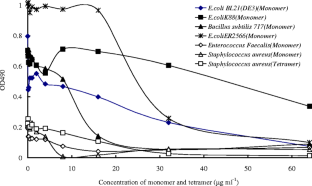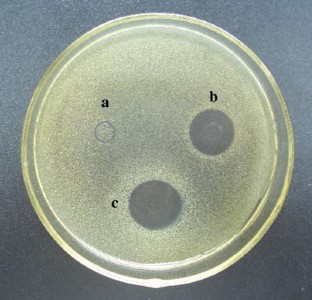 References
Andersen JH, Jenssen H, Gutteberg TJ (2003) Lactoferrin and lactoferricin inhibit Herpes simplex 1 and 2 infection and exhibit synergy when combined with acyclovir. Antivir Res 58:209–215

Arnau J, Lauritzen C, Petersen GE, Pedersen J (2006) Current strategies for the use of affinity tags and tag removal for the purification of recombinant proteins. Protein Expr Purif 48:1–13

Bellamy W, Takase M, Yamauchi K, Wakabayashi H, Kawase K, Tomita M (1992) Identification of the bactericidal domain of lactoferrin. Biochim Biophys Acta 1121:130–136

Bellamy W, Wakabayashi H, Takase M, Kawase K, Shimamura S, Tomita M (1993) Killing of Candida albicans by lactoferricin B, a potent antimicrobial peptide derived from the N-terminal region of bovine lactoferrin. Med Microbiol Immunol (Berl) 182:97–105

Cao W, Zhou Y, Ma Y, Luo Q, Wei D (2005) Expression and purification of antimicrobial peptide adenoregulin with C-amidated terminus in Escherichia coli. Protein Expr Purif 40:404–410

Diarra MS, Petitclerc D, Lacasse P (2002) Effect of lactoferrin in combination with penicillin on the morphology and the physiology of Staphylococcus aureus isolated from bovine mastitis. J Dairy Sci 85:1141–1149

Feng XJ, Wang JH, Shan AS, Teng D, Yang YL, Yao Y, Yang GP, Shao YC, Liu S, Zhang F (2006) Fusion expression of bovine lactoferricin in Escherichia coli. Protein Expr Purif 47:110–117

Hancock REW (2001) Advice on online citation formats [online] Available from http://www.cmdr.ubc.ca/bobh/showmethod.php?methodid=79 [cited June 2001]

Heller WT, Waring AJ, Lehrer RI, Harroun TA, Weiss TM, Yang L, Huang HW (2000) Membrane thinning effect of the beta-sheet antimicrobial protegrin. Biochemistry 39:139–145

Hwang PM, Vogel HJ (1998) Structure function relationships of antimicrobial peptides. Biochem Cell Biol 76:235–246

Ingham AB, Sproat KW, Tizard ML, Moore RJ (2005) A versatile system for the expression of nonmodified bacteriocins in Escherichia coli. J Appl Microbiol 98:676–683

Isamida T, Tanaka T, Omata Y, Yamaguchi K, Shimazaki K, Saito A (1998) Protective effect of lactoferricin against Toxoplasma gondii infection in mice. J Vet Med Sci 60:241–244

Jonasson P, Nygren PA, Jornvall H, Johansson BL, Wahren J, Uhlen M, Stahl S (2000) Integrated bioprocess for production of human proinsulin C-peptide via heat release of an intracellular heptameric fusion protein. J Biotechnol 76:215–226

Kang JH, Lee MK, Kim KL, Hahm KS (1996) Structure-biological activity relationships of 11-residue highly basic peptide segment of bovine lactoferrin. Int J Pept Protein Res 48:357–363

Kim HK, Chun DS, Kim JS, Yun CH, Lee JH, Hong SK, Kang DK (2006) Expression of the cationic antimicrobial peptide lactoferricin fused with the anionic peptide in Escherichia coli. Appl Microbiol Biotechnol 19:1–9

Koczulla AR, Bals R (2003) Antimicrobial peptides: current status and therapeutic potential. Drugs 63:389–406

LaVallie ER, McCoy JM (1995) Gene fusion expression systems in Escherichia coli. Curr Opin Biotechnol 6:501–506

Lee JH, Kim JH, Hong SS, Lee HS, Kim SC (1999) Multimeric expression of the antimicrobial peptide buforin II in Escherichia coli by fusion to a cysteine-rich acidic peptide. J Microbiol Biotechnol 9:303–310

Lee JH, Kim JH, Hwang SW, Lee WJ, Yoon HK, Lee HS, Hong SS (2000) High-level expression of antimicrobial peptide mediated by a fusion partner reinforcing formation of inclusion bodies. Biochem Biophys Res Commun 277:575–580

Marassi FM, Opella SJ, Juvvadi P, Merrifield RB (1999) Orientation of cecropin A helices in phospholipid bilayers determined bysolid-state NMR spectroscopy. Biophys J 77:3152–3155

Matsuzaki K, Sugishita K, Ishibe N, Ueha M, Nakata S, Miyajima K, Epand RM (1998) Relationship of membrane curvature to the formation of pores by magainin 2. Biochemistry 37:11856–11863

McCann KB, Lee A, Wan J, Roginski H, Coventry MJ (2003) The effect of bovine lactoferrin and lactoferricin B on the ability of feline calicivirus (a norovirus surrogate) and poliovirus to infect cell cultures. J Appl Microbiol 95:1026–1033

Miller KW, Evans RJ, Eisenberg SP, Thompson RC (1989) Secretory leukocyte protease inhibitor binding to mRNA and DNA as a possible cause of toxicity to Escherichia coli. J Bacteriol 171:2166–2172

Mitraki A, King J (1989) Protein folding intermediates and inclusion body formation. Bio/technology 7:690–697

Raingeaud J, Lavergne F, Lelievre V, Muller JM, Julien R, Cenatiempo Y (1996) Production, analysis and bioactivity of recombinant vasoactive intestinal peptide analogs. Biochimie 78:14–25

Park CJ, Lee JH, Hong SS, Lee HS, Kim SC (1998) High-level expression of the angiotensin-converting-enzyme-inhibiting peptide, YG-1, as tandem multimers in Escherichia coli. Appl Microbiol Biotechnol 50:71–76

Reddy KV, Yedery RD, Aranha C (2004) Antimicrobial peptides: premises and promises. Int J Antimicrob Agents 24:536–547

Rekdal Ø, Andersen J, Vorland LH, Svendsen JS (1999) Construction and synthesis of lactoferricin derivatives with enhanced antibacterial activity. J Pept Sci 5:32–45

Sambrook J, Russell DW (2002) Molecular cloning: a laboratory manual, 3rd edn. In: Sambrook J, Russell DW (eds). Science Press, Beijing, pp 68–76

Schibli DJ, Vogel HJ (2000) Structural studies of lactoferricin B and its antimicrobial active peptide fragments. In: K Shimazaki (ed) Lactoferrin, structure, function and application. Elsevier, New York, pp 27–35

Schiffer M, Chang CH, Stevens FJ (1992) The functions of tryptophan residues in membrane proteins. Protein Eng 5:213–214

Shen SH (1984) Multiple joined genes prevent product degradation in Escherichia coli. Proc Natl Acad Sci USA 81:4627–4631

Shin K, Yamauchi K, Teraguchi S, Hayasawa H, Tomita M, Otsuka Y, Yamazaki S (1998) Antibacterial activity of bovine lactoferrin and its peptides against enterohaemorrhagic Escherichia coli O157:H7. Lett Appl Microbiol 26:407–411

Skosyrev VS, Rudenko NV, Yakhnin AV, Zagranichny VE, Popova LI, Zakharov MV, Gorokhovatsky AY, Vinokurov LM (2003) EGFP as a fusion partner for the expression and organic extraction of small polypeptides. Protein Expr Purif 27:55–62

Stahl S, Sjolander A, Hansson M, Nygren PA, Uhlen M (1990) A general strategy for polymerization, assembly and expression of epitope-carrying peptides applied to the Plasmodium falciparum antigen Pf155/RESA. Gene 89:187–193

Strøm MB, Haug BE, Rekdal Ø, Skar ML, Stensen W, Svendsen JS (2002) Important structural features of 15-residue lactoferricin derivatives and methods for improvement of antimicrobial activity. Biochem Cell Biol 80:65–74

Sun D, Eccleston ED, Fallon AM (1999) Cloning and expression of three cecropin cDNAs from a mosquito cell line. FEBS Lett 454:147–151

Tian ZG, Wang JH, Teng D, Yang YL, Zhang F, Feng XJ, Wei LY, Fan Y, Luo J (2006a) Design and construction of tandem multimers lactoferricin b 15 derivative for high-level expression in E. coli (Abstract). Biochem Cell Biol 84:390

Tian ZG, Wang JH, Teng D, Yang YL, Zhang F, Feng XJ, Wei LY, Fan Y, Luo J (2006b) Comparison of antimicrobial activity between lactoferricin B15 derivative and antibiotics (Abstract). Biochem Cell Biol 84:386

Ulvatne H, Haukland HH, Olsvik Ø, Vorland LH (2001) Lactoferricin B causes depolarization of the cytoplasmic membrane of Escherichia coli ATCC 25922 and fusion of negatively charged liposomes. FEBS Lett 492:62–65

van der Kraan MI, Groenink J, Nazmi K, Veerman EC, Bolscher JG, Nieuw Amerongen AV (2004) Lactoferrampin:a novel antimicrobial peptide in the N1-domain of bovine lactoferrin. Peptides 25:177–183

van't Hof W, Veerman EC, Helmerhorst EJ, Amerongen AV (2001) Antimicrobial peptides: properties and applicability. Biol Chem 382:597–619

Vorland LH, Ulvatne H, Andersen J, Haukland HH, Rekdal Ø, Svendsen JS, Gutteberg TJ (1999) Antibacterial effects of lactoferricin B. Scand J Infect Dis 31:179–184

Wakabayashi H, Teraguchi S, Tamura Y (2002) Increased Staphylococcus-killing activity of an antimicrobial peptide, lactoferricin B, with minocycline and monoacylglycerol. Biosci Biotechnol Biochem 66:2161–2167

Wimley WC, White SH (2000) Determining the membrane topology of peptides by fluorescence quenching. Biochemistry 39:161–170

Yau WM, Wimley WC, Gawrisch K, White SH (1998) The preference of tryptophan for membrane interfaces. Biochemistry 37:14713–14718

Zhang L, Falla T, Wu M, Fidai S, Burian J, Kay W, Hancock RE (1998) Determinants of recombinant production of antimicrobial cationic peptides and creation of peptide variants in bacteria. Biochem Biophys Res Commun 247:674–680
Acknowledgement
This study was supported by two Chinese National Hi-Tech R & D Programs ("863" Programs) (Approving Nos. 2001AA246041 and 2004AA246040) and Beijing Natural Science Foundation (Approving No.415062031).
About this article
Cite this article
Tian, Z., Teng, D., Yang, Y. et al. Multimerization and fusion expression of bovine lactoferricin derivative LfcinB15-W4,10 in Escherichia coli . Appl Microbiol Biotechnol 75, 117–124 (2007). https://doi.org/10.1007/s00253-006-0806-7
Received:

Revised:

Accepted:

Published:

Issue Date:
Keywords
Antimicrobial peptides

Bovine lactoferricin

Multimerization

Fusion expression

Escherichia coli