Abstract
Seventeen different strains of filamentous fungi were grown in batch cultures to compare their abilities for the production of β-fructofuranosidase. Three of them, Aspergillus oryzae IPT-301, Aspergillus niger ATCC 20611 and strain IPT-615, showed high production with total fructosyltransferase activity higher than 12,500 units l−1. In addition, the β-fructofuranosidases of those strains have a high fructosyltransferase activity-to-hydrolytic activity ratio. The temperature and pH effects on the sucrose-β-fructofuranosidase reaction rate were studied using a 22 factorial experimental design. The comparative analysis of the tested variable coefficients shows that the variable pH contributes mostly to the changes in the fructosyltransferase and hydrolytic rates and in the V t/V h ratio. At 40 and 50°C, there were no significant differences between the fructosyltransferase and hydrolytic velocities of these enzymes.
This is a preview of subscription content, log in to check access.
Access options
Buy single article
Instant access to the full article PDF.
US$ 39.95
Price includes VAT for USA
Subscribe to journal
Immediate online access to all issues from 2019. Subscription will auto renew annually.
US$ 199
This is the net price. Taxes to be calculated in checkout.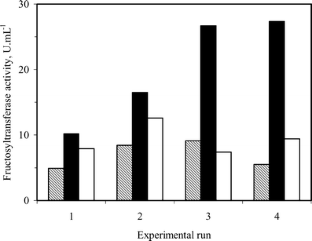 References
Barthomeuf C, Grizard D, Teulade JC (1997) Assay and structural determination of fructo-oligosaccharides synthesized by an enzymatic system from Penicillium rugulosum. Biotechnol Tech 11:845–848

Chien CS, Lee WC, Lin TJ (2001) Immobilization of A. japonicus by entrapping cells in gluten for production of fructooligosaccharides. Enzyme Microb Technol 29:252–257

Cuervo R, Guilarte B, Juárez A, Martínez J (2004) Production of fructooligosaccharides by β-fructofuranosidase from Aspergillus sp 27H. J Chem Technol Biotechnol 79:268–272

Gibson GR, Roberfroid MB (1995) Dietary modulation of the human colonic microbiota: introducing the concept of prebiotics. J Nutr 125:1401–1412

Guilarte B, Cuervo R (2000) Aislamiento de microorganismos productores de oligosacáridos. VI Congreso Internacional Azúcar y Derivados de la Caña, Havana City, June 13-16

Hayashi S, Nonokuchi M, Imada K, Ueno H (1990) Production of fructosyl-transferring enzyme by Aureobasidium sp. ATCC 20524. J Ind Microbiol 5:395–400

Hidaka H (1988) Fructooligosaccharides. In: The Amylase Research Society of Japan (ed) Handbook of amylases and related enzymes. Pergamon, pp 228–230

Hidaka H, Hirayama M, Sumi N (1988) A fructooligosaccharide-producing enzyme from Aspergillus niger ATCC 20611. Agric Biol Chem 52:1181–1187

Hirayama M, Sumi N, Hidaka H (1989) Purification and properties of a fructooligosaccharide-producing beta-fructofuranosidase from Aspergillus niger ATCC 20611. Agric Biol Chem 53:667–673

Kim MH, In MJ, Cha HJ, Yoo YJ (1996) An empirical rate equation for the fructooligosaccharide-producing reaction catalyzed by β-fructofuranosidase. J Ferment Bioeng 82(5):458–463

Kurakake M, Onoue T, Komaki T (1996) Effect of pH on transfructosylation and hydrolysis by β-fructofuranosidase from Aspergillus oryzae. Appl Microbiol Biotechnol 45:236–239

Madlová A, Antosová M, Barathová M, Polakovic M, Stefuca V, Báles V (1999) Screening of microorganisms for transfructosylating activity and optimization of biotransformation of sucrose to fructooligosaccharides. Chem Papers 53:366–369

Moore NCC, Yang L-P, Storm H, Oliva-Hemker M, Saavedra JM (2003) Effects of fructo-oligosaccharide-supplemented infant cereal: a double-blind, randomized trial. Br J Nutr 90:581–587

Nguyen QD, Mattes F, Hoschke A, Szabó RJ, Bhat MK (1999) Production, purification and identification of fructooligosaccharides produced by β-fructofuranosidase from A niger IMI 303386. Biotechnol Lett 21:183–186

Sangeetha PT, Ramesh MN, Prapulla SG (2002) Influence of media components and reaction parameters on the production of fructosyl transferase and fructooligosaccharides. Sci Aliments 22:277–287

Sangeetha PT, Ramesh MN, Prapulla SG (2004a) Production of fructo-oligosaccharides by fructosyl transferase from A. oryzae CFF 202 and A pullulans CFR 77. Process Biochem 39:753–758

Sangeetha PT, Ramesh MN, Prapulla SG (2004b) Production of fructosyl transferase by Aspergillus oryzae CFR 202 in solid-state fermentation using agricultural by-products. Appl Microbiol Biotechnol 65:530–537

Tokunaga T, Oku T, Hosoya N (1986) Influence of chronic intake of new sweetener fructooligosaccharide (Neosugar) on growth and gastrointestinal function of the rat. J Nutr Sci Vitaminol 32:111–121

Yun JW (1996) Fructooligosaccharides. Ocurrence: preparation and application. Enzyme Microb Technol 19:107–117
Acknowledgment
Authors gratefully acknowledge The State of São Paulo Research Foundation (FAPESP) for providing financial support. We thank Dr. Antonio Bonomi for critical review of the manuscript.
About this article
Cite this article
Fernandez, R.C., Ottoni, C.A., da Silva, E.S. et al. Screening of β-fructofuranosidase-producing microorganisms and effect of pH and temperature on enzymatic rate. Appl Microbiol Biotechnol 75, 87–93 (2007). https://doi.org/10.1007/s00253-006-0803-x
Received:

Revised:

Accepted:

Published:

Issue Date:
Keywords
β-fructofuranosidase

Fructosyltransferase

Fructooligosaccharides

Aspergillus