Abstract
A protease was purified from fresh fruiting bodies of the edible mushroom Pleurotus citrinopileatus. The isolation procedure included ion exchange chromatography on DEAE-cellulose, CM-cellulose, and Q-Sepharose and fast protein liquid chromatography-gel filtration on Superdex 75. The protease was unadsorbed on DEAE-cellulose and Q-Sepharose, but adsorbed on CM-cellulose. In sodium dodecyl sulfate-polyacrylamide gel electrophoresis, the protease demonstrated a single band with a molecular mass of 28 kDa. The protease showed an optimal pH at 10 and an optimal temperature at 50°C. The activity of the protease was not affected by EDTA, indicating that it is not a metalloprotease. The protease exhibited a higher activity in the presence of K+ and Li+, but its activity was potently inhibited by Al3+, Cu2+, and Hg2+ ions. It manifested a K m of 3.44 mg/ml and a V max of 0.139 mg ml−1 min−1. It was devoid of ribonuclease and antifungal activities.
This is a preview of subscription content, log in to check access.
Access options
Buy single article
Instant access to the full article PDF.
US$ 39.95
Price includes VAT for USA
Subscribe to journal
Immediate online access to all issues from 2019. Subscription will auto renew annually.
US$ 199
This is the net price. Taxes to be calculated in checkout.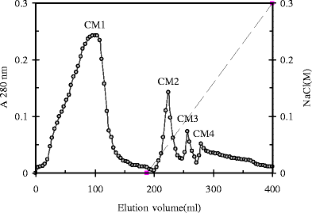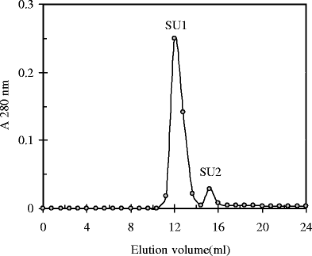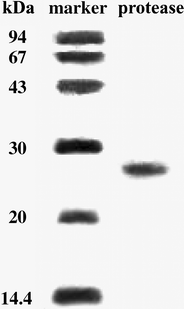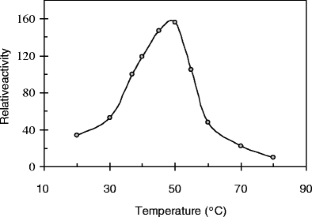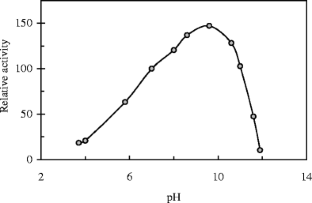 References
Anwar A, Saleemuddin M (1998) Alkaline proteases: a review. Bioresour Technol 64:175–183

Burton KS, Wood DA, Thurston CF, Barker PJ (1993) Purification and characterization of a serine proteinase from senescent sporophores of the commercial mushroom Agaricus bisporus. J Gen Microbiol 6:1379–1386

Fong WP, Mock WY, Ng TB (2000) Intrinsic ribonuclease activities in ribonuclease and ribosome inactivating proteins from the seeds of bitter gourd. Int J Biochem Cell Biol 32:571–579

Gessesse A, Gashe BA (1997) Production of alkaline protease by an alkaliphilic bacteria isolated from an alkaline soda lake. Biotechnol Lett 19:479–481

Horikoshi K (1996) Alkalophiles/from an industrial point of view. FEMS Microbiol Rev 18:259–270

Hu SH, Wang JC, Lien JL, Liaw ET, Lee MY (2000) Antihyperglycemic effect of polysaccharides from fermented broth of Pleurotus citrinopileatus. Appl Microbiol Biotechnol 70:107–113

Joshi BN, Sainani MN, Bastawade KB, Gupta VS, Ranjekar PK (1998) Cysteine protease inhibitor from pearl millet: a new class of antifungal protein. Biochem Biophys Res Commun 246:382–387

Kembhavi AA, Kulkarni A, Pant A (1993) Salt-tolerant and thermostable alkaline protease from Bacillus subtilis. Appl Biochem Biotechnol 38:83–92

Kim JH, Kim YS (1999) A fibrinolytic metalloprotease from the fruiting bodies of an edible mushroom, Armillariella mellea. Biosci Biotechnol Biochem 63:2130–2136

Kim JH, Kim YS (2001) Characterization of a metalloenzyme from a wild mushroom, Tricholoma saponaceum. Biotechnol Biochem 65:356–362

Laemmli UK, Favre M (1973) Gel electrophoresis of proteins. J Mol Biol 80:575–599

Lam SSL, Wang HX, Ng TB (1998) Purification and characterization of novel ribosome inactivating proteins, alpha- and beta-pisavins, from seeds of the garden pea Pisum sativum. Biochem Biophys Res Commun 253:135–142

Lee WJ, Cho YJ, Son GM, Choi C (1991) Characteristic and action pattern of alkaline protease production from Bacillus sp. Korean Biochem J 24:537–542

Manachini PL, Fortina MG (1998) Production in seawater of thermostable alkaline protease by a halotolerant strain of Bacilluslicheniformis. Biotechnol Lett 20:565–568

Nonaka T, Ishikawa H, Tsumuraya Y, Hashimoto Y, Dohmae N (1995) Characterization of a thermostable lysine-specific metalloendopeptidase from the fruiting bodies of a basidiomycete, Grifola frondosa. J Biochem (Tokyo) 118:1014–1020

Palmeieri G, Bianco C, Cennamo G, Giardina P, Marino G, Monti M, Sannia G (2001) Purification, characterization, and functional role of a novel extracellular protease from Pleurotus ostreatus. Appl Environ Microbiol 67:2754–2759

Rao MB, Tanksale AM, Ghatge MS, Deshpande VV (1998) Molecular and biotechnological aspects of microbial proteases. Microbiol Mol Biol Rev 62:597–635

St. Leger RJ, Joshi L, Roberts DW (1997) Adaptation of proteases and carbohydrates of saprophytic, phytopathogenic and entomopathogenic fungi to the requirements of their ecological niches. Microbiology 1983–1992

Vernekar JV, Ghatge MS, Deshpande VV (1999) Alkaline protease inhibitor: a novel class of antifungal proteins against phytopathogenic fungi. Biochem Biophys Res Commun 262:702–707

Wang HX, Ng TB (1999) Isolation of a new ribonuclease from fresh fruiting bodies of the straw mushroom. Biochem Biophys Res Commun 264:714–718

Wang HX, Ng TB (2001a) Purification and characterization of a potent homodimeric guanine-specific ribonuclease from fresh mushroom (Pleurotustuber-regium) sclerotia. Int J Biochem Cell Biol 33:483–490

Wang HX, Ng TB (2001b) Pleureryn, a novel protease from fresh fruiting bodies of the edible mushroom Pleurotus eryngii. Biochem Biophys Res Commun 289:750–755

Ye XY, Ng TB (2001) A Bowman-Birk type trypsin-chymotrypsin inhibitor from broad beans. Biochem Biophys Res Commun 289:91–96

Yen YH, Li PL, Wang CL, Wang SL (2006) An antifungal protease produced by Pseudomonas aeruginosa M-1001 with shrimp and crab shell powder as a carbon source. Enzyme Microb Technol 39:311–317
Acknowledgments
We thank Miss Fion Yung and Miss Grace Chan for excellent secretarial assistance.
About this article
Cite this article
Cui, L., Liu, Q.H., Wang, H.X. et al. An alkaline protease from fresh fruiting bodies of the edible mushroom Pleurotus citrinopileatus . Appl Microbiol Biotechnol 75, 81–85 (2007). https://doi.org/10.1007/s00253-006-0801-z
Received:

Revised:

Accepted:

Published:

Issue Date:
Keywords
Mushroom

Protease

Fruiting bodies