Abstract
The aim of this study was to evaluate the MPK1 (SLT2) gene deletion upon filamentous growth induced by isoamyl alcohol (IAA) in two haploid industrial strains of Saccharomyces cerevisiae using oligonucleotides especially designed for a laboratory S. cerevisiae strain. The gene deletion was performed by replacing part of the open reading frames from the target gene with the KanMX gene. The recombinant strains were selected by their resistance to G418, and after deletion confirmation by polymerase chain reaction, they were cultivated in a yeast extract peptone dextrose medium + 0.5% IAA to evaluate the filamentous growth in comparison to wild strains. Mpk1 derivatives were obtained for both industrial yeasts showing the feasibility of the oligonucleotides especially designed for a laboratory strain (Σ1278b) by Martinez-Anaya et al. (In yeast, the pseudohyphal phenotype induced by isoamyl alcohol results from the operation of the morphogenesis checkpoint. J Cell Sci 116:3423–3431, 2003). The filamentation rate in these derivatives was significantly lower for both strains, as induced by IAA. This drastic reduction in the filamentation ability in the deleted strains suggests that the gene MPK1 is required for IAA-induced filamentation response. The growth curves of wild and derivative strains did not differ substantially. It is not known yet whether the switch to filamentous growth affects the fermentative characteristics of the yeast or other physiological traits. A genetically modified strain for nonfilamentous growth would be useful for these studies, and the gene MPK1 could be a target gene. The feasibility of designed oligonucleotides for this deletion in industrial yeast strains is shown.
This is a preview of subscription content, log in to check access.
Access options
Buy single article
Instant access to the full article PDF.
US$ 39.95
Price includes VAT for USA
Subscribe to journal
Immediate online access to all issues from 2019. Subscription will auto renew annually.
US$ 199
This is the net price. Taxes to be calculated in checkout.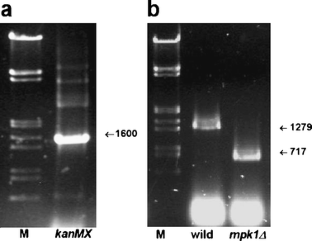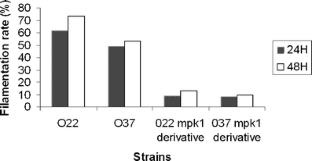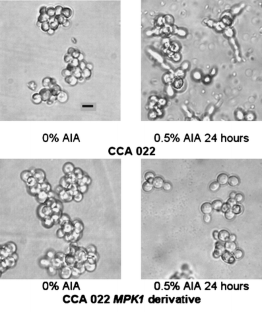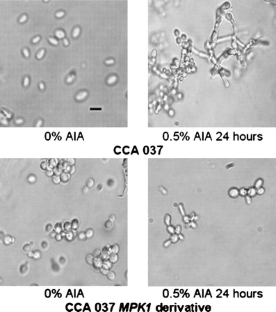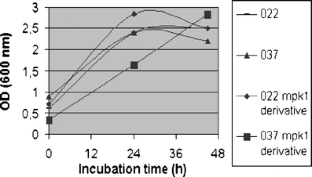 References
Ceccato-Antonini SR, Sudbery PE (2004) Filamentous growth in Saccharomyces cerevisiae. Braz J Microbiol 35:173–181

Ceccato-Antonini SR, Sudbery PE, Wightman R (2005) Molecular characterization of three haploid industrial strains of Saccharomyces cerevisiae and their responses to medium stress. In: Proceedings of the "XV Simpósio Nacional de Bioprocessos", 2–5 August. Recife, Pernambuco, Brazil

Davenport KR, Sohaskey M, Kamada Y, Levin DE, Gustin MC (1995) A second osmosensing signal transduction pathway in yeast. Hypotonic shock activates the PKC1 protein kinase-regulated cell integrity pathway. J Biol Chem 270:30157–30161

Gimeno CJ, Ljungdahl PO, Styles CA, Fink GR (1992) Unipolar cell divisions in the yeast Saccharomyces cerevisiae led to filamentous growth: regulation by starvation and RAS. Cell 68:1077–1090

Harrison JC, Bardes ESG, Ohya Y, Lew DJ (2001) A role for the Pkc1p/Mpk1p kinase cascade in the morphogenesis checkpoint. Nat Cell Biol 3:417–420

Heinisch JJ, Lorberg A, Schmitz HP, Jacoby JJ (1999) The protein kinase C-mediated MAP kinase pathway involved in the maintenance of cellular integrity in Saccharomyces cerevisiae. Mol Microbiol 32:671–680

Jung U, Levin D (1999) Genome-wide analysis of gene expression regulated by the yeast cell wall integrity signaling pathway. Mol Microbiol 34:1049–1057

La Valle R, Wittenberg C (2001) A role for the Swe1 checkpoint kinase during filamentous growth of Saccharomyces cerevisiae. Genetics 158:549–562

Longtine MS, Mckenzie A, Demarini DJ, Shah NG, Wach A, Brachat A, Phillippsen P, Pringle JR (1998) Additional modules for versatile and economical PCR-based gene deletion and modification in Saccharomyces cerevisiae. Yeast 14:953–961

Lorenz MC, Cutler NS, Heitman J (2000) Characterization of alcohol-induced filamentous growth in Saccharomyces cerevisiae. Mol Biol Cell 11:183–199

Madden K, Sheu YJ, Baetz K, Andrews B, Snyder M (1997) SBF cell cycle regulator as a target of the yeast PKC-MAP kinase pathway. Science 275:1781–1784

Martinez-Anaya C (2002) Isoamyl alcohol induces filamentous growth by decoupling budding from nuclear cycle in Saccharomyces cerevisiae. PhD thesis, University of Sheffield

Martinez-Anaya C, Dickinson JR, Sudbery PE (2003) In yeast, the pseudohyphal phenotype induced by isoamyl alcohol results from the operation of the morphogenesis checkpoint. J Cell Sci 116:3423–3431

Merchan S, Bernal D, Serrano R, Yenushi L (2003) Response of the Saccharomyces cerevisiae Mpk1 mitogen-activated protein kinase pathway to increases in internal turgor pressure caused by loss of Ppz protein phosphatases. Eukaryotic Cell 3:100–107

Mizinuma M, Hirata D, Miyahara K, Tshuchiya E, Miyahara T (1998) Role of calcineurin and Mpk1 in regulating the onset of mitosis in budding yeast. Nature 392:303–306

Shitamukai A, Hirata D, Sonobe S, Miyakawa T (2004) Evidence for antagonistic regulation of cell growth by the calcineurin and high osmolarity glycerol pathway in Saccharomyces cerevisiae. J Biol Chem 279:3651–3661

White TJ, Bruns T, Lee S, Taylor J (1994) Amplification and direct sequencing of fungal ribosomal RNA genes for phylogenetics. In: Innis M, Gelfand DH, Sninsky JJ, White TJ (eds) PCR protocols: a guide to methods and applications. Academic, New York, pp 315–321

Yun DJ, Zhao Y, Pardo JM, Narasimhan ML, Damsz B, Lee H, Abad LR, D' Urzo MP, Hasegawa PM, Bressan RA (1997) Stress proteins on the yeast cell surface determine resistance to osmotin, a plant antifungal protein. Proc Natl Acad Sci USA 94:7082–7087
Acknowledgement
The authors wish to thank Dr. Peter E. Sudbery (University of Sheffield, UK) for his helpful suggestions during the postdoc supported by Conselho Nacional de Desenvolvimento Científico e Tecnológico (no. 200678/01-9) for the second author and Dr. Claudia Martinez-Anaya for providing the oligonucleotides. The research was supported by Fundação de Amparo a Pesquisa do Estado de São Paulo (04/06889-0 and 04/06669-0 grants).
About this article
Cite this article
Vancetto, G.T., Ceccato-Antonini, S.R. MPK1 gene is required for filamentous growth induced by isoamyl alcohol in Saccharomyces cerevisiae strains from the alcoholic fermentation. Appl Microbiol Biotechnol 75, 111–115 (2007). https://doi.org/10.1007/s00253-006-0795-6
Received:

Revised:

Accepted:

Published:

Issue Date:
Keywords
Saccharomyces cerevisiae

Filamentation

MPK1

Isoamyl alcohol