Abstract
Bacillus nematocida is a Gram-positive bacterium capable of killing nematodes. Our recent studies identified an extracellular serine protease Bace16 in B. nematocida as a candidate of pathogenic factor in the infection against nematodes, which displayed a high similarity with the serine protease family subtilisin BPN', and the MEROPS ID is S08.034. To further confirm the roles that bace16 played in the mechanism of nematocidal pathogenesis, recombinant mature Bace16 (rm-Bace16) was expressed in Escherichia coli strain BL21 using pET-30 vector system. Bioassay experiments demonstrated that the purified recombinant protease had the ability to degrade nematode cuticles and kill nematodes. In addition, a bace16 knockout mutant of B. nematocida constructed by homologous recombination showed considerably lower proteolytic activity and less than 50% nematocidal activity than the wild-type strain. These results confirmed that Bace16 could serve as an important virulence factor during the infectious process.
This is a preview of subscription content, log in to check access.
Access options
Buy single article
Instant access to the full article PDF.
US$ 39.95
Price includes VAT for USA
Subscribe to journal
Immediate online access to all issues from 2019. Subscription will auto renew annually.
US$ 199
This is the net price. Taxes to be calculated in checkout.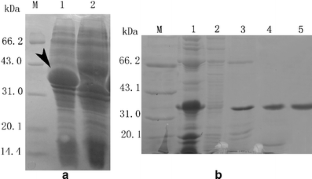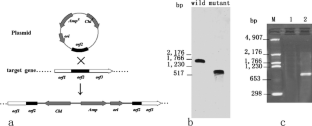 References
Åhman J, Bo EK, Rask L, Tunlid A (1996) Sequence analysis and regulation of a gene encoding a cuticle-degrading serine protease from the nematophagous fungus Arthrogotrys oligospora. Microbiol 142:1605–1616

Åhman J, Johansson T, Olsson M, Punt PJ, Hondel CAMJJVD, Tunlid A (2002) Improving the pathogenicity of a nematode-trapping fungus by genetic engineering of a subtilisin with nematotoxic activity. Appl Environ Microbiol 68:3408–3415

Bonants PJM, Fitters PFL, Thijs H, Den BE, Waalwijk C, Henfling JW (1995) A basic serine protease from Paecilomyces lilacinus with biological activity against Meloidogyne hapla egg. Microbiol 141:775–784

Choi N-S, Chang K-T, Maeng PJ, Kim S-H (2004) Cloning, expression, and fibrin (ogen) olytic properties of a subtilisin DJ-4 gene from Bacillus sp. DJ-4. FEMS Microbiol Lett 236:325–331

Cox Gn, Kusch M, Edgar RS (1981) Cuticle of Caenorhabditis elegans: its isolation and partial characterization. J Cell Biol 90:7–17

Elmar WH (1984) Method with haemoglobin, casein and azocoll as substrate. In: Bergmeyer P (ed) Methods of enzymatic analysis. Wiley, New York, p. 270–274

El-Nagdi WMA, Youssef MMA (2004) Soaking faba bean seed in some bio-agents as prophylactic treatment for controlling Meloidogyne incognita root-knot nematode infection. J Pest Sci 77:75–78

Gray NF (1984) Ecology of nematophagous fungi: comparison of the soil sprinkling method with the Baerman funnel technique in the isolation of endoparasites. Soil Biol Biochem 16:81–83

Huang X, Zhao N, Zhang K (2004) Extracellular enzymes serving as virulence factors in nematophageous fungi involved in infection of the host. Res Microbiol 155:811–816

Huang X, Niu Q, Zhou W, Zhang K (2005a) Bacillus nematocida sp. nov., a novel bacterial strain with nematotoxic activity isolated from soil in Yunnan, China. Syst Appl Microbiol 28: 323–327

Huang X, Tian B, Niu Q, Yang J, Zhang L, Zhang K (2005b) An extracellular protease from Brevibacillus laterosporus G4 without parasporal crystal serve as pathogenetic factor in the infection against nematodes. Res Microbiol 156:719–727

Imran AS, Haas D, Heeb S (2005) Extracellular protease of Pseudomonas fluotescens CHA0, a biocontrol factor with activity against the Root-knot nematode. Appl Environ Microbiol 71(9):5646–5649

Jagdale GB, Grewal PS (2002) Identification of alternatives for the management of foliar nematodes in floriculture. Pest Manag Sci 58:451–458

Jonathan EI, Barker KR, Abdel-Alim FF, Vrain TC, Dickson DW (2000) Biological control of Meloidogyne incognita on tomato and banana with rhizobacteria, actinomycetes, and Pasteuria penetrans. Nematropica 30:231–240

Kwok OCH, Plattner R, Weisleder D, Wicklow DT (1992) A nematicidal toxin from Pleurotus ostreatus NRRL 3526. J Chem Ecol 18(2):127–136

Lopez-Llorca LV (1990) Purification and properties of extracellular protease produced by the nematophagous fungus Verticillium subchlasporium. Can J Microbiol 36:530–537

Lopez-Llorca LV, Roberson WM (1992) Immunocytochemical localization of a 32-kDa protease from the nematophagous fungus Verticillium sublasporium in infected nematode eggs. Exp Mycol 16:261–267

Maizels RM, Blaxter ML, Selkirk ME (1993) Forms and functions of nematode surfaces. Exp Parasitol 77:380–384

Morton CO, Hirsch PR, Peberdy JP, Kerry BR (2003) Cloning of and genetic variation in protease VCP1 from the nematophagous fungus Pochonia chlamydosporia. Mycol Res 107(Pt 1):38–46

Neipp PW, Becker JO (1999) Evaluation of biocontrol activity of rhizobacteria from Beta vulgaris against Heterodera schachtii. J Nematol 31:54–61

Niu Q, Huang X, Tian B, Yang J, Liu J, Zhang L, Zhang K (2006a) Bacillus sp. B16 kills nematodes with a serine protease identified as a pathogenic factor. Appl Microbiol Biotechnol 69:722–730

Niu Q, Huang X, Zhang L, Li Y, Li J, Yang J, Zhang K (2006b) A neutral protease from Bacillus nematocida, another potential virulence factor in the infection against nematodes. Arch Microbiol 185:439–448

Smirnava TA, Minenkova IB, Orlava MV, Lecadet MM, Azizbecyan RR (1996) The crystal-forming strains of Bacillus laterosporus. Res Microbiol 147:343–350

Smirnava TA, Poglasova MN, Orlava MV, Azizbecyan RR (1997) The ultrastructure of spores and crystals of Bacillus laterosporus. Biotechnology 1:29–36

St. Leger RJ (1995) The role of cuticle-degrading proteases in fungal pathogenesis of insects. Can J Bot 73:1119–1125

Stirling GR (1991) Biological control of plant parasitic nematode: progress, problems and prospects. CAB International, Wallington, United Kingdom

Talavera M, Itou K, Mizukubo T (2002) Combined application of Glomus sp. and Pasteuria penetrans for reducing Meloidogyne incognita (Tylenchida: Meloidogynidae) populations and improving tomato growth. Appl Entomol Zool 37:61–67

Tunlid A, Jansson S (1991) Proteases and their involvement in the infection and immobilization of nematodes by the nematophagous fungus Arthrobotrys oligospora. Appl Environ Microbiol 57:2868–2872

Tunlid A, Rosen S, Ek B, Rask L (1994) Purification and characterization of an extracellular serine protease from the nematode-trapping fungus Arthrobotrys oligospora. Microbiol 140:1687–1695

Wei J-Z, Hale K, Carta L, Platzer E, Wong C, Fang S-C, Aroian RV (2003) Bacillus thuringiensis crystal proteins that target nematodes. PNAS 100:2760–2765

Yokoyama K, Kunio O, Ohtsuka T, Nakamura N, Sequro K, Ejima D (2002) In vitro refolding process of urea-denatured microbial transglutaminase without pro-peptide sequence [J]. Protein Expr Purif 26:329–335

Zhou XS, Kaya HK, Heungens K, Heidi GB (2002) Response of ants to a deterrent factor(s) produced by the symbiotic bacteria of entomopathogenic nematodes. Appl Environ Microbiol 68:6202–6209
Acknowledgements
We are grateful to Ms. W. Zhou for her invaluable help in facilitating the work. In addition, we thank Dr. Jianping Xu, the associate professor from McMaster University in Canada, for the invaluable comments and revisions. The work was funded by the projects from National Natural Science Foundation Program of People's Republic of China (30500338, 30630003), Department of Science and Technology of Yunnan Province, People's Republic of China (nos. 2005NG05, 2004C0004Q and 2004C0001Z).
Additional information
Qiuhong Niu and Xiaowei Huang contributed equally to this work.
About this article
Cite this article
Niu, Q., Huang, X., Zhang, L. et al. Functional identification of the gene bace16 from nematophagous bacterium Bacillus nematocida . Appl Microbiol Biotechnol 75, 141–148 (2007). https://doi.org/10.1007/s00253-006-0794-7
Received:

Revised:

Accepted:

Published:

Issue Date:
Keywords
Knockout Mutant

Nematophagous Fungus

Nematicidal Activity

Paecilomyces Lilacinus

Insoluble Inclusion Body