Abstract
The expression of genes possibly involved in l-methionine and lactate catabolic pathways were performed in Brevibacterium linens (ATCC9175) in the presence or absence of added l-methionine. The expression of 27 genes of 39 selected genes differed significantly in l-methionine-enriched cultures. The expression of the gene encoding l-methionine γ-lyase (MGL) is high in l-methionine-enriched cultures and is accompanied by a dramatic increase in volatile sulfur compounds (VSC) biosynthesis. Several genes encoding α-ketoacid dehydrogenase and one gene encoding an acetolactate synthase were also up-regulated by l-methionine, and are probably involved in the catabolism of α-ketobutyrate, the primary degradation product of l-methionine to methanethiol. Gene expression profiles together with biochemical data were used to propose catabolic pathways for l-methionine in B. linens and their possible regulation by l-methionine.
This is a preview of subscription content, log in to check access.
Access options
Buy single article
Instant access to the full article PDF.
US$ 39.95
Price includes VAT for USA
Subscribe to journal
Immediate online access to all issues from 2019. Subscription will auto renew annually.
US$ 199
This is the net price. Taxes to be calculated in checkout.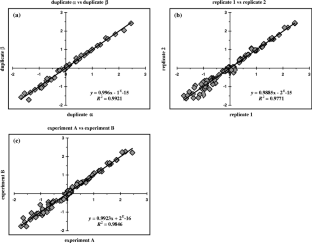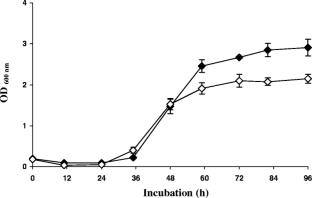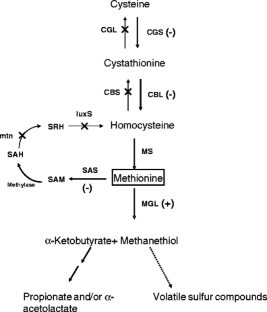 References
Altschul SF, Madden TL, Schäffer AA, Zhang J, Zhang Z, Miller W, Lipman DJ (1997) Gapped BLAST and PSI-BLAST: a new generation of protein database search programs. Nucleic Acids Res 25:3389–3402

Amarita F, Yvon M, Nardi M, Chambellon E, Delettre J, Bonnarme P (2004) Identification and functional analysis of the gene encoding methionine-γ-lyase in Brevibacterium linens. Appl Environ Microbiol 70:7348–7354

Arfi K, Landaud S, Bonnarme P (2006) Evidence for distinct l-methionine catabolic pathways in the yeast Geotrichum candidum and the bacterium Brevibacterium linens. Appl Environ Microbiol 72:2155–2162

Auger S, Danchin A, Martin-Verstraete I (2002) Global expression profile of Bacillus subtilis grown in the presence of sulfate or methionine. J Bacteriol 184:5179–5186

Auger S, Gomez MP, Danchin A, Martin-Verstraete I (2005) The PatB protein of Bacillus subtilis is a C-S-lyase. Biochimie 87:231–238

Benjamini Y, Hochberg Y (1995) Controlling the false discovery rate: a practical and powerful approach to multiple testing. J R Stat Soc B 57: 289–300

Bisswanger H (1981) Substrate specificity of the pyruvate dehydrogenase complex from Escherichia coli. J Biol Chem 256:815–822

Bonnarme P, Amarita F, Chambellon E, Semon E, Spinnler HE, Yvon M (2004) Methylthioacetaldehyde, a possible intermediate metabolite for the production of volatile sulphur compounds from l-methionine by Lactococcus lactis. FEMS Microbiol Lett 236:85–90

Bradford MM (1976) A rapid and sensitive method for quantification of microgram quantities of protein utilising the principle of protein–dye binding. Anal Biochem 72: 54–63

Clausen T, Huber R, Prade L, Wahl MC, Meserschmidt A (1998) Crystal structure of Escherichia coli cystathionine gamma-synthase at 1.5A resolution. EMBO J 17:6827–6838

Dias B, Weimer B (1998) Purification and characterization of l-methionine-γ-lyase from Brevibacterium linens BL2. Appl Environ Microbiol 64:3327–3331

Didier G, Brezellec P, Rémy E, Hénaut A (2002) GeneANOVA—gene expression analysis of variance. Bioinformatics 18: 490–491

Ferchichi M (1984) Production de méthanethiol à partir de l-méthionine par Brevibacterium linens CNRZ 918: induction, caractérisation, nature des systèmes enzymatiques. Ph.D. Dissertation, Universities of Paris VII, Paris XI and ENSIA, Paris, France

Ferchichi M, Hemme D, Nardi M (1986) Induction of methanethiol production by Brevibacterium linens CNRZ 918. J Gen Microbiol 132: 3075–3082

Inoue H, Inagaki K, Eriguchi S, Tamura T, Esaki N, Soda K, Tanaka H (1997) Molecular characterization of the mde operon involved in l-methionine catabolism of Pseudomonas putida. J Bacteriol 179:3956–3962

Labeyrie F, Baudras A, Lederer F (1978) Flavocytochrome b 2 or l-lactate cytochrome c reductase from yeast. Methods Enzymol 5:238–256

Leclercq-Perlat MN, Oumer A, Bergère JL, Spinnler HE, Corrieu G (2000) Behavior of Brevibacterium linens and Debaryomyces hansenii as ripening flora in controlled production of smear soft cheese from reconstituted milk: growth and substrate consumption. J Dairy Sci 83: 1665–1673

Lee HS, Hwang BJ (2003) Methionine biosynthesis and its regulation in Corynebacterium glutamicum: parallel pathways of transulfuration and direct sulfhydrylation. Appl Microbiol Biotechnol 62: 459–467

Maoz A, Mayr R, Sherer S (2003) Temporal stability and biodervisity of two complex antilisterial cheese-ripening microbial consortia. Appl Environ Microbiol 69: 4012–4018

Martin N, Berger C, LeDu C, Spinnler HE (2001) Aroma compound production in cheese curd by coculturing with selected yeast and bacteria. J Dairy Sci 84:2125–2135

McSweeney PLH (2004) Biochemistry of cheese ripening. Int J Dairy Technol 57:127–144

Mounier J, Gelsomino R, Goerges S, Vancanneyt M, Vandemeulebroeke K, Hoste B, Sherer S, Swings J, Fitzgerald GF, Cogan TM (2006) Surface microflora of four smear-ripened cheeses. Appl Environ Microbiol 71: 6489–6500

Ono B, Tanaka K, Naito K, Heike C, Shinoda S, Yamamoto S, Ohmori S, Oshima T, Toh-e A (1992) Cloning and characterization of the CYS3 (CYI1) gene of Saccharomyces cerevisiae. J Bacteriol 174:3339–3347

Quackenbush J (2001) Computational analysis of microarray data. Nat Rev Genet 2:418–427

Rattray FP, Fox A (1999) Aspects of enzymology and biochemical properties of Brevibacterium linens relevant to cheese ripening: a review. Int Dairy J 82:891–909

Reiner A, Yekutieli D, Benjamini Y (2003) Identifying differentially expressed genes using false discovery rate controlling procedures. Bioinformatics 19:368–375

Reymond N, Charles H, Duret L, Calevro F, Beslon G, Fayard JM (2004) ROSO: optimizing oligonucleotide probes for microarrays. Bioinformatics 20:271–273

Rijnen L, Yvon M, van Kranenburg R, Courtin P, Verheul A, Chambellon E, Smit G (2003) AraT and BcaT are key enzymes for the formation of aroma compounds from amino acids in cheese. Int Dairy J 13:805–812

Seiflein TA, Lawrence JG (2001) Methionine-to-cysteine recycling in Klebsiella aerogenes. J Bacteriol 183:336–346

Weimer B, Seefeldt K, Dias B (1999) Sulfur metabolism in bacteria associated with cheese. Antonie van Leeuwenhock 76:247–261
Acknowledgements
The sequence data of B. linens BL2 were produced by the US department of Energy Joint Genome Institute. Orianne Cholet is grateful to Ecole Doctorale ABIES for a Ph.D. scholarship. Jérôme Delettre is acknowledged for LDH activity measurements.
About this article
Cite this article
Cholet, O., Hénaut, A. & Bonnarme, P. Transcriptional analysis of L-methionine catabolism in Brevibacterium linens ATCC9175. Appl Microbiol Biotechnol 74, 1320–1332 (2007). https://doi.org/10.1007/s00253-006-0772-0
Received:

Revised:

Accepted:

Published:

Issue Date:
Keywords
Gene expression

Microarray

l

-methionine
Brevibacterium linens