Abstract
Aflatoxins are toxic and carcinogenic secondary metabolites produced by the fungi Aspergillus flavus and Aspergillus parasiticus. To better understand the molecular mechanisms that regulate aflatoxin production, the biosynthesis of the toxin in A. flavus and A. parasticus grown in yeast extract sucrose media supplemented with 50 mM tryptophan (Trp) were examined. Aspergillus flavus grown in the presence of 50 mM tryptophan was found to have significantly reduced aflatoxin B1 and B2 biosynthesis, while A. parasiticus cultures had significantly increased B1 and G1 biosynthesis. Microarray analysis of RNA extracted from fungi grown under these conditions revealed 77 genes that are expressed significantly different between A. flavus and A. parasiticus, including the aflatoxin biosynthetic genes aflD (nor-1), aflE (norA), and aflO (omtB). It is clear that the regulatory mechanisms of aflatoxin biosynthesis in response to Trp in A. flavus and A. parasiticus are different. These candidate genes may serve as regulatory factors of aflatoxin biosynthesis.
This is a preview of subscription content, log in to check access.
Access options
Buy single article
Instant access to the full article PDF.
US$ 39.95
Price includes VAT for USA
Subscribe to journal
Immediate online access to all issues from 2019. Subscription will auto renew annually.
US$ 199
This is the net price. Taxes to be calculated in checkout.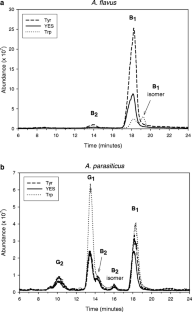 References
Adye J, Mateles RI (1964) Incorporation of labeled compounds into aflatoxins. Biochim Biophys Acta 86:418–420

Allcroft R, Carnaghan RBA, Sargeant K, O'Kelly J (1961) A toxic factor in Brazilian groundnut meal. Vet Rec 73:428–429

Bhatnagar D, Ehrlich KC, Cleveland TE (2003) Molecular genetic analysis and regulation of aflatoxin biosynthesis. Appl Microbiol Biotechnol 61(2):83–93

Bressac B, Kew M, Wands J, Ozturk M (1991) Selective G to T mutations of p53 gene in hepatocellular carcinoma from southern Africa. Nature 350(6317):429–431

Calvo AM, Bok J, Brooks W, Keller NP (2004) veA is required for toxin and sclerotial production in Aspergillus parasiticus. Appl Environ Microbiol 70(8):4733–4739

Ciegler A, Peterson RE (1968) Aflatoxin detoxification: hydroxydihydro-aflatoxin B. Appl Microbiol 16(4):665–666

Diener UL, Cole RJ, Sanders TH, Payne GA, Lee LS, Klich MA (1987) Epidemiology of aflatoxin formation by Aspergillus flavus. Annu Rev Phytopath 25:249–270

Dutton MF (1988) Enzymes and aflatoxin biosynthesis. Microbiol Rev 52(2):274–295

Ehrlich KC, Chang PK, Yu J, Cotty PJ (2004) Aflatoxin biosynthesis cluster gene cypA is required for G aflatoxin formation. Appl Environ Microbiol 70(11):6518–6524

Garay-Arroyo A, Colmenero-Flores JM, Garciarrubio A, Covarrubias AA (2000) Highly hydrophilic proteins in prokaryotes and eukaryotes are common during conditions of water deficit. J Biol Chem 275(8):5668–5674

Hegde P, Qi R, Abernathy K, Gay C, Dharap S, Gaspard R, Hughes JE, Snesrud E, Lee N, Quackenbush J (2000) A concise guide to cDNA microarray analysis. Biotechniques 29(3):548–550, 552–554, 556 passim

Hill RA, Wilson ADM, McMillian WW, Widstrom NW, Cole RJ, Sanders TH, Blankenship PD (1985) Ecology of the Aspergillus flavus group and aflatoxin formation in maize and groundnuts. In: Lacey J (eds) Trichothecenes and other mycotoxins. Wiley, Chichester, pp 79–95

Horn BW, Dorner JW, Greene RL, Blankenship PD, Cole RJ (1994) Effect of Aspergillus parasiticus soil innoculum on invasion of peanut seeds. Mycopathologia 125:179–191

Horvatiæ M, Balint L (1991) Correlation between lysine, tryptophan and prolamine contents during maturation of maize kernel. J Agron Crop Sci 166:73–80

Hsu IC, Metcalf RA, Sun T, Welsh JA, Wang NJ, Harris CC (1991) Mutational hotspot in the p53 gene in human hepatocellular carcinomas. Nature 350(6317):427–428

Kale SP, Bhatnagar D, Bennett JW (1994) Isolation and characterization of morphological variants of Aspergillus parasiticus deficient is secondary metabolism production. Mycol Res 98:645–652

Keller N, Nesbitt C, Sarr B, Phillips TD, Burow GB (1997) pH regulation of sterigmatocystin and aflatoxin biosynthesis in Aspergillus spp. Phytopathology 87:643–648

Kim WK, Rohringer R (1969) Metabolism of aromatic compounds in healthy and rust-infected primary leaves of wheat. III. Studies on the metabolism of tryptophan. Can J Bot 47:1425–1433

Kim JH, Cambell BC, Molyneux R, Mahoney N, Chan KL, Yu J, Wilkinson J, Cary J, Bhatnagar D, Cleveland TE (2006) Gene trargets for fungal mycotoxin control. Mycotoxin Res 22(1):3–8

Kingston RL, Scopes RK, Baker EN (1996) The structure of glucose–fructose oxidoreductase from Zymomonas mobilis: an osmoprotective periplasmic enzyme containing non-dissociable NADP. Structure 4(12):1412–1428

Lancaster MD, Jenkins FP, Phillip JM (1961) Toxicity associated with certain samples of groundnuts. Nature 192:1095–1096

Legator MS, Zuffante SM, Harp AR (1965) Aflatoxin: effect on cultured heteroploid human embryonic lung cells. Nature 208(8):345–347

Mahoney N, Molyneux RJ (2004) Phytochemical inhibition of aflatoxigenicity in Aspergillus flavus by constituents of walnut (Juglans regia). J Agric Food Chem 52(7):1882–1889

Miller MJ, Roze LV, Trail F, Linz JE (2005) Role of cis-acting sites NorL, a TATA box, and AflR1 in nor-1 transcriptional activation in Aspergillus parasiticus. Appl Environ Microbiol 71(3):1539–1545

Naik M, Modi VV, Patel NC (1970) Studies on aflatoxin synthesis in Aspergillus flavus. Indian J Exp Biol 8(4):345–346

Payne GA, Hagler WM Jr (1983) Effect of specific amino acids on growth and aflatoxin production by Aspergillus parasiticus and Aspergillus flavus in defined media. Appl Environ Microbiol 46(4):805–812

Pfaffl MW (2001) A new mathematical model for relative quantification in real-time RT-PCR. Nucleic Acids Res 29(9):e45

Price MS, Yu J, Nierman WC, Kim HS, Pritchard B, Jacobus CA, Bhatnagar D, Cleveland TE, Payne GA (2006) The aflatoxin pathway regulator AflR induces gene transcription inside and outside the aflatoxin biosynthetic cluster. FEMS Microbiol Lett 255(2):275–279

Rekoslavskaya N, Shvetsov SG, Markova T, Gamburg KZ (1992) Induction of N-malonyl-D-tryptophan by drought stress: Is D-tryptophan the only D-amino acid appeared in wilted leaves? Biol Plant 34(3–4):297–304

Richard JL, Payne GA (2003) Mycotoxins: risk in plant, animal, and human systems. Council for Agricultural Science and Technology, Ames

Roberts AN, Berlin V, Hager KM, Yanofsky C (1988) Molecular analysis of a Neurospora crassa gene expressed during conidiation. Mol Cell Biol 8(6):2411–2418

Scherm B, Palomba M, Serra D, Marcello A, Migheli Q (2005) Detection of transcripts of the aflatoxin genes aflD, aflO, and aflP by reverse transcription-polymerase chain reaction allows differentiation of aflatoxin-producing and non-producing isolates of Aspergillus flavus and Aspergillus parasiticus. Int J Food Microbiol 98(2):201–210

Smolen G, Bender J (2002) Arabidopsis cytochrome P450 cyp83B1 mutations activate the tryptophan biosynthetic pathway. Genetics 160(1):323–332

Soudry E, Ulitzur S, Gepstein S (2005) Accumulation and remobilization of amino acids during senescence of detached and attached leaves: in planta analysis of tryptophan levels by recombinant luminescent bacteria. J Exp Bot 56(412):695–702

Wilkinson HH, Ramaswamy A, Sim SC, Keller NP (2004) Increased conidiation associated with progression along the sterigmatocystin biosynthetic pathway. Mycologia 96(6):1190–1198

Wogan GN (1992) Aflatoxins as risk factors for hepatocellular carcinoma in humans. Cancer Res 52(7):2114s–2118s

Yelton MM, Hamer JE, de Souza ER, Mullaney EJ, Timberlake WE (1983) Developmental regulation of the Aspergillus nidulans trpC gene. Proc Natl Acad Sci USA 80(24):7576–7580

Yu J, Chang PK, Cary JW, Wright M, Bhatnagar D, Cleveland TE, Payne GA, Linz JE (1995) Comparative mapping of aflatoxin pathway gene clusters in Aspergillus parasiticus and Aspergillus flavus. Appl Environ Microbiol 61(6):2365–2371

Yu J, Bhatnagar D, Ehrlich KC (2002) Aflatoxin biosynthesis. Rev Iberoam Micol 19(4):191–200

Yu J, Bhatnagar D, Cleveland TE (2004a) Completed sequence of aflatoxin pathway gene cluster in Aspergillus parasiticus. FEBS Lett 564(1–2):126–130

Yu J, Chang PK, Ehrlich KC, Cary JW, Bhatnagar D, Cleveland TE, Payne GA, Linz JE, Woloshuk CP, Bennett JW (2004b) Clustered pathway genes in aflatoxin biosynthesis. Appl Environ Microbiol 70(3):1253–1262

Yu J, Whitelaw CA, Nierman WC, Bhatnagar D, Cleveland TE (2004c) Aspergillus flavus expressed sequence tags for identification of genes with putative roles in aflatoxin contamination of crops. FEMS Microbiol Lett 237(2):333–340
Acknowledgements
The authors wish to thank Janell Becker for her secretarial help and Danielle Roberts for her assistance with HPLC–UV–MS.
About this article
Cite this article
Wilkinson, J.R., Yu, J., Bland, J.M. et al. Amino acid supplementation reveals differential regulation of aflatoxin biosynthesis in Aspergillus flavus NRRL 3357 and Aspergillus parasiticus SRRC 143. Appl Microbiol Biotechnol 74, 1308–1319 (2007). https://doi.org/10.1007/s00253-006-0768-9
Received:

Revised:

Accepted:

Published:

Issue Date:
Keywords
Aflatoxin

Atmospheric Pressure Chemical Ionization

Aflatoxin Production

Aflatoxin Contamination

Aspergillus Parasiticus