Abstract
The tandem conversion process involving nitrile hydratase- and amidase-producing microorganisms has potential for use in the treatment of acetonitrile-containing wastes. In that process, the acetamide hydrolysis step catalyzed by amidase is very slow compared with the acetonitrile hydration step catalyzed by nitrile hydratase, and a small amount of acetamide remains in the resulting solution. This study aimed to improve the efficiency of the acetamide hydrolysis step. An amidase-producing microorganism, Rhodococcus sp. S13-4, was newly obtained, whose use enabled rapid acetamide degradation. Though residual acetamide was still detected, it was successfully reduced by the addition of cation/anion mixed ion exchange resin or calcium hydroxide after the acetamide hydrolysis reaction using Rhodococcus sp. S13-4 cells. This result implies that acetamide hydrolysis and acetamide formation are in equilibrium. The incubation of Rhodococcus sp. S13-4 cells with high concentrations of ammonium acetate produced acetamide. The purified amidase from Rhodococcus sp. S13-4 revealed the acetamide formation activity (specific activity of 30.6 U/mg protein). This suggests that the amidase-catalyzed amide formation may cause the remaining of acetamide in the acetonitrile conversion process.
This is a preview of subscription content, log in to check access.
Access options
Buy single article
Instant access to the full article PDF.
US$ 39.95
Price includes VAT for USA
Subscribe to journal
Immediate online access to all issues from 2019. Subscription will auto renew annually.
US$ 199
This is the net price. Taxes to be calculated in checkout.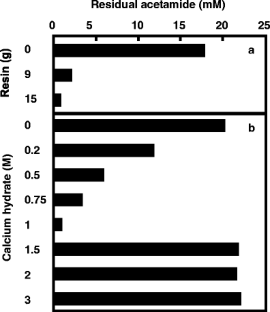 References
Arcos JA, Bernabé M, Otero C (1998) Quantitative enzymatic production of 6-O-acylglucose esters. Biotechnol Bioeng 57:505–509

Banerjee A, Sharma R, Banerjee UC (2002) The nitrile-degrading enzymes: current status and future prospects. Appl Microbiol Biotechnol 60:33–44

Bradford MM (1976) A rapid and sensitive method for the quantitation of microgram quantities of protein utilizing the principle of protein-dye binding. Anal Biochem 166:248–254

Fournand D, Bigey F, Arnaud A (1998) Acyl transfer activity of an amidase from Rhodococcus sp. strain R312: formation of a wide range of hydroxamic acids. Appl Environ Microbiol 64:2844–2852

Fruton JS (1982) Protease-catalyzed synthesis of peptide bonds. Adv Enzymol Relat Areas Mol Biol 53:239–306

Kobayashi M, Komeda H, Nagasawa T, Nishiyama M, Horinouchi S, Beppu T, Yamada H, Shimizu S (1993) Amidase coupled with low-molecular-mass nitrile hydratase from Rhodococcus rhodochrous J1. Sequencing and expression of the gene and purification and characterization of the gene product. Eur J Biochem 217:327–336

Kobayashi M, Goda M, Shimizu S (1999) Hydrazide synthesis: novel substrate specificity of amidase. Biochem Biophys Res Commun 256:415–418

Kobayashi T, Adachi S, Matsuno R (2003) Lipase-catalyzed condensation of p-methoxyphenethyl alcohol and carboxylic acids with different steric and electrical properties in acetonitrile. Biotechnol Lett 25:3–7

Kohyama E, Yoshimura A, Aoshima D, Yoshida T, Kawamoto H, Nagasawa T (2006) Convenient treatment of acetonitrile-containing wastes using the tandem combination of nitrile hydratase and amidase-producing microorganisms. Appl Microbiol Biotechnol 72:600–606

Kotlova EK, Chestukhina GG, Astaurova OB, Leonova TE, Yanenko AS, Debabov VG (1999) Isolation and primary characterization of an amidase from Rhodococcus rhodochrous. Biochemistry (Mosc) 64:384–389

Laemmli UK (1970) Cleavage of structural proteins during the assembly of the head of bacteriophage T4. Nature 227:680–685

Larios A, Garcia HS, Oliart RM, Valerio-Alfaro G (2004) Synthesis of flavor and fragrance esters using Candida antarctica lipase. Appl Microbiol Biotechnol 65:373–376

Thiery A, Maestracci M, Arnaud A, Galzy P, Nicolas M (1986) Purification and properties of an acrylamide amidohydrolase (E.C. 3.5.1.4) with a wide activity spectrum from Brevibacterium sp. R312. J Basic Microbiol 26:299–311
About this article
Cite this article
Kohyama, E., Dohi, M., Yoshimura, A. et al. Remaining acetamide in acetonitrile degradation using nitrile hydratase- and amidase-producing microorganisms. Appl Microbiol Biotechnol 74, 829–835 (2007). https://doi.org/10.1007/s00253-006-0738-2
Received:

Revised:

Accepted:

Published:

Issue Date:
Keywords
Ammonium Sulfate

Acetamide

Rhodococcus

Calcium Hydroxide

Nitrile Hydratase