Abstract
Fermented fruit and beverages frequently contain ethyl carbamate (EC), a potentially carcinogenic compound that can be formed by the reaction of urea with ethanol. Both are produced by the yeast Saccharomyces cerevisiae with ethanol as the major end product of hexose fermentation and urea as a by-product in arginine catabolism. In spirit production, EC can also be derived from cyanide introduced by stone fruit. To determine the relative contribution of yeast metabolism to EC production, we genetically engineered a diploid laboratory strain to reduce the arginase activity, thus blocking the pathway to urea production. For this purpose, strains with either a heterozygous CAR1/car1 deletion or a homozygous defect (car1/car1) were constructed. These strains were compared to the parental wild type and to an industrial yeast strain in cherry mash fermentations and spirit production. The strain with the homozygous car1 deletion showed a significant reduction of EC in the final spirits in comparison to the non-engineered controls. Nevertheless, using this strain for fermentation of stoneless cherry mashes did not completely impede EC formation. This indicates another, as yet unidentified, source for this compound.
This is a preview of subscription content, log in to check access.
Access options
Buy single article
Instant access to the full article PDF.
US$ 39.95
Price includes VAT for USA
Subscribe to journal
Immediate online access to all issues from 2019. Subscription will auto renew annually.
US$ 199
This is the net price. Taxes to be calculated in checkout.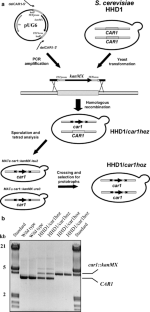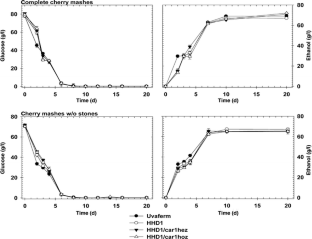 References
An D, Ough CS (1993) Urea excretion and uptake by wine yeasts as affected by various factors. Am J Enol Vitic 44:34–40

Aresta M, Boscolo M, Franco DW (2001) Copper(II) catalysis in cyanide conversion into ethyl carbamate in spirits and relevant reactions. J Agric Food Chem 49:2819–2824

Baumann U, Zimmerli B (1986) Gas chromatographic determination of urethane (ethyl carbamate) in alcoholic beverages. Mitt Geb Lebensmunters Hyg 77:327–332

Funch F, Lisbjerg S (1988) Analysis of ethyl carbamate in alcoholic beverages. Zeitschrift für Lebensmittel-Untersuchung und-Forschung 186:29–32

Green SM, Eisenstein E, McPhie P, Hensley P (1990) The purification and characterization of arginase from Saccharomyces cerevisiae. J Biol Chem 265:1601–1607

Güldener U, Heck S, Fielder T, Beinhauer J, Hegemann JH (1996) A new efficient gene disruption cassette for repeated use in budding yeast. Nucleic Acids Res 13:2519–2524

Kitamoto K, Oda K, Gomi K, Takahashi K (1991) Genetic engineering of a sake yeast producing no urea by successive disruption of arginase gene. Appl Environ Microbiol 57:301–306

Lachenmeier DW, Frank W, Kuballa T (2004) Application of tandem mass spectrometry combined with gas chromatography to the routine analysis of ethyl carbamate in stone-fruit spirits. Rapid Commun Mass Spectrom 19:108–112

Lachenmeier DW, Schehl B, Kuballa T, Frank W, Senn T (2005) Retrospective trends and current status of ethyl carbamate in German stone-fruit spirits. Food Addit Contam 22:397–405

Melzoch K, Hajslova J, Sitner V (1996) Ethyl carbamate in distillates: occurrence, formation and risk assessment. Zahradnictvi-UZPI 23:99–104

Messenguy F, Vierendeels F, Scherens B, Dubois E (2000) In Saccharomyces cerevisiae, expression of arginine catabolic genes CAR1 and CAR2, in response to exogenous nitrogen availability is mediated by the Ume6 (CargRI)-Sin3 (CargRII)-Rpd3 (CargRIII) complex. J Bacteriol 182:3158–3164

Mildau G, Preuß A, Frank W, Heering W (1987) Ethyl carbamate (urethane) in alcoholic beverages: improved analysis and light-dependent formation. Dtsch Lebensm-Rundsch 83:69–74

Monteiro FF, Trouosdale E, Bisson LF (1989) Ethyl carbamate formation in wine: use of radioactively labeled precursors to demonstrate the involvement of urea. Am J Enol Vitic 40:1–8

Ough CS (1976) Ethyl carbamate in fermented beverages and foods: I. Naturally occurring ethyl carbamate. J Agric Food Chem 24:323–328

Ough CS, Trioli G (1988) Urea removal from wine by an acid urease. Am J Enol Vitic 39:303–307

Ough CS, Crowell EA, Gutlove BR (1988) Carbamyl compound reactions with ethanol. Am J Enol Vitic 39:239–249

Ough CS, Stevens D, Sendovski T, Huang Z, An D (1990) Factors contributing to urea formation in commercially fermented wines. Am J Enol Vitic 41:68–73

Pieper HJ, Rau T, Eller T, Volz A (1987) Schnellmethode zur Bestimmung des Acetaldehyds unter besonderer Berücksichtigung der Qualitätskontrolle bei der Produktion von Obstbranntwein. Dtsch Lebensm-Rundsch 83:35–41

Pretorius IS (2000) Tailoring wine yeast for the new millenium: novel approaches to the ancient art of winemaking. Yeast 16:675–729

Robzyk K, Kassir Y (1992) A simple and highly efficient procedure for rescuing autonomous plasmids from yeast. Nucleic Acids Res 20:3790

Schehl B, Müller C, Senn T, Heinisch JJ (2004) A laboratory yeast strain suitable for spirit production. Yeast 21:1375–1389

Schehl B, Lachenmeier D, Senn T, Heinisch JJ (2005) Effect of the stone content on the quality of plum and cherry spirits produced from mash fermentations with commercial and laboratory yeast strains. J Agric Food Chem 53:8230–8238

Shima J, Sakata-Tsuda Y, Suzuki Y, Nakajima R, Watanabe H, Kawamoto S, Takano H (2003) Disruption of the CAR1 gene encoding arginase enhances freeze-tolerance of the commercial Baker's yeast Saccharomyces cerevisiae. Appl Environ Microbiol 69:715–718

Sumrada RA, Cooper TG (1984) Nucleotide sequence of the Saccharomyces cerevisiae arginase gene (CAR1) and its transcription under various physiological conditions. J Bacteriol 160:1078–1087

Walker GM (1998) Yeast—physiology and biotechnology. Wiley, West Sussex, England

Whitney PA, Magasanik B (1973) The induction of arginase in Saccharomyces cerevisiae. J Biol Chem 17:6197–6202

Wurzinger A, Bandion F (1985) Quantitative determination of total hydrocyanic acid in fruit distillates and fruit brandies. Mitt Klosterneuburg 35:42–44

Wurzinger A, Bandion F (1993) Detection and assessment of hydrocyanic acid in wine. Mitt Klosterneuburg 43:180–184

Yoshizawa K, Takahashi K (1988) Utilization of urease for urea decomposition in Sake. J Brew Soc Jpn 83:142–144

Zamenhoff S (1957) Preparation and assay of deoxyribonucleic acids from animal tissue. Methods Enzymol 3:702–704
Acknowledgements
We thank Bernadette Sander for technical assistance and Lucille Schmieding for language (English) editing. This work has been partially funded by grant DGI-SPAIN (BFU2004-02855-Co2-02) to RR.
About this article
Cite this article
Schehl, B., Senn, T., Lachenmeier, D.W. et al. Contribution of the fermenting yeast strain to ethyl carbamate generation in stone fruit spirits. Appl Microbiol Biotechnol 74, 843–850 (2007). https://doi.org/10.1007/s00253-006-0736-4
Received:

Revised:

Accepted:

Published:

Issue Date:
Keywords
Fermentation

Saccharomyces

Yeast

Spirit

Ethyl carbamate