Abstract
To develop an efficient way to produce S-adenosylmethionine (SAM), methionine adenosyltransferase gene (mat) from Streptomyces spectabilis and Vitreoscilla hemoglobin gene (vgb) were coexpressed intracellularly in Pichia pastoris, both under control of methanol-inducible promoter. Expression of mat in P. pastoris resulted in about 27 times higher specific activity of methionine adenosyltransferase (SMAT) and about 19 times higher SAM production relative to their respective control, suggesting that overexpression of mat could be used as an efficient method for constructing SAM-accumulating strain. Under induction concentration of 0.8 and 2.4% methanol, coexpression of vgb improved, though to different extent, cell growth, SAM production, and respiratory rate. However, the effects of VHb on SAM content (specific yield of SAM production) and SMAT seemed to be methanol concentration-dependent. When cells were induced with 0.8% methanol, no significant effects of VHb expression on SAM content and specific SMAT could be detected. When the cells were induced with 2.4% methanol, vgb expression increased SAM content significantly and depressed SMAT remarkably. We suggested that under our experimental scheme, the presence of VHb might improve ATP synthesis rate and thus improve cell growth and SAM production in the recombinant P. pastoris.
This is a preview of subscription content, log in to check access.
Access options
Buy single article
Instant access to the full article PDF.
US$ 39.95
Price includes VAT for USA
Subscribe to journal
Immediate online access to all issues from 2019. Subscription will auto renew annually.
US$ 199
This is the net price. Taxes to be calculated in checkout.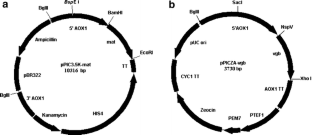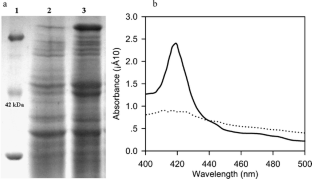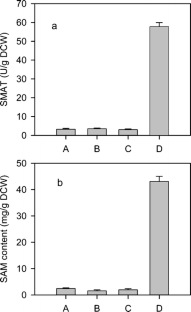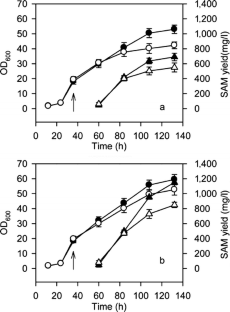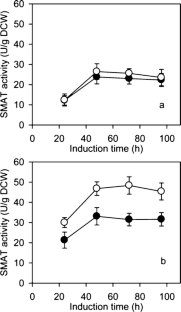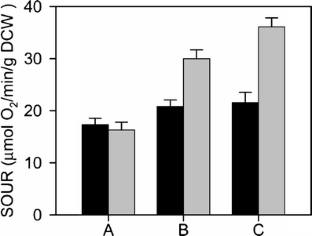 References
Bhave SL, Chattoo BB (2003) Expression of Vitreoscilla hemoglobin improves growth and levels of extracelluar enzyme in Yarrowia Lipolytica. Biotechnol Bioeng 84:658–666

Cereghino JL, Cregg JM (2000) Heterologous protein expression in the methylotrophic yeast Pichia pastoris. FEMS Microbiol Rev 24:45–66

Chen R, Bailey JE (1994) Energetic effect of Vitreoscilla hemoglobin expression in Escherichia coli: an on-line 31P NMR and saturation transfer study. Biotechnol Prog 10:360–364

Chen W, Hughes DE, Bailey JE (1994) Intracellular expression of Vitreoscilla hemoglobin alters the aerobic metabolism of Saccharomyces cerevisiae. Biotechnol Prog 10:308–313

Cregg JM, Barringer KJ, Hessler AY (1985) Pichia pastoris as a host system for transformations. Mol Cell Biol 5:3376–3385

Dikshit KL, Webster DA (1988) Cloning, characterization, and expression of the bacterial globing gene from Vitreoscilla in Escherichia coli. Gene 70:377–386

Friedel HA, Goa KL, Benfield P (1989) S-adenosyl-L-methionine. A review of its pharmacological properties and therapeutic potential in liver dysfunction and affective disorders in relation to its physiological role in cell metabolism. Drugs 38:389–416

Geckil H, Gencer S (2004) Production of L-asparaginase in Enterobacter aerogenes expressing Vitreoscilla hemoglobin for efficient oxygen uptake. Appl Microbiol Biotechnol 63:691–697

Hu XQ, Chu J, Zhang SL, Zhuang YP, Wang YH, Zhu S, Zhu ZG, Yuan ZY (2006) A novel feeding strategy during the production phase for enhancing the enzymatic synthesis of S-adenosyl-L-methionine by methylotrophic Pichia pastoris. Enzyme Microb Technol (in press) DOI https://doi.org/10.1016/j.enzmictec.2006.05.024

Kallio PT, Kim DJ, Tsai PS, Bailey JE (1994) Intracellular expression of Vitreoscilla hemoglobin alters Escherichia coli energy metabolism under oxygen-limited conditions. Eur J Biochem 219:201–208

Li DY, Yu J, Tian L, Ji XS, Yuan ZY (2002) Production of SAM by recombinant Pichia pastoris. Chin J Biotechnol 3:295–299

Lu SC (2000) S-Adenosylmethionine. Int J Biochem Cell Biol 32:391–395

Mato JM, Alvarez L, Ortiz P, Pajares MA (1997) S-adenosylmethionine synthesis: molecular mechanisms and clinical implications. Pharmacol Ther 73:265–280

Minas W, Brunker P, Kallio PT, Bailey JE (1998) Improved erythromycin production in a genetically engineered industrial strain of Saccharopolyspora erythraea. Biotechnol Prog 14:561–566

Ramirez M, Valderrama B, Arredondo-Peter R, Soberon M, Mora J, Herandez G (1999) Rhizobium etli genetically engineered for the heterologous expression of Vitreoscilla sp. haemoglobin: effects on free living and symbiosis. Mol Plant-Microb Interact 12:1008–1015

Shiozaki S, Shimizu S, Yamada H (1984) Unusual intracellular accumulation of S-adenosyl-L-methionine by microorganisms. Agric Biol Chem 48:2293–2300

Shiozaki S, Shimizu S, Yamada H (1989) S-adenosyl-L-methionine production by Saccharomyces sake: optimization of the culture conditions for the production of cells with a high S-adenosyl-L-methionine content. Agric Biol Chem 53:3269–3274

Shobayashi M, Mukai N, Iwashita K, Hiraga Y, Iefuji H (2005) A new method for isolation of S-adenosylmethionine (SAM)-accumulating yeast. Appl Microbiol Biotechnol 69:704–710

Tsai PS, Hatzimanikatis V, Bailey JE (1995) Effect of Vitreoscilla hemoglobin dosage on microaerobic Escherichia coli carbon and energy metabolism. Biotechnol Bioeng 49:139–150

Tsai PS, Nägeli M, Bailey JE (2002) Intracellular expression of Vitreoscilla hemoglobin modifies microaerobic Escherichia coli metabolism through elevated concentration and specific activity of cytochrome o. Biotechnol Bioeng 79:558–567

Urgun-Demirtas M, Pagilla KR, Stark B (2004) Enhanced kinetics of genetically engineered Burkholderia cepacia: role of vgb in the hypoxic cometabolism of 2-CBA. Biotechnol Bioeng 87:110–118

Wagner J, Danzin C, Huot-Olivier S, Claverie N, Palfreyman MG (1984) High performance liquid chromatographic analysis of S-adenosylmethionine and its metabolites in rat tissues: interrelationship with changes in biogenic catechol levels following treatment with L-dopa. J Chromatogr 290:247–262

Zhu S, Chu J, Hu XQ, Zhuang YP, Zhang SL, Yuan ZY (2006) Medium optimization for S-adenosyl-L-methionine production by recombinant Pichia pastoris using statistically-based experimental design. High Technol Communication 16:181–186
Acknowledgements
We are grateful to National High Technology Research and Development Program of China (863 Program) (No. 2002AA217021; 2002AA2Z3451) for their financial supports to this research. We are also grateful to Prof. Y Gong (Shanghai Research Center of Biotechnology) for supplying plasmid of pIOK-vgb.
About this article
Cite this article
Chen, H., Chu, J., Zhang, S. et al. Intracellular expression of Vitreoscilla hemoglobin improves S-adenosylmethionine production in a recombinant Pichia pastoris . Appl Microbiol Biotechnol 74, 1205–1212 (2007). https://doi.org/10.1007/s00253-006-0705-y
Received:

Revised:

Accepted:

Published:

Issue Date:
Keywords
S-adenosylmethionine
Vitreoscilla hemoglobin
Pichia pastoris

Methionine adenosyltransferase