Abstract
A monomeric mannose/glucose-binding lectin, with a molecular mass of 29.5 kDa and an N-terminal sequence GQRELKL showing resemblance to that of the lectin-like oxidized low-density lipoprotein receptor from the rabbit, has been isolated from the seeds of red cluster pepper Capsium frutescens L. var. fasciculatum. The protocol involved anion exchange chromatography on diethylamino ethanol-cellulose and Q-Sepharose and fast protein liquid chromatography on Mono Q. Its hemagglutinating activity toward rabbit erythrocytes was inhibited by d-mannose and glucose, specifically. The activity was stable from 0 to 40°C, reached a maximum at pH 7 and 8, and was potentiated by Ca2+ and Mn2+ ions. The lectin showed strong mitogenic activity toward spleen cells isolated from BALB/c mice. The mitogenic activity, which reached a peak at a lectin concentration of 0.27 μM, was inhibited specifically by d(+)-mannose. The lectin was capable of inhibiting the germination of Aspergillus flavus and Fusarium moniliforme spores and hyphal growth in the two fungi.
This is a preview of subscription content, log in to check access.
Access options
Buy single article
Instant access to the full article PDF.
US$ 39.95
Price includes VAT for USA
Subscribe to journal
Immediate online access to all issues from 2019. Subscription will auto renew annually.
US$ 199
This is the net price. Taxes to be calculated in checkout.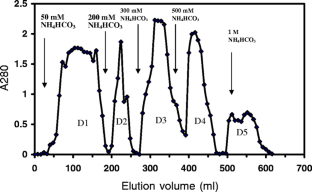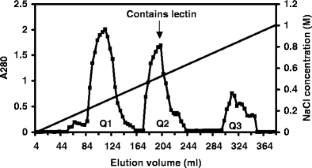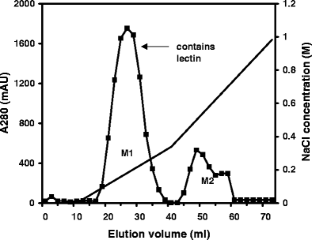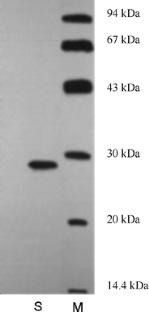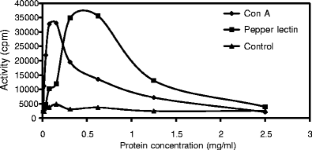 References
Agrawal BB, Goldstein IJ (1967) Physical and chemical characterization of concanavalin A, the hemagglutinin from jack bean (Canavalia ensiformis). Biochim Biophys Acta 33:376–379

Broekaert WF, Van Parijs J, Leyn F, Joos H, Peumans W (1998) A chitin-binding lectin from stinging rettle rhizomes with antifungal properties. Science 245:1100–1102

Elfstrand M (1898) Uber blutkorperchenagglutinierende Eiweisse. Gorberdorfer Veroffentlichungen. In: Kobert R (ed) Band I, pp 1–159

Gozia O, Ciopraga J, Bentia T, Lunga M, Zamfirescu I, Tudor R, Roseanu A, Nitu F (1993) Antifungal properties of lectin and new chitinases from potato tubers. FEBS Lett 370:245–249

Inamori K, Saito T (1999) A newly identified horseshoe crab lectin with specificity for blood group A antigen recognizes specific O-antigens of bacterial lipopolysaccharides. J Biol Chem 274:3272–3278

Knibbs RN, Goldstein IJ, Patcliffe RM, Shibuya N (1991) Characterization of the carbohydrate binding specificity of the leukoagglutinating lectin from Maakia amurensis. Comparison with other sialic acid-specific lectins. J Biol Chem 266:83–88

Laemmli UK, Favre M (1993) Gel electrophoresis of proteins. J Mol Biol 80:573–599

Lam YW, Ng TB (2001) A monomeric mannose-binding lectin from inner shoots of the edible chive (Allium tuberosum). J Protein Chem 20:361–366

Leteux C, Chai W (2000) The cysteine-rich domain of the macrophage mannose receptor is a multispecific lectin that recognizes chondroitin sulfates A and B and sulfated oligosaccharides of blood group Lewis(a) and Lewis(x) types in addition to the sulfated N-glycans of lutropin. J Exp Med 191:1117–1126

Machuka JS, Oladapo G (2000) The African yam bean seed lectin affects the development of the cowpea weevil but does not affect the development of larvae of the legume pod borer. Phytochemistry 53:667–674

Nomura K, Ashida H, Uemura N, Kushibe S, Ozaki T, Yoshida M (1998) Purification and characterization of a mannose/glucose-specific lectin from Castanea crenata. Phytochemistry 49:667–673

Ooi LS, Ng TB, Geng Y, Ooi VE (2000) Lectins from bulbs of the Chinese daffodil Narcissus tazetta (family Amaryllidaceae). Biochem Cell Biol 78:463–468

Pusztai AP (1991) Plant lectins, vol 1. Chemistry and pharmacology of natural products. Cambridge University Press, Cambridge

Renkonnen KO (1948) Studies on hemagglutinins present in seeds of some representatives of Leguminoseae. Ann Med Exp Biol Fenn 26:66–72

Singh Bains J, Singh J, Kamboj SS, Nijar KK, Agrewale JN, Kumar V, Kumar A, Saxena AK (2005) Mitogenic and anti-proliferative activity of a lectin from the tubers of Voodoo lily (Sauromatum venosum). Biochim Biophys Acta 1723:163–174

Stillmark H (1888) Uber Ricin ein giftiges Ferment aus den Samen von Ricinus communis L. und einige anderen Euphorbiaceen. Inaugural Dissertation Dorpat, Tartu

Szolcsanyi J, Bartho L (2001) Capsaicin-sensitive afferents and their role in gastroprotection: an update. J Physiol Paris 95:181–188

Tateno H, Saneyoshi A, Ogawa T, Muramoto K, Kamiya H, Saneyoshi M (1998) Isolation and characterization of rhamnose-binding lectins from eggs of steelhead trout (Oncorhynchus mykiss) homologous to low density lipoprotein receptor superfamily. J Biol Chem 273:19190–19197

Van Damme JM, Smeets K, Torrekens S, Van Leuven F, Peumans WJ (1994) Characterization and molecular cloning of mannose-binding lectins from the Orchidaceae species Listera ovata, Epipactis helleborine and Cymbidium hybrid. Eur J Biochem 221:769–777

Wang HX, Liu WK, Ng TB, Ooi VE, Chang ST (1996) The immunomodulatory and antitumor activities of lectins from the mushroom Tricholoma mongolicum. Immunopharmacology 31:205–211

Wang H, Gao J, Ng TB (2000) A new lectin with highly potent antihepatoma and antisarcoma activities from the oyster mushroom Pleurotus ostreatus. Biochem Biophys Res Commun 275:810–816

Ye XY, Ng TB, Tsang PW, Wang J (2001) Isolation of a homodimeric lectin with antifungal and antiviral activities from red kidney bean (Phaseolus vulgaris) seeds. J Protein Chem 20:367–375

Yu LG, Milton JD, Fernig DG (2001) Opposite effects on human colon cancer cell proliferation of two dietary Thomsen–Friedenreich antigen-binding lectins. J Cell Physiol 186:282–287
Acknowledgments
The award of a direct grant by the Medicine Panel, Chinese University of Hong Kong Research Committee and the skilled secretarial assistance of Ms. Fion Yung, Ms. Grace Chan, and Ms. Christine Chung are gratefully acknowledged.
About this article
Cite this article
Ngai, P.H.K., Ng, T.B. A lectin with antifungal and mitogenic activities from red cluster pepper (Capsicum frutescens) seeds. Appl Microbiol Biotechnol 74, 366–371 (2007). https://doi.org/10.1007/s00253-006-0685-y
Received:

Revised:

Accepted:

Published:

Issue Date:
Keywords
Lectin

Antifungal

Red pepper

Seeds