Abstract
Formate oxidase was found in cell-free extracts of Debaryomyces vanrijiae MH201, a soil isolate. After purification by column chromatography, the preparation showed a protein band corresponding to a molecular mass (MM) of 64 kDa on sodium dodecyl sulfate–polyacrylamide gel electrophoresis. The MM, estimated by a gel filtration, was 99 kDa. The preparation showed two and three bands on isoelectric focusing under denaturing and native conditions, respectively. These results suggest that the preparation contained three isoforms, each of which might be composed of αα, αβ, and ββ subunits with apparently similar MM. The preparation acted on formate with K m and V max values of 11.7 mM and 262 μmol min−1 mg−1, respectively, at pH 4.5 and 25°C, but showed no evidence of activity on the other compounds tested. The optimum pH and temperature were pH 4.0 and 35°C, respectively. The preparation showed activities of 85% of the initial activity after storage at pH 6.0 and 4°C for 8 weeks. When 10 mM formaldehyde was reacted with 2.0 U ml−1 of the enzyme preparation at pH 5.5 and room temperature in the presence of 2.0 U ml−1 of a microbial aldehyde oxidase and 100 U ml−1 of catalase for 180 min, neither of formate nor formaldehyde was detected, suggesting that the reaction involved the quantitative conversion of formaldehyde to carbon dioxide.
This is a preview of subscription content, log in to check access.
Access options
Buy single article
Instant access to the full article PDF.
US$ 39.95
Price includes VAT for USA
Subscribe to journal
Immediate online access to all issues from 2019. Subscription will auto renew annually.
US$ 199
This is the net price. Taxes to be calculated in checkout.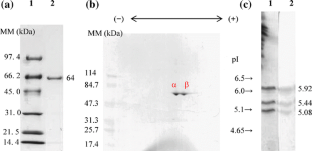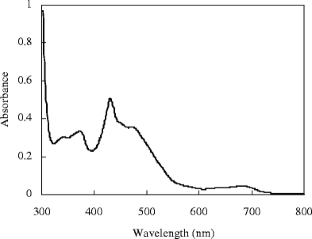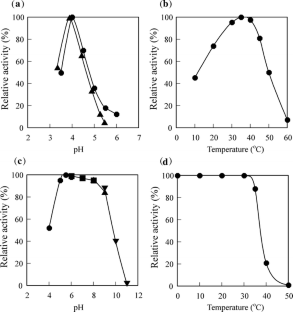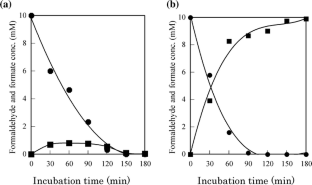 References
Aggelis G, Margariti N, Kralli C, Flouri F (2000) Growth of Candida boidinii on methanol and the activity of methanol-degrading enzymes as affected from formaldehyde and methylformate. J Biotechnol 80:119–125

Beers RF, Sizer IW (1952) A spectrophotometric method for measuring the breakdown of hydrogen peroxide by catalase. J Biol Chem 195:276–287

Bradford MM (1967) A rapid and sensitive method for the quantification of microgram quantities of protein utilizing the principle of protein-dye binding. Anal Biochem 72:248–254

Feron VJ, Til HP, de Vrijer F, Woutersen RA, Cassee FR, van Bladeren PJ (1991) Aldehydes: occurrence, carcinogenic potential, mechanism of action and risk assessment. Mutat Res 259:363–385

Ferry JG (1990) Formate dehydrogenase. FEMS Microbiol Rev 87:377–382

Kondo T, Morikawa Y, Hayashi N, Kitamoto N (2002) Purification and characterization of formate oxidase from a formaldehyde-resistant fungus. FEMS Microbiol Lett 214:137–142

Laemmli UK (1970) Cleavage of structural proteins during the assembly of the head of bacteriophage T4. Nature 227:680–685

Manuel J (1999) Healthy home environment? Environ Health Perspect 107:352–357

Morris JB (1997) Dosimetry, toxicity, and carcinogenicity of inspired acetaldehyde in the rat. Mutat Res 380:113–124

Popov VO, Lamzin VS (1994) NAD+-dependent formate dehydrogenase. Biochem J 301:625–643

Sakai Y, Murdanoto PM, Konishi T, Iwamatsu A, Kato N (1997) Regulation of the formate dehydrogenase gene, in the methylotrophic yeast Candida boidinii and growth characteristics of an FDH1-disrupted strain on methanol, methylamine, and choline. J Bacteriol 179:4480–4485

Sakai Y, Tani Y, Kato N (1999) Biotechnological application of cellular functions of the methylotrophic yeast. J Mol Catal B Enzym 6:161–173

Uchida H, Kondo D, Yamashita A, Nagaosa Y, Sakurai T, Fujii Y, Fujishiro K, Aisaka K, Uwajima T (2003) Purification and characterization of an aldehyde oxidase from Pseudomonas sp. KY4690. FEMS Microbiol Lett 229:31–36

Uchida H, Fukuda T, Satoh Y, Okamura Y, Toriyama A, Yamashita A, Aisaka K, Sakurai T, Nagaosa Y, Uwajima T (2005) Characterization and potential application of purified aldehyde oxidase from Pseudomonas stutzeri IFO12695. Appl Microbiol Biotechnol 68:53–56

Xu F, Shin W, Brown SH, Wahleithner JA, Sundaram UM, Solomon EI (1996) A study of a series of recombinant fungal laccases and bilirubin oxidase that exhibit significant differences in redox potential, substrate specificity, and stability. Biochim Biophys Acta 1292:303–311

Yasuhara Y, Akiba-Goto M, Fujishiro K, Uchida H, Uwajima T, Aisaka K (2002) Production of aldehyde oxidases by microorganisms and their enzymatic properties. J Biosci Bioeng 94:124–129
About this article
Cite this article
Uchida, H., Hojyo, M., Fujii, Y. et al. Purification, characterization, and potential applications of formate oxidase from Debaryomyces vanrijiae MH201. Appl Microbiol Biotechnol 74, 805–812 (2007). https://doi.org/10.1007/s00253-006-0638-5
Received:

Revised:

Accepted:

Published:

Issue Date:
Keywords
Formate oxidase

Debaryomyces vanrijiae

Formaldehyde

Carbon dioxide

Catalase