Abstract
The plant pathogenic fungus Aspergillus flavus produces several types of mycotoxins. The most well known are the carcinogenic compounds called aflatoxins. In addition, A. flavus produces cyclopiazonic acid and aflatrem mycotoxins, contributing to the toxicity of A. flavus infected crops. Cyclopiazonic acid is a specific inhibitor of calcium-dependent ATPase in the sarcoplasmic reticulum that results in altered cellular Ca++ levels. Aflatrem is a potent tremorgenic mycotoxin known to lead to neurological disorders. Previously we showed that a gene called veA controls aflatoxin and sclerotial production in A. parasiticus. In this study in A. flavus, we show that the veA homolog in A. flavus not only is necessary for the production of aflatoxins B1 and B2 and sclerotia, but also regulates the synthesis of the mycotoxins cyclopiazonic acid and aflatrem. The A. flavus ΔveA mutant was completely blocked in the production of aflatrem and showed greater than twofold decrease in cyclopiazonic acid production. The genes involved in the synthesis of cyclopiazonic acid are unknown; however, the aflatrem gene cluster has been characterized. Northern hybridization analysis showed that veA is required for expression of the A. flavus aflatrem genes atmC, atmG, and atmM. This is the first report of a regulatory gene governing the production of cyclopiazonic acid and aflatrem mycotoxins.
This is a preview of subscription content, log in to check access.
Access options
Buy single article
Instant access to the full article PDF.
US$ 39.95
Price includes VAT for USA
Subscribe to journal
Immediate online access to all issues from 2019. Subscription will auto renew annually.
US$ 199
This is the net price. Taxes to be calculated in checkout.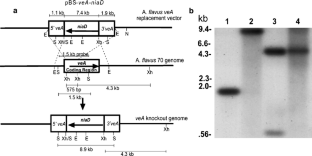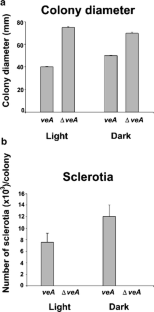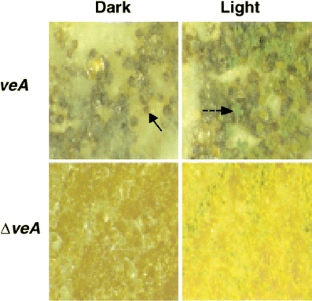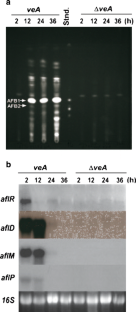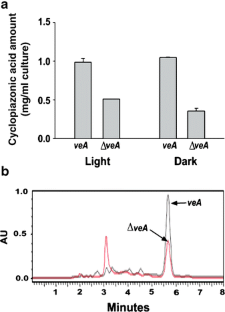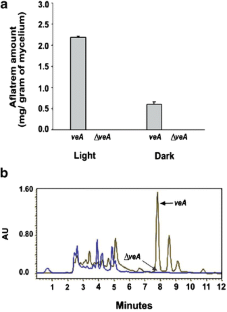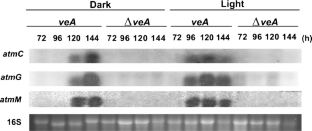 References
Adams TH, Wieser JK, Yu JH (1998) Asexual sporulation in Aspergillus nidulans. Microbiol Mol Biol Rev 62:35–54

Blout WP (1961) Turkey disease. Turkeys 9:52, 55–58, 61, 77

Bok JW, Keller NP (2004) LaeA, a regulator of secondary metabolism I Aspergillus. Eukaryot Cell 3:527–535

Bok JW, Hossmeister D, Maggio-Hall LA, Murillo R, Glasner JD, Keller NP (2006) Genomic mining for Aspergillus natural products. Chem Biol 1:31–37

Calvo AM, Wilson RA, Bok JW, Keller NP (2002) Relationship between secondary metabolism and fungal development. Microbiol Mol Biol Rev 66:447–459

Calvo AM, Bok J, Brooks W, Keller NP (2004) veA is required for toxin and sclerotial production in Aspergillus parasiticus. Appl Environ Microbiol 70:4733–4739

Cary JW, Ehrlich KC, Bland JM, Montalbano BG (2005) The aflatoxin biosynthesis cluster gene, aflX, encodes an oxidoreductase involved in conversion of vesicolorin A to demethylsterigmatocystin. Appl Environ Microbiol 72:1096–1101

Cleveland TE, Bhatnagar D, Foell CJ, McCormick SP (1987) Conversion of a new metabolite to aflatoxin B2 by Aspergillus parasiticus. Appl Environ Microbiol 53:2804–2807

Cole RJ, Hill RA, Blankenship PD, Sanders TH (1986) Color mutants of Aspergillus flavus and Aspergillus parasiticus in a study of preharvest invasion of peanuts. Appl Environ Microbiol 52:1128–1131

Coley-Smith JR, Cooke RC (1971) Survival and germination of fungal sclerotia. Annu Rev Phytopathol 9:65–92

Denissenko MF, Cahill J, Koudriakova TB, Gerber N, Pfeifer GP (1999) Quantitation and mapping of aflatoxin i DNA damage in genomic DNA using aflatoxin B1-8,9-epoxide and microsomal activation systems. Mutat Res 425:205–211

Dorner JW, Cole RJ, Lomax LG, Gosser HS, Diener UL (1983) Cyclopiazonic acid production by Aspergillus flavus and its effects on broiler chickens. Appl Environ Microbiol 46:698–703

Dvorackova I, Kusak V (1990) Hepatocellular carcinoma (a 28-year necropsy review). J Environ Pathol Toxicol Oncol 10:220–224

Geiser DM, Timberlake WE, Arnold ML (1996) Loss of meiosis in Aspergillus. Mol Biol Evol 13:809–817

Goldblatt L (1969) Aflatoxin: scientific background, control, and implications. Academic, New York, NY

Horn BW, Dorner JW (1999) Regional differences in production of aflatoxin B1 and cyclopiazonic acid by soil isolates of Aspergillus flavus along a transect within the United States. Appl Environ Microbiol 4:1444–1449

Horng JS, Chang PK, Pestka JJ, Linz JE (1990) Development of a homologous transformation system for Aspergillus parasiticus with the gene encoding nitrate reductase. Mol Gen Genet 224:294–296

Kato N, Brooks W, Calvo AM (2003) The expression of sterigmatocystin and penicillin genes in Aspergillus nidulans is controlled by veA, a gene required for sexual development. Eukaryot Cell 2:1178–1186

Keller NP, Turner G, Bennet JW (2005) Fungal secondary metabolism—from biochemistry to genomics. Nat Rev Microbiol 12:937–947

Kim H, Han K, Kim K, Han D, Jahng K, Chae K (2002) The veA gene activates sexual development in Aspergillus nidulans. Fungal Genet Biol 37:72–80

Krappmann S, Bayram O, Braus GH (2005) Deletion and allelic exchange of Aspergillus fumigatus veA locus via a novel recyclable marker module. Eukaryot cell 4:1298–1307

Lansden JA, Davidson JI (1983) Occurrence of cyclopiazonic acid in peanuts. Appl Environ Microbiol 45:766–769

Lasky T, Magder L (1997) Hepatocellular carcinoma p53 G>T transversions at codon 249: the fingerprint of aflatoxin exposure? Environ Health Perspect 105:392–397

Malloch D, Cain RF (1972) The Trichocomataceae: ascomycetes with Aspergillus, Paecilomyces and Penicillium imperfect states. Can J Bot 50:2613–2628

McMillan LK, Carr RL, Young CA, Astin JW, Lowe RGT, Parker EJ, Jameson GB, Finch SC, Miles CO, McManus OB, Chmalhofer WA, Garcia L, Kaczorowski GJ, Goetz MA, Tkacz JS, Scott B (2003) Molecular analysis of two cytochrome P450 monooxygenase genes required for paxilline biosynthesis in Penicillium paxilli and effects of paxilline intermediates on mammalian maxi-K ion channels. Mol Genet Genomics 270:9–23

Norred WP, Porter JK, Doner JW, Cole RJ (1988) Occurrence of the mycotoxin cyclopiazonic acid in meat after oral administration to chickens. J Agric Food Chem 36:113–116

Payne GA, Brown MP (1998) Genetics and physiology of aflatoxin biosynthesis. Annu Rev Phytopathol 36:329–362

Pitt JI, Cruickshank RH, Leistner L (1986) Penicillium commune, P. camembertii, the origin of white cheese mould, and the production of cyclopiazonic acid. Food Microbiol 3:363–371

Porter JK, Norred WP, Cole RJ, Dorner JW (1988) Neurochemical effects of cyclopiazonic acid in chickens. Proc Soc Exp Biol Med 187:335–340

Purchase IFH (1971) The acute toxicity of the mycotoxin cyclopiazonic acid to rats. Toxicol Appl Pharmacol 18:114–123

Richard JL, Payne GA (2003) Mycotoxins: risks in plant, animal and human health. CAST Report 139. Council for Agricultural Science and Technology, p 199

Riley RT, Goeger DE (1992) Cyclopiazonic acid: speculations on its function in fungi. In: Bhatnagar D, Lillehoj EB, Arora DK (eds) Handbook of applied mycology. Mycotoxins in ecological systems. Marcel Dekker, New York, NY, pp 5:385–402

Riley J, Mandel HG, Sinha S, Judah DJ, Neal GE (1997) In vitro activation of the human Harvey-ras proto-oncogene by aflatoxin B1. Carcinogenesis 18:905–910

Sambrook J, Fritsch EF, Maniatis T (1989) Molecular cloning: a laboratory manual, 2nd edn. Cold Spring Harbor Laboratory, Cold Spring Harbor, NY

Shen HM, Ong CN (1996) Mutations of the p53 tumor suppressor gene and ras oncogenes in aflatoxin hepatocarcinogenesis. Mutat Res 366:23–44

Sobolev VS, Horn BW, Dorner JW, Cole RJ (1998) Liquid chromatographic determination of major secondary metabolites produced by Aspergillus species from section Flavi. J AOAC Int 81:57–60

Sweeney MJ, Dobson AD (1999) Molecular biology of mycotoxin biosynthesis. FEMS Microbiol Lett 175:149–163

Trail F, Mahanti N, Linz JE (1995) Molecular biology of aflatoxin biosynthesis. Microbiology 141:755–765

Urano T, Trucksess MW, Beaver RW, Wilson DM, Dorner JW, Dowell FE (1992) Co-occurrence of cyclopiazonic acid and aflatoxins in corn and peanuts. J AOAC Int 75:838–841

Valdes JJ, Cameron JE, Cole RJ (1985) Aflatrem: a tremorgenic mycotoxin with acute neurotoxic effects. Environ Health Perspect 62:459–463

Wang JS, Groopman JD (1999) DNA damage by mycotoxins. Mutat Res 424:167–181

Wicklow DT (1987) Survival of Aspergillus flavus sclerotia in soil. Trans Br Mycol Soc 89:131–134

Wogan GN, Househam KC, Hundt HK (1992) Aflatoxins as risk factors for hepatocellular carcinoma in humans. Aflatoxin exposure and its relationship to kwashiorkor in African children. Cancer Res 52:2114–2118

Woloshuk CP, Yousibova GL, Rollins JA, Bhatnagar D, Payne GA (1995) Molecular characterization of the afl-1 locus in Aspergillus flavus. Appl Environ Microbiol 61:3019–3023

Wu F (2004) Mycotoxin risk assessment for the purpose of setting international regulatory standards. Environ Sci Technol 38:4049–4055

Yabe K, Nakajima H (2004) Enzyme reactions and genes in aflatoxin biosynthesis. Appl Microbiol Biotechnol 64:745–755

Yager LN (1992) Early developmental events during sexual and asexual sporulation in Aspergillus nidulans. Biotechnology 23:19–41

Yao I, Peter AB, Baur R, Sigel E (1988) The tremorigen aflatrem is a positive allosteric modulator of γ-aminobutyric acid A receptor channel expressed in Xenopus oocytes. Mol Pharmacol 35:319–323

Yu J, Chang PK, Ehrlich KC, Cary JW, Bhatnagar D, Cleveland TE, Payne GA, Linz JE, Woloshuk CP, Bennett JW (2004) Clustered pathways genes in aflatoxin biosynthesis. Appl Environ Microbiol 70:1253–1262

Zhang S, Monahan JB, Tkacz JS, Berry S (2004) Indole diterpene gene cluster from Aspergillus flavus. Appl Environ Microbiol 70:6875–6883
Acknowledgements
A.M.C. and J.W.C. thank Jan Tkacz and Mike Goetz from Merck Co. for providing the aflatrem standard. A.M.C. gratefully acknowledges John Mitchell for his suggestions for the chemical analysis and Barry Scott for his useful comments on aflatrem-inducing cultures. J.W.C. gratefully acknowledges Pam Harris and Jolie Bonanno for their technical support.
About this article
Cite this article
Duran, R.M., Cary, J.W. & Calvo, A.M. Production of cyclopiazonic acid, aflatrem, and aflatoxin by Aspergillus flavus is regulated by veA, a gene necessary for sclerotial formation. Appl Microbiol Biotechnol 73, 1158–1168 (2007). https://doi.org/10.1007/s00253-006-0581-5
Received:

Revised:

Accepted:

Published:

Issue Date:
Keywords
Aspergillus flavus

Cyclopiazonic acid

Aflatrem

Aflatoxin

Sclerotia

Mycotoxin regulation