Abstract
In this study, the kinetic behaviors between n-butyl acetate and composite bead were investigated. Both microbial growth rate and biochemical reaction rate would be inhibited with increasing average inlet concentration. The order of the inhibitive effect, which resulted from increased average inlet concentration for four operation temperatures, was 30>35>40>25 °C. Both microbial growth rate and biochemical reaction rate would be enhanced and inhibited with increasing operation temperature in the operation temperature ranges of 25 to 30 and 30 to 40 °C, respectively. The enhancing and inhibitive effects resulting from increased operation temperature were the most pronounced at the average inlet concentration of 200 ppm. The values of maximum reaction rate V m and half-saturation constant K s ranged from 0.011 to 0.047 g C h−1 kg−1 packed material and from 19.30 to 62.40 ppm, respectively. The zero-order kinetic with the diffusion rate limitation could be regarded as the most adequate biochemical reaction kinetic model. The values of maximum elimination capacity ranged from 0.51 to 0.20 g C h−1 kg−1 packed material, and the optimal maximum elimination capacity of biofilter occurred at the operation temperature of 30 °C.
This is a preview of subscription content, log in to check access.
Access options
Buy single article
Instant access to the full article PDF.
US$ 39.95
Price includes VAT for USA
Subscribe to journal
Immediate online access to all issues from 2019. Subscription will auto renew annually.
US$ 199
This is the net price. Taxes to be calculated in checkout.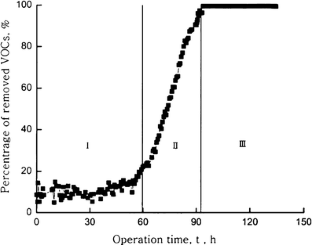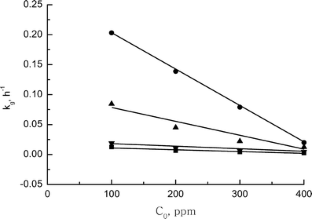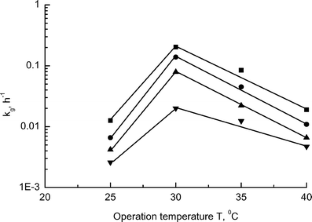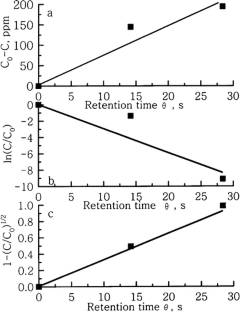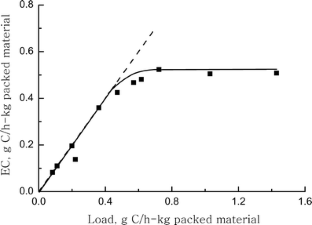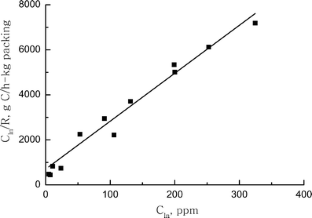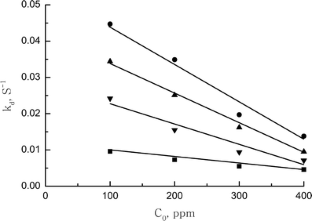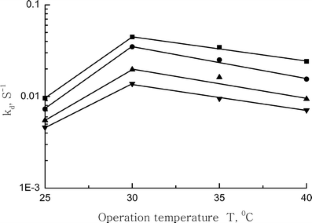 References
Bohn HL (1993) Biofiltration: design principles and pitfalls. Proceedings of the 86th annual meeting & exhibition of the air & waste management association, Denver, CO, 14–18 June 1993

Carlson DA, Leiser CP (1966) Soil beds for the control of sewage odors. Res J Water Pollut Control Fed 38:829–840

Chan WC, Lin ZY (2004) The mechanism of nutrients dissolved out of a synthetic composite bead filter material in a biofilter. Bioprocess Biosyst Eng 26:223–230

Chan WC, Chang LY (2005) Kinetic behaviors between acetone and composite bead in biofilter. Appl Microbiol Biotechnol (in press). DOI 10.1007/s00253-005-0236-y

Deviney JS, Deshusses MA, Webster T (1999) Biofiltration for air pollution control. Lewis Publishers, New York

Ergas SJ (1994) Spatial distribution of microbial populations in biofilters. Proceedings of the 87th annual meeting & exhibition of the air & Waste Management Association, Cincinnati, OH, 19–24 June 1994

Hodge DS, Tahatabai F, Winer AM (1991) Treatment of hydrocarbon fuel vapors in biofilters. Environ Technol 12:655–662

Leson G, Winer AM (1991) Biofiltration: an innovative air pollution control technology for VOC emissions. Air Waste 41:1045–1054

Ottengraf SPP, van den Oever AHC (1983) Kinetics of organic compound removal from waste gases with a biological filter. Biotechnol Bioeng 25:3089–3102

Ottengraf SPP, Konings JHG (1986) Biological elimination of volatile xenobiotic compounds in bofilters. BioProcess Engineering 1:61–69

Peters DA, Hickman GT, Stefanoff JG, Garcia Jr MB (1993) Laboratory assessment of biofiltration for fuel-derived VOC emission control. Proceedings of the 86th Annual Meeting & Exhibition of the Air & Waste Management Association, Denver, CO, 14–18 June 1993

Reynolds TD (1982) Unit operation and process in environmental engineering, Wadsworth, CA

Valsaraj KT (1995) Elements of environmental engineering: thermodynamics and kinetics. Lewis Publishers, New York

Williams TO, Miller FC (1992) Biofilters and facility operations. Biocycle 33:75–79

Yani M, Mirai M, Shoda M (1998) Remove kinetics of ammonia by peat biofilter seeded with night soil sludge. J Ferment Bioeng 85:502–506

Yang Y, Allen ER (1994) Biofiltration control of hydrogen sulfide. 2. Kinetics, biofilter performance, and maintenance. J Air Waste Manag Assoc 44:1315–1321
Acknowledgement
The authors wish to thank the National Science Council of the Republic of China for financial aid through the project, NSC 92-2211-E-216-006.
About this article
Cite this article
Chan, W., Hwang, I. Biochemical kinetic behaviors between n-butyl acetate and composite bead in biofilter. Appl Microbiol Biotechnol 73, 226–233 (2006). https://doi.org/10.1007/s00253-006-0471-x
Received:

Revised:

Accepted:

Published:

Issue Date:
Keywords
Granular Activate Carbon

Operation Temperature

Filter Material

Inlet Concentration

Elimination Capacity