Abstract
Superoxide dismutase (SODs) are metalloenzymes that catalyze the dismutation of the superoxide anion to molecular oxygen and hydrogen peroxide and, thus, form a crucial part of the cellular antioxidant defense mechanism. In this paper, we used the total fat body RNA of silkworm, Bombyx mori L. to clone and sequence a 648-bp Mn-SOD cDNA fragment through RT-PCR. Furthermore, a newly established Bac-to-Bac/BmNPV Baculovirus expression system was used to overexpress the recombinant Mn-SOD enzyme in silkworm larvae. The hemolymph was collected from the infected larvae 96 h post-infection and subjected to a 12 % SDS-PAGE and Western blotting. A 18.0-kDa protein was visualized after rBacmid/BmNPV/SOD infection. The SOD enzyme activity was determined with a tetrazolium salt for detection of superoxide radicals generated by xanthine and xanthine oxidase and its peak appeared in 96 h post-infection with 2.7 times of the control larvae. The availability of large quantities of SOD that the silkworm provides should greatly facilitate the future research and testing of this protein for potential application in medicine.
This is a preview of subscription content, log in to check access.
Access options
Buy single article
Instant access to the full article PDF.
US$ 39.95
Price includes VAT for USA
Subscribe to journal
Immediate online access to all issues from 2019. Subscription will auto renew annually.
US$ 199
This is the net price. Taxes to be calculated in checkout.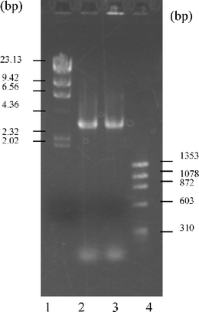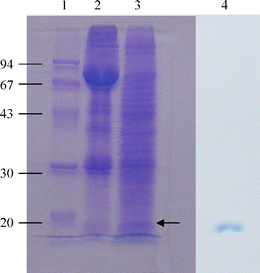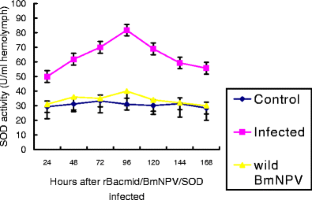 References
Beck Y, Oren R, Amit B, Levanon A, Gorecki M, Hartman JR (1987) Human Mn superoxide dismutase cDNA sequence. Nucleic Acids Res 15:9076

Choudary PV, Kamita SG, Maeda S (1995) Expression of foreign genes in Bombyx mori larvae using baculovirus vectors. In: Richardson CD (ed) Methods in molecular biology. Baculovirus expression protocols, vol. 39. Humana, New Jersey

Ciccarone VC, Polayes D, Luckow VA (1997) In: Reischt U (ed) Generation of recombinant baculovirus DNA in using baculovirus shuttle vector, vol 13. Humana, New Jersey, pp 38–96

Dominguez-Rodriguez JR, Gomez-Contreras PC, Hernandez-Flores G, Lerma-Diaz JM, Carranco A, Cervantes-Munguia R, Orbach-Arbouvs S, Bravo-Cuella A (2001) In vivo inhibition by antioxidants of adriamycin-induced apoptosis in murine peritoneal macrophages. Anticancer Res 21(3B):1869–1872

Duttaroy A, Meidinger R, Kirby K, Carmichael S, Hilliker A, Phillips J (1994) A manganese superoxide dismutase-encoding cDNA from Drosophilamelanogaster. Gene 143:223–225

Hallewell RA, Mullenbach GT, Stempien MM, Bell GI (1986) Sequence of a cDNA coding for mouse manganese superoxide dismutase. Nucleic Acids Res 14:9539

Ho YS, Crapo JD (1987) Nucleotide sequences of cDNAs coding for rat manganese-containing superoxide dismutase. Nucleic Acids Res 15:10070

Hunter T, Bannister WH, Hunter GJ (1997) Cloning, expression, and characterization of two manganese superoxide dismutases from Caenorhabditiselegans. J Biol Chem 272:28652–28659

Invitrogen. Bac-to-bac baculovirus expression system (version D), pp 23–25. http://www.invitrogen.com

Kim KH, Rodriguez AM, Carrico PM, Melendez JA (2001) Potential mechanisms for the inhibition of tumor cell growth by manganese superoxide dismutase. Antioxid Redox Signal 3(3):361–373

Kushleika J, Checkoway H, Woods JS (1996) Selegiline and lymphocyte superoxide dismutase activity in Parkinson's disease. Ann Neurol 39(3):378–381

Liu D (1996) The roles of free radicals in amyotrophic lateral sclerosis. J Mol Neurosci 7:159–167

Louvel E, Hugon J, Doble A (1997) Therapeutic advances in amyotrophic lateral sclerosis. Trends Pharm Sci 18(6):196–203

Maeda S (1994) Expression of foreign genes in insect cells using baculovirus vectors. In: Maramorosch K, McIntosh AH (eds). Insect cell biotechnology. CRC, pp 1–31

Maier CM, Chan PH (2002) Role of superoxide dismutases in oxidative damage and neurodegenerative disorders. Neuroscientist 8(4):323–334

Malstrom B, Andreasson L and Reinhammaer B (1975) In: Boyer P (ed) In the enzymes, vol XIIB. Academic, New York, p 533

Miao Y, Zhang Y, Nakagaki K, Zhao T, Zhao A, Meng Y, Nakagaki M, Park EY, Maenaka K (2005) Expression of spider flagelliform silk protein in Bombyx moricell line by a novel Bac-to-Bac/BmNPV baculovirus expression system. Appl Microbiol Biotechnol DOI: 10.1007/s00253-005-0127-2

Midwest Group Company, Beijing, China. http://www.midwest.com.cn

Miyajima A, Schreurs J, Otus K, Kondo A, Arai K, Maeda S (1987) Use of the silkworm, Bombyx mori, and an insect baculovirus vector for high-level expression and secretion of biologically active mouse interleukin-3. Gene 58:273–281

Motohashi T, Shimojima T, Fukagawa T, Maenaka K, Park EY (2005) Efficient large-scale protein production of larvae and pupae of silkworm by Bombyx mori nuclear polyhedrosis virus bacmid system. Mole Cell Biol Res Commun 326:564–569

Orr WC, Sohal RS (1994) Extension of life-span by overexpression of superoxide dismutase and catalase in Drosophila melanogaster. Science 263:1128–1130

Sandstrom J, Nilsson P and Karlsson K (1994) 10 fold increase in human plasma extracellular superoxide dismutase content caused by a mutation in heparin-binding domain. J Biol Chem 269(29):19163–19166

Weisiger RA, Fridovich I (1973) Superoxide dismutase: organelle specificity. J Biol Chem 248:3582–3592

Yamamoto K, Zhang PB, Banno Y, Fujii H (2005) Superoxide dismutase from the silkworm, Bombyx mori: sequence, distribution, and overexpression. Biosci Biotechnol Biochem 69(3):507–514
Acknowledgements
We would like to thank Prof. E. Y. Park and Prof. K. Maenaka for their kind supply of the E.coli DH10Bac/BmNPV. This work was supported by a key project of Zhejiang Government (No. 2005C22042).
About this article
Cite this article
Yue, W., Miao, Y., Li, X. et al. Cloning and expression of manganese superoxide dismutase of the silkworm, Bombyx mori by Bac-to-Bac/BmNPV Baculovirus expression system. Appl Microbiol Biotechnol 73, 181–186 (2006). https://doi.org/10.1007/s00253-006-0462-y
Received:

Revised:

Accepted:

Published:

Issue Date:
Keywords
Manganese superoxide dismutase (Mn-SOD)

Silkworm larvae (Bombyx mori L.)

Bac-to-bac/BmNPV baculovirus expression system