Abstract
Brazzein is an intensely sweet-tasting plant protein with good stability, which makes it an attractive alternative to sucrose. A brazzein gene has been designed, synthesized, and expressed in Escherichia coli at 30 °C to yield brazzein in a soluble form and in considerable quantity. Antibodies have been produced using brazzein fused to His-tag. Brazzein without the tag was sweet and resembled closely the taste of its native counterpart. The brazzein gene was also expressed in Lactococcus lactis, using a nisin-controlled expression system, to produce sweet-tasting lactic acid bacteria. The low level of expression was detected with anti-brazzein antibodies. Secretion of brazzein into the medium has not led to significant yield increase. Surprisingly, optimizing the codon usage for Lactococcus lactis led to a decrease in the yield of brazzein.
This is a preview of subscription content, log in to check access.
Access options
Buy single article
Instant access to the full article PDF.
US$ 39.95
Price includes VAT for USA
Subscribe to journal
Immediate online access to all issues from 2019. Subscription will auto renew annually.
US$ 199
This is the net price. Taxes to be calculated in checkout.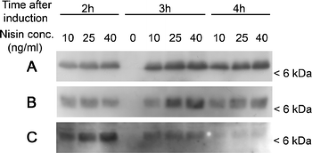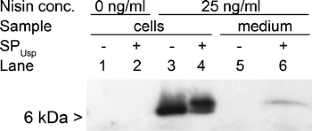 References
Assadi-Porter FM, Aceti DJ, Cheng H, Markley JL (2000a) Efficient production of recombinant brazzein, a small, heat-stable, sweet-tasting protein of plant origin. Arch Biochem Biophys 376:252–258

Assadi-Porter FM, Aceti DJ, Markley JL (2000b) Sweetness determinant sites of brazzein, a small, heat-stable, sweet-tasting protein. Arch Biochem Biophys 376:259–265

Assadi-Porter FM, Abildgaard F, Blad H, Markley JL (2003) Correlation of the sweetness of variants of the protein brazzein with patterns of hydrogen bonds detected by NMR spectroscopy. J Biol Chem 278:31331–31339

Bryan EM, Bae T, Kleerebezem M, Dunny GM (2000) Improved vectors for nisin-controlled expression in gram-positive bacteria. Plasmid 44:183–190

Burgess C, O'Connell-Motherway M, Sybesma W, Hugenholtz J, van Sinderen D (2004) Riboflavin production in Lactococcus lactis: potential for in situ production of vitamin-enriched foods. Appl Environ Microbiol 70:5769–5777

Caldwell JE, Abildgaard F, Dzakula Z, Ming D, Hellekant G, Markley JL (1998) Solution structure of the thermostable sweet-tasting protein brazzein. Nat Struct Biol 5:427–431

Chopin A, Chopin MC, Moillo-Batt A, Langella P (1984) Two plasmid-determined restriction and modification systems in Streptococcus lactis. Plasmid 11:260–263

de Ruyter PG, Kuipers OP, de Vos WM (1996) Controlled gene expression systems for Lactococcus lactis with the food-grade inducer nisin. Appl Environ Microbiol 62:3662–3667

Dieye Y, Usai S, Clier F, Gruss A, Piard JC (2001) Design of a protein-targeting system for lactic acid bacteria. J Bacteriol 183:4157–4166

Faus I (2000) Recent developments in the characterization and biotechnological production of sweet-tasting proteins. Appl Microbiol Biotechnol 53:145–151

Fuglsang A (2003) Lactic acid bacteria as prime candidates for codon optimization. Biochem Biophys Res Commun 312:285–291

Hanahan D (1983) Studies on transformation of Escherichia coli with plasmids. J Mol Biol 166:557–580

Hasler CM (2000) The changing face of functional foods. J Am Coll Nutr 19:499S–506S

Holo H, Nes IF (1995) Transformation of Lactococcus by electroporation. In: Nickoloff JA (ed) Electroporation protocols for microorganisms. Humana, Totowa, New Jersey

Hols P, Kleerebezem M, Schanck AN, Ferain T, Hugenholtz J, Delcour J, de Vos WM (1999) Conversion of Lactococcus lactis from homolactic to homoalanine fermentation through metabolic engineering. Nat Biotechnol 17:588–592

Hugenholtz J, Sybesma W, Groot MN, Wisselink W, Ladero V, Burgess K, van Sinderen D, Piard JC, Eggink G, Smid EJ, Savoy G, Sesma F, Jansen T, Hols P, Kleerebezem M (2002) Metabolic engineering of lactic acid bacteria for the production of nutraceuticals. Antonie Van Leeuwenhoek 82:217–235

Jin Z, Danilova V, Assadi-Porter FM, Aceti DJ, Markley JL, Hellekant G (2003a) Critical regions for the sweetness of brazzein. FEBS Lett 544:33–37

Jin Z, Danilova V, Assadi-Porter FM, Markley JL, Hellekant G (2003b) Monkey electrophysiological and human psychophysical responses to mutants of the sweet protein brazzein: delineating brazzein sweetness. Chem Senses 28:491–498

Laemmli UK (1970) Cleavage of structural proteins during the assembly of the head of bacteriophage T4. Nature 227:680–685

Lamphear BJ, Barker DK, Brooks CA, Delaney DE, Lane JR, Beifuss K, Love R, Thompson K, Mayor J, Clough R, Harkey R, Poage M, Drees C, Horn ME, Streatfield SJ, Nikolov Z, Woodard SL, Hood EE, Jilka JM, Howard JA (2005) Expression of the sweet protein brazzein in maize for production of a new commercial sweetener. J Plant Biotechnol 3:103–114

Le Loir Y, Azevedo V, Oliveira SC, Freitas DA, Miyoshi A, Bermudez-Humaran LG, Nouaille S, Ribeiro LA, Leclercq S, Gabriel JE, Guimaraes VD, Oliveira MN, Charlier C, Gautier M, Langella P (2005) Protein secretion in Lactococcus lactis: an efficient way to increase the overall heterologous protein production. Microb Cell Fact 4:2

Mathews DH, Sabina J, Zuker M, Turner DH (1999) Expanded sequence dependence of thermodynamic parameters improves prediction of RNA secondary structure. J Mol Biol 288:911–940

Mierau I, Kleerebezem M (2005) 10 years of the nisin-controlled gene expression system (NICE) in Lactococcus lactis. Appl Microbiol Biotechnol 68:705–717

Mierau I, Leij P, van Swam I, Blommestein B, Floris E, Mond J, Smid EJ (2005) Industrial-scale production and purification of a heterologous protein in Lactococcus lactis using the nisin-controlled gene expression system NICE: the case of lysostaphin. Microb Cell Fact 4:15

Ming D, Hellekant G (1994) Brazzein, a new high-potency thermostable sweet protein from Pentadiplandra brazzeana B. FEBS Lett 355:106–108

Nouaille S, Ribeiro LA, Miyoshi A, Pontes D, Le Loir Y, Oliveira SC, Langella P, Azevedo V (2003) Heterologous protein production and delivery systems for Lactococcus lactis. Genet Mol Res 2:102–111

Robinson K, Chamberlain LM, Schofield KM, Wells JM, Le Page RW (1997) Oral vaccination of mice against tetanus with recombinant Lactococcus lactis. Nat Biotechnol 15:653–657

Sambrook J, Fritsch EF, Maniatis T (1989) Molecular cloning: a laboratory manual, 2nd edn. Cold Spring Harbor Laboratory, Cold Spring Harbor, New York

Suzuki M, Kurimoto E, Nirasawa S, Masuda Y, Hori K, Kurihara Y, Shimba N, Kawai M, Suzuki E, Kato K (2004) Recombinant curculin heterodimer exhibits taste-modifying and sweet-tasting activities. FEBS Lett 573:135–138

van Asseldonk M, Rutten G, Oteman M, Siezen RJ, de Vos WM, Simons G (1990) Cloning of usp45, a gene encoding a secreted protein from Lactococcus lactis subsp. lactis MG1363. Gene 95:155–160

Xin KQ, Hoshino Y, Toda Y, Igimi S, Kojima Y, Jounai N, Ohba K, Kushiro A, Kiwaki M, Hamajima K, Klinman D, Okuda K (2003) Immunogenicity and protective efficacy of orally administered recombinant Lactococcus lactis expressing surface-bound HIV Env. Blood 102:223–228

Zuker M (2003) Mfold web server for nucleic acid folding and hybridization prediction. Nucleic Acids Res 31:3406–3415
Acknowledgements
This work was supported by the Slovenian Research Agency Grant No. P4-0127. We are grateful to Prof. Gary M. Dunny for kindly providing the pMSP3545 plasmid and to Prof. Roger Pain for critical reading of the manuscript.
About this article
Cite this article
Berlec, A., Jevnikar, Z., Majhenič, A.Č. et al. Expression of the sweet-tasting plant protein brazzein in Escherichia coli and Lactococcus lactis: a path toward sweet lactic acid bacteria. Appl Microbiol Biotechnol 73, 158–165 (2006). https://doi.org/10.1007/s00253-006-0438-y
Received:

Revised:

Accepted:

Published:

Issue Date:
Keywords
Lactic Acid Bacterium

Codon Usage

Sweet Taste

Alternative Sweetener

Talon Metal Affinity Resin