Abstract
The new marine Halomonas sp. strain GWS-BW-H8hM (DSM 17996) was found to produce 3-(4′-hydroxyphenyl)-4-phenylpyrrole-2,5-dicarboxylic acid (HPPD-1) and 3,4-bis(4′-hydroxy- phenyl)pyrrole-2,5-dicarboxylic acid (HPPD-2). In initial cultivations using marine broth, only low contents of these compounds have been isolated. Improving the conditions and growing the strain on artificial seawater supplemented with tryptone 10 g l−1, yeast extract 5 g l−1, l-tyrosine 0.6 g l−1, glycine 1 g l−1, and glucose 6 g l-1, the growth-associated HPPD-1 and HPPD-2 production of a 40-l batch cultivation reached the amounts of 47 mg l−1 and 116 mg l−1, respectively, after 65 h. Both compounds showed potent anti-tumor-promoting activities.
This is a preview of subscription content, log in to check access.
Access options
Buy single article
Instant access to the full article PDF.
US$ 39.95
Price includes VAT for USA
Subscribe to journal
Immediate online access to all issues from 2019. Subscription will auto renew annually.
US$ 199
This is the net price. Taxes to be calculated in checkout.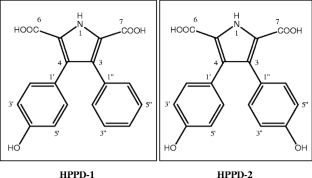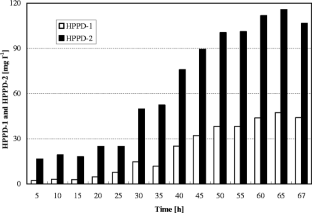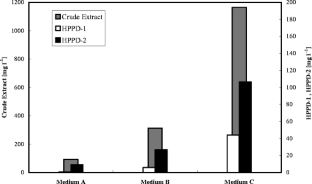 References
Akihisa T, Tokuda H, Yasukawa K, Ukiya M, Kiyota A, Sakamoto N, Suzuki T, Tanabe N, Nishino H (2005) Azaphilones, furanoisophtalides, and amino acids from the extracts of Monascus pilosus-fermented rice (red-mold rice) and their chemopreventive effects. J Agric Food Chem 53:562–565

Brinkhoff T, Muyzer G (1997) Increased species diversity and extended habitat range of sulfur-oxidizing Thiomicrospira spp. Appl Environ Microbiol 63:3789–3796

Colombo D, Compostella F, Ronchetti F, Reza-Elahi S, Scala A, Toma L, Aoi W, Kuchide M, Takayasu J, Tokuda H, Nishino H (2002) Inhibitory effect of stabilized analogues of glycoglycerolipids on Epstein–Barr virus activation and mouse skin tumor promotion. Cancer Lett 186:37–41

Colombo D, Franchini L, Toma L, Ronchetti F, Nakabe N, Konoshima T, Nishino H, Tokuda H (2005) Anti-tumor-promoting activity of simple models of galactoglycerolipids with branched and unsaturated acyl chains. Eur J Med Chem 40:69–74

Faulkner DJ (2000) Highlights of marine natural products chemistry (1972–1999). Nat Prod Rep 17:1–6

Finking R, Marahiel MA (2004) Biosynthesis of nonribosomal peptides. Annu Rev Microbiol 58:453–488

Fukuda Y, Sakai K, Matsunaga S, Tokuda H, Tanaka R (2005) Cancer chemopreventive activity of lupane- and oleanane-type triterpenoids from the cones of Liquidamber styraciflua. Chemistry and Biodiversity 2:421–428

Hildebrand M, Waggoner LE, Lim GE, Sharp KH, Ridley CP, Haygood MG (2004) Approaches to identify, clone, and express symbiont bioactive metabolite genes. Nat Prod Rep 21:122–142

Hoagland H (1933) Quantitative analysis of responses from lateraline nerves of fishes. J Gen Physiol 16:715–732

Kampen I (2001) Studien zu Wachstum und Metabolisierung bei neuen Bakterien aus der Nordsee. Diploma thesis, Technical University of Braunschweig, Germany

Kreipl A (2003) Biomimetische Synthesen von marinen 3,4-Diarylpyrrol-Alkaloiden, PhD thesis, Ludwig Maximilian University of Munich, Germany

Liang L (2003) Investigation of secondary metabolites of North Sea bacteria: fermentation, isolation, structure elucidation and bioactivity, Ph.D thesis, University of Göttingen, Germany

Lindquist N, Fenical W, Van Duyne GD, Clardy J (1988) New alkaloids of the lamellarin class from the marine ascidian Didemnum chartaceum (Sluiter, 1909). J Org Chem 53:4570–4574

MacGregor BJ, Moser DP, Alm W, Nealson KH, Stahl D (1997) Crenarchaeota in Lake Michigan sediment. Appl Environ Microbiol 63:1178–1181

Marwick JD, Wright PC, Burgess JG (1999) Bioprocess intensification for production of novel marine bacterial antibiotics through bioreactor operation and design. Mar Biotechnol 1:495–507

Pearce CJ, Doyle TW, Forenza S, Lam KS, Schroeder DR (1988) The biosynthetic origins of rebeccamycin. J Nat Prod 51:937–940

Peschko C, Winklhofer C, Steglich W (2000) Alkaloids from marine organisms, part 5. Biomimetic total synthesis of lamellarin L by coupling of two different arylpyruvic acid units. Chem Eur J 6:1147–1152

Pretsch E, Bühlmann P, Affolter C and Badertscher M (2001) Spektroskopische Daten zur Strukturaufklärung organischer Verbindungen, 4th edn, Springer, Berlin Heidelberg New York

Proksch P, Edrada RA, Ebel R (2002) Drugs from the seas—current status and microbiological implications. Appl Microbiol Biotechnol 59:125–134

Ramm W, Schatton, W, Wagner-Döbler I, Wray V, Nimtz M, Tokuda H, Enjyo F, Nishino H, Beil W, Heckmann R, Lurtz V, Lang S (2004) Diglucosyl-glycerolipids from the marine sponge-associated Bacillus pumilus strain AAS3: their production, enzymatic modification and properties. Appl Microbiol Biotechnol 64:497–504

Rudi A, Goldberg I, Stein Z, Frolow F, Benayahu Y, Schleyer M, Kashman Y (1994) Polycitone A and polycitrins A and B: new alkaloids from the marine Ascidian Polycitor sp. J Org Chem 59:999–1003

Shirahashi H, Murakami N, Watanabe M, Nagatsu A, Sakakibara J, Tokuda H, Nishino H, Iwashima A (1993) Isolation and identification of anti-tumor-promoting principles from the fresh-water cyanobacterium Phormidium tenue. Chem Pharm Bull 41:1664–1666

Stackebrandt E, Goebel BM (1994) Taxonomic note: a place for DNA–DNA reassociation and 16S rRNA sequence analysis in the present species definition in bacteriology. Int J Syst Bacteriol 44:846–849

Stahl DA, Flesher B, Mansfield HR, Montgomery L (1988) Use of phylogenetically based hybridization probes for studies of ruminal microbial ecology. Appl Environ Microbiol 54:1079–1084

Thomas R (2004) Biogenetic speculation and biosynthetic advances. Nat Prod Rep 21:224–248

Yoshida WY, Lee KK, Carroll AR, Scheuer PJ (1992) A complex pyrrolo-oxazinone and its iodo derivative isolated from a tunicate. Helv Chim Acta 75:1721–1725

Wagner-Döbler I, Beil W, Lang S, Meiners M, Laatsch H (2002) Integrated approach to explore the potential of marine microorganisms for the production of bioactive metabolites. Adv Biochem Eng Biotechnol 74:208–238
Acknowledgements
The authors would like to thank very much B. Körner and M. Karaman for experimental help. This work was supported by the Volkswagen Foundation within the Lower Saxonian priority program 'Marine Biotechnology'.
About this article
Cite this article
Wang, L., Groβe, T., Stevens, H. et al. Bioactive hydroxyphenylpyrrole-dicarboxylic acids from a new marine Halomonas sp.: production and structure elucidation. Appl Microbiol Biotechnol 72, 816–822 (2006). https://doi.org/10.1007/s00253-006-0370-1
Received:

Revised:

Accepted:

Published:

Issue Date:
Keywords
Dicarboxylic Acid

Artificial Seawater

Halomonas

Marine Broth

Iron Citrate