Abstract
A strain of Pseudomonasputida ZWL73 was isolated from soil contaminated with chloronitrobenzenes and identified by 16S rDNA sequencing. This bacterium released chloride and ammonia into the medium when grown on 4-chloronitrobenzene (4CNB) as the sole source of carbon, nitrogen and energy. A plasmid designated pZWL73 of approximately 100 kb in this strain was found to be responsible for 4CNB degradation. This was based on the fact that the plasmid-cured strains showed 4CNB− phenotype and the 4CNB+ phenotype could be conjugally transferred. The cell-free extracts of strain ZWL73 exhibited chloronitrobenzene nitroreductase and 2-amino-5-chlorophenol 1, 6-dioxygenase (2A5CPDO) activities, but neither activity was found from that of the plasmid-cured strain. We have also cloned a 4.9-kb EcoRI fragment exhibiting 2A5CPDO activity. Sequencing results revealed β-subunit (cnbCa) and α subunit (cnbCb) of a meta-cleavage dioxygenase, which were subsequently expressed in E. coli with 2A5CPDO activity. The phylogenetic analysis suggested that 2A5CPDO may form a new subgroup in class III meta-cleavage dioxygenase with its close homologs.
This is a preview of subscription content, log in to check access.
Access options
Buy single article
Instant access to the full article PDF.
US$ 39.95
Price includes VAT for USA
Subscribe to journal
Immediate online access to all issues from 2019. Subscription will auto renew annually.
US$ 199
This is the net price. Taxes to be calculated in checkout.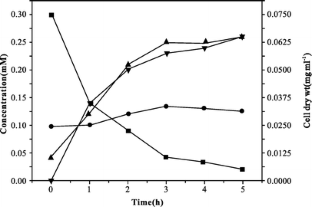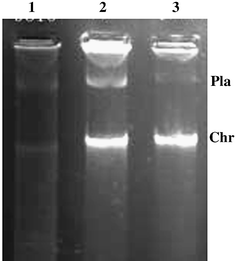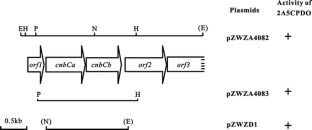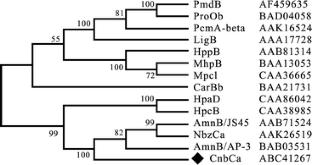 References
Bradford MM (1976) A rapid and sensitive method for the quantification of microgram quantities of protein utilizing the principle of protein-dye binding. Anal Biochem 72:248–254

Corbett MD, Corbett BR (1981) Metabolism of 4-chloronitrobenzene by the yeast Rhodosporidium sp. Appl Environ Microbiol 41:942–949

Dennis JJ, Zylstra GJ (2004) Complete sequence and genetic organization of pDTG1, the 83 kilobase naphthalene degradation plasmid from Pseudomonas putida strain NCIB 9816-4. J Mol Biol 341:753–768

Ditta G, Stanfield S, Corbin D, Helinski DR (1980) Broad host range DNA cloning system for gram-negative bacteria: construction of a gene bank of Rhizobium meliloti. Proc Natl Acad Sci USA 77:7347–7351

Eaton RW (2001) Plasmid-encoded phthalate catabolic pathway in Arthrobacter keyseri 12B. J Bacteriol 183:3689–3703

Eltis LD, Bolin JT (1996) Evolutionary relationships among extradiol dioxygenases. J Bacteriol 178:5930–5937

Gerhardt P, Murray RGE, Wood WA, Krieg NR (1994) Methods for general and molecular bacteriology. American Society for Microbiology, Washington, District of Columbia

Greated A, Lambertsen L, Williams PA, Thomas CM (2002) Complete sequence of the IncP-9 TOL plasmid pWW0 from Pseudomonas putida. Environ Microbiol 4:856–871

Johnson GR, Jain RK, Spain JC (2002) Origins of the 2, 4-dinitrotoluene pathway. J Bacteriol 184:4219–4232

Katsivela E, Wray V, Pieper DH, Wittich RM (1999) Initial reactions in the biodegradation of 1-chloro-4-nitrobenzene by a newly isolated bacterium, Strain LW1. Appl Environ Microbiol 65:1405–1412

Keen NT, Tamaki S, Kobayashi D, Trollinger D (1988) Improved broad-host-range plasmids for DNA cloning in Gram-negative bacteria. Gene 70:191–197

Kumar S, Tamura K, Nei M (2004) MEGA3: integrated software for molecular evolutionary genetics analysis and sequence alignment. Brief Bioinform 5:150–163

Lane DJ (1991) 16S/23S rRNA sequencing. In: Stackebrandt E, Goodfellow M (eds) Nucleic acid techniques in bacterial systematics. Wiley, Chichester, pp 115–175

Liu H, Wang SJ, Zhou NY (2005) A new isolate of Pseudomonas stutzeri that degrades 2-chloronitrobenzene. Biotechnol Lett 27:275–278

Nishino SF, Spain JC (1993) Degradation of nitrobenzene by a Pseudomonas pseudoalcaligenes. 59:2520–2525

Park HS, Kim HS (2000) Identification and characterization of the nitrobenzene catabolic plasmids pNB1 and pNB2 in Pseudomonasputida HS12. J Bacteriol 182:573–580

Park HS, Lim SJ, Chang YK, Livingston AG, Kim HS (1999) Degradation of chloronitrobenzenes by a coculture of Pseudomonas putida and a Rhodococcus sp. Appl Environ Microbiol 65:1083–1091

Sambrook J, Fritsch EF, Maniatis T (1989) Molecular cloning: a laboratory manual, 2nd edn. Cold Spring Harbor Laboratory, Cold Spring Harbor, New York

Schackmann A, Muller R (1991) Reduction of nitroaromatic compounds by different Pseudomonas species under aerobic conditions. Appl Microbiol Biotechnol 34:809–813

Schuman JD, Zottola EA, Harlander SK (1989) Preliminary characterization of a food-borne multiple-antibiotic-resistant Salmonella typhimurium Strain. Appl Environ Microbiol 55:2344–2348

Spence EL, Kawamukai M, Sanvoisin J, Braven H, Bugg TD (1996) Catechol dioxygenases from Escherichia coli (MhpB) and Alcaligenes eutrophus (MpcI): sequence analysis and biochemical properties of a third family of extradiol dioxygenases. J Bacteriol 178:5249–5256

Sugimoto K, Senda T, Aoshima H, Masai E, Fukuda M, Mitsui Y (1999) Crystal structure of an aromatic ring opening dioxygenase LigAB, a protocatechuate 4,5-dioxygenase, under aerobic conditions. Structure 7:953–965

Top EM, Springael D (2003) The role of mobile genetic elements in bacterial adaptation to xenobiotic organic compounds. Curr Opin Biotechnol 14:262–269

Wheatcroft R, Williams PA (1981) Rapid methods for the study of both stable and unstable plasmids in Pseudomonas. J Gen Microbiol 124:433–437

Williams PA, Murray K (1974) Metabolism of benzoate and the methylbenzoates by Pseudomonas putida (arvilla) mt-2: evidence for the existence of a TOL plasmid. J Bacteriol 120:416–423

Wu JF, Sun CW, Jiang CY, Liu ZP, Liu SJ (2005) A novel 2-aminophenol 1,6-dioxygenase involved in the degradation of p-chloronitrobenzene by Comamonasstrain CNB-1: purification, properties, genetic cloning and expression in Escherichia coli. Arch Microbiol 183:1–8
Acknowledgements
This work was supported by the National Natural Science Foundation of China (NSFC30230010). The authors would like to thank Peter Williams for Pseudomonas putida PaW340 and PaW1.
Additional information
# D.Z. and H.L. equally contributed to this work.
About this article
Cite this article
Zhen, D., Liu, H., Wang, S. et al. Plasmid-mediated degradation of 4-chloronitrobenzene by newly isolated Pseudomonas putida strain ZWL73. Appl Microbiol Biotechnol 72, 797–803 (2006). https://doi.org/10.1007/s00253-006-0345-2
Received:

Revised:

Accepted:

Published:

Issue Date:
Keywords
Nitrobenzene

Pseudomonas Putida

Catabolic Gene

Protocatechuate

Cosmid Library