Abstract
The nutritional medium requirement for biomass and triterpenoid production by Antrodia cinnamomea AC0623 strain was optimized. Box–Behnken was applied to optimize biomass and triterpenoid production. According to response surface methodology (RSM), the optimum concentrations of N-source were determined. The results indicate that when a submerged culture in shake flasks was operated at 28°C, initial pH 5.5, and rotation speed 105 rpm, the biomass and triterpenoid content in dry basis could be increased to 3.20% (w/w) and 31.8 mg/g, respectively. The experiments were further scaled up to 100- and 700-l fermentors. Higher content of triterpenoids (63.0 mg/g) was obtained in 700-l fermentations by means of the control of cultural conditions and the modification of medium composition based on the RSM.
This is a preview of subscription content, log in to check access.
Access options
Buy single article
Instant access to the full article PDF.
US$ 39.95
Price includes VAT for USA
Subscribe to journal
Immediate online access to all issues from 2019. Subscription will auto renew annually.
US$ 199
This is the net price. Taxes to be calculated in checkout.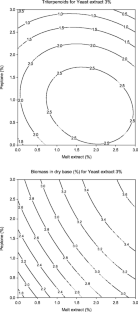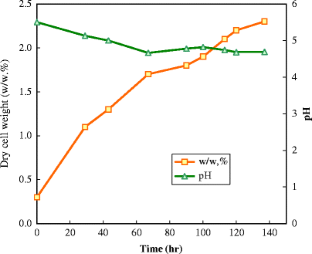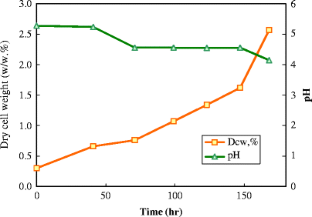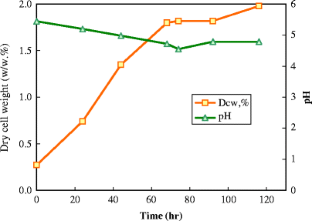 References
Andersson BE, Tornberg K, Henrysson T, Olsson S (2001) Three-dimensional outgrowth of a wood-rotting fungus added to a contaminated soil from a former gasworks site. Bioresour Technol 78:37–45

Box GEP, Behnken DW (1960) Some new three level designs for the study of quantitative variable. Technometrics 2:455–463

Chang CY, Lue MY, Pan TM (2006) Isolation and identification of two Antrodia cinnamomea strains from fruiting bodies. J Food Drug Anal (in press)

Chang CY, Lue MY, Pan TM (2005) Determination of adenosine, cordycepin and ergosterol contents in cultivated Antrodia camphorata by HPLC method. J Food Drug Anal 13:338–342

Chang TT, Chou WN (1995) Antrodia cinnamomea sp. nov. on Cinnamomea kanehirai in Taiwan. Mycol Res 99:756–758

Chen HC (1996) Optimizing the concentrations of carbon, nitrogen and phosphorus in a citric acid fermentation with response surface method. Food Biotechnol 10:13–27

Chen DH, Shiou WY, Wang KC, Huang SY, Shie YT, Tsai CM, Shie JF, Chen KD (1999) Chemotaxonomy of triterpenoid pattern of HPLC of Ganoderma lucidium and Ganoderma tsugae. J Chin Chem Soc 46:47–51

Cherng IH, Chiang HC (1995) Three new triterpenoids from Antrodia cinnamomea. J Nat Products 58:365–371

Cherng IH, Wu DP, Chiang HC (1996) Triterpenoids from Antrodia cinnamomea. Phytochemistry 41:263–267

Chiang HC, Wu DP, Cherng IW, Ueng CH (1995) A sesquiterpene, lactone, phenyl and biphenyl compounds from Antrodia cinnamomea. Phytochemistry 39:613–616

Cordenunsi BR, da Silva RSF, Srivastava KC, Fabre-Sanches S, Perre MA (1985) Mathematical model for the alcoholic fermentation in batch culture: comparison between complete and incomplete factorial designs. J Biotechnol 2:1–12

Dai YY, Chuang CH, Tsai CC, Sio HM, Huang SC, Chen JC, Hu ML (2003) The protection of Antrodia camphorata against acute hepatotoxicity of alcohol in rats. J Food Drug Anal 11:177–185

Gao HW (1992) Studies of triterpene contents of a new Ling-zhi, Antrodia camphorata, in Taiwan. Master's thesis, Medical Institute of Natural Chemicals, Taipei Medical University, Taipei, ROC

Giovanni M (1983) Response surface methodology and product optimization. Food Technol 37:96–105

Rao PV, Jayaraman K, Lakshmanan CM (1993) Production of lipase by Candida rugosa in solid state fermentation. 2: Medium optimization and effect of aeration. Process Biochem 28:391–395

Wang CN, Chen JC, Shiao MS, Wang CT (1991) The inhibition of human platelet function by ganodermic acids. J Biochem 277:189–197

Wang JJ, Lee CL, Pan TM (2003) Improvement of monacolin K, γ-aminobutyric acid and citrinin production ratio as a function of environmental conditions of Monascus purpureus NTU 601. J Ind Microbiol Biotechnol 30:669–676

Wu SH, Leif R, Chang TT (1997) Antrodia camphorata ("niu-chang-chih"), new combination of a medicinal fungus in Taiwan. Bot Bull Acad Sin 38:273–275

Yang FC, Huang HC, Yang MJ (2003) The influence of environmental conditions on the mycelial growth of Antrodia cinnamomea in submerged cultures. Enzyme Microb Technol 33:395–402
About this article
Cite this article
Chang, C., Lee, C. & Pan, T. Statistical optimization of medium components for the production of Antrodia cinnamomea AC0623 in submerged cultures. Appl Microbiol Biotechnol 72, 654–661 (2006). https://doi.org/10.1007/s00253-006-0325-6
Received:

Revised:

Accepted:

Published:

Issue Date:
Keywords
Response Surface Methodology

Malt Extract

Submerged Culture

Shake Flask Culture

Citrinin