Abstract
The Vitreoscilla hemoglobin (VHb) gene was expressed in yeast-like conidia (YLCs) of Tremella fuciformis (T. fuciformis) to increase cell density in submerged fermentation by enhancing oxygen uptake. With the intention of doing this, an integrated expression vector containing the VHb gene and the hygromycin B phosphotransferase (hph) gene derived from Escherichia coli (E. coli) as the selectable marker was constructed, and then transformed into protoplasts of YLCs from T. fuciformis with restriction enzyme-mediated DNA integration (REMI). Hygromycin-resistant transformants had been generated during the transformation. Molecular evidences including PCR assay, Southern blotting, and Western blot analysis indicated the VHb gene had been integrated into the genome of transgenic T. fuciformis strains and was expressed successfully. Shake-flask fermentation and bioreactor cultivation results showed that the expression of VHb in this fungus could enhance growth of YLCs. The final cell density was higher in the culture of VHb-expressing strain than that of the wild-type strain. Moreover, these results also suggested that CaMV35S promoter was capable of driving the expression of heterologous genes in T. fuciformis.
This is a preview of subscription content, log in to check access.
Access options
Buy single article
Instant access to the full article PDF.
US$ 39.95
Price includes VAT for USA
Subscribe to journal
Immediate online access to all issues from 2019. Subscription will auto renew annually.
US$ 199
This is the net price. Taxes to be calculated in checkout.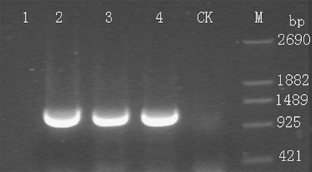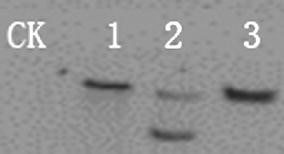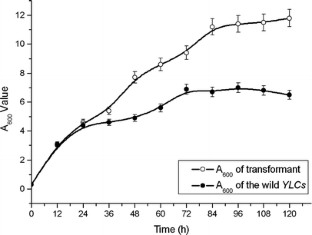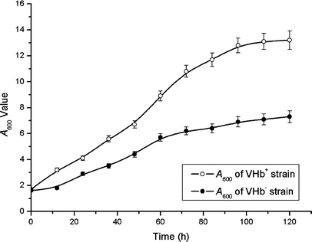 References
Bhave SL, Chattoo BB (2003) Expression of Vitreoscilla hemoglobin improves growth and levels of extracellular enzyme in Yarrowia lipolytica. Biotechnol Bioeng 84:658–666

Chen X, Stone M, Schlagnhaufer C, Romaine CP (2000) A fruiting body tissue method for efficient Agrobacterium-mediated transformation of Agaricus bisporus. Appl Environ Microb 66:4510–4513

Cheng H, Hou W, Lu M (2002) Interactions of lipid metabolism and intestinal physiology with Tremella fuciformis Berk edible mushroom in rats fed a high-cholesterol diet with or without Nebacitin. J Agric Food Chem 50:7438–7443

Dong Z, Qu M (2004) Study on the cytotoxicity of spleenocytes activated by IL-2 and Tremella polysaccharide to tumor cells in vitro. J Beihua Univ (Nat Sci) 5:506–508

Dong Z, Wei C, Qu M, Fan Z (2004) The study on the experiment of hepatocarcinoma with homogenous spleenocytes activated by IL-2 and Tremella Polysaccharide. Chin J Immunol 20:356–359

Gao Q, Jiang R, Chen H, Jensen E, Seljelid R (1996) Characterization and cytokine stimulating activities of heteroglycans from Tremella fuciformis. Planta Med 62:297–302

Gao Q, Killie MK, Chen H, Jiang R, Seljelid R (1997) Characterization and cytokine-stimulating activities of acidic heteroglycans from Tremella fuciformis. Planta Med 63:457–460

Granado JD, Kertesz-Chaloupkova K, Aebi M, Kues U (1997) Restriction enzyme-mediated DNA integration in Coprinus cinereus. Mol Gen Genet 256:28–36

Guerin NA, Larochelle DA (2002) A user's guide to restriction enzyme-mediated integration in Dictyostelium. J Muscle Res Cell Motil 23:597–604

Hikmet G, Benjamin CS, Webster DA (2001) Cell growth and oxygen uptake of Escherichia coli and Pseudomonas aeruginosa are differently affected by the genetically engineered Vitreoscilla hemoglobin gene. J Biotechnol 85:57–66

Huang NL (1993) Encyclopedia on edible fungi. China Agricultural Press, Beijing

Huang Y (1998) Mushroom cultivation. China Higher Education Press, Beijing

Huang NL (2000) The production of Tremella fuciformis in China. China Agricultural Press, Beijing

Jing M, Zhang J, Yu M, Ge Y, Liu Y, Guo M (2002) Study on the immunoloregulation function of Tremella fuciformis. J Prev Med Inform 18:94–94

Kallio PT, Bailey JE (1996) Intracellular expression of Vitreoscilla hemoglobin (VHb) enhances total protein secretion and improves the production of alpha-amylase and neutral protease in Bacillus subtilis. Biotechnol Prog 12:31–39

Khosla C, Bailey JE (1988) Heterologous expression of a bacterial haemoglobin improves properties of recombinant Escherichia coli. Nature 331:633–635

Khosla C, Curtis JE, DeModena J, Rinas U, Bailey JE (1990) Expression of intracellular hemoglobin improves protein synthesis in oxygen-limited Escherichia coli. Biotechnology (N Y) 8:849–853

Khosravi M, Webster DA, Stark BC (1990) Presence of the bacterial hemoglobin gene improves alpha-amylase production of a recombinant Escherichia coli strain. Plasmid 24:190–194

Kiho T, Tsujimura Y, Sakushima M, Usui S, Ukai S (1994) Polysaccharides in fungi. XXXIII. Hypoglycemic activity of an acidic polysaccharide (AC) from Tremella fuciformis. Yakugaku Zasshi 114:308–315 (Japanese)

Kim BG, Magae Y, Yoo YB, Kwon ST (1999) Isolation and transformation of uracil auxotrophs of the edible basidiomycete Pleurotus ostreatus. FEMS Microbiol Lett 181:225–228

Kim K, Leem Y, Kim K, Kim K, Choi HT (2002) Transformation of the medicinal basidiomycete Trametes versicolor to hygromycin B resistance by restriction enzyme mediated integration. FEMS Microbiol Lett 209:273–276

Kim S, Song J, Choi HT (2004) Genetic transformation and mutant isolation in Ganoderma lucidum by restriction enzyme-mediated integration. FEMS Microbiol Lett 233:201–204

Kuo CY, Chou SY, Huang CT (2004) Cloning of glyceraldehyde-3-phosphate dehydrogenase gene and use of the gpd promoter for transformation in Flammulina velutipes. Appl Microbiol Biotechnol 65:593–599

Lin YH, Li YF, Huang MC, Tsai YC (2004) Intracellular expression of Vitreoscilla hemoglobin in Aspergillus terreus to alleviate the effect of a short break in aeration during culture. Biotechnol Lett 26:1067–1072

Lin Z, Ma J, Chai B, Guan H, Yue W (1982) Studies on the pharmacology of Tremella fuciformis. Preliminary research on the fermented solution and polysaccharides of Tremella fuciformis spores. J Tradit Chin Med 2:95–98

Lu S, Lyngohlm L, Yang G, Bronson C, Yoder OC, Turgeon BG (1994) Tagged mutations at the Tox1 locus of Cochliobolus heterotrophus by restriction enzyme-mediated integration. Proc Natl Acad Sci U S A 91:12649–12653

Marco L, Roberta F (2003) Isolation of total DNA from bacteria and yeast. Afr J Biotechnol 8:251–253

Pauli TK, Dong JK, Philip ST, James EB (1994) Intracellular expression of Vitreoscilla hemoglobin alters Escherichia coli energy metabolism under oxygen-limited conditions. Eur J Biochem 219:201–208

Riggle PJ, Kumamoto CA (1998) Genetic analysis in fungi using restriction-enzyme-mediated integration. Curr Opin Microbiol 1:395–399

Rogers CW, Challen MP, Green JR, Whipps JM (2004) Use of REMI and Agrobacterium-mediated transformation to identify pathogenicity mutants of the biocontrol fungus, Coniothyrium minitans. FEMS Microbiol Lett 241:207–214

Sambrook J, Fritsch EF, Maniatis T (eds) (1989) Molecular cloning: a laboratory manual. Cold Spring Harbor Laboratory Press, Cold Spring Harbor, NY

Sato T, Yaegashi K, Ishii S, Hirano T, Kajiwara S, Shishido K, Enei H (1998) Transformation of the edible basidiomycete Lentinus edodes by restriction enzyme-mediated integration of plasmid DNA. Biosci Biotechnol Biochem 62:2346–2350

Schiestl RH, Petes TD (1991) Integration of DNA fragments by illegitimate recombination in Saccharomyces cerevisiae. Proc Natl Acad Sci U S A 88:7585–7589

Shen YL, Xia XX, Zhang Y, Liu JW, Wei DZ, Yang SL (2003) Refolding and purification of Apo2L/TRAIL produced as inclusion bodies in high-cell-density cultures of recombinant Escherichia coli. Biotechnol Lett 25:2097–2101

Sooyoung K, Yoonjoo C, Taehong K, Kwanghoon L, Sunshin C, Gyunghwa K, Heungsoo L, Kyongtai K, Kyungjin K (2005) Highly efficient protein expression and purification using bacterial hemoglobin fusion vector. Plasmid 53:274–282

Suh JK, Poulsen LL, Ziegler DM, Robertus JD (2000) Redox regulation of yeast flavin-containing monooxygenase. Arch Biochem Biophys 381:317–322

Sun CB, Kong QL, Xu WS (2002) Efficient transformation of Penicillium chrysogenum mediated by Agrobacterium tumefaciens LBA4404 for cloning of Vitreoscilla hemoglobin gene. Electron J Biotechnol 5:1–8

Sunagawa M, Magae Y (2002) Transformation of the edible mushroom Pleurotus ostreatus by particle bombardment. FEMS Microbiol Lett 211:143–146

Ukai S, Hirose K, Kiho T, Hara C, Irikura T (1972) Antitumor activity on sarcoma 180 of the polysaccharides from Tremella fuciformis Berk. Chem Pharm Bull (Tokyo) 20:2293–2294

Ukai S, Kiriki H, Nagai K, Kiho T (1992) Synthesis and antitumor activities of conjugates of mitomycin C-polysaccharide from Tremella fuciformis. Yakugaku Zasshi 112:663–668 (Japanese)

Wakabayashi S, Matsubara H, Webster DA (1986) Primary sequence of a dimeric bacterial haemoglobin from Vitreoscilla. Nature 322:481–483

Wang Z, Yang S, Li L, Zhou F, Wang R (1983) Studies on the effects of Tremella fuciformis Berk preparation on immunity and blood formation in rhesus monkeys. J Tradit Chin Med 3:13–16

Wei ML, Webster DA, Stark BC (1998) Genetic engineering of Serratia marcescens with bacterial hemoglobin gene: effects on growth, oxygen utilization, and cell size. Biotechnol Bioeng 57:477–483

Wilfred C, Dallas EH, James EB (1994) Intracellular expression of Vitreoscilla hemoglobin alters the aerobic metabolism of Saccharomyces cerevisiae. Biotechnol Prog 10:308–313

Wu D, Zhang J, Yang X (2002) Research on liquid submerged fermentation conditions for Tremella fuciformis Berk. Food Sci 23:64–69

Wu JM, Hsu TA, Lee CK (2003) Expression of the gene coding for bacterial hemoglobin improves beta-galactosidase production in a recombinant Pichia pastoris. Biotechnol Lett 25:1457–1462

Xia D, Lin Z (1989) Effects of Tremella polysaccharides on immune function in mice. Acta Pharmacol Sin 10:453–457

Xie B, Zhu H (2003) Isolation and optimization of regeneration condition of Tremella fuciformis protoplasts. Mycosystema 22:574–578

Xie B, Zhu H, Jiang Y, Rao Y, Zheng J (2004) Genetic transformation markers of Tremella fuciformis. J Agric Biotechnol 12:610–611

Xie B, Lu Q, Rao Y, Zhu H (2005) Lysine-rich protein gene (lys) transforming Tremella fuciformis. In: Proceedings of the fifth international conference on mushroom biology and mushroom products, vol 12. p 100

Yang F, Xu Q (2002) The immunoloregulation of mushroom polysaccharides and Tremella polysaccharides for mouse loading tumor. Zhejiang Clin Med J 4:730–731

Zheng L, Lu X (2003) Studies on the factors influencing the viscidity characteristic of Tremella fuciformis solution. Food Sci 24:41–43

Zhu H (2004) Study on transformation of Tremella fuciformis with lysine-rich protein gene. MD thesis, Fujian Agriculture and Forestry University, Fuzhou, WF DATA
Acknowledgements
We wish to thank Dr. Xu ZP of Zhejiang University for the kindness to supply all bacterial plasmids. We also thank sincerely MD Chen LC for critical reading of the manuscript and useful suggestions.
About this article
Cite this article
Zhu, H., Wang, T., Sun, S. et al. Chromosomal integration of the Vitreoscilla hemoglobin gene and its physiological actions in Tremella fuciformis . Appl Microbiol Biotechnol 72, 770–776 (2006). https://doi.org/10.1007/s00253-006-0322-9
Received:

Revised:

Accepted:

Published:

Issue Date:
Keywords
Fermentation

Southern Hybridization

Submerged Fermentation

Final Cell Density

Increase Cell Density