Abstract
Chitinase gene ech42 was obtained from Trichoderma aureoviride M and amplified by PCR. The isolated DNA of ech42 was then sequenced. The results showed that the open reading frame of ech42 was 1,447 bp long, encoding 421 amino acids. Three introns were found in the sequence. The cloning vector pMD18-T and an E. coli DH5α host were used to yield clones as E. coli DH5α/ech42. The ech42 gene was integrated into the genomic DNA of pYES2 by insertion into a single site for recombination, yielding the recombinant pYES2/ech42. Chitinase expressed by pYES2/ech42 was induced by galactose (maximal activity 0.50 units ml−1) and was produced in fermentation liquid cultured for 36 h.
This is a preview of subscription content, log in to check access.
Access options
Buy single article
Instant access to the full article PDF.
US$ 39.95
Price includes VAT for USA
Subscribe to journal
Immediate online access to all issues from 2019. Subscription will auto renew annually.
US$ 199
This is the net price. Taxes to be calculated in checkout.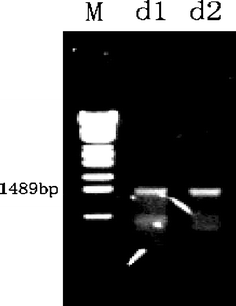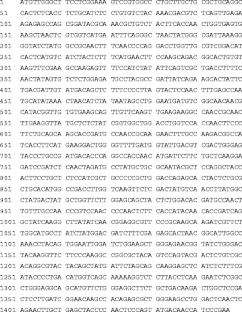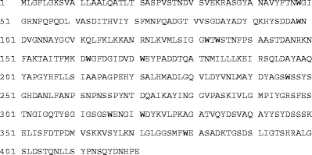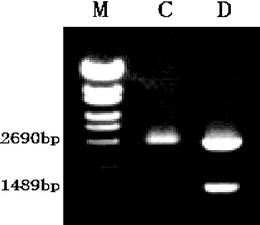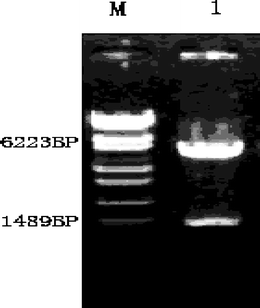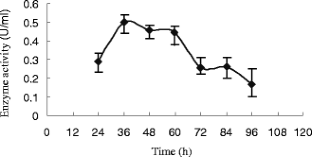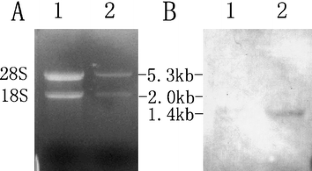 References
Adams A, Gottschling DE, Kaiser CA, Stearns T (1998) Methods in yeast genetics: a Cold Spring Harbor course manual. Cold Spring Harbor Laboratory, Cold Spring Harbor, N.Y.

Barrows-Broddus J, Ker TJ (1981) Inhibition of Fusarium moniliformie var subglutinans, the causal agent of pitch canker, by the soil bacterium Arthrobacter sp. Can J Microbiol 27:20–27

Berkely RCW (1979) Chitin, chitosan and their degradative enzymes. In: Berkely RCW, Gooday GW, Ellwood DC (eds) Microbial polysaccharides and polysaccharases. Academic, London, pp 205–240

Casio IG, Fisher RA, Carroad T (1982) Bioconversion of shellfish chitin waste: waste pre-treatment, enzyme production, processes design and economic analysis. J Food Sci 47:901–912

De la Cruz J, Hidalgo-Gallego A, Lora JM, Benitez T, Pintot-Toro JA, Llobell A (1992) Isolation and characterization of three chitinases from Trichoderma harzianum. Eur J Biochem 206:859–867

Felse PA, Panda T (2000) Production of microbial chitinases—a revisit. Bioprocess Eng 23:127–134

Harman GE (2000) Myths and dogmas of biocontrol. Plant Dis 84:377–391

Krautwurst H, Bazaes S, González FD, Jabalquinto AM, Frey PA, Cardemil E (1998) The strongly conserved lysine 256 of Saccharomyces cerevisiae phosphoenolpyruvate carboxykinase is essential for phosphoryl transfer. Biochemistry 37:6295–6302

Lieckfeldt E, Cavignac Y, Fekete C, Borner T (2000) Endochitinase gene-based phylogenetic analysis of Trichoderma. Microbiol Res 155:7–15

Miller GL (1959) Use of dinitrosalicylic acid for estimation of reducing sugar. Anal Chem 31:426–434

Murao S, Kawada T, Itoh H, Oyana H, Shin T (1992) Purification and characterization of a novel type chitinase from Vibrio alginolyticus TK 22. Biosci Biotechnol Biochem 56:308–317

Nicol S (1991) Life after death for empty shells. New Sci 129:46–53

Peberdy JF (1985) Mycolytic enzymes. In: Peberdy JF, Ferenczy L (eds) Fungal protoplast application in biochemistry and genetics. Dekker, New York, pp 33–44

Peberdy JF (1990) Fungal cell walls—a review. In: Kuhn PJ, Trinci APJ, Jung MJ, Goosey MW (eds) Biochemistry of cell walls and membranes in fungi. Springer, Berlin Heidelberg New York, pp 5–30

St Leger RJ,Cooper RM, Charnley AK (1986) Cuticle degrading enzymes of entomopathogenic fungi: cuticle degradation in vitro by enzymes from entomopathogens. J Invert Pathol 17:167–244

Wei Q (1999) The guide of molecular biology experiment. Higher Education Publishing, Harbin, p 12
Acknowledgements
This research was supported by the Chinese National Programs for High Technology Research and Development (2003AA241140).
About this article
Cite this article
Jinzhu, S., Qian, Y., Beidong, L. et al. Expression of the chitinase gene from Trichoderma aureoviride in Saccharomyces cerevisiae . Appl Microbiol Biotechnol 69, 39–43 (2005). https://doi.org/10.1007/s00253-005-1957-7
Received:

Revised:

Accepted:

Published:

Issue Date:
Keywords
Chitin

Chitinase

Trichoderma

Raffinose

Chitinase Activity