Abstract
A Lactobacillus sakei strain, designated as I151 and isolated from naturally fermented sausages, was found to produce the sakacin P bacteriocin which is active against Listeria monocytogenes. In this study, we performed the sequencing of the gene cluster involved in the production of the sakacin P, and we followed the expression of the sppA gene, encoding for the bacteriocin, in vitro, using Rogosa–Sharpe medium, and in situ, inoculating the strain in fermented sausages as starter culture. The results obtained underlined the high similarity (>99%) of the entire sakacin P gene cluster from the L. sakei studied here with others present in strains of L. sakei already described. Moreover, from the expression experiments, it was shown that the gene is expressed during the exponential phase and that production procedures typical of fermented sausages are not turning off the expression of the gene encoding the bacteriocin. The capability of the strain studied to produce sakacin P during production is considered an advantage for its use as starter culture to improve the safety aspect of traditional fermented sausages produced in Italy.
This is a preview of subscription content, log in to check access.
Access options
Buy single article
Instant access to the full article PDF.
US$ 39.95
Price includes VAT for USA
Subscribe to journal
Immediate online access to all issues from 2019. Subscription will auto renew annually.
US$ 199
This is the net price. Taxes to be calculated in checkout.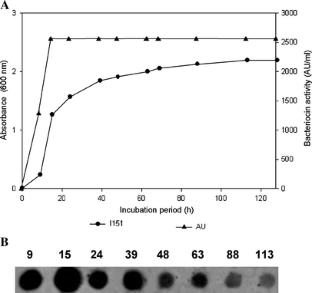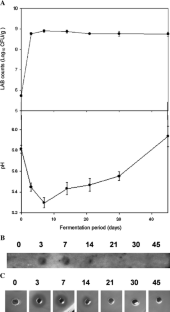 References
Axelsson L, Holck A (1995) The genes involved in production of and immunity to sakacin A, a bacteriocin from Lactobacillus sake Lb706. J Bacteriol 177:2125–2137

Barefoot SF, Klaenhammer TR (1983) Detection and activity of lactacin B, a bacteriocin produced by Lactobacillus acidophilus. Appl Environ Microbiol 45:1808–1815

Berthier F, Ehrlich SD (1998) Rapid species identification within two groups of closely related lactobacilli using PCR primers that target the 16S/23S rRNA spacer region. FEMS Microbiol Lett 161:97–106

Cocolin L, Rantsiou K, Iacumin L, Urso R, Cantoni C, Comi G (2004) Study of the ecology of fresh sausages and characterization of populations of lactic acid bacteria by molecular methods. Appl Environ Microbiol 70:1883–1894

Dicks LMT, Mellett FD, Hoffman LC (2004) Use of bacteriocin-producing starter cultures of Lactobacillus plantarum and Lactobacillus curvatus in production of ostrich meat salami. Meat Sci 66:703–708

Dossmann MU, Vogel RF, Hammes WP (1996) Mathematical description of the growth of Lactobacillus sake and Lactobacillus pentosus under conditions prevailing in fermented sausages. Appl Microbiol Biotechnol 46:334–339

Holck AL, Axelsson L, Huhme K, Krockel L (1994) Purification and cloning of sakacin 674, a bacteriocin from Lactobacillus sake Lb674. FEMS Microbiol Lett 115:143–150

Hugas M (1998) Bacteriocinogenic lactic acid bacteria for the biopreservation of meat and meat products. Meat Sci 49:S139–S150

Huhne K, Axelsson L, Holck A, Krockel L (1996) Analysis of the sakacin P gene cluster from Lactobacillus sake Lb674 and its expression in sakacin-negative Lb. sake strains. Microbiology 142:1437–1448

Jack RW, Tagg JR, Ray B (1995) Bacteriocins of gram-positive bacteria. Microbiol Rev 59:171–200

Klaenhammer TR (1993) Genetics of bacteriocins produced by lactic acid bacteria. FEMS Microbiol Rev 12:39–86

Klijn N, Weerkamp AH, Devos WM (1991) Identification of mesophilic lactic acid bacteria by using polymerase chain reaction-amplified variable regions of 16S rRNA and specific DNA probes. Appl Environ Microbiol 57:3390–3393

Lewus CB, Kaiser A, Montville TJ (1991) Inhibition of food-borne bacterial pathogens by bacteriocins from lactic acid bacteria isolated from meat. Appl Environ Microbiol 57:1683–1688

Lindgren SE, Dobrogosz WJ (1990) Antagonistic activities of lactic acid bacteria in food and feed fermentations. FEMS Microbiol Rev 12:207–220

Liserre AM, Landgraf M, Destro MT, Franco BDGM (2002) Inhibition of Listeria monocytogenes by a bacteriocinogenic Lactobacillus sake strain in modified atmosphere-packaged Brazialian sausages. Meat Sci 61:449–455

Rantsiou K, Comi G, Cocolin L (2004) The rpoB gene as a target for PCR-DGGE analysis to follow lactic acid bacteria population dynamics during food fermentations. Food Microbiol 21:481–487

Rantsiou K, Drosinos EH, Gialitaki M, Urso R, Krommer J, Gasparik-Reichardt J, Toth S, Metaxopoulos I, Comi G, Cocolin L (2005) Molecular characterization of Lactobacillus species isolated from naturally fermented sausages produced in Greece, Hungary and Italy. Food Microbiol 22:19–28

Remiger A, Ehrmann MA, Vogel RF (1996) Identification of bacteriocin-encoding genes in lactobacilli by polymerase chain reaction (PCR). Syst Appl Microbiol 19:28–34

Schillinger U, Lücke FK (1987) Identification of lactobacilli from meat and meat products. Food Microbiol 4:199–208

Tichaczek PS, Nissen-Meyer J, Nes IF, Vogel RF, Hammes WP (1992) Characterization of the bacteriocins curvacin A from Lactobacillus curvatus LTH1174 and sakacin P from L. sake LTH673. Syst Appl Microbiol 15:460–468

Tichaczek PS, Vogel RF, Hammes WP (1994) Cloning and sequencing of sakP encoding sakacin P, the bacteriocin produced by Lactobacillus sake LHT673. Microbiology 140:361–367

Tyopponen S, Markkula A, Petaja E, Suihko ML, Mattila-Sandholm T (2003) Survival of Listeria monocytogenes in North European type dry sausages fermented by bioprotective meat starter cultures. Food Control 14:181–185

Urso R, Cocolin L, Comi G (2004) Cloning and sequencing of the sakP operon from Lactobacillus sakei isolated from naturally fermented sausages. In: Proceedings book of the 19th international ICFMH symposium foodmicro 2004. Portoroz, Slovenia, pp 157

Vandenbergh PA (1993) Lactic acid bacteria, their metabolic products and interference with microbial growth. FEMS Microbiol Rev 12:221–237
Acknowledgement
This research has been funded by the E.C. within the framework of the specific research and technological development program "Confirming the International Role of the Community Research" (Contract no. ICA4-CT-2002-10037). Authors express their gratitude to the technical staff of the industry that provided the fermented sausages studied.
About this article
Cite this article
Urso, R., Rantsiou, K., Cantoni, C. et al. Sequencing and expression analysis of the sakacin P bacteriocin produced by a Lactobacillus sakei strain isolated from naturally fermented sausages. Appl Microbiol Biotechnol 71, 480–485 (2006). https://doi.org/10.1007/s00253-005-0172-x
Received:

Revised:

Accepted:

Published:

Issue Date:
Keywords
Gene Cluster

Polymerase Chain Reaction Product

Lactic Acid Bacterium

Starter Culture

Fermented Sausage