Abstract
An investigation on the effect of various microbes on degradation was carried out as part of the study on bioremediation of oil-polluted wetland at LiaoDong Bay in northeast China. The method used involved direct inoculation of selected bacteria, which were capable of degrading oil, to the soil samples. The combination of various bacteria showed better results in terms of oil degradation than any single ones due to their synergetic effects. The operation conditions [pH 8.0, 25°C, C/N/P (40:5.6:1)] for these bacteria to degrade the oil content in the soil samples were also studied and optimized. Addition of appropriate surfactants was helpful for bacteria growth, thus favoring the oil degradation. For instance, after adding Tween 80 (300 mg/kg) for 8 days, the number of bacteria was amplified 6.22 times and the rate of oil degradation increased by 20%. Adequate amount of H2O2 was also beneficial for microbes to decompose oil. However, overdosage may cause the death of the bacteria. The addition of 400 mg/l H2O2 each time was suitable. Seven thousand milligrams of H2O2 was added entirely in 11 days, and the rate of oil degradation increased significantly from 27% (without H2O2) up to 67%. The study clearly demonstrated that the direct soil inoculation was an effective method for environmental bioremediation.
This is a preview of subscription content, log in to check access.
Access options
Buy single article
Instant access to the full article PDF.
US$ 39.95
Price includes VAT for USA
Subscribe to journal
Immediate online access to all issues from 2019. Subscription will auto renew annually.
US$ 199
This is the net price. Taxes to be calculated in checkout.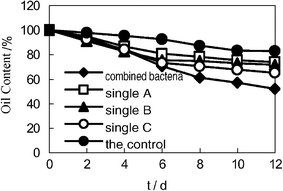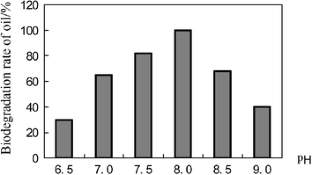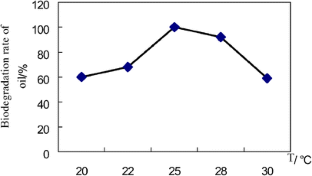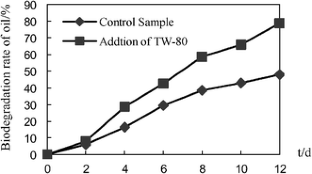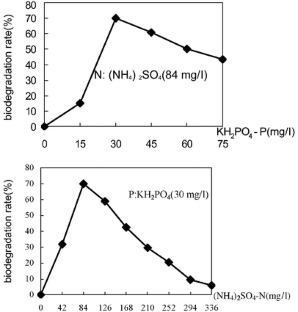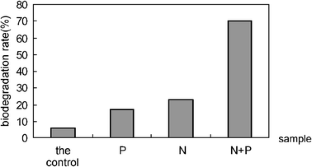 References
Aceves M, Grimalt JO, Albaiges J, Broto F, Comellas L, Grassiot M (1988) Analysis of hydrocarbons in aquatic sediments. Evaluation of common preparative procedures for petroleum and chlorinated hydrocarbons. J Chromatogr 436:503–509

Alexander M (1994) Biodegradation and bioremediation. Academic, San Diego

Anderson JM, Ingram JS (1993) Tropical soil biology and fertility: a handbook of methods. CAB International, Walingford

Atlas RM, Bartha R (1992) Hydrocarbon biodegradation and oil spill bioremediation. In: Marshall KC (ed) Advances in microbial ecology, vol 12. Plenum, New York, pp 287–338

Boopathy R (2000) Factors limiting bioremediation technologies. Bioresour Technol 74:63–67

Debbie AP (2000) Effects of surfactant additions on the bio-mineralization and microbial toxicity of phenanthrene. Biodegradation 263–277

Grifoll M, Selifonov SA, Gatlin CV, Chapman PJ (1995) Actions of a versatile fluorine-degrading bacterial isolate on polycyclic aromatic compounds. Appl Environ Microbiol 61:3711–3723

Hareland W, Crawford RL, Chapman PJ, Dagley S (1975) Metabolic function and properties of 4-hydroxyphenylacetic acid 1-hydroxylase from Pseudomonas acidovorans. J Bacteriol 121:272–285

Ilker U, Duan YP, Ogram A (2000) Characterization of the naphthalene-degrading bacterium, Rhodococus opacus M213. FEMS Microbiol Lett 185:231–238

Kropp KG, Andersson JT, Fedorak PM (1997) Biotransformations of three dimethyldibenzothiophenes by pure and mixed bacteria. Environ Sci Technol 31(5):1547–1554

Leahy JG, Colwell RR (1990) Microbial degradation of hydrocarbons in the environment. Microbiol Rev 54:305–315

Leung KT, Tresse O, Errampalli D, Lee H, Trevors JT (1997) Mineralization of p-nitrophenol by pentachlorophenol-degrading Sphingomonas spp. FEMS Microbiol Lett 155:107–114

Mearns AJ, Venosa AD, Lee K, Salazar M (1997) Field-testing bioremediation treating agents: lessons from an experimental shoreline oil spill. In: Proceedings of 1997 international oil spill conference. American Petroleum Institute, Washington, DC, pp 707–712

Palittapongarnpim M, Pokethitiyook P, Upatham ES, Tangbanluekal L (1998) Biodegradation of crude oil by oil microorganisms in the tropic. Biodegradation 9:83–90

Prince RC (1993) Petroleum spill bioremediation in marine environments. Crit Rev Microbiol 19:217–242

Shan JY, Jia Y, Liu Y (2002) Two Pseudomonas act on hydrocarbon and their synergistic effect. Microbiology 29(4):55–58

Thomas GW (1996) Soil pH and soil acidity. In: Sparks DL (ed) Methods of soil analysis. Part 3. SSSA, Madison, pp 475–490

Thompson LM, Black CA, Zoellner JA (1954) Occurrence and mineralization of organic phosphorus in soils with particular reference to associations with nitrogen, carbon, and pH. Soil Sci 77:185–196

Tian FL, Li XM (2003) Function and use of costal wetlands ecological system in Liaodong Bay. Water Resour 5:21–22

Venosa AD, Suidan MT, Wrenn BA, Strohmeier KL, Haines JR, Eberhart BL, King DW, Holder E (1996) Bioremediation of experimental oil spill on the shoreline of Delaware Bay. Environ Sci Technol 30:1764–1775

Vinas M, Grifoll M, Sabate J, Solanas AM (2002) Biodegradation of a crude oil by three microbial consortia of different origins and metabolic capabilities. J Ind Microbiol Biotech 25:252–260

Walksman SA (1924) Influence of microorganisms upon the carbon:nitrogen ratio in the soil. J Agric Sci 14:555–5562

Wrenn BA, Venosa AD (1996) Selective enumeration of aromatic and aliphatic hydrocarbon degrading bacteria by a most probable number procedure. Can J Microbiol 42:252–258

Ye SH, Ding M, He LF, Cao F, Ding YS, Ding DW (2005) Research of microorganisms degrading benzoate-like compounds in the wetland of Liaodong Bay. Mar Environ Sci 24(2):47–49
Acknowledgements
This work was financially supported by the Chinese National Key and Fundamental Research and Development Programming Projects (863, No2002AA648010) and Dalian Maritime University.
Additional information
Foundation item: The National Key and Fundamental Research and Development Programming Projects (863, No2002AA648010)
About this article
Cite this article
Ye, S.H., Huang, L.C., Li, Y.O. et al. Investigation on bioremediation of oil-polluted wetland at Liaodong Bay in northeast China. Appl Microbiol Biotechnol 71, 543–548 (2006). https://doi.org/10.1007/s00253-005-0165-9
Received:

Revised:

Accepted:

Published:

Issue Date:
Keywords
Biosurfactants

Single Strain

Petroleum Compound

Microbial Remediation

Degrade Petroleum Hydrocarbon